Now in HTML5 with a smaller option available for phones, tablets or slower connections.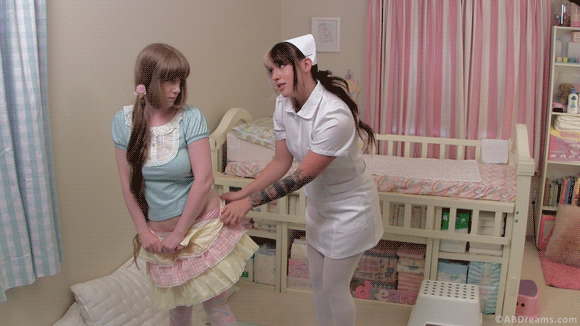 Uh oh, unfortunate Aya has found herself committed to the Nursery Ward for Regression Therapy, under the attentive care of Nurse Cara. Nurse Cara's pretty smiles and happy demeanor belie the fact that she won't be taking "no" for an answer as she strips Aya of her grown up clothes and responsibilities, permanently. The smiling nurse restrains Aya on the changing table, and cheerfully sets about diapering and infantilizing her fussy patient. Once Nurse Cara's work is done, Aya will never be the same again.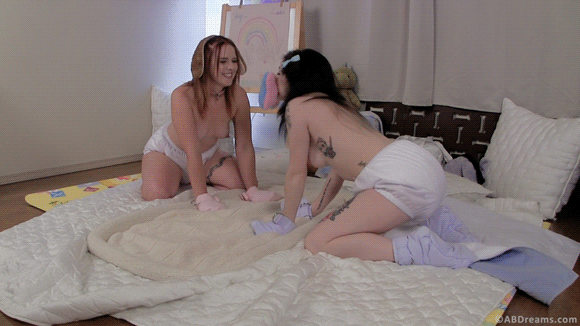 Luna and Skye are having puppy playtime together. It's so cute to see them playfully crawling around and cuddling in their padded mittens and booties, pawing at their toys. Of course, they're also wearing thick cloth diapers with waterproof covers. These puppies definitely won't be having any accidents on the floor.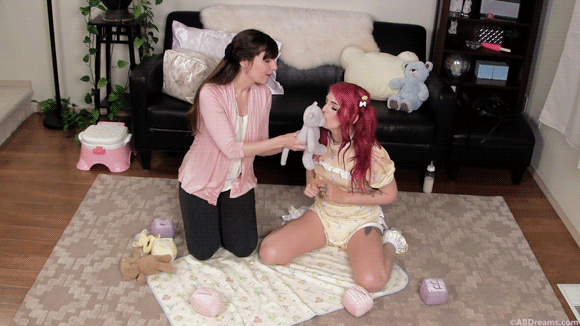 Mommy Apple is trying to potty train Binkie, but cute little Binkie is resistant and always ends up back in diapers.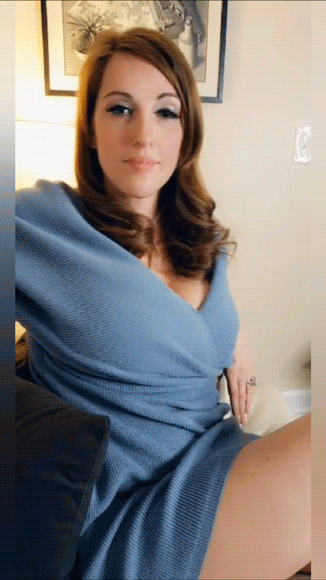 Your girlfriend wants me to turn you in to a baby, and I have the power to do it. She's tired of you acting immature. You must cum for me in order for this spell to be final. Unzip your pants for the most amazing and final BJ of your life. Orgasms have an enormous amount of power so I'm going to seduce you and take your cum.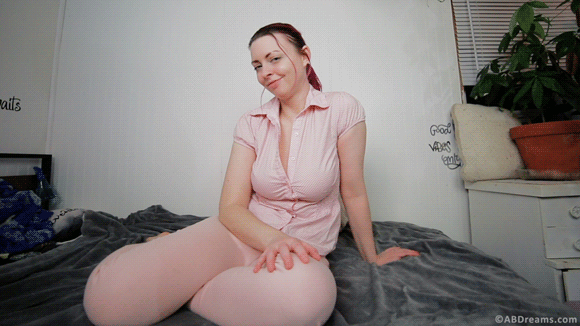 You've been dating someone new for a few weeks, and this is your first time going back to her place. She tells you she's ready to take your relationship to the "next level", and you're getting excited thinking she wants to be your girlfriend, and you're about to get laid. She's noticed the way you've been staring at her chest all night, but lucky for you she doesn't mind - in fact, she likes it. She wants you to lay back and relax for what's going to happen next. She tells you to keep staring as she takes her tits out, seductively touching, holding, rubbing and squeezing them - making sure she's really got your attention. Not only are you more than happy to stare, and getting very turned on, you're starting to feel like you couldn't look away even if you wanted to. Seeing that you're now almost fully under her spell, she begins to hypnotically sway her titties in front of you, watching the way your eyes are locked on her nipples as you begin to slip into a trance-like state. She begins to explain that she never intended to be your girlfriend, not the way you think of the term. She's going to be your "Mommy" from now on - and that means she's going to take care of *all* of your needs, including keeping you in diapers. She definitely won't be fucking you. There won't be any fucking, or even making out in your future. You're going to be her baby, and the closest babies ever get to those grown-up things are diaper changes and nursing. She proceeds to take her time diapering you; commenting on how helpless you've become; how you can't even take your eyes off Mommy's titties, much less stop her from diapering you; telling you not to try to fight it, there's nothing you can do to stop yourself from turning into her helpless baby. Despite your growing alarm, you also can't stop yourself from getting very aroused by everything that's happening to you. Your new Mommy is taking full advantage of this to keep you under her spell, letting you know how good she'll make you feel when you finally give in. Once she has you all taped up, it's time for you to nurse - the final step in making you her baby forever. Mommy reassures you that everything will be alright, comforting you, shushing you, as she draws closer to you for your first breastfeeding and guides her nipple into your mouth. You feel the last of your resistance draining away, and you can't stop yourself as you begin to suckle.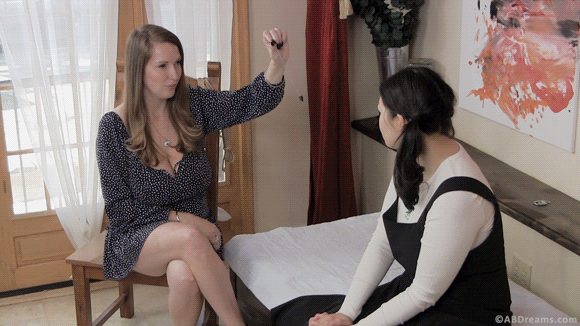 Fern is proving to be somewhat resistant to the regression therapy Doctor Kat has deemed necessary for her. Luckily, or perhaps unluckily for Fern, Kat has decided to use some simple hypnosis to get past Fern's resistance. Instead of trying to cause regression with the hypnosis itself, Kat is implanting a new behavior in Fern's mind; any time Fern thinks of arguing, struggling, fighting back, or any other kind of resistance to her therapy, she'll be overcome by the urge to suck her thumb instead. This makes everything much easier for Doctor Kat as she undresses and diapers her newly compliant patient. Fern doesn't want to be diapered and infantilized, but she can't seem to do anything to stop it from happening. The more upset she gets, the more her thumb keeps finding its way into her pouting mouth.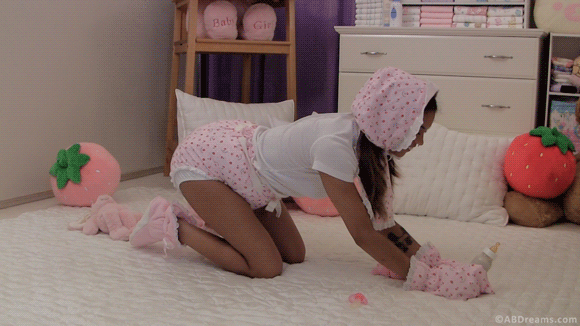 Sunny looks and feels so cute in her matching bonnet, bib, mittens, and diaper cover that she's wearing over layers and layers of fluffy cloth diapers. Of course, the mittens on her hands mean she's not able to do much more than play with soft toys and suck on her baby bottle, but that doesn't seem to bother her one bit. Although, she still manages to be a little bit naughty by pulling up her shirt and flashing her titties.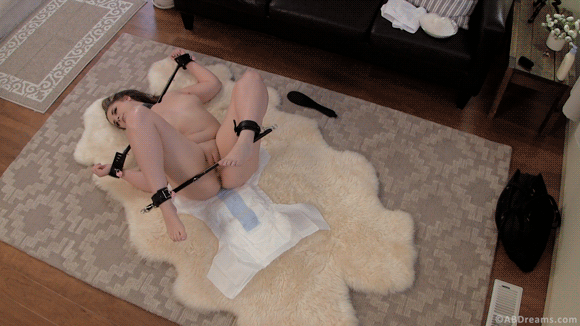 Dolly is such a little brat, she needs attitude adjustments from her Mommy on a regular basis. Today, that means binding her in a yoke and spreader bay so that she's completely helpless while Mommy Apple paddles and diapers her. Mommy punishes Dolly's bottom until it's pink, and even paddles her naughty pussy to make sure she thinks twice about misbehaving - at least for a little while. Then it's time to pamper the baby brat's sore bottom with a fuzzy powder puff and a nice, soft diaper! Once Mommy is done with the first parts of Dolly's punishment, she leaves her baby brat diapered and bound on the floor to think about her bad behavior.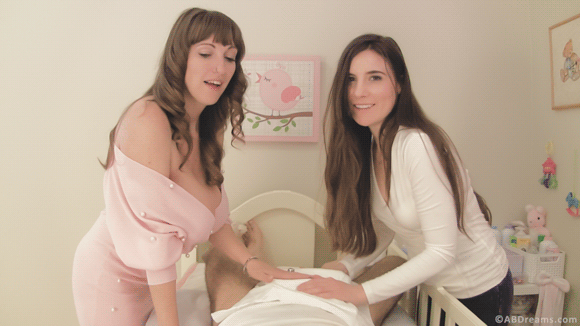 What's a faster way to turn you into a little baby than a Mommy milking you and putting you back in diapers? TWO Mommies milking you and putting you back in diapers! Mommy Kat distracts you with her huge boobies while Mommy Apple drains all those adult feelings from your aching balls. Once you uselessly spurt all your cum into the towel Mommy Apple had ready, both your Mommies are happy to see how much smaller and more babyish your little cock becomes. They take turns powdering your tiny peepee with a fuzzy powder puff, before safely wrapping it up in a soft diaper where it belongs.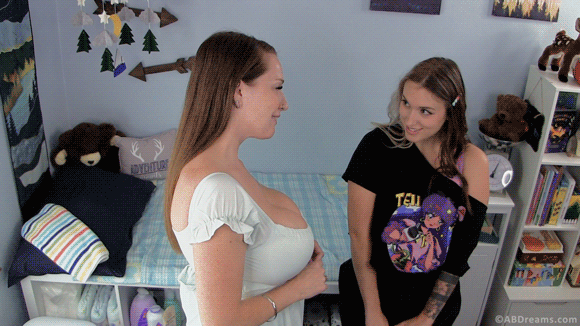 Cara comes to visit Mommy Kat and stay in her special nursery for adult babies. Mommy just loves turning big girls into cute little babies, and Cara can't wait! She's so happy to have a loving Mommy take away all her silly grown up clothes, lay her down on the changing table, and wrap her up in cute, fluffy diapers. Now Mommy and Baby are ready to have lots of fun together.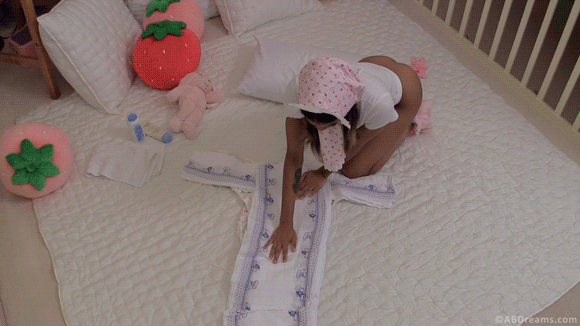 Sunny is trying out Japanese cloth diapers for the first time, and it looks like she loves them! The layers of soft fabric feel lovely to sit on, and even better when they're wrapped around her. It's so good, Sunny has to take extra time pulling the padding up between her legs to enjoy the way it feels against her princess parts, before she fastens the pretty omutsu cover over it.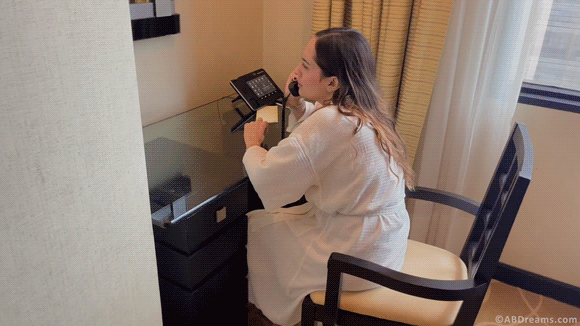 Peachy is on vacation, and the hotel she's staying at turns out to be very unusual. Her room has everything a normal hotel room would have, except there's no toilet! Peachy calls the front desk to see if they can clear up this apparent oversight, but all they have to offer her is diapers and a onesie. She needs to go too badly to try to find a bathroom somewhere else, so she has no choice but to give diapers a try. With her desperation to pee building, Peachy can't seem to get her diaper on quick enough. Once its on and she can finally let go, she absolutely soaks the diaper! Even more to her surprise, Peachy realizes she might like the way it feels to be wrapped in warm, wet padding - in fact, it's actually starting to make her feel turned on!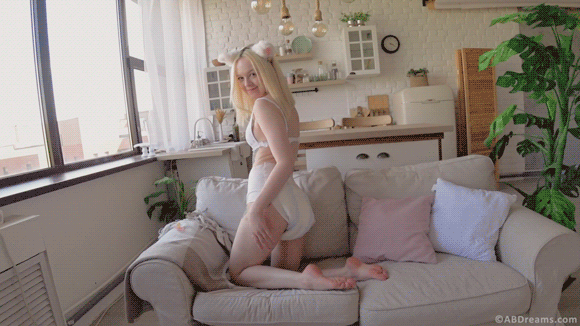 Mia is a cute, diapered kitty girl; and just like a real kitty, she's getting into all sorts of mischief around the house while her owner is away.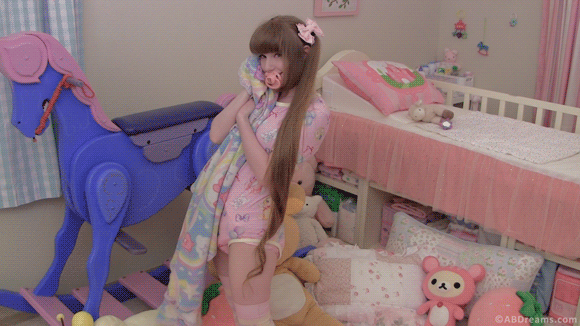 Aya is having playtime on the nursery floor. Playing with blocks and baby things helps Aya slip into littlespace, but it also makes her turned on! Playtime leads to pillow humping for this little girl.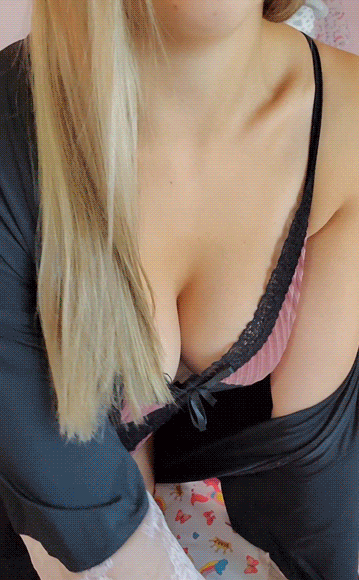 Mommy Gwen gets you diapered and dressed like the little sissy you are.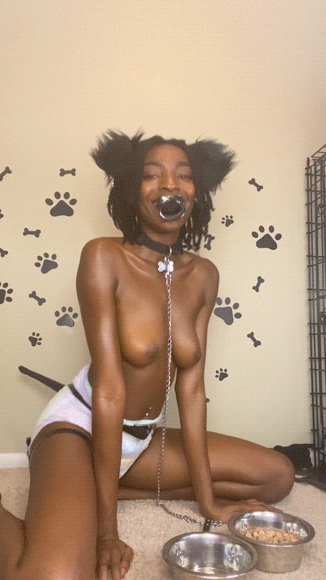 Piper is an adorable puppy-girl, and she loves diapers too! That's probably a good thing, because it doesn't seem like she's housebroken.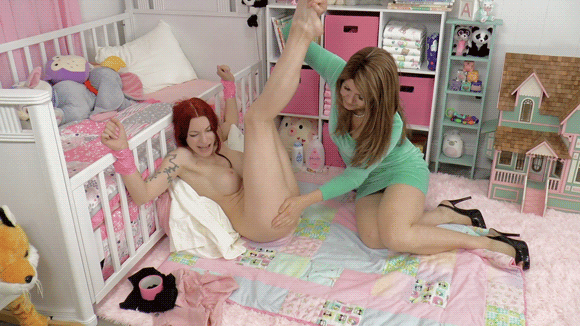 Mommy Katherine finds out that Kajira's boyfriend has been having sex with her girl when she should have been doing homework. She finds this unacceptable and takes her to the nursery room where Kajira will be grounded... in diapers. She has her babygirl tied and restrained to the cot, placed out on a changing mat, and is first spanked and scolded for being a nasty slut before a bondage pacifier is put into her mouth. Next, she is diapered like a little baby. How humiliating to have her pussy cleaned then powdered, smelling like a fresh baby for bedtime. Then the super crinkly cute pink LFB "Little Fantasy" diaper is fitted as she struggles. Mommy leaves her there, alone, humiliated and babyfied.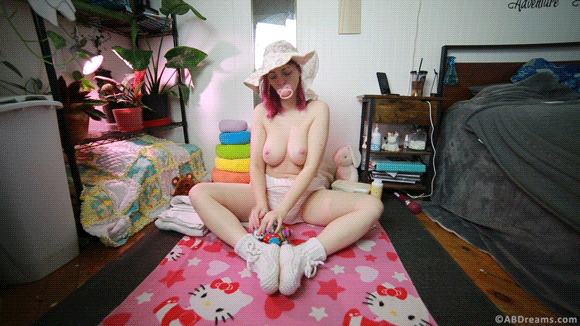 Angel changes her thick cloth diaper and plays with lots of baby powder.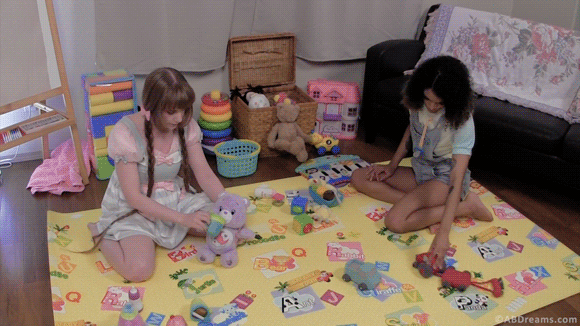 Sisters, Aya and Sunny, are playing together in their playroom. Little sister, Sunny, is still in diapers, but big sister, Aya, is a "big girl" now and definitely doesn't need them anymore. Little sister still drinks from a baby bottle, but big sister gets to use a sippy cup. Aya is proud of herself for getting to use big girl things, and teases Sunny for being such a baby. Unfortunately for Aya, she isn't as grown up as she thinks she is. Drinking all that juice has caused her to have an accident before she even realized she needed to use the potty! Even worse, Sunny notices Aya's wet panties, and tells Mommy Apple right away. Now Mommy has to get Aya (and the puddle she's made on the floor) all cleaned up, then she stripps Aya naked, and puts her back in diapers right on the playroom floor! Poor Aya is so embarrassed and upset! Sunny thinks the whole situation is funny, and she keeps Aya distracted and plays pretend at helping Mommy diaper her big sister.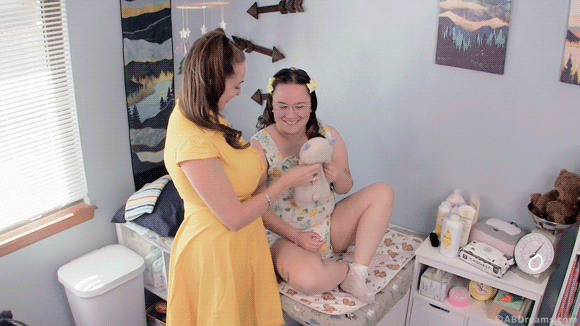 In her first scene for ABDreams, sweet little Mouse gets her wet diaper changed by Mommy Kat on the changing table.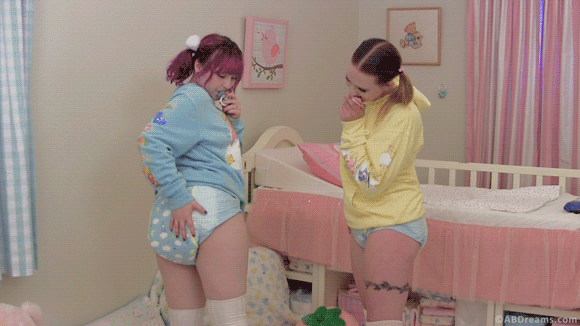 Candy and Skye are looking so cute and cuddly in their cozy Care Bear hoodies; they're practically all a girl needs to wear, aside from these adorable LittleforBig diapers of course. The girls cuddle and shyly show each other their boobies before taking their hoodies off and humping a pillow together.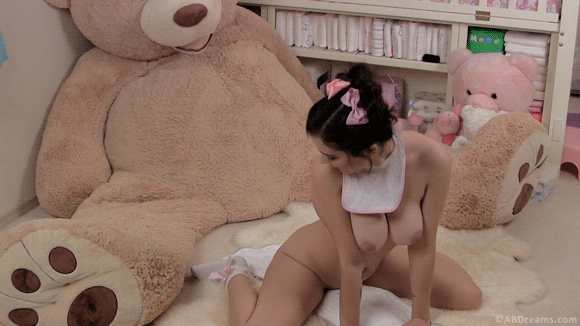 Fae's diaper is all pinned up, and it's clear that having it wrapped around her hips is making her feel so sexy and turned on. She pulls on some clear plastic pants, sucks her pacifier, and cuddles with her giant Teddy Bear.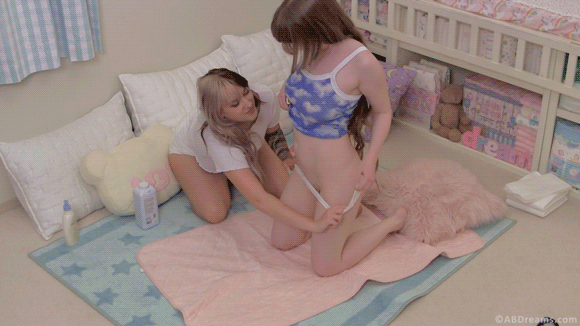 Aya and Cara are hanging out doing girly things. Obviously, that means they want to wear diapers together! They decide to take turns diapering one another - Cara's already got her diaper on, and now it's Aya's turn. Cara is more than happy to return the favor by putting her friend in double diapers, making sure she's in especially thick padding for whatever fun they decide to have next.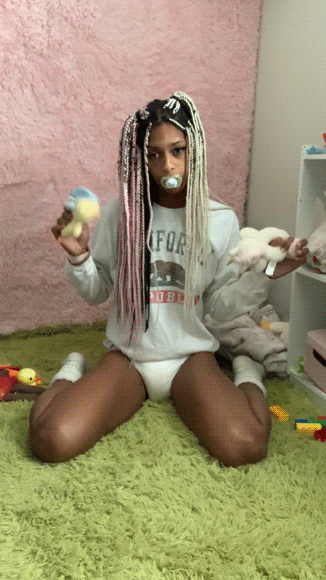 Rain is a precious, gentle-hearted little one. She's happy sitting on the floor playing with her toys, and she LOVES wearing pull-ups.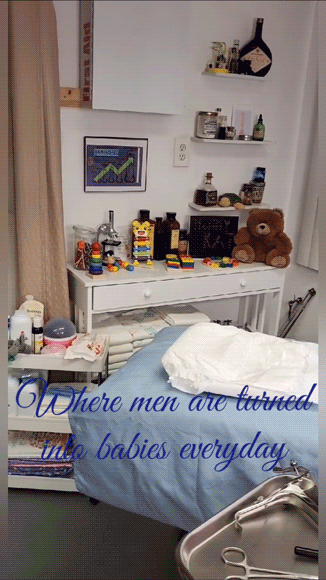 An appointment at Kat's regression clinic will have you turned right into an adult diaper boy and back in your wife's care within a few hours. The process is so gentle and loving you almost won't want to fight it. With an injectable serum and enchanting smile Doctor Kat has you incapacitated and in a dreamy state within minutes. Just one more very important part of the process, you must cum one last time...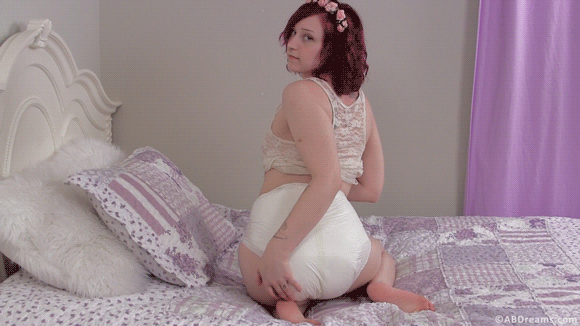 Candy is looking especially sexy in a lace babydoll top and vintage 6-tape Attends diaper. She's in bed, touching herself, humping her pillow, and wetting her diaper until it's soaked.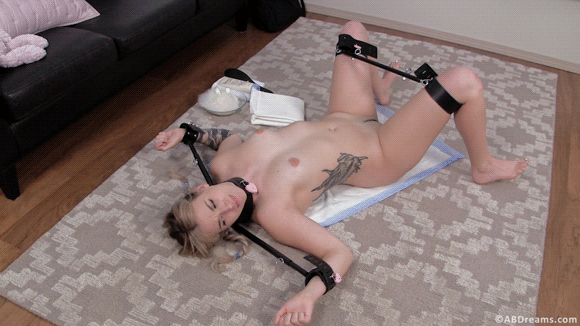 Cara is such an unruly girl. Mommy Apple has to keep her in line with regular diaper discipline sessions. Mommy has Cara in heavy bondage while she waits for today's "attitude adjustment"; a firm spanking with a leather paddle followed by being put straight back into diapers. It's much harder to be a naughty girl when there's thick padding wrapped between her legs. There's just one problem; Cara seems like she's starting to enjoy being treated this way!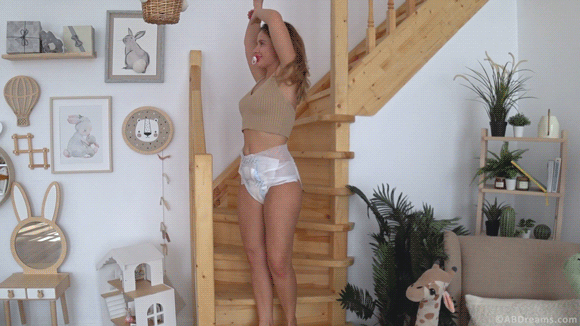 Ellen looks stunning, even though she's just relaxing in her playroom. Watch as she slips off her top, and slips into littlespace.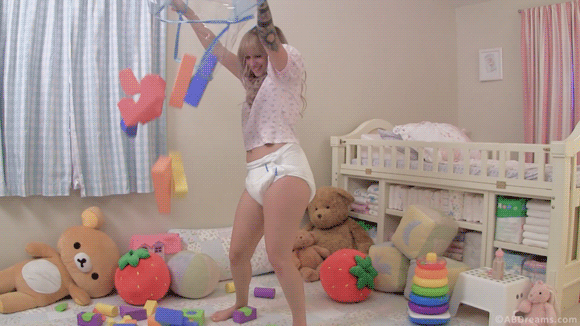 Cara is in the nursery playing with oversized baby toys and wearing very thick double diapers. All these big things are making her feel extra small, and she loves it! She's having so much fun in littlespace, Cara has to take off her shirt so she can be a naked baby! Babies don't need clothes or modesty, and Cara thinks playtime is even more fun this way. Don't you think so too?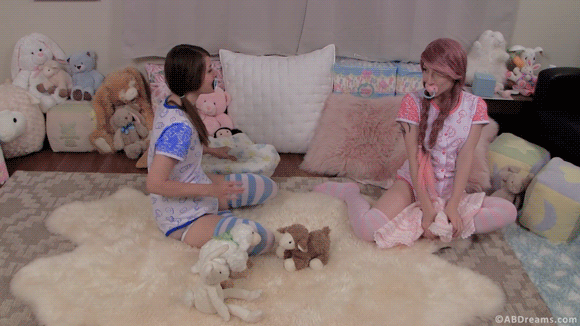 Ellie and Luna are totally regressed back to babyhood. There isn't a single complete adult thought or impulse left between the two of them. Don't worry, life is so much better for them this way. Don't they look happy in their diapers and onesies, innocently playing together on the floor?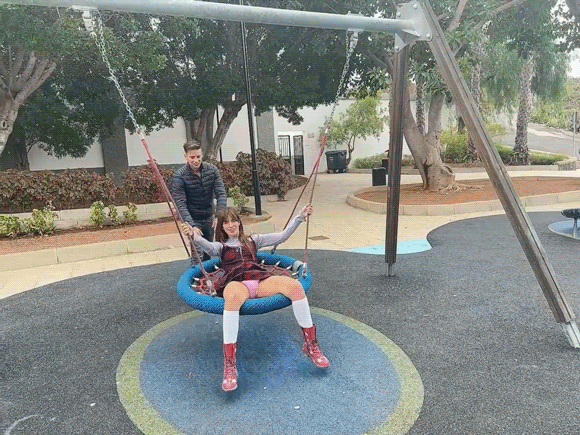 Caprice loves her Daddy so much, and it's easy to see why. He's handsome, takes very good care of her, and he loves to have fun with his little girl. Here they are together, having a lovely time playing at the park.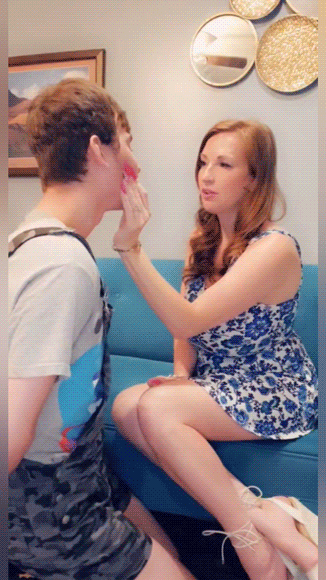 Baby Cody was misbehaving at school, again. Mommy needs to teach him a stern lesson and an OTK bare handed spanking will do the trick. After making his bottom bright red he makes it clear that he is sorry. Into a fresh diaper he goes because if he is going to misbehave like a child Mommy is going to treat him like one.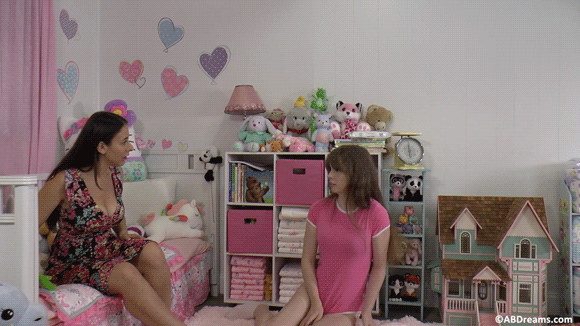 Amy isn't supposed to be wearing big-girl panties, but she just couldn't resist. Now Mommy Sarah has caught her, and she's going to be punished for disobeying. Mommy gives her a thorough spanking until she's learned her lesson, then puts her right back into diapers where she belongs. Once her punishment is over, Mommy Sarah nurses Amy to remind her of what a baby she is.
Luna Diapered for Naptime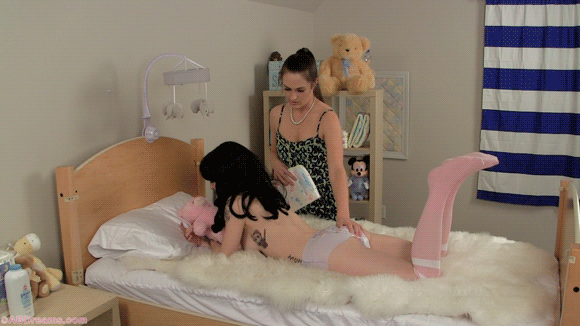 It's little Luna's naptime, and that means she needs to be changed out of her training pants and into a diaper for extra protection while she's asleep. Mommy Amber lovingly wipes and powders her babygirl, then wraps her up in a nice fluffy diaper. Being diapered by her Mommy is so relaxing, Luna drifts off to dreamland soon afterward.
Diaper Friends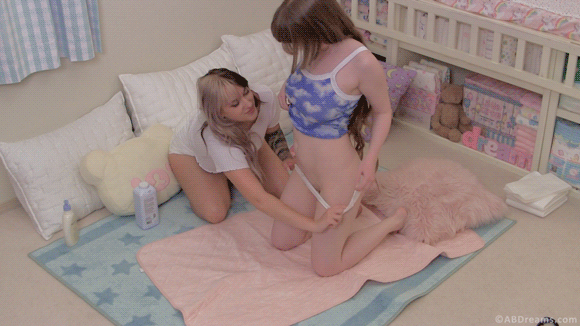 Aya and Cara are hanging out doing girly things. Obviously, that means they want to wear diapers together! They decide to take turns diapering one another, and it's Cara's turn to go first. Aya happily puts her friend in double diapers with a stuffer, making sure she's in especially thick padding for whatever fun they decide to have next.
Super Thick Sunny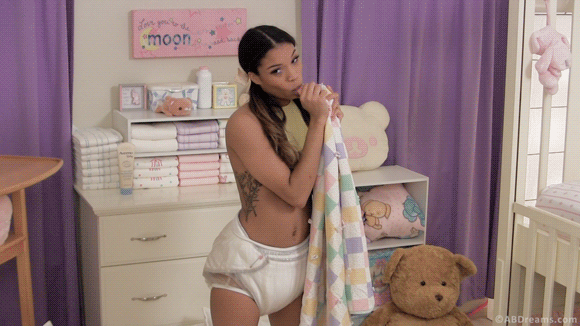 Sunny looks amazing in super thick cloth diapers, it's like she belongs in them. She's so happy and content, hungrily sucking her bottle and her thumb - all that's missing is Mommy or Daddy to cuddle and play with her.
Naughty Angelica Spanked and Diapered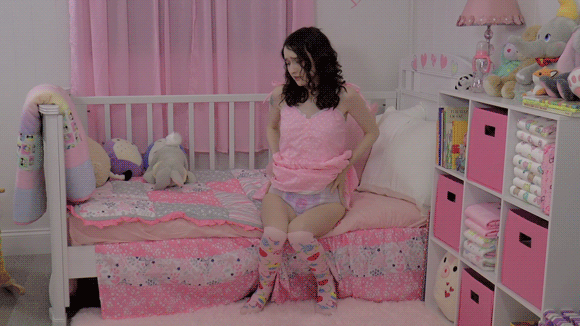 Angelica has to wear a pull-up as she can't be trusted not to wet the bed. She is complaining and takes it off in defiance of Mommy's rules. She is making so much noise that her mother arrives to find her girl naked and being a brat about the pull-up. Mommy reminds her what happens to naughty girls and that is with a spanking punishment including a special full diapering since she doesn't like the pull-up. Angelica pouts and complains but the hapless naked girl is spanked over Mommy's lap. Her bottom turns pink, her favorite color, but not on her sore bottom! Mommy produces the pink DC Amor diaper which her naked girl recoils in horror at when hearing the loud crinkly material. Baby powder is applied in case of any "accidents" and then Angelica is put into the diaper. She finds it embarrassing and as Mommy tucks in all the folds, the sound of the crinkly diaper reminds her how much worse this is than her more discrete pull-up. This will teach her not to complain about what to wear in the future.
Kitten Plays in Her Wet Diaper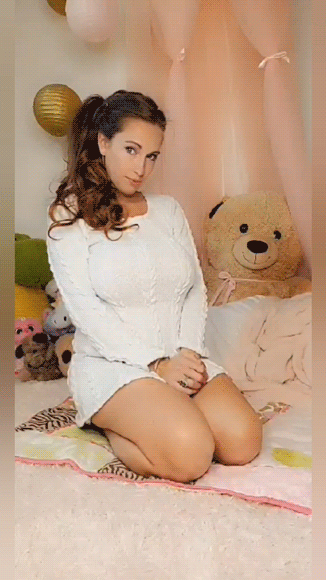 Kitten doesn't want to be a big girl, she just wants to be Daddy's diaper girl forever. So she slips right out of her big girl clothes and panties and into a nice fluffy diaper. It feels so good she can't help but hump her teddy and play in her wet diaper...
Nursing Aya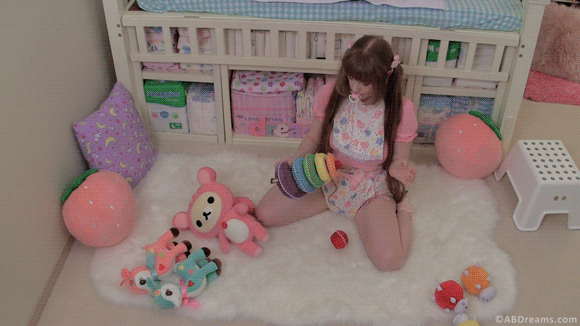 Cute little Aya just had her diaper changed and had relaxing play time. Now it's time for her to drink a bottle and nurse.
Kitten and Apple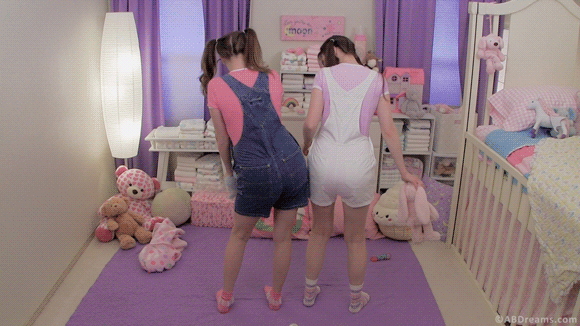 Kitten and Apple look so cute playing and cuddling in their overalls. Let's see how long they can keep them on.
Caprice Plays a Naughty Game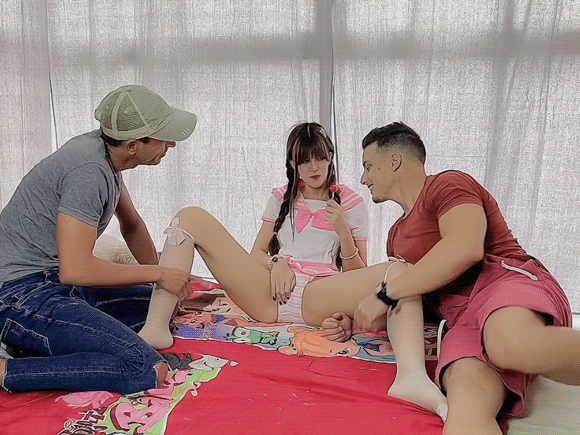 Caprice plays a game with her Daddy and his friend as they roll the dice, more and more naughty things happen until Caprice cums.
Angel POV
Babysitter Angel had earlier put you to bed. You've woken up wet and need her help. Angel is mid enjoying her alone time and about to cum. She's a little shocked and annoyed that you have wet the bed again and she puts you back in a diaper where you belong.
Candy is Mommy's Little Helper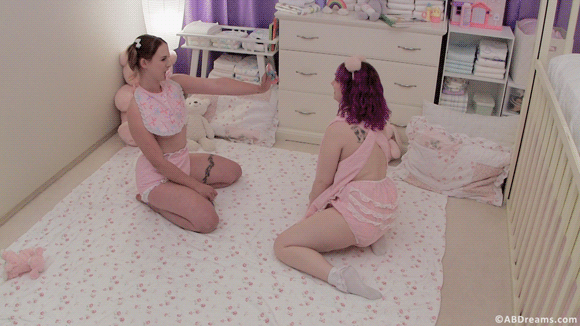 Babies Candy and Sky are playing sweetly together like good little girls when Mommy Apple comes to check on them and give them their bottles. When she checks their diapers, Mommy finds that it's time for Baby Skye to be changed. Candy is such a good girl, she helps her Mommy with Skye's diaper change, making sure her little friend is happy and distracted until she's in a nice new diaper!
Nurse Apple's New Patient - Naptime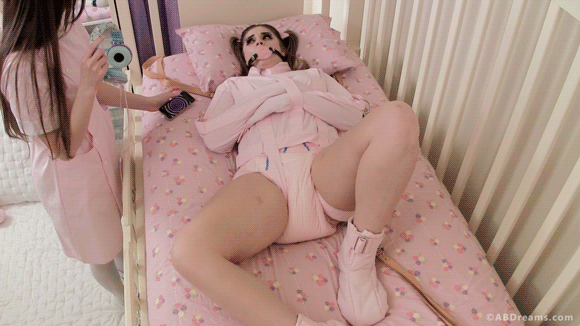 Dolly's regression treatment continues with some enforced hypnotherapy and naptime. Nurse Apple Restrains her securely in the crib and puts headphones on her that will play hypnotic suggestions for the duration of her nap. The special formula her Nurse has given her is already making Dolly too dazed to resist, and has her in a perfectly suggestible state for the hypnotherapy to take effect. Dolly may not realize it, but she's such a lucky patient to be cared for by Nurse Apple, who's decided to use a magic wand to make her cum and get sleepy for her nap, and to start associating her diapers with sexual pleasure, of course!
Foxy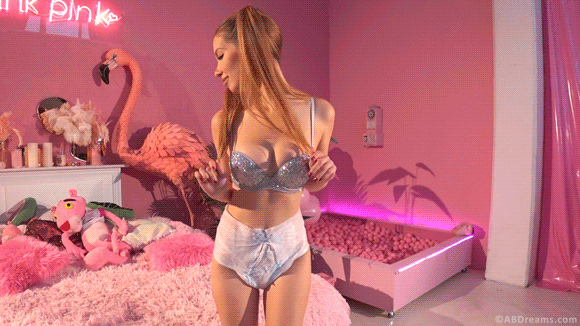 Cute little Foxy has so much fun playing in her pink in nothing but her Tena diaper and sparkly bra.
Little Slutty Diaper Princess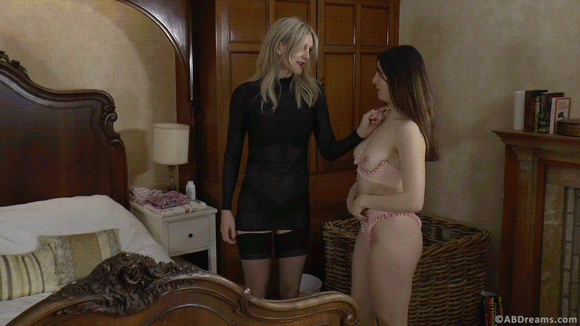 Mistress Scarlet is very displeased with her needy little submissive who embarrassed her at the fetish club with her poor attitude, answering back in front of others. Bella wanted more attention, especially wearing her stunning new latex bikini which drew lots of admiring glances. However, Mistress knows her girl needs something else right now before bedtime... and that is a spanking for being such a bratty princess. It's a hot spanking scene between these two stunning ladies and Bella soon admits that she is getting wet and excited from her bare bottom smacking. Mistress Scarlet decides to investigate her wetness further and then Bella pleads with her that she wants to be able to cum. She should be careful what she wishes for, as Mistress has other plans for her. For behaving like a little girl she is going to be treated like one and put into a cute Rearz Princess Pink diaper. She is cleaned and powdered, her legs splayed wide apart... but that isn't the way she will be allowed to cum. Once Bella is taped into her snug-fitting, crinkling diaper, she is vibed with the powerful wand which brings her to a shuddering climax. Bedtime means the slutty diaper princess also wears a cute onesie that Mistress has picked out and she doesn't forget the matching thick thigh-length socks to ensure her cute girl gets a good night's sleep.
Baby Boy at the Diaper Clinic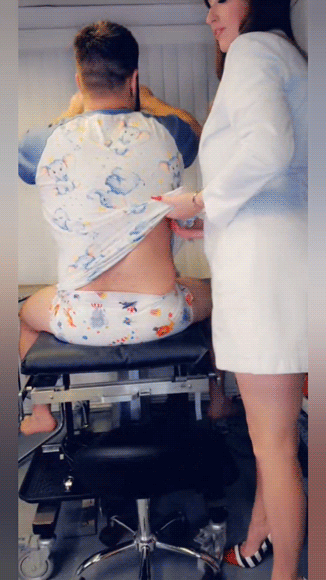 Baby Bear has been checking into the Diaper Clinic, under the care of Nurse Kat. She calmly explains what his therapy will entail, and his future of diaper dependency.
Littlespace Diaper Change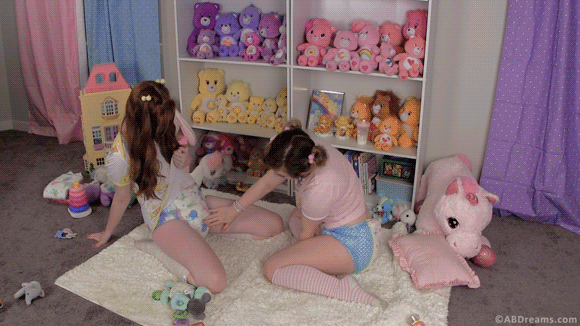 April and Lolette are enjoying little time together, sweetly playing on the floor. When Lolette notices that her friend's diaper is getting a bit too wet, she's all too happy to help out with a diaper change. It's fun getting to strip off April's onesie and wet diaper, wipe her clean, powder her cute bottom and wrap it up in a dry diaper. Now they can get back to playtime!
Nurse Apple's New Patient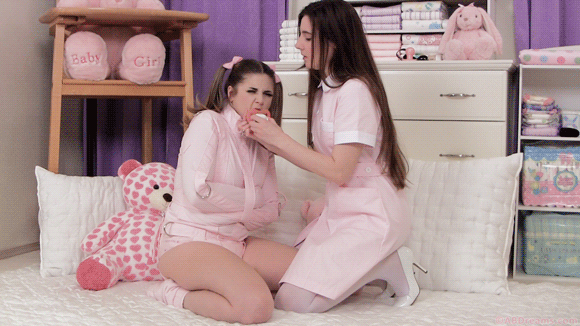 Dolly has been committed to the Nursery Ward for intensive Regression Therapy. As a new patient, she needs to be kept in diapers and heavy bondage, and her mouth needs to be occupied as much as possible to start building up a healthy oral fixation. Of course, Nurse Apple has her in a pretty pink straitjacket, diaper, and matching booties to help Dolly adjust to her new life as a diaper-dependent bimbo baby. Her caring nurse pushes a giant pacifier into Dolly's mouth that's much too big for her to spit out as part of her oral training, and also to keep her calm and quiet while Nurse Apple gets a special baby bottle ready for her. Dolly is reluctant to drink it at first, but Nurse Apple know's what's best for her patient, and soon Dolly is feeling much more relaxed and empty headed. Now she just wants more of whatever's in that baby bottle, blissfully unaware that a few more bottles will leave her permanently regressed & diaper-dependent.
Introducing Baby Angelus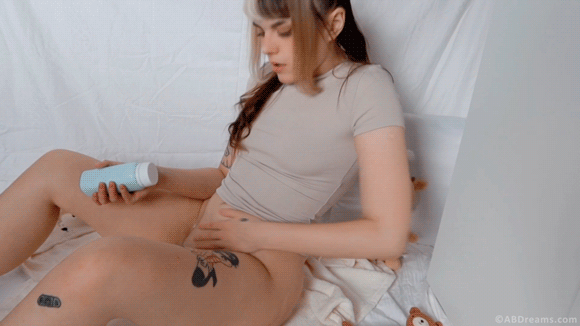 Say hello to Baby Angleus! She's so precious, and she fits in real baby Pampers! Here she is putting one on and having some fun with her magic wand.
Nica Diaper Change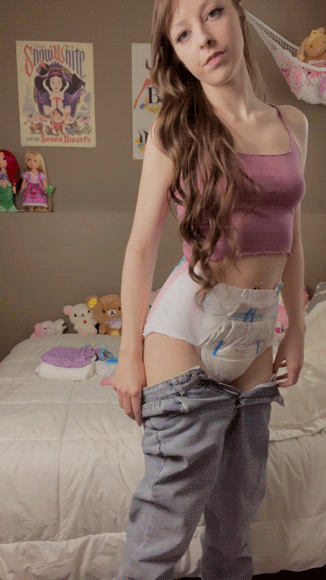 Nica has had a busy day, it's time to change out of her adult clothes and into a fluffy dry diaper and cute onesie.
Diaper Lover Fun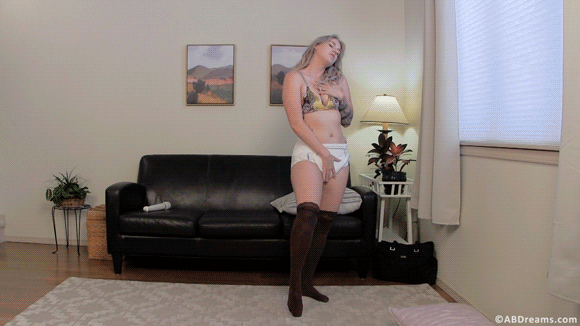 Cara is a gorgeous DL, and all she needs for a good time is a fluffy diaper and her magic wand.
Omutsu Cloth Diaper for Aya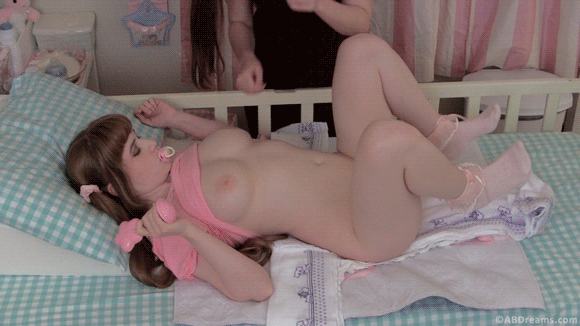 Aya is such a lucky girl! She's getting wrapped up in a real Japanese cloth diaper by Mommy Apple! Mommy lays her baby down and lovingly powders her princess parts before surrounding them in layer after layer of soft cotton fabric. It feels so good between baby's legs, especially once Mommy wraps it all up in an adorable diaper cover securely tied with pretty bows!
Bonnet Baby Cleo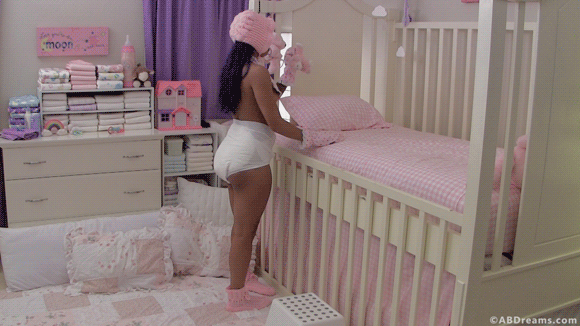 Precious Cleo is feeling very "baby" wearing her bonnet, bib, mittens, booties, and of course, her diaper. She feels so happy and safe as she climbs into the crib and sucks her pacifier, with her soft diaper perfectly hugging her curves.
Sunny Tries out a Pink DC Amore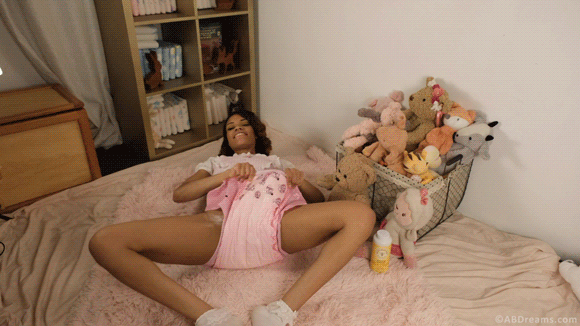 Sunny's happened upon a fluffy DC Amor diaper, as she's inspecting the diaper she's tempted by the soft padding, the crinkles, and it's just so cute and pink! She talks herself into putting it on. Sunny immediately soaks it, but that's ok because it helps her feel the vibrating wand better. (Video is a little blurry until 3:18 but still cute!)
Spanked, Diapered, and Nursed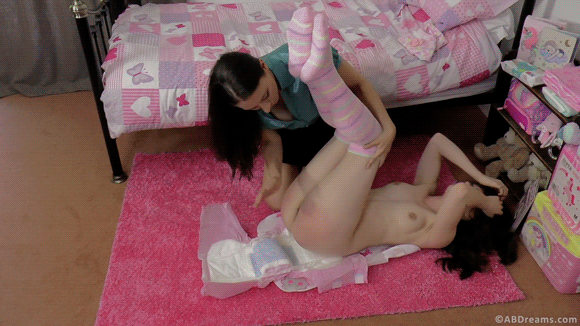 Bratty little Violet has annoyed her frustrated mommy, Sarah, with her continual disruptive behavior. Just because Violet can't get her own way, she throws a tantrum and refuses to be a good little girl. She is hungry and wants to feed but mommy doesn't think her little girl deserves to be nurtured just yet... after all, that is a special treat for good girls only! Mommy takes her girl on the floor and decides to diaper the brat since she is acting like such a "wittle" baby! Violet struggles and squirms, making it hard for Sarah to get her into the right position, so she smacks her bottom and legs in the diaper position until they turn a sore red... only then does Violet calm down to take the diapering. Now a little calmer, she is lovingly powdered and patted to ensure there will be no nasty rashes before being placed into the cute "Super Dotty The Pony" diaper. Taped in, Violet feels safe and snug, with the reassuring crinkling of the material... then mommy fetches Violet's favorite onesie, snapping her into the cute bedtime outfit. Since she has been such a good girl taking the spanking and diapering with good grace, she is rewarded with what she wanted all along, to be nursed by Mommy! Cradled in Sarah's arms, Violet feeds from mommy's breasts, feeling full and nurtured before being tucked into bed!
Sunny and Luna's Punishment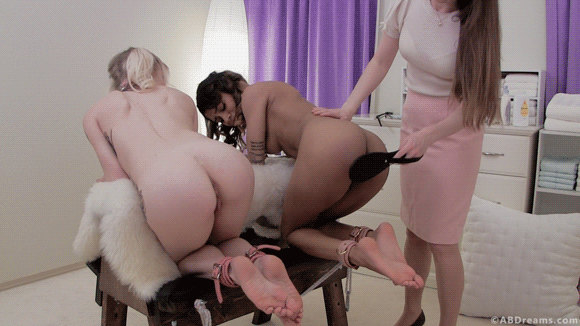 Sunny and Luna are bad little girls, and they need to be regularly disciplined. Today, Mommy Apple is paddling their bottoms until they're pink before making them both lay down for an after-punishment diapering. Mommy makes them lay down side by side with their wrists and ankles cuffed together, which makes it much easier for her to control the two fussy girls as she rubs them with lotion and baby powder and wraps their spanked bottoms in diapers to complete their punishment.
Binkie Paddles Herself and Cums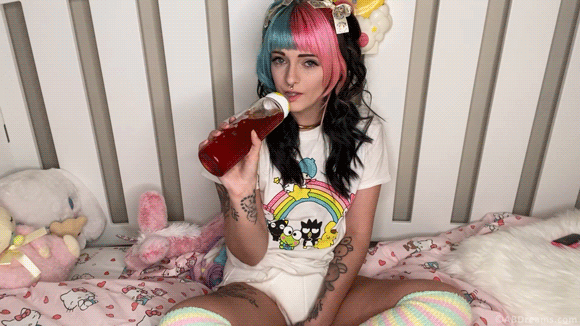 Binkie is in her crib wearing a cute cloth diaper, and she's feeling a bit naughty. She drinks her bottle and suggestively licks and sucks on her big pacifier. She paddles herself and imagines being punished by her Daddy. Then, she uses a magic wand to make herself cum in her diaper!
Pull-up Friends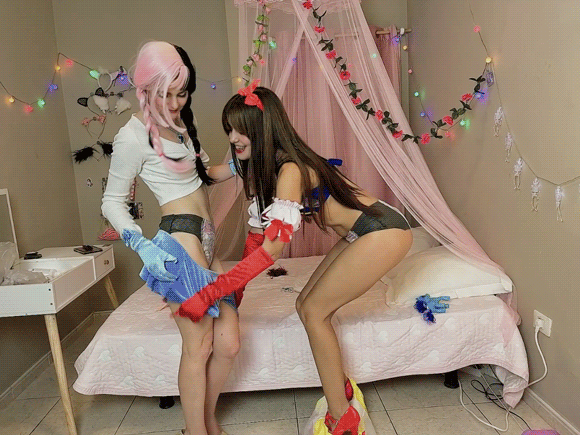 Caprice and her friend are "big girls". They get to wear pull-ups and makeup, and do big girl things like playing dress-up with each other. Playing dress-up is fun, but so is taking the clothes off each other afterward...
Regression Trickery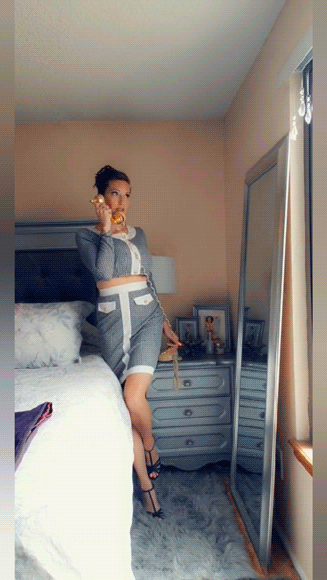 Kat has it all. Success, beauty, confidence, and wealth but she wants something money can't buy. She wants to stop time. To enjoy this time in her life forever. She wants "Eternal Youth". So when she finds someone able to work such magic she is quick to agree to terms and even quicker fooled by the trickery. Soon Kat finds herself getting way too regressed, until she is just a little diaper baby sucking her thumb.
Nica Thick and Wet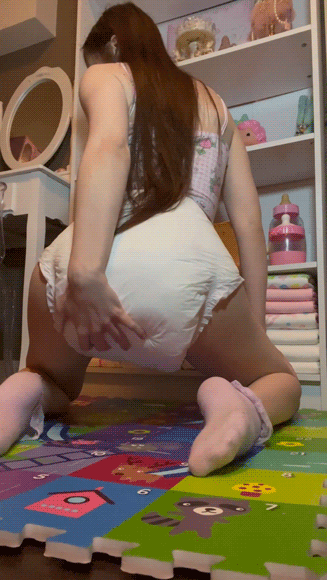 Nica shows of her very thick and wet diaper.
Fae and Mr. Bear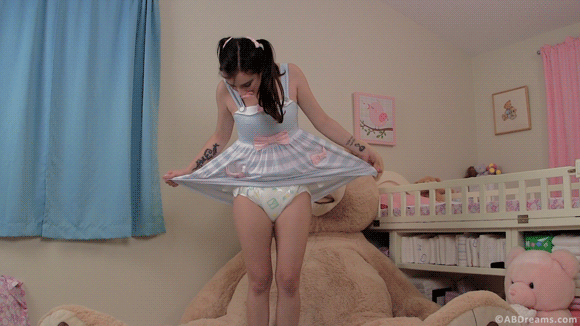 Fae's blue dress is so cute over her thick diaper, but it comes right off when she starts playing with Mr. Bear. She doesn't want any silly clothes in the way of getting close to her favorite Teddy Bear. She cuddles against the giant stuffie and humps his leg until she cums in her diaper!
Big Baby Bottle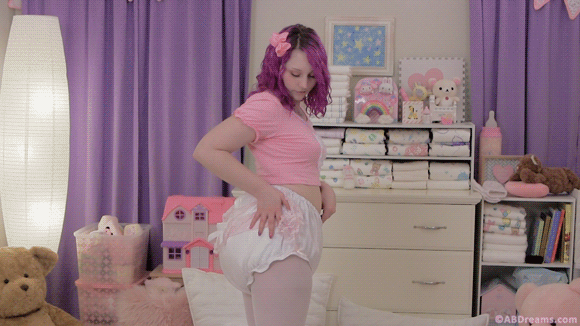 Candy looks so cute wearing a lacy top, tights, tennis shoes, and a ruffled diaper cover. Of course, she also looks good without her shirt and diaper cover - showing off how thick her diaper is while she plays with an oversized baby bottle, it makes her so horny but she can't get through the thick padding of her diaper so she has to hump a pillow.
Caprice's Naughty Homework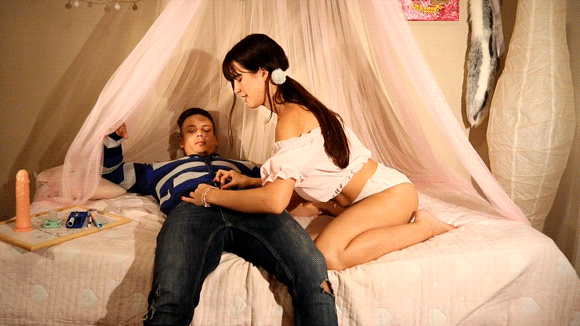 Caprice has some anatomy homework to do, but she needs Daddy's help to make sure she understands the lesson properly.
Persistent Mommy 2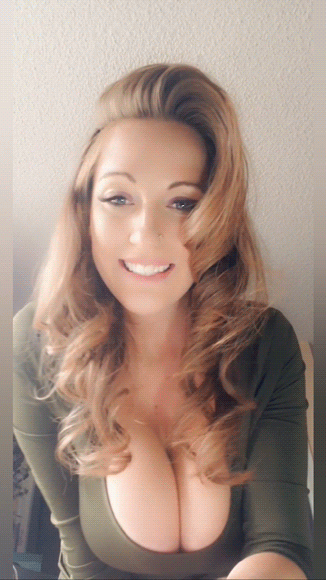 Mommy is here and she knows what you want, MILK. You are Mommy's big titty baby and you are not going anywhere little one. Its time to nurse...
Kat Nurses Apple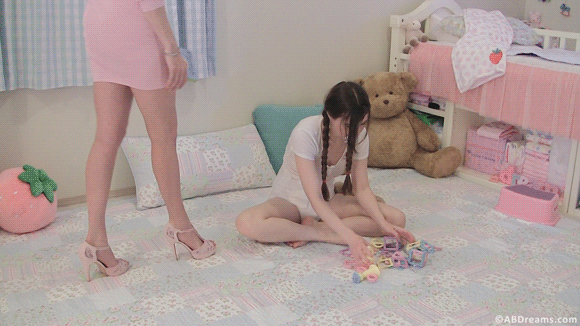 Apple has been changed, fed in the high chair, and now Mommy Kat plays with Apple and reads her a story before breastfeeding her. What a great day for baby Apple!
Binkie Diapers Herself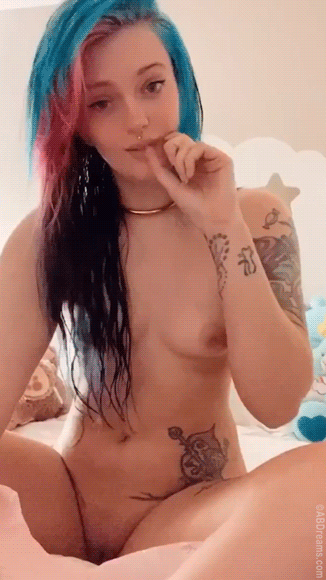 Binkie is all clean from her bath and puts on a pink Northshore diaper, now she's ready to play.
Diaper Pet Caprice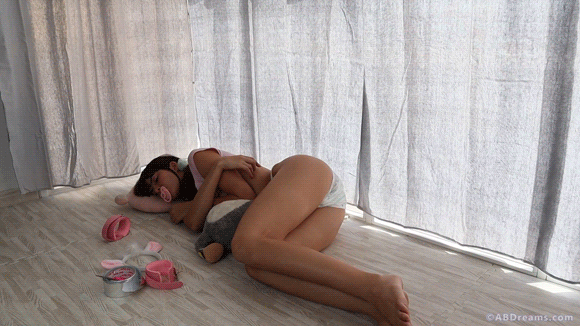 Caprice and her Totoro stuffie are keeping each other company and practicing some light self-bondage while they wait for Daddy to come play with them.
Caprice Diaper Pet with Daddy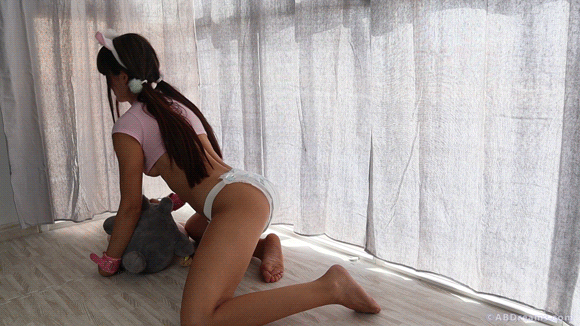 Daddy plays with Caprice.
Angelica's Diaper Humiliation Punishment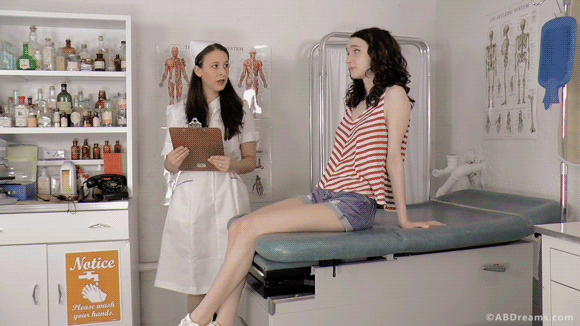 Angelica has been a promiscuous little slut and has been sent to a special institution where girls like her are dealt with in the best way... using discipline. Angelica's introduction to the institute is a visit to the medical examination room with Nurse Gregory. She has Angelica strip off her clothing so she is naked and vulnerable but the young girl is rude and defiant until she is given a thorough hand spanking and leather strapping on all fours over the examination table. Angelica is told about all the forms of discipline used on the young women there and she is not one bit happy that her parents have sent her here. The last part of this intake involves being put into a cute diaper. Since she can't seem to stop touching herself "down there" she will be made to wear a diaper to prevent excessive masturbation and continuing slutty behavior. She is utterly humiliated that a grown girl such as herself is being powdered and put into pampers. She doesn't feel so slutty anymore!
Naptime for Binkie Part-2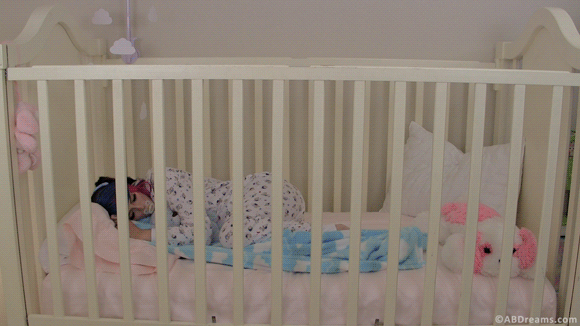 Binkie needs your help getting out of her PJs, because the zipper is in the back so babies can't take them off on their own. She may be all done with her nap, but Binkie still has a use for her pillow...
Caprice at the Park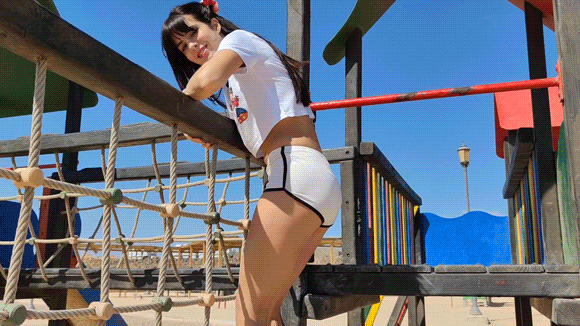 Caprice has fun playing at the park in sheer white shorts and goodnights training pants. What a beautiful day.
Peachy in Lingerie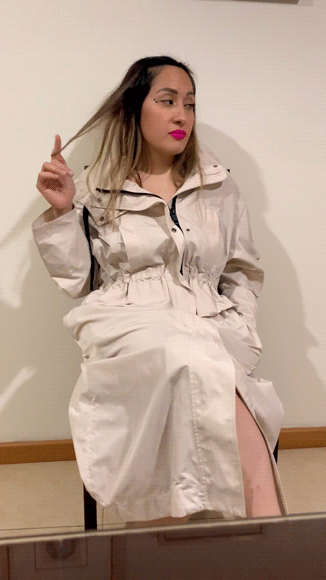 Peachy isn't wearing anything under her coat - except for sheer lingerie and a thick diaper. She wants to show you her tits and wet her diaper for you.
Mommy Kat and Baby Apple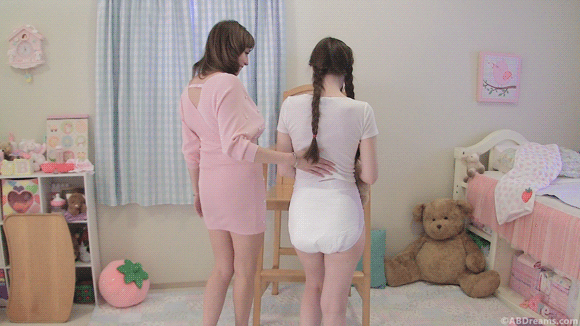 Mommy kat gets Apple ready for her day, feeding Apple yummy breakfast in the highchair. What a lucky baby!
Naughty Baby Cara
Cara looks so cute in her babydoll t-shirt and white tights, but the diaper between her legs must be making her feel a bit naughty. She wets herself and humps a pillow because she's such a horny girl!
Aya's Cute Diaper Set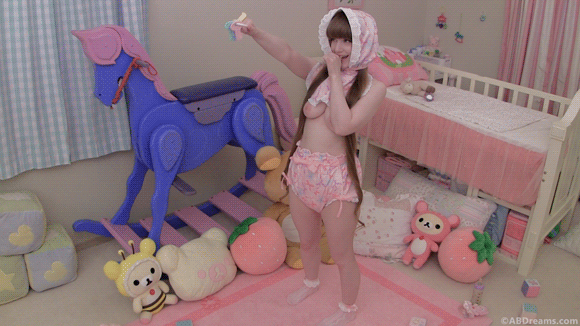 This matching set of Japanese diaper cover, bonnet, and bib are perfect on Baby Aya. She feels so carefree playing on the floor and drinking her bottle, knowing she's adorably protected from any leaky accidents.
Candy's Christmas Eve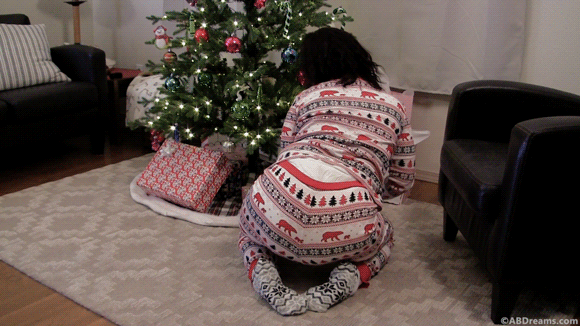 It's Christmas Eve, and Candy is extra cozy in her festive jammies and thick diaper. She's been such a good girl this year, she gets to open a couple of presents early. One of them is a new toy she just can't wait to play with.
Luna's Christmas Bad Dream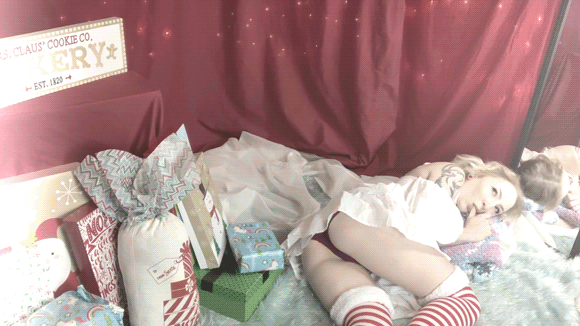 Luna thinks she's just settling down to holiday movies and cookies, but whatever was in her treats put her in a deep dream where she wakes up as a babbling baby in her cute white dress and Santa socks. But that's not all; Santa is through with her naughty behavior and the next thing she knows she's diapered, gagged and needing to tinkle...
Persistent Mommy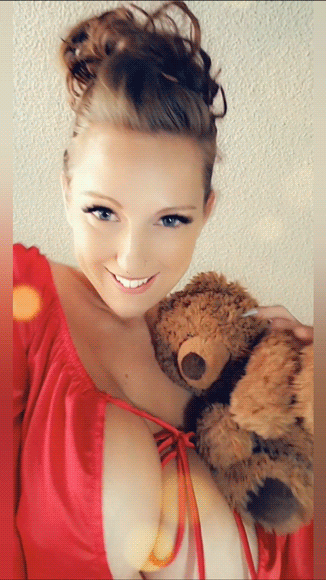 Mommy has you right where she wants you. Mommy's sweet baby needs tending to and you are not going anywhere little one. You are Mommy's little lamb. I'm going to keep you, and snuggle you and love you till the end of time...
Waking Up Together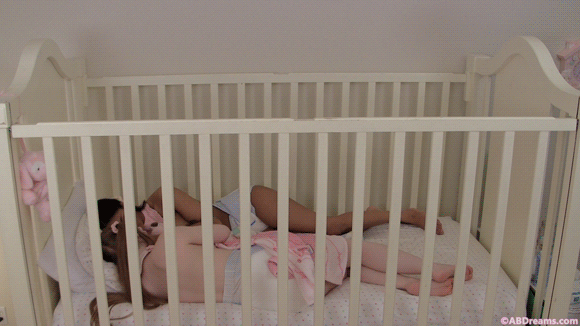 Baby Sisters Aya and Sunny do everything together. Wearing diapers together, playing together, getting changed together, and sleeping together in their crib. When they wake up in the morning, they don't mind waiting a while for Mommy or Daddy to come let them out. They're happy playing with their stuffies and cuddling like good little babies!
Dolly's in Trouble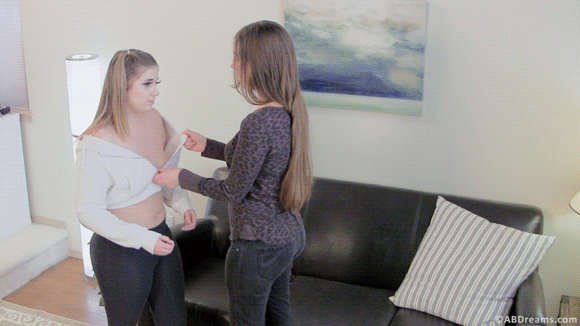 Dolly has been so bad. She stays out late, is not dressing appropriately, and has a major attitude problem. Apple knows just what she needs to make her behave - a spanking, locking mittens, and a cute baby diaper. Dolly better change her ways or she might get stuck in diapers forever.
Magical Girl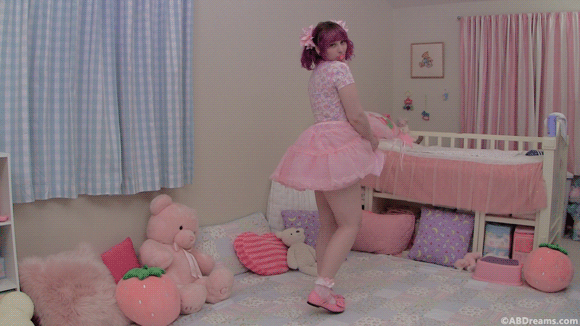 Candy feels like a magical princess in her frilly pink skirt, magic wand themed onesie, and holding her very own magic wand! Of course, she has a thick diaper keeping her safe underneath it all. This little girl has such a vivid imagination during playtime - she can almost see the magic sparkling around her!
Good Morning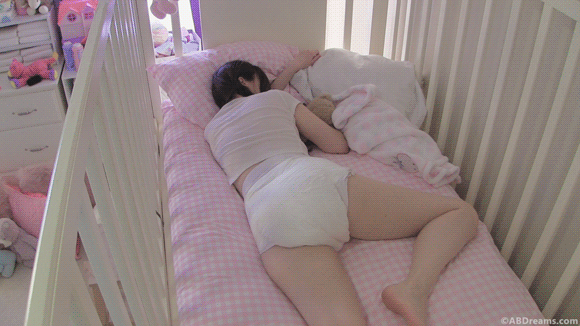 Apple wakes up wet and fussy, Mommy Kat gets her out of the crib and onto the changing table for a sweet diaper change with lots of hugs.
Surrounded by Softness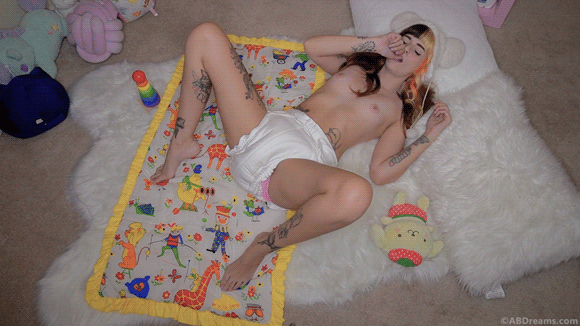 Binkie is feeling extra cozy laid out on her soft, fuzzy lambskin rug, with a poofy cloth diaper layered over a disposable. It all feels so good on her skin, she can't stop herself from humping a pillow until she gets sleepy and needs a little nap.
Clinical Care for Cara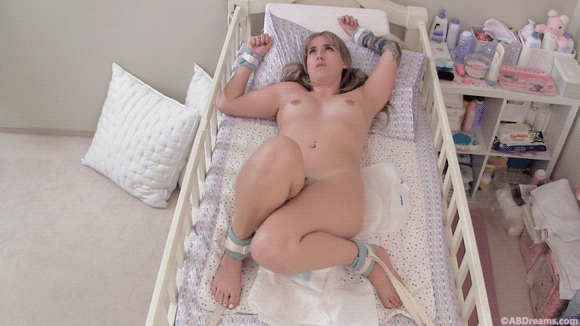 Cara has been committed to the Regression Clinic for an indefinite stay. The first order of business for all new patients is being put directly into diapers, which they'll be kept in at all times. Finding herself restrained on the changing table and being prepped for "therapy" has Cara feeling uneasy to say the least, but Nurse Apple is very experienced at making Diaper Time a pleasurable experience for even the most resistant of patients; her rubber-gloved hands teasing Cara's pussy, nipples, and mouth before consigning her to her new life in diapers. The next order of business is getting the patient securely strapped into a straitjacket for her first round of regressive hypno-therapy. She can't be allowed to cause any distractions, like trying to remove her diaper, so she can be completely focused on the hypnotic sounds playing over the headphones Nurse Apple has put on her. After enough sessions, she'll be rendered docile, infantilized, and permanently diaper-dependent.
PVC Romper and Cloth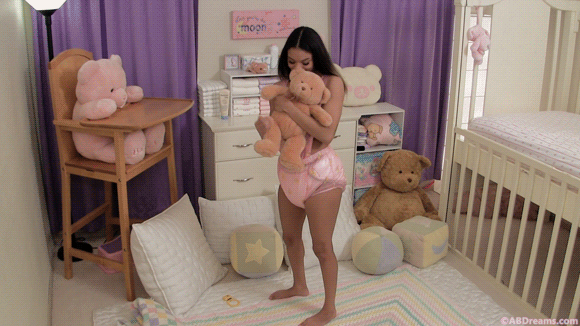 Sunny looks perfectly precious in her pink PVC romper, padded with an especially thick cloth diaper.
Trick or Treat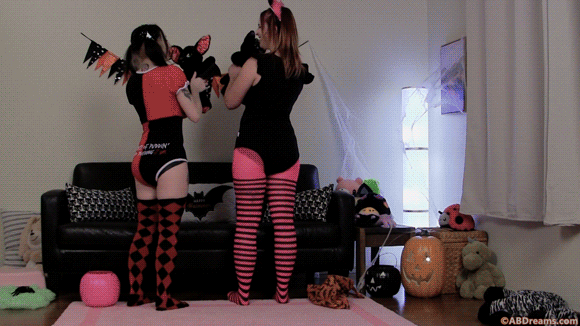 Skye and Luna are all dressed up from trick or treating and Skye has a very special treat for Luna.
Peachy Soaks her Diaper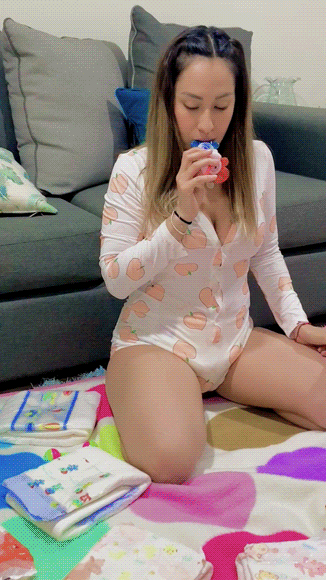 Peachy has a very, very wet diaper - it's so squishy between her legs. Her diaper is soaked to capacity, but she still has to wet even more! She untapes it and pees on the open diaper.
Baby Can't Sleep POV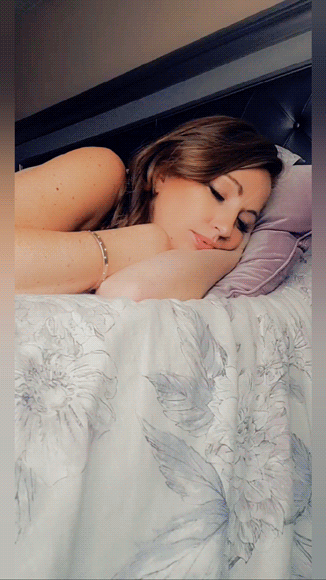 You had trouble sleeping, so you crept into Mommy's bedroom for help. You know Mommy always makes it all better, and Mommy knows just what to do. She nurses you and whispers sweet things to you until you feel calm and sleepy again, then she carries you back to your bedroom where you fall fast asleep in your crib.
Luna Nurses Sunny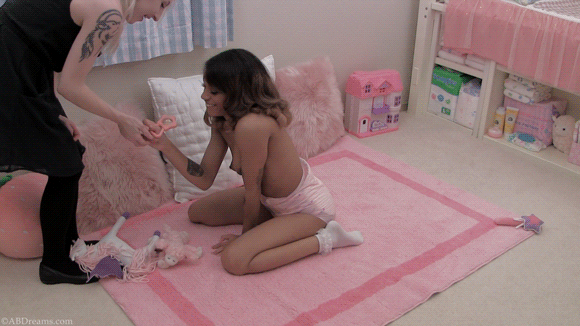 Baby Sunny adores her Mommy, and loves when Mommy holds a baby bottle for her to suck on. Always a good girl, Sunny drinks plenty of baba, but there's something else she wants too. Once baby has had her milk, Mommy undoes her nursing bra so Baby can suck on her pretty, pink nipples. Nursing is such a lovely way for Mommy and Baby to bond.
Aya's Accident - Part 2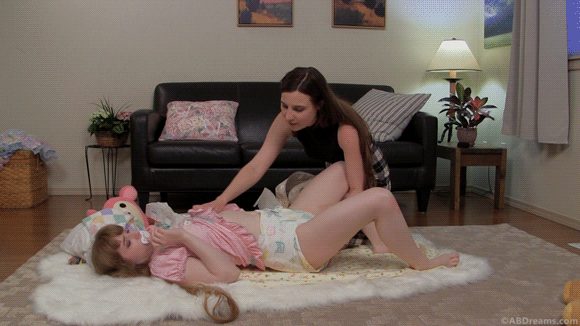 After being put back in diapers for her failure to make it to the potty and wetting her panties, Aya is trying to make the best of things by getting back to coloring with crayons. Before she knows it, she's managed to wet her diaper too! At least now Mommy doesn't have another reason to be upset with her. In fact, she wants to give Aya a special surprise with her diaper change. Mommy puts a pink buzzy toy inside Aya's next diaper, and uses it to show her that being diapered isn't so bad. Mommy makes Aya cum in her fresh diaper and gives her a big hug for being so cooperative.
Candy and Apple go to the Beach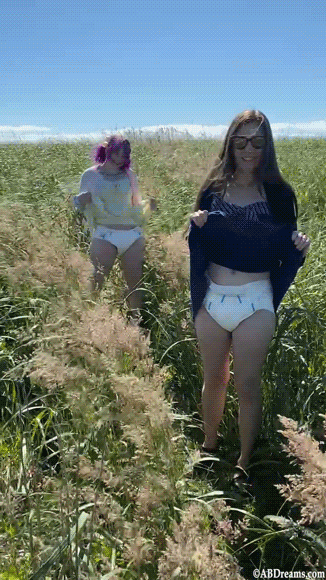 Candy and Apple take a day trip to the beach. Apple even wets outdoors. We had so much fun!
Angelica's Punishment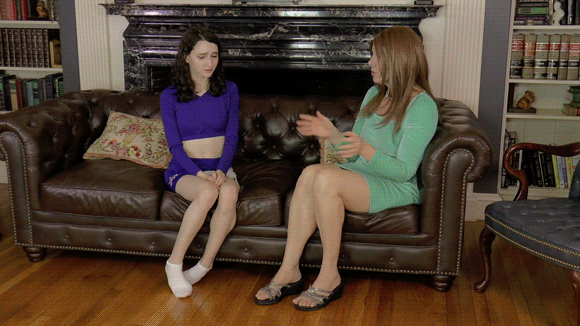 Angelica has been continually misbehaving at school, and it's really becoming a problem. Normal punishments just haven't been enough to correct her behavior, so Mommy Katherine has decided to try something more drastic. After giving Angelica a stern bare-bottom spanking over her knee, Mommy Katherine lifts her naughty little girl up and carries her upstairs to the "punishment room" - where Angelica will be put back into diapers and treated like a baby until she learns her lesson. After her punishment diapering, Mommy holds Angelica in her lap to breastfeed her, and Angelica starts to feel like maybe baby treatment is just what she needed after all.
April Wets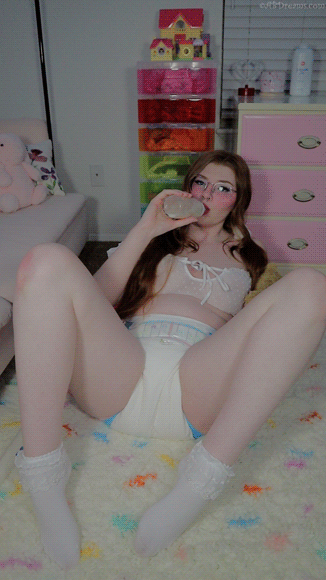 April drinks a bottle and wets her cute Carousel diaper, it has her so turned on she has to use her wand over her wet diaper to cum.
Aya's Accident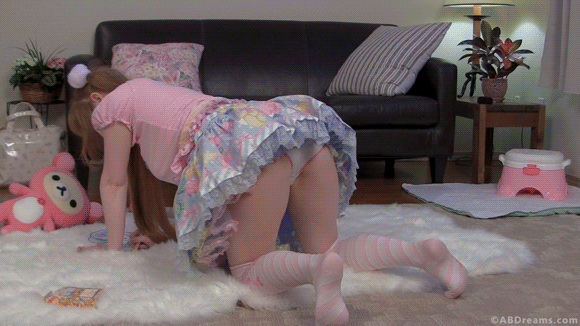 Aya is having some little time, coloring on the floor - but she doesn't need diapers. She's a "big girl" and panties are just fine for her! Mommy Apple comes to check on her, and reminds her to use her potty chair like big girls do, but Aya doesn't want to yet. What a silly girl; it doesn't take long at all before she realizes she does need to go, and now her Mommy isn't there to help her. She urgently tries to make it to the potty, but getting her pretty skirt off is just too hard! By the time she gets it off, it's too late. She can't stop herself from peeing! Now her panties are soaked, and she's standing in a big, wet puddle! Luckily, Mommies are good at taking care of accidents like this, and Aya's Mommy knows just what to do. Mommy isn't even too upset with her little girl as she gets her out of her wet panties and wipes her all clean. Aya is pretty upset though, because now Mommy is going to put her back in diapers! Aya feels more and more upset and ashamed as Mommy sits her on a diaper and finishes stripping her naked, covering her "big girl" parts in baby powder and wrapping them up in protective padding. Aya isn't happy about it, but now Mommy won't have to worry about any more accidents.
Cleo in Vintage Snuggies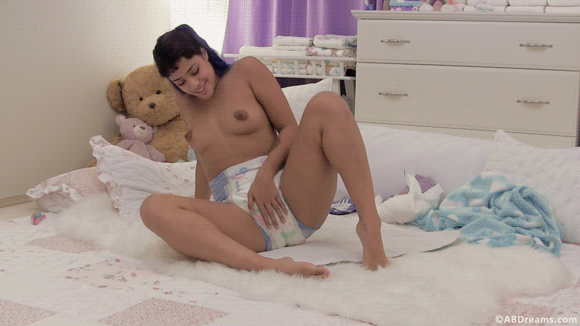 Cleo feels so cute and cozy in her vintage Snuggies Overnight diaper. She crawls around shaking her rattle and cuddling her blankie.
Playtime with Mommy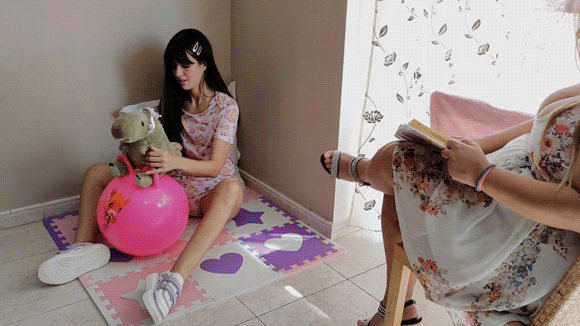 Caprice is playing on the floor while her Mommy keeps an eye on her, but when she finds a buzzy toy she want to try, she needs Mommy's help to use it. Good babies wait for Mommy to help them with that kind of playtime.
Car Diaper Change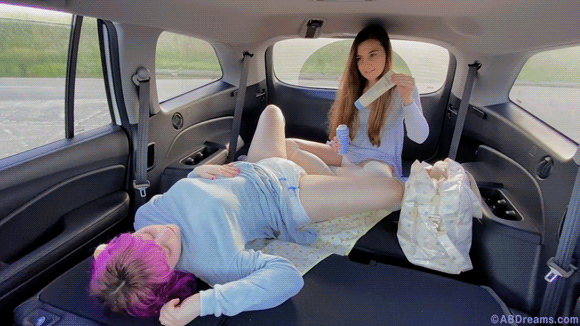 Candy and Apple have had a fun day at the beach but now they need diaper changes, so they take turns changing each other in the back of the car.
Car Diaper Change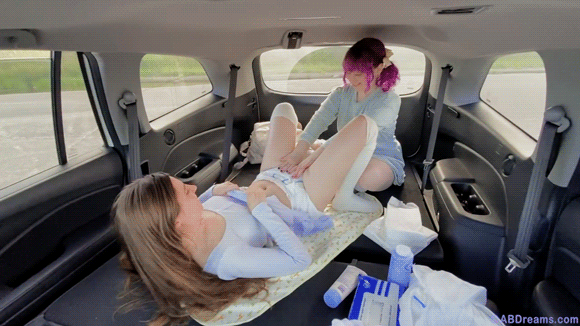 Mommy Binkie Bottle Feeding and JOI POV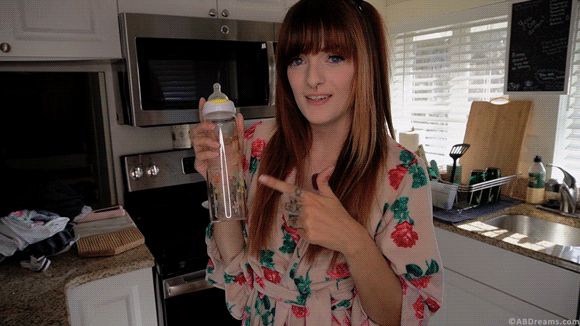 *Good little boys and girls should have a diaper on before watching this video* Mommy Binkie wearing her cozy robe in the kitchen, getting you ready for the day. She knows you're hungry, and she has a big bottle of milk for you to drink. Your loving Mommy sweetly encourages you to drink the whole thing - what a good baby you are! And, since you've been a good baby, Mommy has a reward for you. While she waits for your diaper to be wet enough for a change, she takes off her robe so you can see her titties as she gently encourages you to cum for her. Mommy loves making you turned on so much, she touches herself along with you until you make a big sticky mess in your diaper.
Cleo Puts on a Snuggies Overnight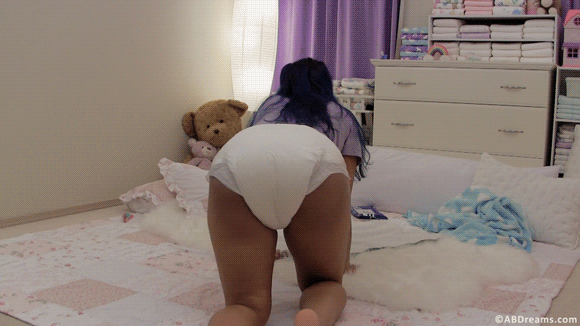 Cleo changes into something more comfortable - a vintage Snuggies Overnight diaper.
Baby Shark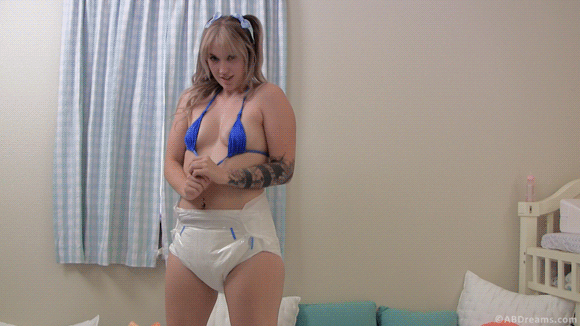 Nothing comes between Cara and her favorite stuffed animal, Blahaj the big blue shark. Her shark's toothy grin complements Cara's pretty smile - but watch out for their bites!
Play Twister With Caprice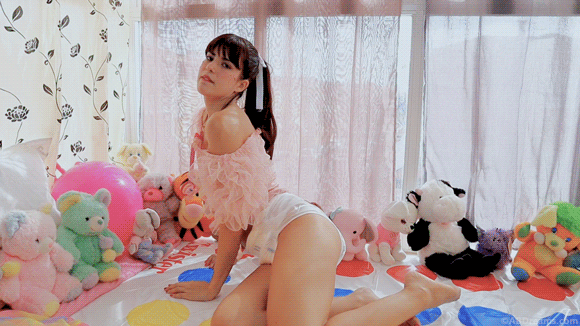 Caprice soaks her diaper and plays some Twister, how fun!
Tinks Check Up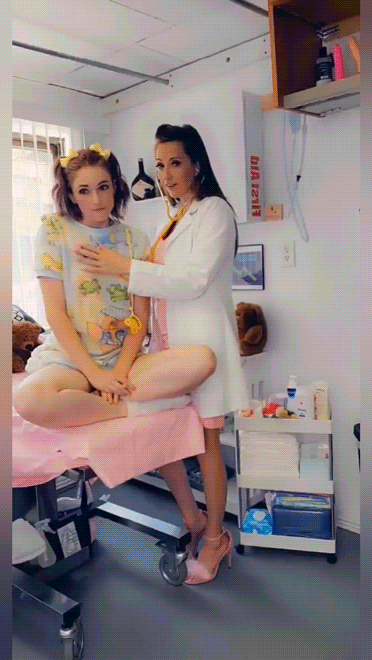 Dr Kat has been talking to Tinks' Mommy and apparently Tinks has been having trouble with wetting the bed. Dr Kat prescribes diapers and has no problem putting Tinks in a diaper right there on the examination table.
Training Pants Wetting and Diaper Change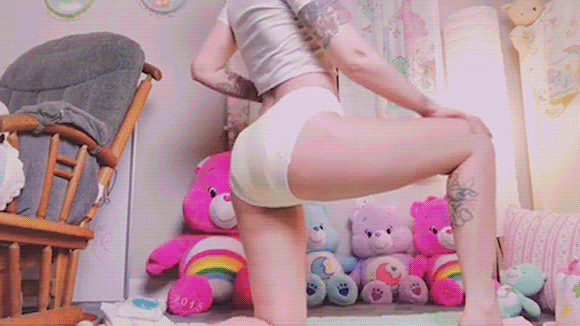 Binkie wets her training pants "accidentally" on purpose. Oh well, it looks like she'll have to put herself back into diapers for now - darn! She's so disappointed in herself that she starts humping her pillow. Gosh, she must be really ashamed of needing diapers...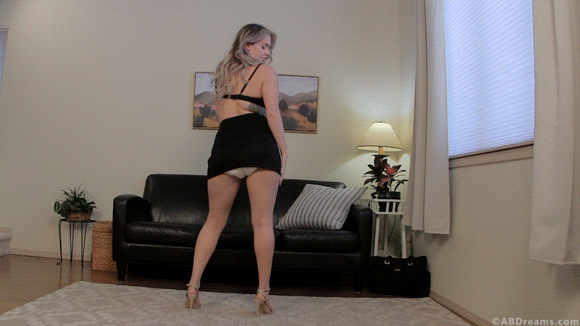 Cara feels so sexy in her diaper, she does a naughty strip-tease just for you.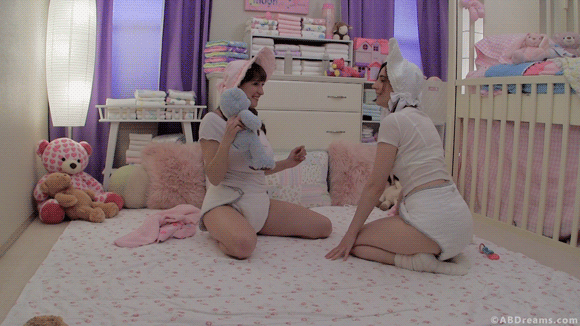 Apple and Kitten look so adorable in their bonnets and thick cloth diapers. They cuddle and play, and look up at you sweetly as they drink their bottles. How precious!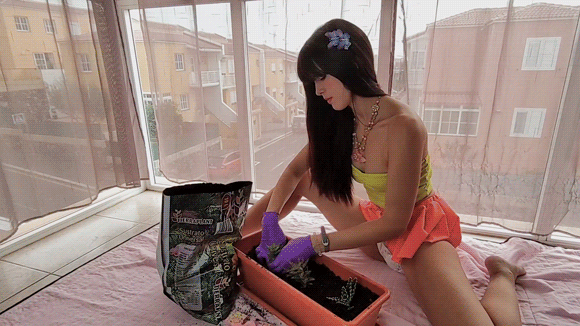 In this cute slice of life scene, Caprice pots her plants in some new soil, dressed comfortably in a tube-top and Tinker Bell training pants.
Sarah's failed college, and now her Mommy is very disappointed in her. Sarah is in for some big changes at home as a result. Her bedroom has undergone a drastic, and very infantile makeover, and all her adult clothes have been donated. In their place are nothing but baby clothes! That's not the only punishment Mommy Katherine has in store for her though. Sarah has to strip naked before getting a bare-bottom spanking over Mommy's knee - Mommy even uses a hairbrush for good measure! Then Mommy puts Sarah in a babyish printed diaper, which is what she'll have to wear until she learns to act her age.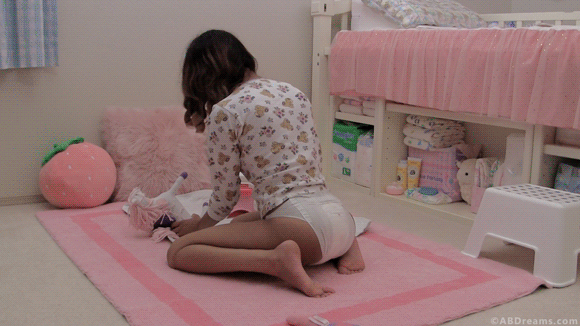 Sunny uses her potty chair like a good little girl, and then Mommy Luna lovingly diapers her for bedtime.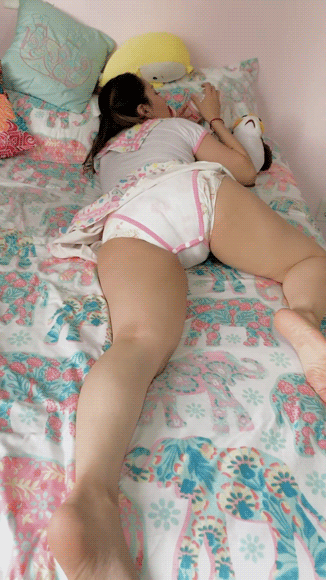 Cute baby Peachy drinks her bottle, wets and finds some toys to play with.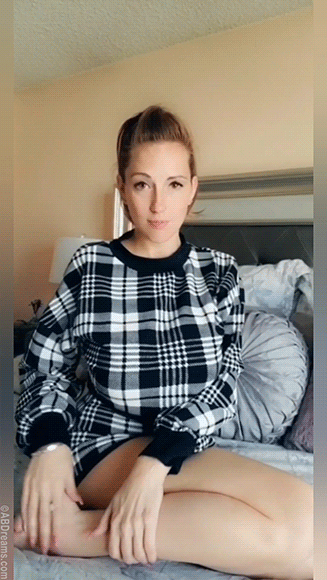 I want you to give Mommy cum tribute and I'm going to make sure you do it right. I'm going to watch and tease you by pleasuring myself with my glass toy, until you cum.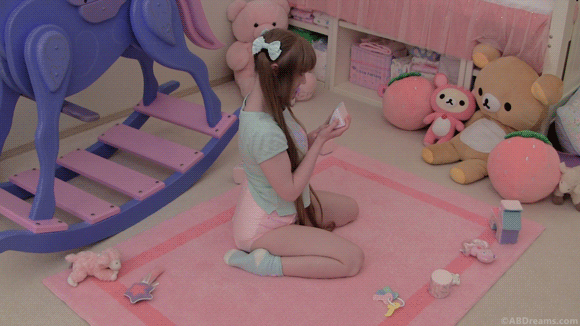 Adorable baby Aya plays with soft toys and rocks on the rocking horse, while rocking a pink Northshore Megamax diaper.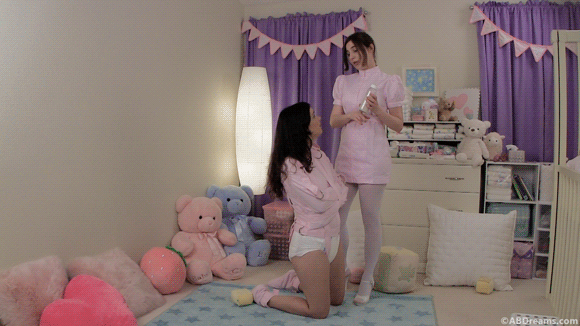 Fae has been very bratty and needs an attitude adjustment.She has refused to accept her diaper treatment, so Nurse Apple has her wrapped in a straitjacket. Now Fae's punishment can continue. Firstly, Fae needs to finish her bottle of very special formula that will help her mindlessly soak her diaper. Secondly, she needs to suck on the extra large Nuk 10 pacifier while she has a time out.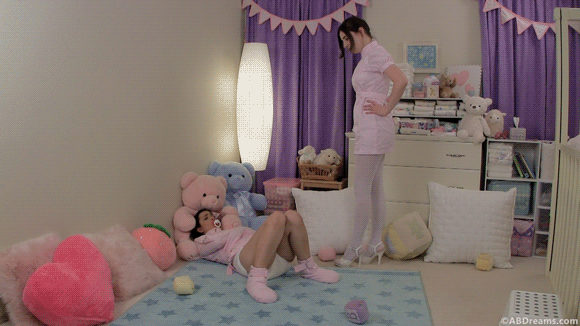 Nurse Apple comes to check on Fae and see how her timeout is going. Unfortunately, Fae has been having a tantrum and even though she has soaked her diaper her treatment isn't over. Apple scolds Fae while squishing the thick wet diaper between Fae's legs, the wet warm padding being rubbed into her pussy is starting to turn her on, despite her protest. Nurse Apple ushers Fae to the crib, securing her straitjacket to the straps in the crib - wiggling around, Fae realizes it's impossible to escape. Apple has a few more treatments for her unruly brat that will put her in her place. The big Nuk 10 pacifier filling Fae's mouth is removed, but is immediately replaced with a pacifier gag, and Fae can do nothing about the blindfold being placed over her eyes and the headphones over her ears. Now Apple shushes Fae, putting on hypnotic lullaby music. Finally Apple makes Fae helplessly cum with the vibrating magic wand. Unable to struggle anymore, Fae is left for a nap in the crib.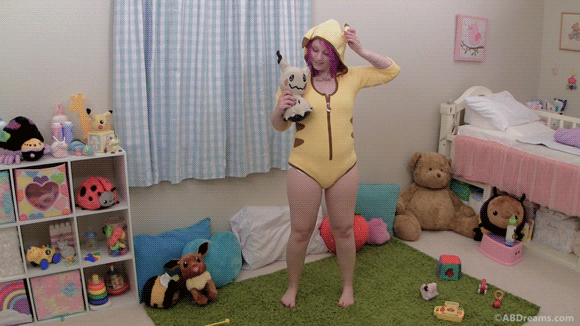 Candy plays games and takes pictures of her plushie friends before enjoying a bottle of milk.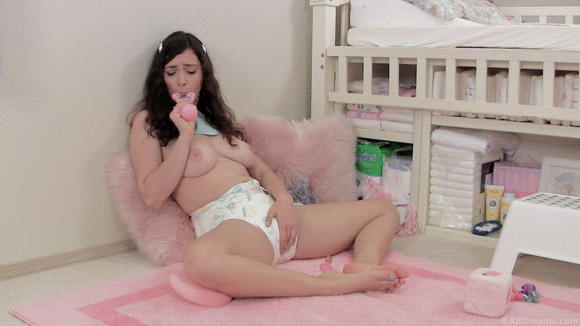 Fae is feeling funny in her soaking wet diaper, she tries to find something to distract herself with or suck on. When Daddy D comes to check on her she is very eager to get into his pants and kiss and suck on her very favorite toy.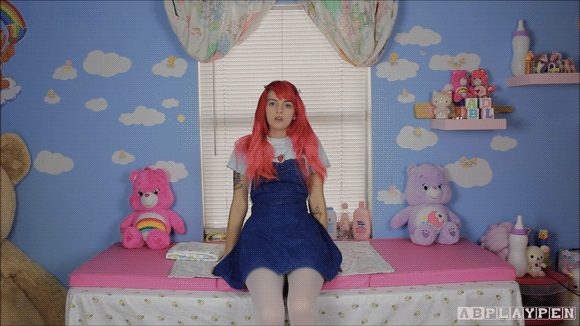 Binkie is wearing her cute overall dress and tights but she is going out and she needs something that will offer her more protection. So, she changes into a cute Barebum baby block diaper before getting dressed again.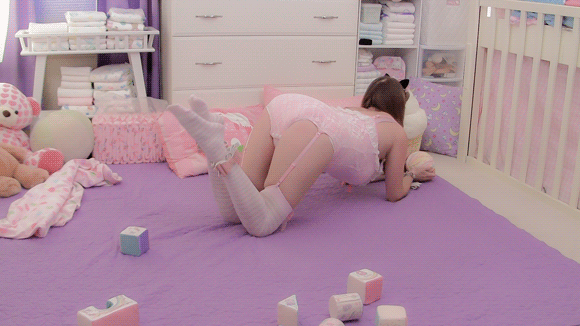 Kitten looks so cute in her lacy pink onesie, pink thigh highs and kitty ears. She shows us how fun playing with a ball of yarn can be before sipping on a bottle of milk and humping some stuffies.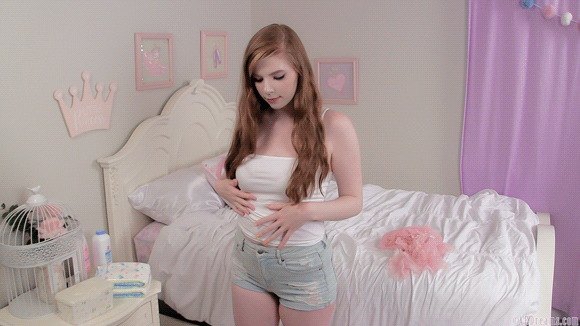 April changes out of her day clothes, and into a comfortable sheer slip and a cute Littleforbig Little Trunks diaper. It doesn't take long for her to wet.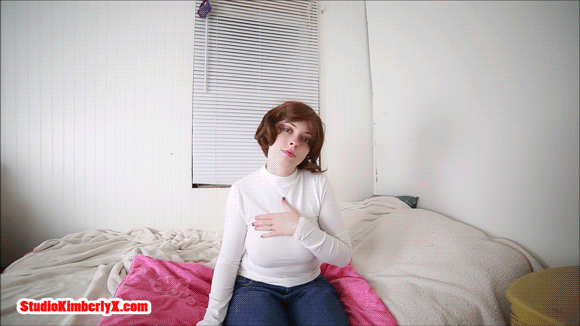 You've had a hard day. Let Mommy make it all better... Mommy soothes you with her titties, and lovingly touching your private parts.
Bubbles and Apple are silly girls, they giggle and play all over Mr. Bear.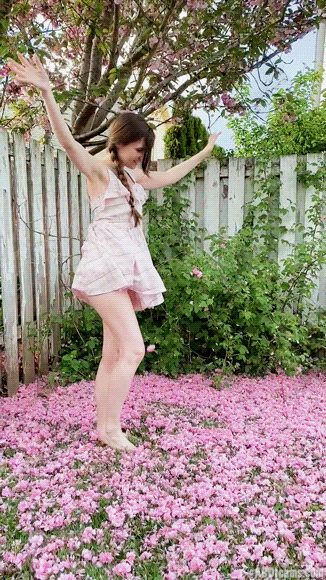 Apple picks up flower blossoms and scatters them in the wind. The pink cherry blossoms match her pink Northshore Megamax diaper and pink dress. What fun!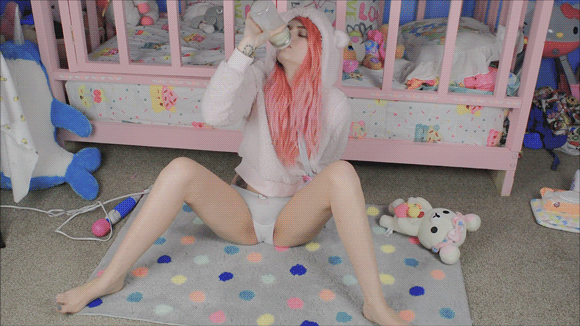 Binkie is enjoying a bottle in her nursery when she forgets she isn't wearing a diaper and mindlessly wets her panties. That's ok though because that means she can put on a diaper. Wetting her panties and getting diapered up really turns her on, so she uses her vibrating wand until she cums.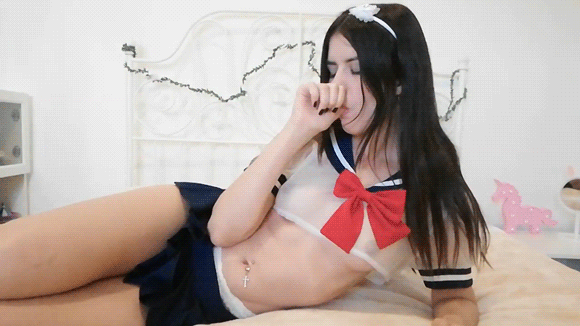 Caprice has a cute sheer sailor top and skirt on. She sucks on a paci and wets her pullup diaper - it's such a nice feeling.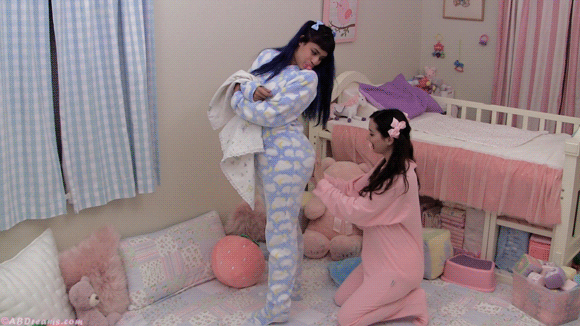 Fae and Cleo play in their fuzzy footed jammies, teasing each other and cuddling before bedtime.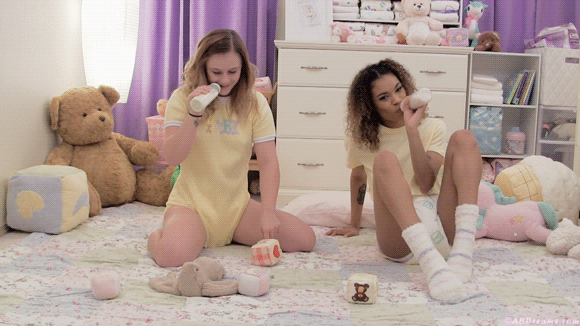 Sunny and Chloe have fun playing in their cute baby clothes and checking out each other's diapers. Playing and teasing leads to getting naked and rubbing their wet diapers together.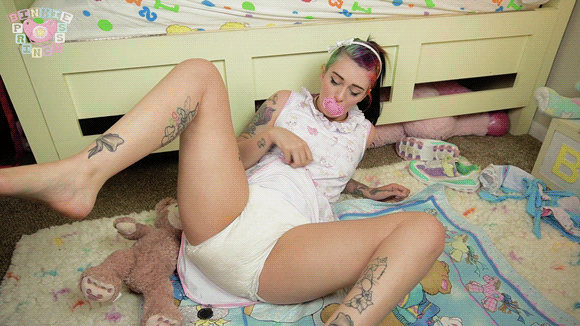 Binkie has soaked her diaper and it's starting to make her really turned on. She unsnaps her onesie and rubs her diaper until she cums.
Binkie Potty Training
Binkie is playing on the floor when she has the urge to pee, but instead of using the potty chair she wets her training pants. It feels so warm and squishy, she is pretty pleased with herself. When Mommy Apple comes in to check on Binkie there is no hiding the wet training pants. Apple gives Binke a chance to use the potty but to Binkie's dismay it's time to go back in diapers for an outing with Mommy.
Nanny Kat in the Nursery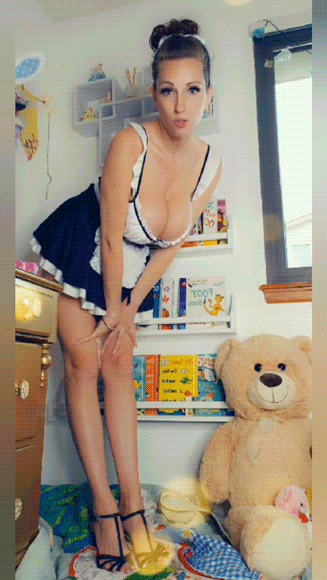 Baby has made a big mess in the playroom and Nanny Kat makes you help her clean it all up. Baby just watches her breasts and wants her to stay with him so Baby asks for a story and then wants to nurse before Nanny Kat gets him down for his nap.
Candy in the Diaper Clinic Pt-2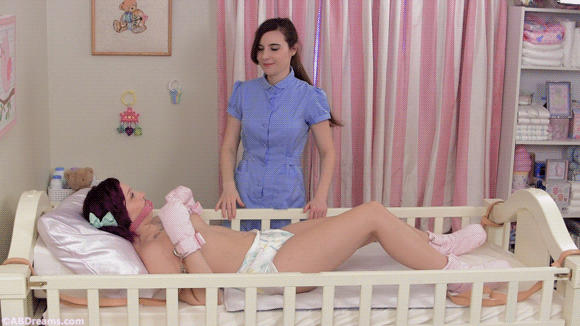 Candy gets a bondage diaper change, Nurse Apple rubs and fingers Candy's pussy until she cums before powdering her and taping her new fluffy diaper up.
Caprice Wets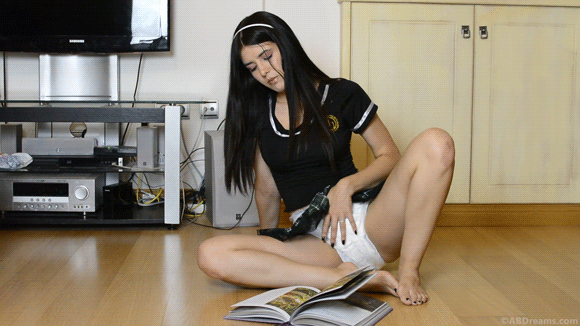 The best thing about reading a book and wearing a diaper is you don't have to get up to use the bathroom.
Cutie Pie Fae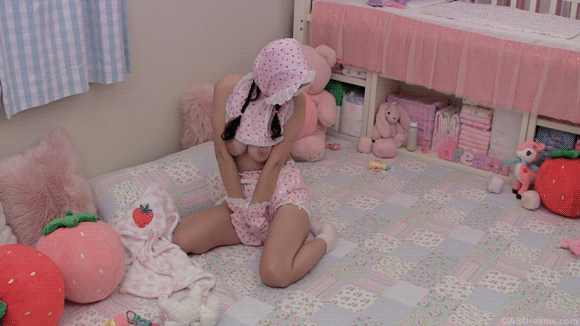 We put a super cute pink diaper set on Fae, consisting of a diaper cover, mittens, bib and bonnet. Fae finds the bonnet much too embarrassing; blushing and fussing until she gets used to it.
Candy in the Diaper Clinic Pt-1
Candy is stuck struggling in a soaking wet diaper and a straitjacket. Nurse Apple comes to check on her and feed her a bottle. Apple inspects Candy's diaper, squeezing and pressing the wet diaper against Candy's pussy. Since Candy did such a good job drinking her bottle of milk and wetting Apple takes off the straitjacket and gets Candy on the table for a diaper change.
Kat Edging My Diaper Boy POV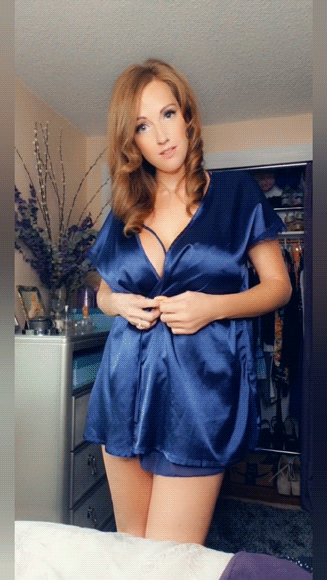 You know I'm going out tonight and it makes you hard in your diaper doesn't it? To know I'm going to be with a real man tonight while you whimper in your crib. Maybe Ill bring him home and you'll hear the pleasure a real man gives me. Look at you, my rock hard and denied diaper boy. You are so cute when frustrated, I'll keep you that way.
Cuddly Cleo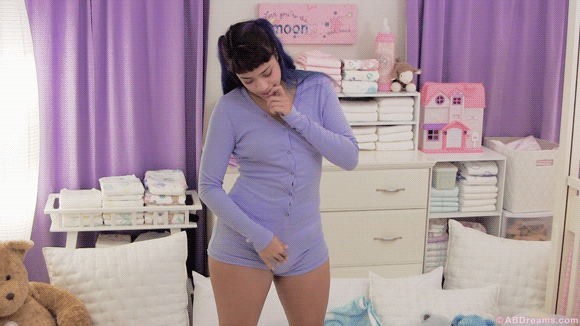 Cleo gets naked and sucks on her paci, then gets comfy with a soft blanket.
Chloe Diapers Sunny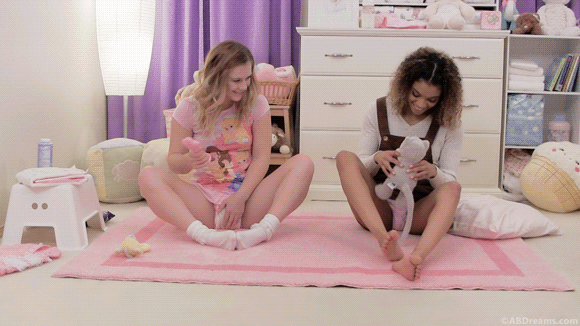 Sunny and Chloe are having little playtime when Chloe realizes shy Sunny is wearing goodnight training pants under her skirt instead of a diaper.  Chloe takes Sunny's big girl clothes off and diapers her in a matching, thick, pink, Unicorn diaper.
Kat and Red POV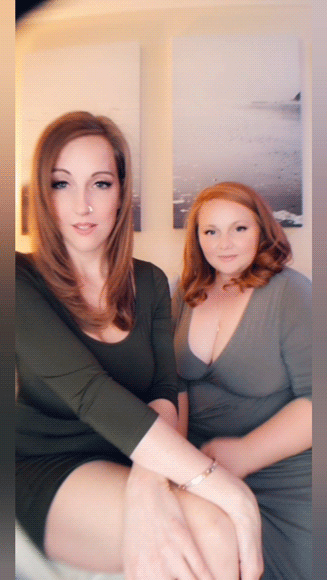 Mistress Red and I both know you love huge gorgeous breasts. You can't resist beautiful tits naughty boy. We want your cum tribute. We want to watch you masturbate in honor of our irresistible assets...because we know you want to cum...
Luna's Diaper Pet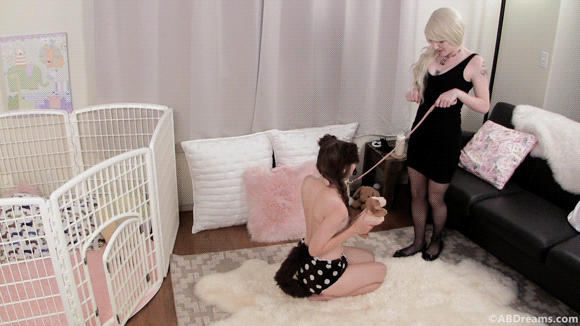 Luna makes Ellie her little diapered pet in a plush all-in-one diaper.
Binkie Wets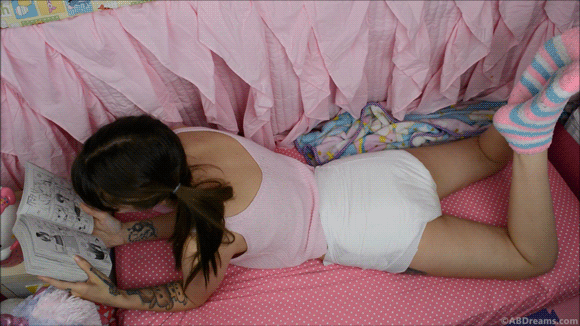 Binkie wets and it makes her diaper feel so good she can't help but masturbate in it.
Mommy Kat POV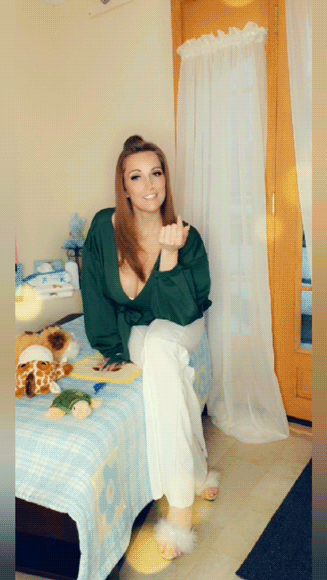 Time for your bedtime diaper change and breast feeding.
Fae's in Trouble
Apple gives Fae a proper spanking before she puts Fae's warmed bottom away in a fluffy diaper. Apple sends Fae on her way, her short skirt hardly covering the diaper, how embarrassing!
Binkie in Diaper Bondage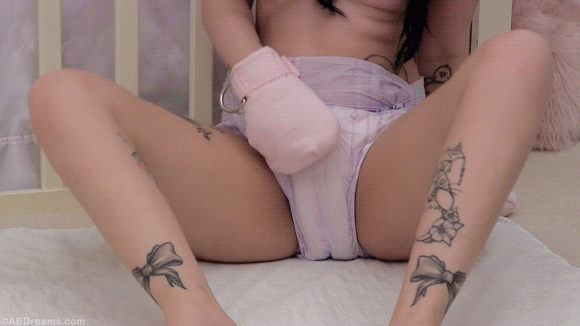 Watch beautiful Binkie wet her Molicare diaper and struggle in bondage.
Morning With Mommy Kat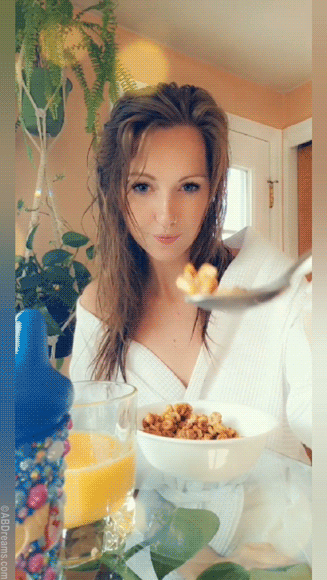 During a bright and cheerful morning breakfast Mommy notices you are going potty and gently teases you about being her "little stinker" After a sweet diaper change Mommy places you at her feet while she gets ready for the day. Be a good boy and play with your toys.
Candy's Potty Training Trouble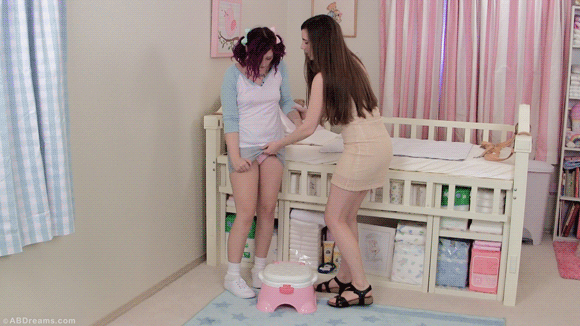 Candy didn't use the potty when Apple gave her a chance and they are running late for a dinner date. So, instead of training pants, Candy has to go into a thick diaper. Of course, Candy wets right after the diaper goes on. That's ok because Apple can bring her diaper bag an change Candy later.
Baby April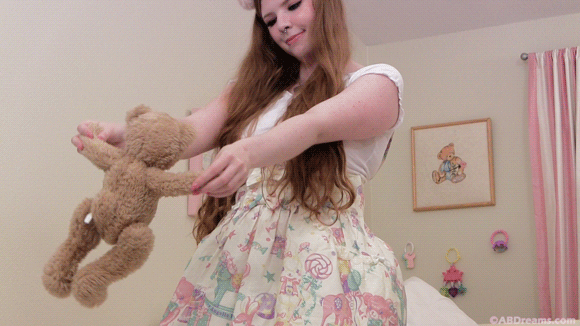 April looks so sweet in tights and a poofy skirt over her diaper.
Chloe Leaked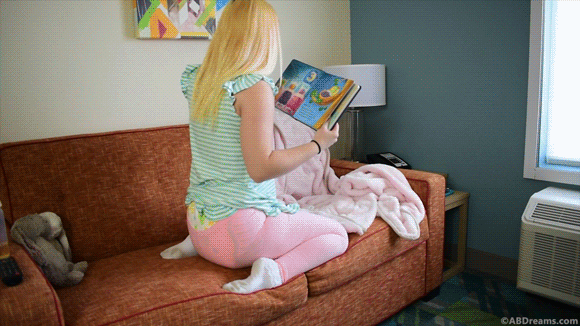 Chloe is enjoying her book and very wet, squishy diaper. But she takes her diaper to the limit, leaking on her pants, before having to change.
Your Sister Told Me Your Secret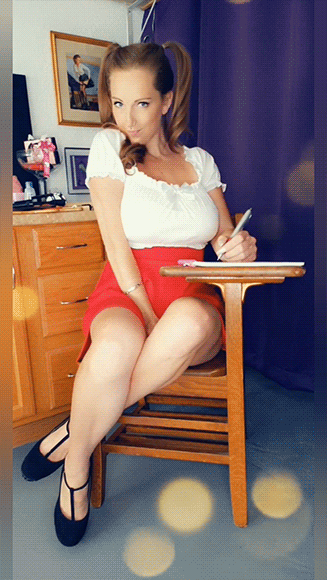 It's so hard to pay attention in class when you have Kitten demanding your attention. She knows your secret and isn't going to leave you alone about it. She 's blackmailing you and it's so scary....you pee your diaper and she noticed!
Lola's Diaper Change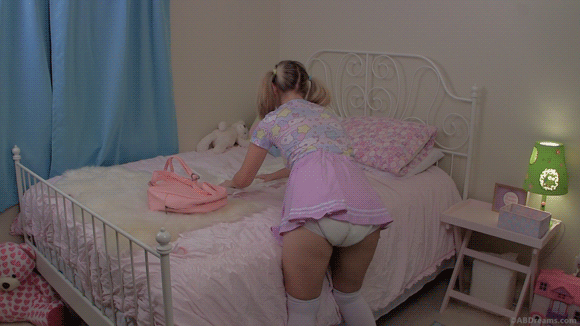 Lola just got home from her little day out. Now she is ready to relax after changing her diaper.
Binkie Cums for Mommy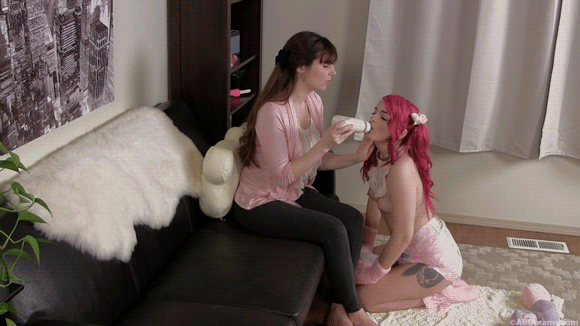 Mommy Apple sweetly makes cute baby Binkie cum after her bottle of milk.
Kat Locked in Diapers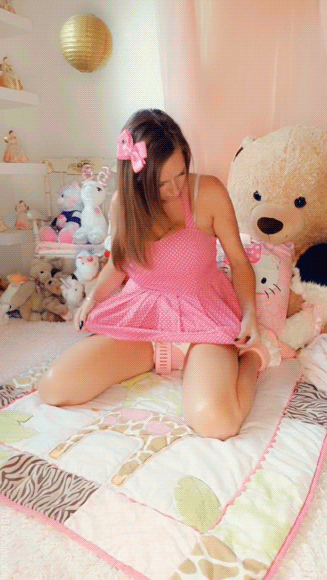 Kitten wakes up in a pink dress with a pink bow in her hair and LOCKED IN A DIAPER, she'd do almost anything to be let out of this locked chastity belt.
Caprice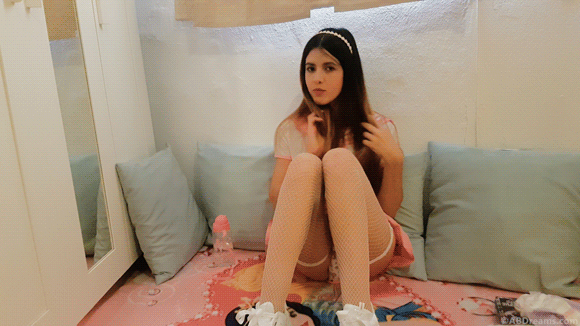 Caprice shows off her cute training pants.
Mommy Kat Quick Diaper Change POV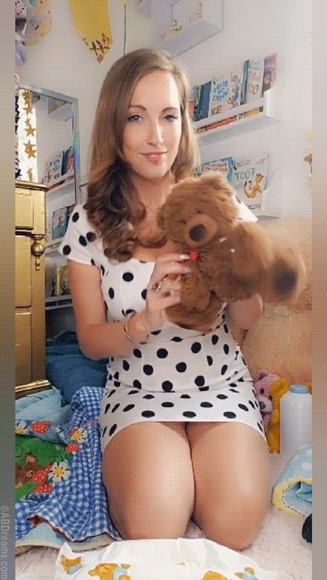 POV, your Mommy sweetly changes your diaper.
Luna Nurses Ellie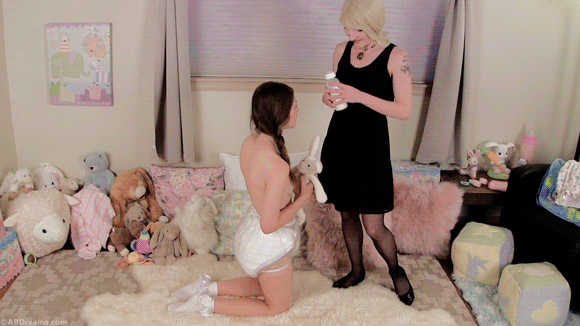 Sweet Ellie gets a bottle of milk and nursing from Mommy Luna.
Candy Onesie and Bondage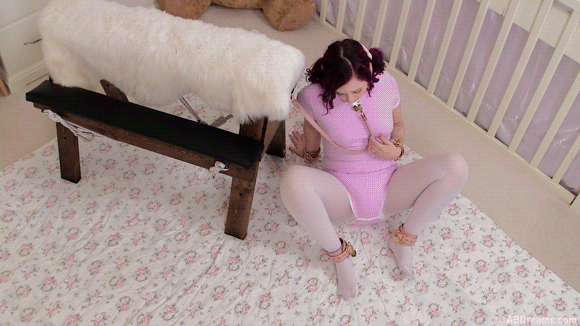 Candy looks adorable in a pink onesie, tights and a thick diaper. She cutely struggles as she's tied to the bondage horse with a spreader bar.
Babysitter Star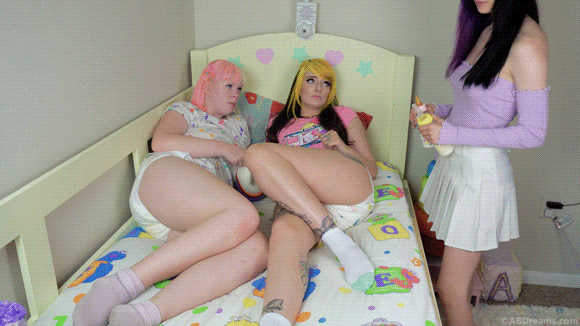 Babysitter Star is putting Binkie and Bell down for a nap. She makes them sleepy by making them cum at the same time and giving them warm bottles of milk before tucking them in.
Ellie Babysits Luna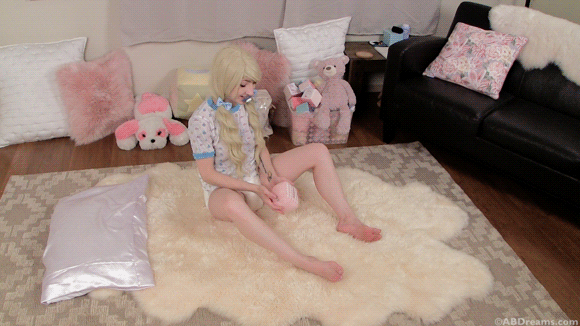 Babysitter Ellie is watching little Luna. Luna wets her diaper and Ellie gives her a sweet diaper change.
Apple Outside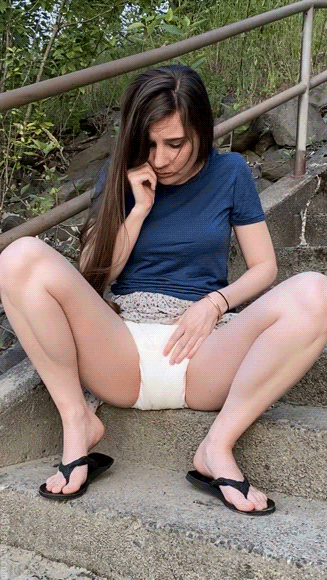 Apple goes on an outdoor adventure in a super short skirt and a Northshore diaper.
Kat Diapers Her Date Pt-1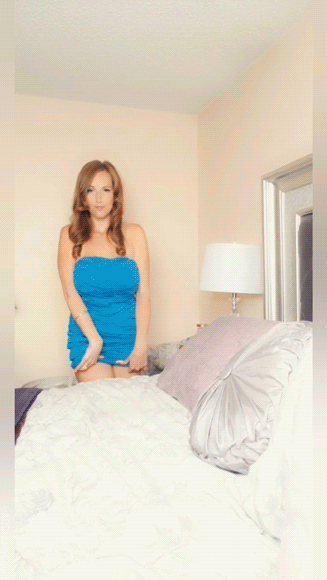 Our date was going so well, and you are just so cute. I just had to play with you, but if I had I told you I wanted you to be my diaper baby you would have scoffed. So, I took matters into my own hands, and now you are tied up on my bed. Oh cutie pie by the time I'm done you are going to be begging to be my baby...
Kat Diapers Her Date Pt-2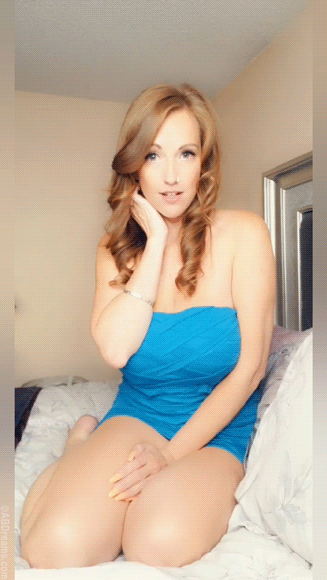 Kat decided to turn her date into her diaper boy but he wasn't too keen on it at first. By the time Kat is done with him he will be begging to be her baby.
Kat Diapers Her Date Pt-3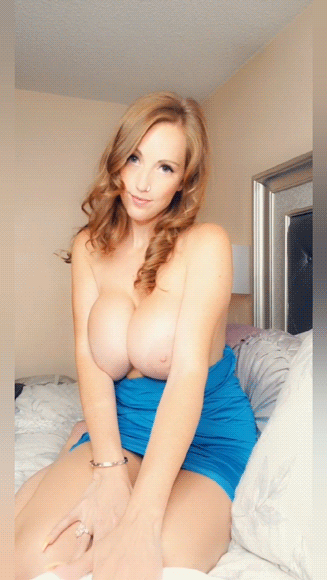 Kat has chosen her new diaper boy, he's tied up on her bed and he's starting to enjoy his baby time. After she nurses him, they cum together and he is completely in love and not going anywhere...
Fae in Double Diapers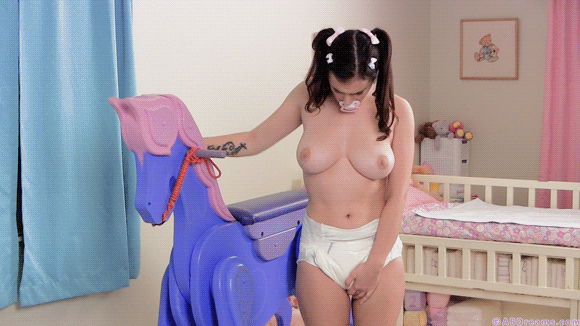 Riding the rocking horse is fun, but when Fae wets her diaper, she'd rather hump a pillow instead.
Sunny Gets Ready For Bed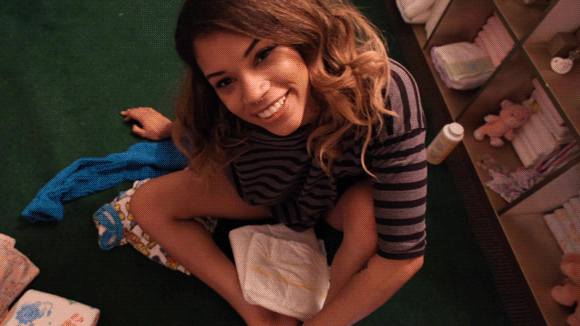 See what Sunny wears to bed when she's at home; double diapers and cute pajamas.
Binkie in a Pink Diaper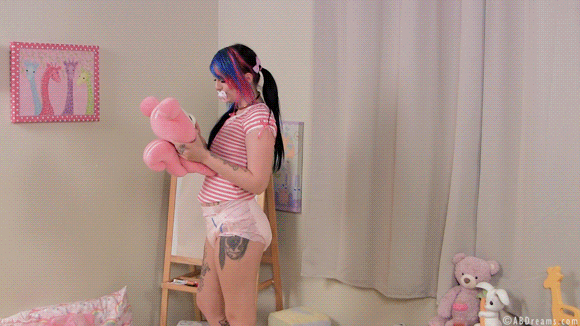 Binkie enjoys playtime, with a sippy cup of juice and a pink NorthShore Megamax diaper.
Candy in Diaper Bondage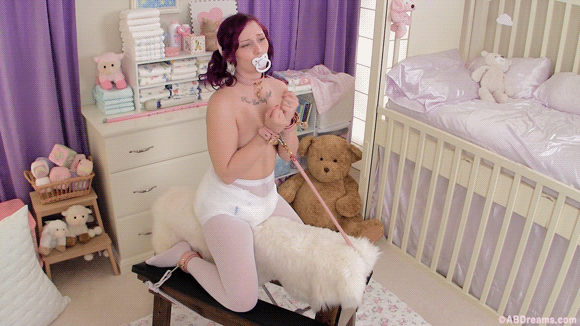 Candy is bound hand and foot, straddling the spanking bench. She desperately wants to cum, but the double-thick diaper she's trapped in is making it impossible. All she can do is whine and helplessly edge herself.
Mommy Kat Wants Her Baby Back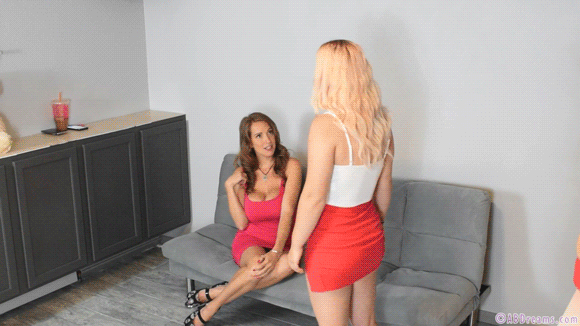 Chloe notices that, somehow, her Mom, Kat, has gotten younger overnight! Kat explains how she came across an unusual necklace at an old thrift shop. After putting it on, she discovered it has the magic power to grant her wishes. Not only has she wished to be younger, she informs Chloe that she's also wished for her to be Mommy's baby again! Chloe is shocked and confused, and she begs her Mommy not to go through with it - but it's too late. The wish has already been made. Chloe's protests turn into a little tantrum, and then, suddenly, her clothes are gone! She's very alarmed, but not for long. In the blink of an eye, Chloe is magically diapered and regressed back to babyhood. Mommy Kat cuddles her "new" baby, feeds her a bottle, and changes her diaper when it's wet. Mommy knew that Chloe would be much happier this way.
April in Footed Jammies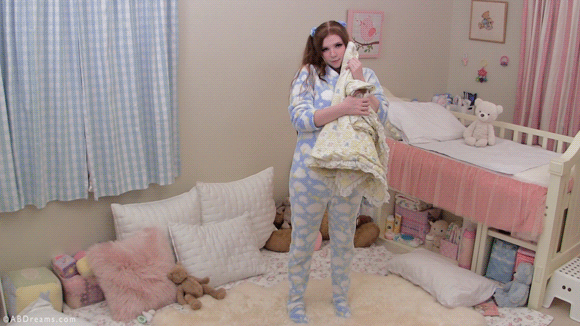 April looks so soft and snuggly, in fluffy footed Jammies and a thick crinkly diaper.
Bells, Binkie and Star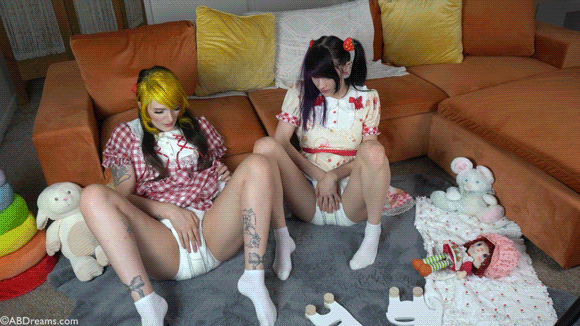 Mommy Bells nurses and changes adorable Binkie and Star.
Magic Regression POV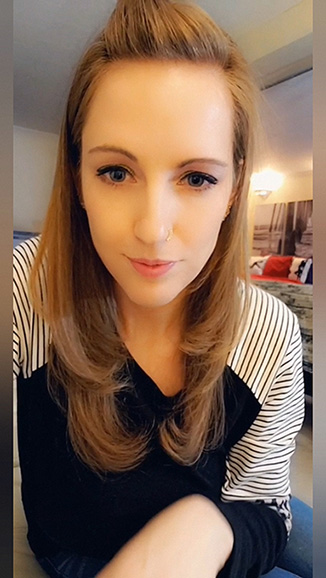 What are you doing?! You were supposed to help Kat today and she finds you watching TV and flirting with girls on your phone again! Kat decides you need a change, you're going to be her little baby, all she needs is a little magic.
DL Fae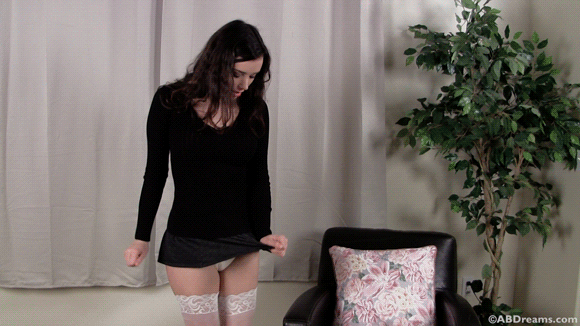 Fae shows you how sexy diapers can be, giving you a teasing show in a skirt and stockings.  She completely soaks her diaper and uses the magic wand to cum.
Amber and Candy Playpen Change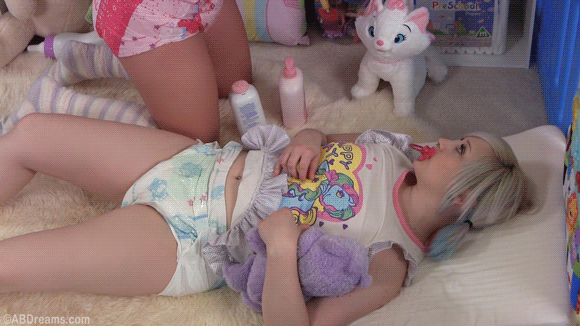 Amber changes Candy's wet Fabine diaper, and puts her into a matching pink Rearz Princess diaper.
Mommy Kat Soothing POV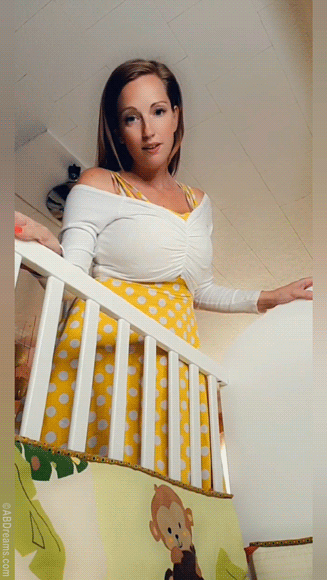 Mommy Kat soothes you during a storm.
Baby Candy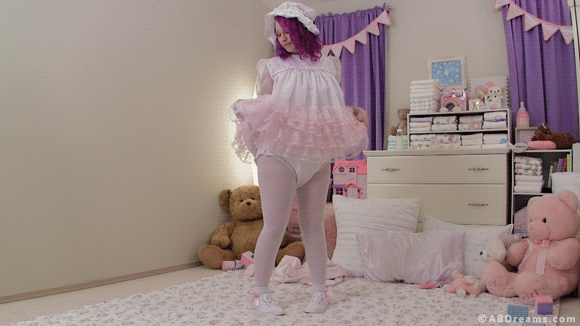 Candy is adorable in a lacy baby dress with quadruple thick diapers under a frilly diaper cover.
April Bondage Wetting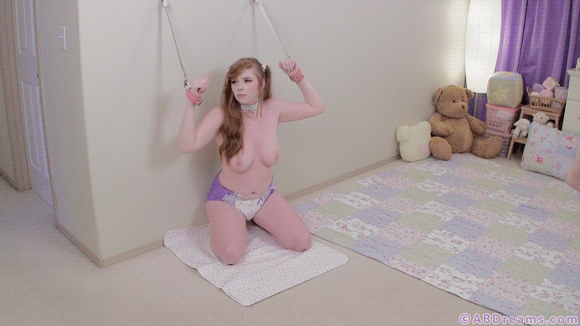 April struggles until finally giving into wetting. Apple thinks April could be wetter so, she feeds April a bottle of milk and uses the vibrating wand to make her cum.
Chloe's Stinky Diaper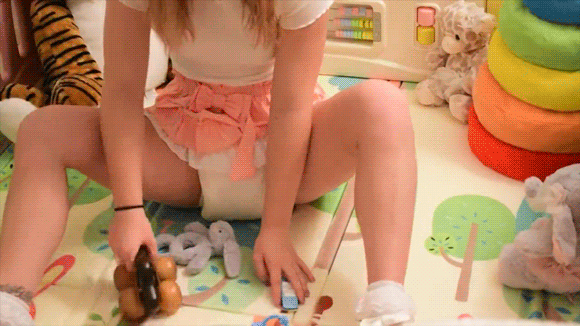 Chloe tries to hide she messed her diaper.
Luna in Locking Bondage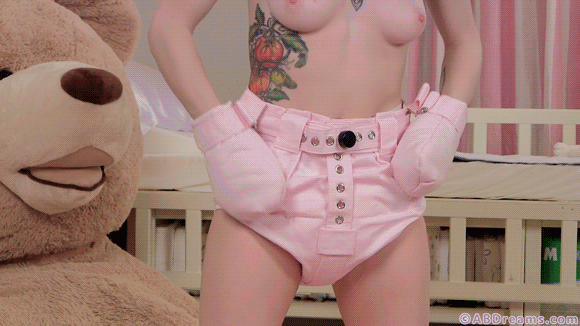 Luna begs Mr. Bear to let her free her from the padded pink bondage. We'll see how that goes for her...
Adventures With Mommy Kat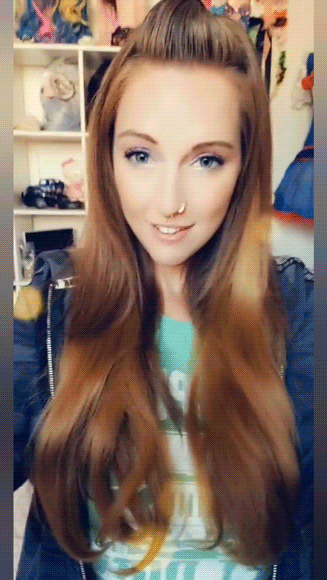 Mommy Kat is one adventurous feline and always takes her baby with her. This time she takes her little one on an off road adventure to the top of a mountain. Baby loves all the amazing views and is taking it all in. A walk in the woods and little meditation has her baby needing a quick diaper change.
Sunny Spanked and Diapered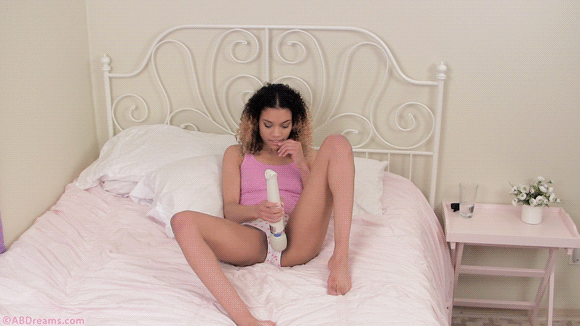 Sunny gets caught playing with a naughty toy. Apple gives Sunny a spanking over her soft cotton underwear and on her bare bottom. Ouch! Sunny doesn't think it could get any worse, but then Apple pulls a big bulky diaper out of her diaper bag, before Sunny knows it she's powdered and diapered. Apple tests if the toy still works over sunny's punishment diaper.
Binkie and Apple Playdate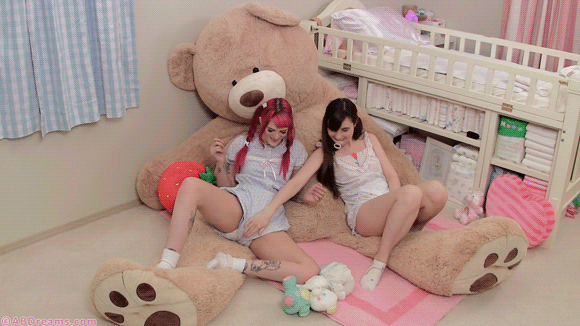 Apple and Binkie have fun playing together, but what's even more fun... being naked and playing together!
Chloe's Diaper Challenge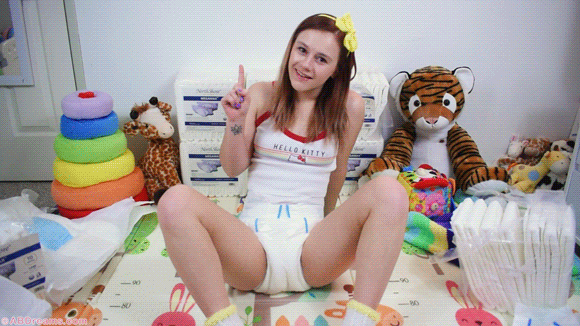 How many diapers can cute little Chloe put on? Let's count and find out.
Make Potty For Mommy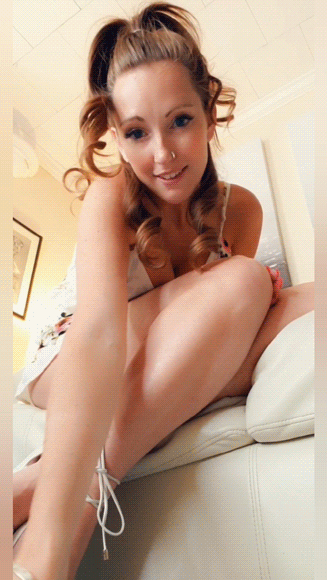 After that regression potion Mommy Kat needs a minute, but when she comes back baby is making a very serious face. Baby just needs some encouragement to make that first messy diaper as my forever diaper boy. Don't worry baby, this is just how it is now. You'll get used to it.
Chloe in Plastic Pants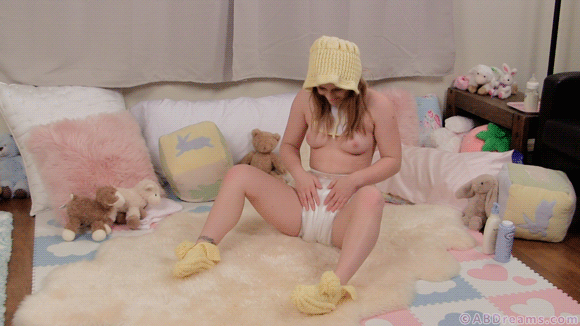 Chloe looks adorable in plastic pants and a cloth diaper.
Desperation Wetting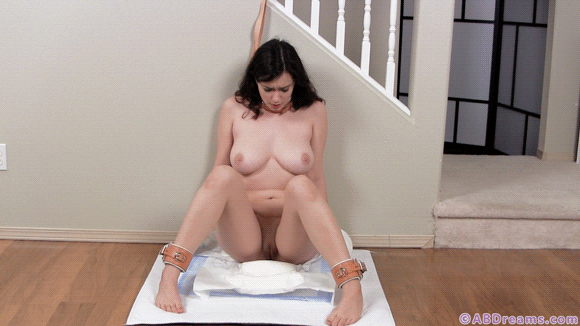 Fae struggles before wetting on an open diaper.
Mommy Kat Breastfeeding POV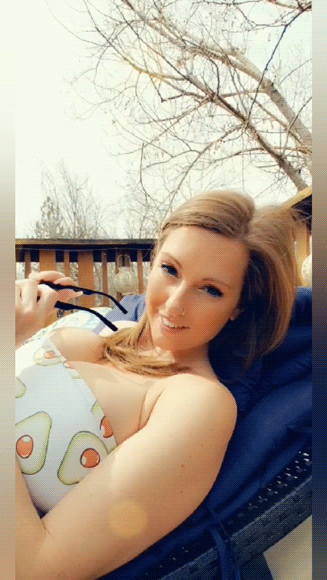 Mommy Kat is laying out in the sun, when she notices you. She teases you with her beautiful breasts before letting you nurse.
Candy and Daddy D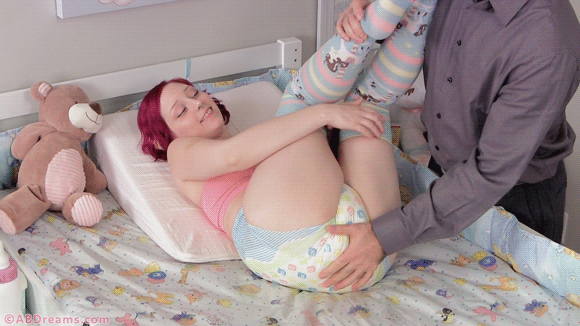 Candy gets a special diaper change from Daddy D.
Sunny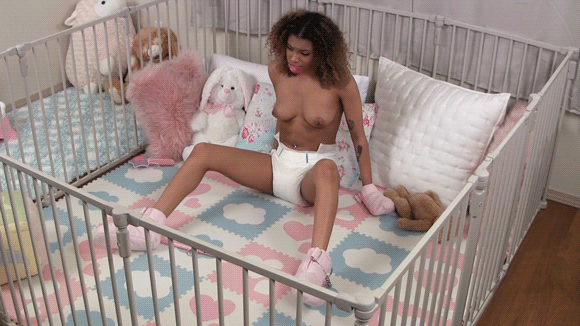 Sunny is left in big, thick, doubled, North Shore Megamax diapers, locking padded mittens and booties and a spreader bar. She can't do anything but struggle.
Breastfeeding Sunnie and Lolette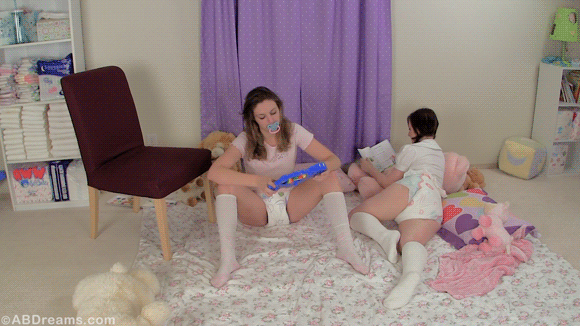 Baby Lolette and Sunnie are having fun in the nursery when Mommy Apple comes to feed and nurse them.
Chloe Wets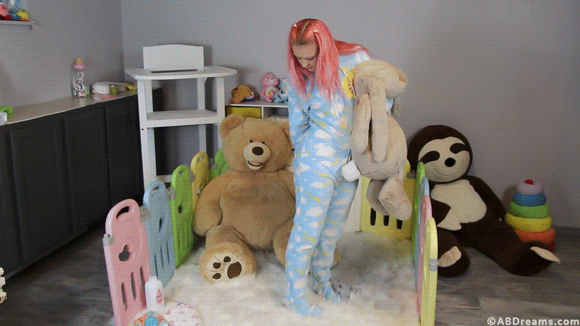 Chloe changes her squishy wet diaper but she is such a baby she wets on her new diaper before getting it taped up!
Sunny in Locking Pants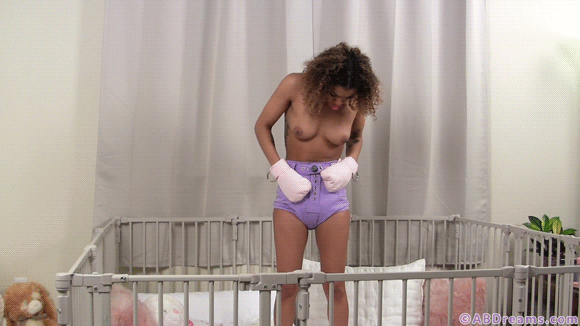 Sunny is locked in a heavy duty diaper cover and padded mittens. She makes cute pouty faces as she becomes increasingly frustrated by the thick diaper pressing against her.
Koneko Diapers Candy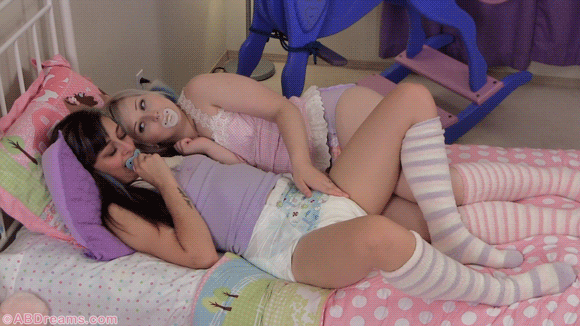 Koneko changes Candy out of pullups and gives Candy some diapered cuddles.
Chloe Forces You into Diapers POV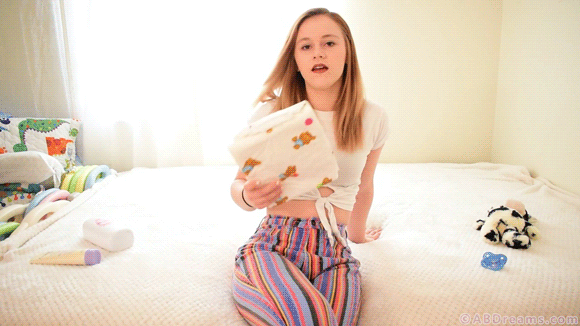 Your girlfriend, Chloe, forces you into diapers, where you belong.
Lola Gets Mesmerized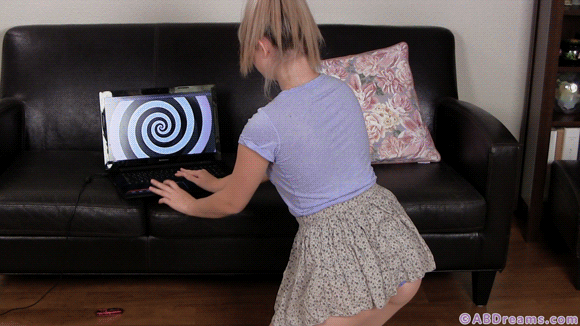 Lola ordered a relaxation kit but it turned out a little different than she expected.
Lolette Makes Binkie Cum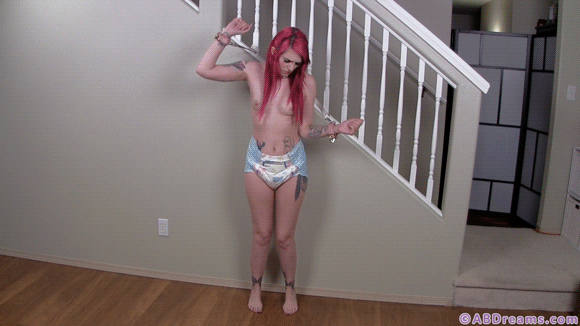 Lolette has binkie in time-out, she makes Binkie cum before letting her down for some sweet, little-time play.
Waking up Mommy Kat POV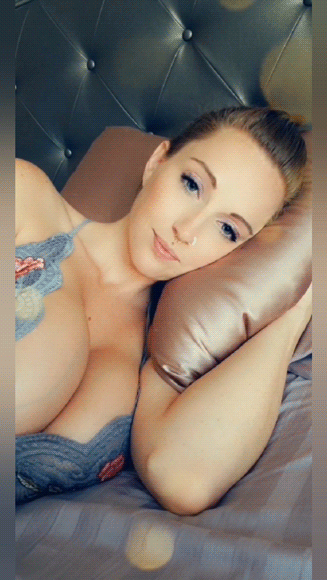 Shortly after Alpha left this morning and Kat had just fallen back asleep, her little boy wanders into her bedroom looking for snuggles. Mommy's little one wants to climb in bed with Mommy, because it's his turn to have her all to himself. Mommy Kat loves to nurse her baby boy, she loves it so much she says it's okay to cum....together.
Candy in Plastic Pants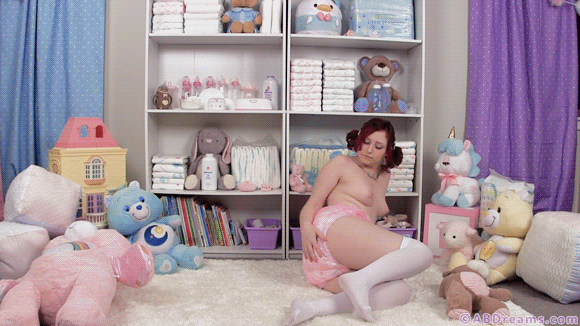 Candy is playing on the floor. She fusses over her diaper and pink plastic pants and humps her big pink teddy bear.
Lolette's New Maid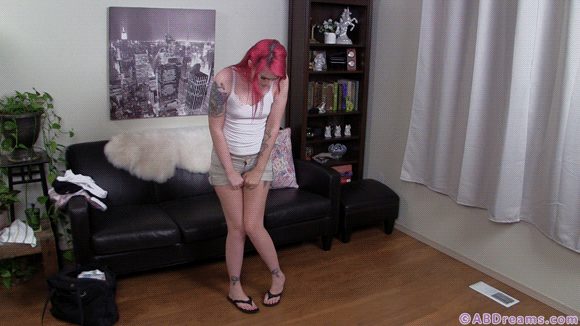 Binkie has shown up for her first day of work being Lolette's maid. Lolette gives Binkie a very special glass of water and leaves her for a phone call. While Binkie is waiting she suddenly has to pee, she tries to wait but the pressure is too much and she wets her pants, just as Lolette planned. Binkie has to clean up the puddle on the floor while Lolette sets out a diaper. Appropriately Binkie's maid uniform just so happens to be a onesie.
Mommy Kat Diaper Change POV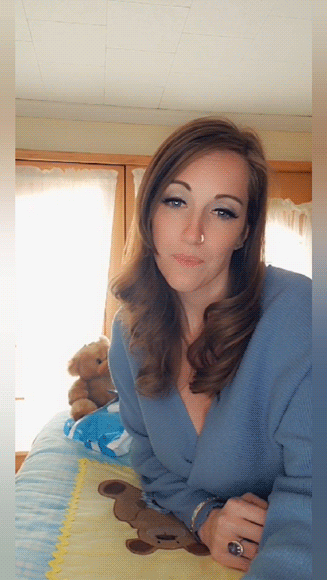 Mommy Kat sweetly changes your diaper.
Fae in Red
Fae takes some sexy selfies and enjoys her soaking wet diaper.
Luna Plays in the Crib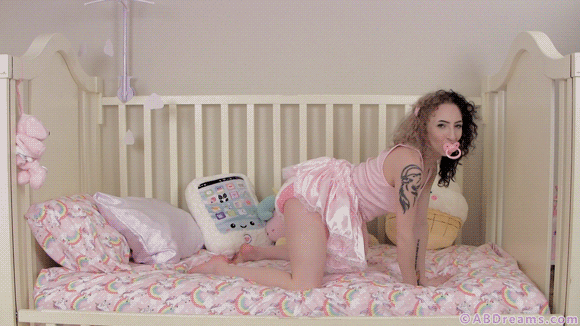 Luna gives us some peeks of the new Tykables "Unicorns" diaper under her pink satin skirt. She drinks a bottle and plays with her pink pacifier before making herself cum with the magic wand.
Nurse Binkie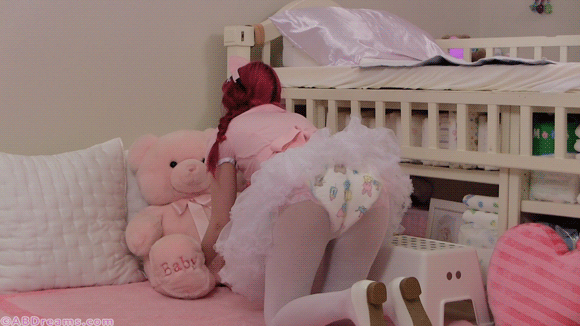 Binkie is a sweet and creative little that loves playing make believe. All dressed up in her nurse uniform, she is ready to start taking patients. Unfortunately, her pink bear isn't feeling so good, but Nurse Binkie knows just what to do to make it all better! She bust out her medical kit and starts treatment. After rigorous testing, Binkie has come to a diagnosis, her teddy is a baby and needs diapers stat!
Diaper Punishment Clinic - Diaper Change Time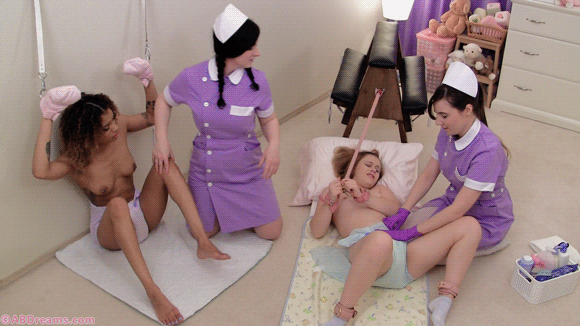 Chloe has her hands bound while Nurse Apple changes her diaper. All Chloe can do is wiggle, but that only brings a few more smacks with the leather paddle on her already spanked bottom. Lolette keeps Sunny occupied, as Sunny helplessly watches.
Submissive Fae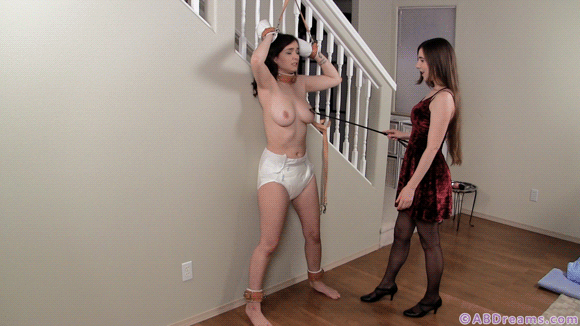 Fae wanted to try sensual BDSM, and being Apple's diaper submissive. Apple was happy to oblige, using different toys - a flicker whip, leather paddle, flogger and a magic wand to deliver pleasure to a bound Fae in a very wet diaper.
Sunnie's New Nanny Lolette Part-1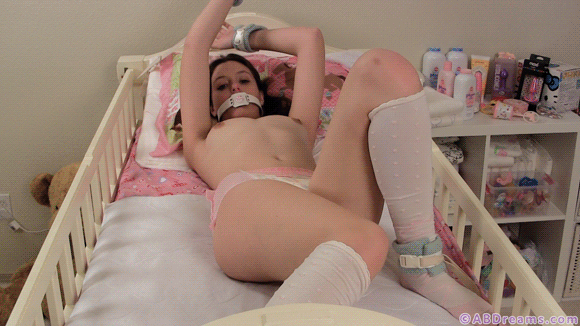 Apple shows Nanny Lolette how to change adult baby Sunnie out of training pants and into a diaper. Sunnie can be a bit of a handful. So, Apple has Sunnie in bondage, making it impossible to squirm away! Apple must leave but Baby Sunnie is in good hands with her new Nanny in control.
Sunnie's New Nanny Lolette Part-2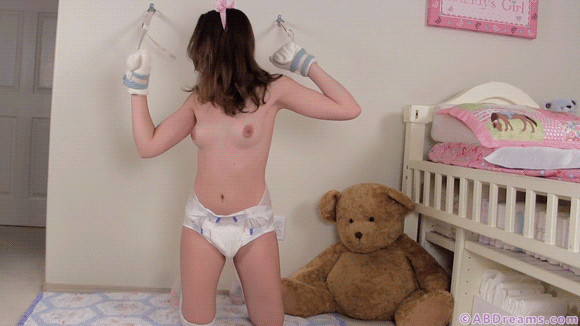 After a long day of care taking Lolette has left Sunnie in a bondage time out. Sunnie is not very happy about it and tries to free herself before sitting down and flooding her diaper. Lolette checks on Sunnie, sticking a pacifier in Sunnie's mouth, teasing her and squishing the wet diaper between Sunnie's legs.
Sunnie's New Nanny Lolette Part-3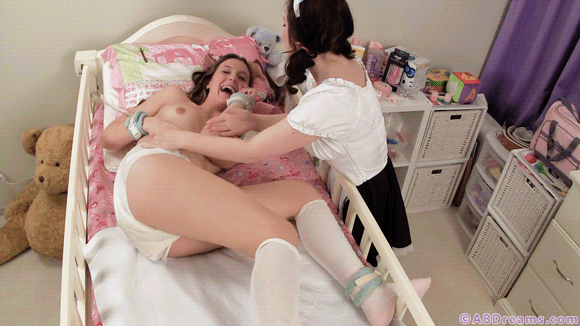 Lolette Has Sunnie on the changing table, giving Sunnie tickles and getting her ready for a diaper change. Mommy Apple comes home and helps Nanny Lolette, since Sunnie has been so good Mommy Apple and Nanny Lolette take turns making Sunnie cum before and after her diaper change!
Baby Bunny Chloe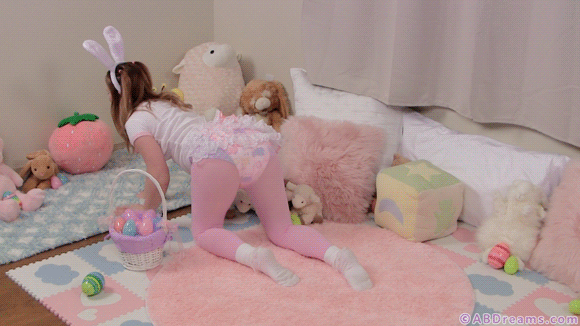 Chloe is a cute little bunny! She crawls around and wiggles her diapered bottom looking for Easter eggs, under pillows and behind her plush bunny friends. After filling her basket with treats she finds a big floofy pillow to bunny hop on in her cute diaper and lace ruffled tights. It feels so good and makes her so happy, she's surprised when she cums. After all that she is going to need a cozy bunny nap!
Sunny Made to Wet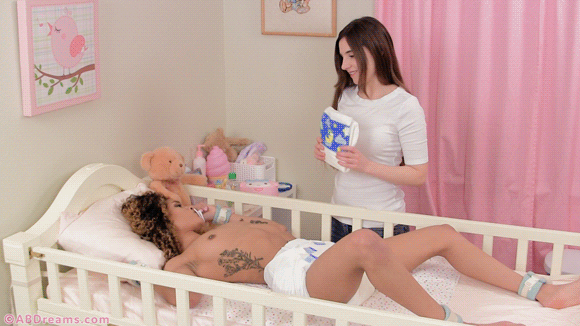 Sunny has been put in timeout, tied to the changing table. She struggles and twists against the cuffs, defeated she finally gives in and wets the diaper she's been left in. Apple takes her time rubbing Sunny's soggy warm diaper and tickling Sunny's frustrated pussy with wipes and powder during her diaper change. All Sunny can do is helplessly writhe and suck on the pacifier Apple has stuck in her mouth. Apple leaves Sunny waiting in a dry fluffy diaper and tied to the table, who knows what other naughty things Apple has in mind for diapered little Sunny.
Cloth Diaper Baby Chloe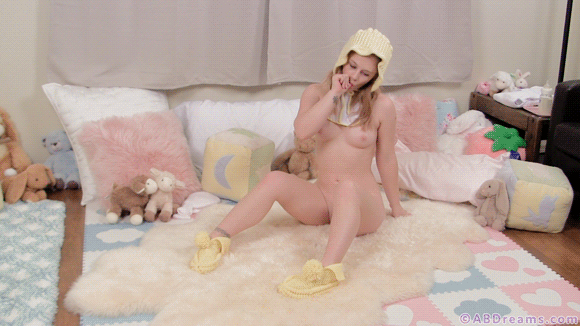 Cute little Chloe is naked and needs a diaper, but there is no one to help her. So, she makes do by herself. She lays out a fluffy cloth pre-cut and takes her time with lotion before powdering up. Once she's pinned in, she's a happy little baby.
April Crib Bondage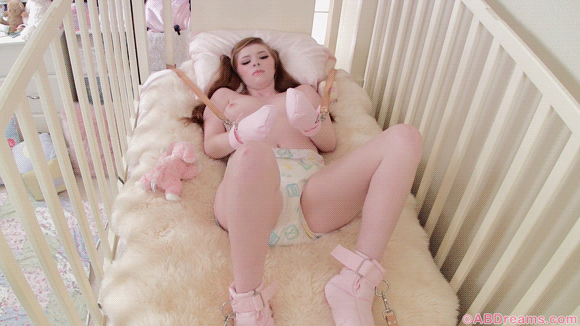 April doesn't think she need diapers, but Nurse Apple disagrees. All tied up in bondage booties and mittens, shy little April is made to cum in her wet diaper with the magic wand before getting a diaper change.
Kat Hypnotic Regression JOI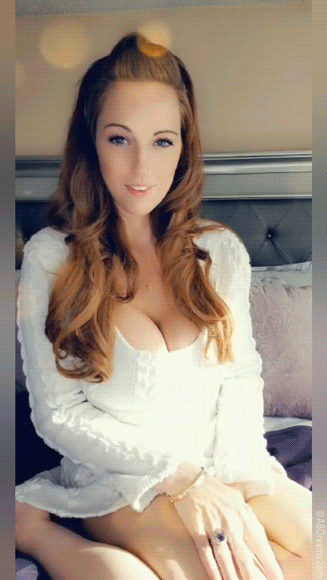 Listen closely to the sound of Mommy Kat's voice as she guides you back to a simple, happy, carefree state of mind. She wants you to go back, all the way back to being a baby. Your mind should be filled with baby thoughts, like being diapered and breastfed by Mommy. Mommy knows how turned on it makes you feel, and gives you permission to touch yourself. Be a good boy and cum for Mommy!
Mommy Fae Changes Candy
Mommy Fae changes Candy's wet diaper, cooing over her and giving her extra special attention. When Candy is snugly taped up, Fae nurses her and makes her cum.
Lola Wants Daddy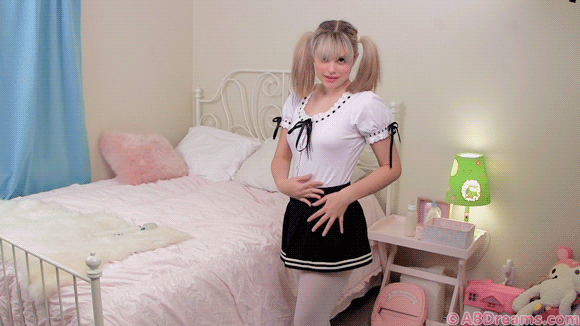 Lola loves showing off her cute outfit and wet diaper to Daddy, and how turned on it makes her feel. She sucks a bottle and her thumb, she touches her cute little boobies and she makes herself cum for Daddy with a magic wand.
Kat's Magic Regression Potion - POV JOI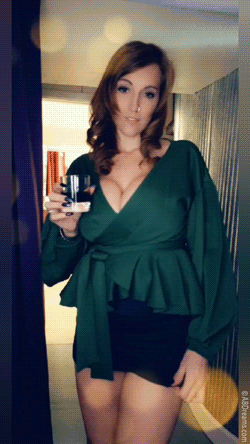 After a night out at a bar, you've met a beautiful woman who has invited you back to her place for another drink. Not only is she gorgeous, but she also seems very interested in having fun with you. You can hardly believe your luck, but there's something unusual about her, and the drink she's given you. You're starting to feel very strange...You've been lured into the domain of a witch, and she's tricked you into drinking a powerful regression potion!  You can feel your control slipping away as she explains that she's always wanted a baby to take care of, and that baby is going to be you! You know you should try to escape, but all you can do is sit there, staring dumbly at her breasts as she teases you for thinking you'd ever get to fuck her, and tells you about your new life under her control. There's just one more thing to make the spell complete - you have to have one last orgasm. Don't try to fight it. There's nothing you can do now. Just relax and cum for Mommy. Don't cry, little baby, Mommy is going to take very good care of you from now on.
Diaper Punishment Clinic - Wetting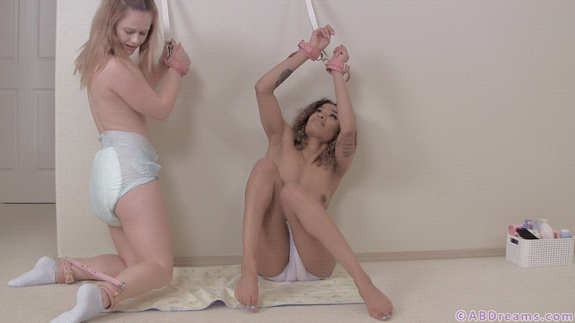 Sunny and Chloe are having a timeout, left in bondage until they wet themselves. After Sunny finally gives in and soaks her diaper, nurse Lolette and Apple come to give the helpless girls their reward, forced orgasms with the vibrating wand against their squishy wet diapers.
Binkie All Dressed Up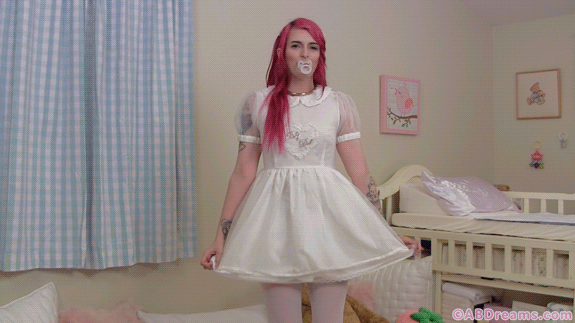 Binkie looks so sweet in a white lace Babydoll dress and tights.  We get lots of cute peeks of her diaper before Binkie undresses and humps her teddy bear.
Fae Changes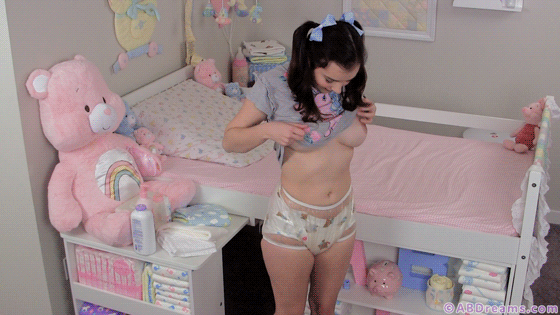 Fae is in her jammies but needs a change, she gets on the changing table to make it all better.
Bondage Diaper Change for Luna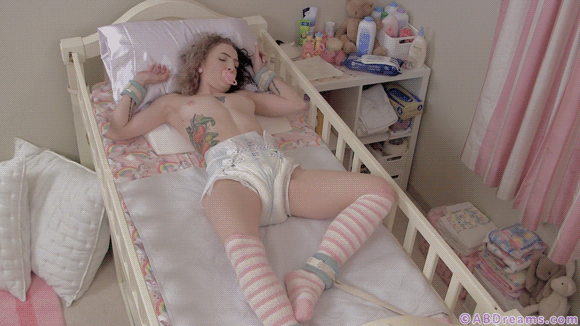 Nurse Apple changes Luna on the changing table before putting her in inescapable footed jammies.
Fae Nurses Candy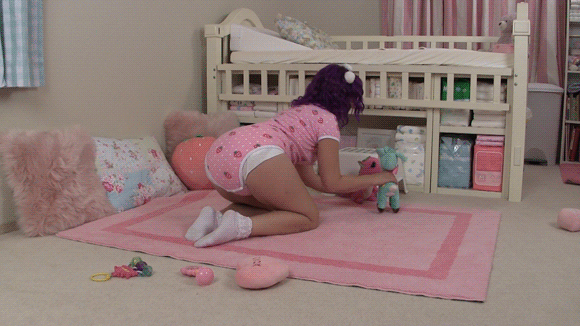 Candy is playing in the nursery. Fae comes to check Candy's diaper and sweetly nurses her.
Binkie in Cloth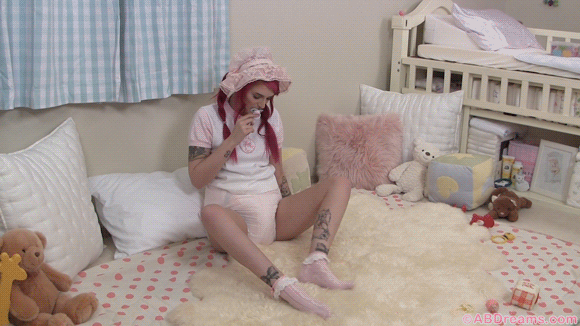 Cute little Binkie is dressed up adorably in her big poofy cloth diaper, but it all comes off when she starts sucking on a bottle of milk and finds a big pillow to hump.
Bondage Pet Lola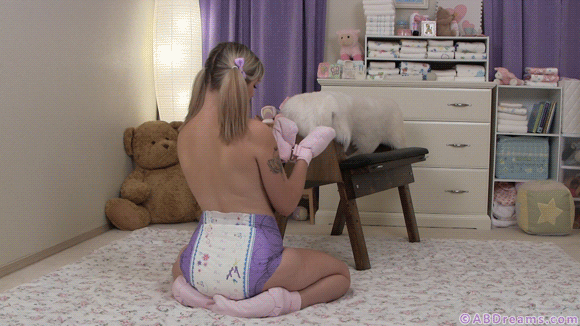 Lola has been turned into a horny little baby pet. She wets her diaper and tries to get off. Lolette and Apple have fun feeding her bottles and helping Lola cum.
A Special Note for Candy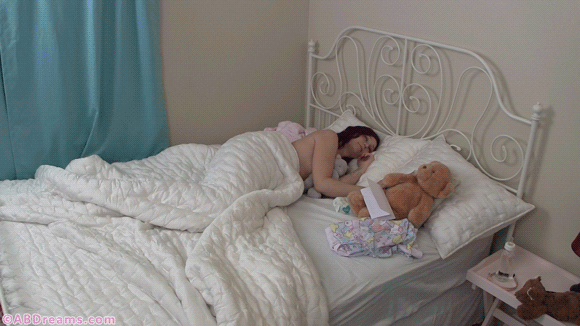 Candy wakes up looking for Daddy, but Daddy had to go to work early. In his place she discovers a note of instructions to help start her day and feel special until he gets home!
Quadruple Thick Diapers For Fae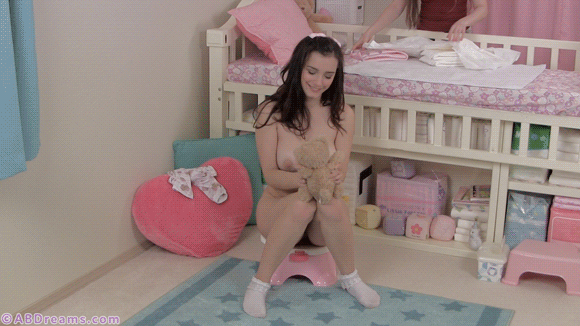 When Fae refuses to use the potty Apple quadruple diapers her.
Fae Colors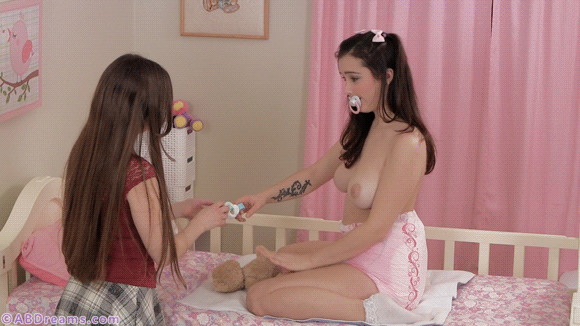 Apple gives Fae a coloring book and after coloring a pretty picture Apple comes to feed her a bottle of milk.
April DL to AB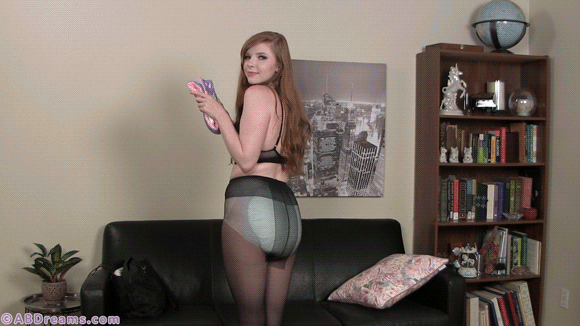 April looks so hot in her dress with tights and a medical diaper, but now she's ready for a baby diaper and bib.
Candy Wets and Changes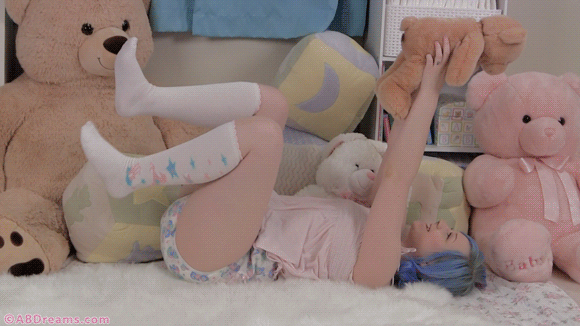 Candy wets and changes herself. Bellissimo!
Zoe at the Park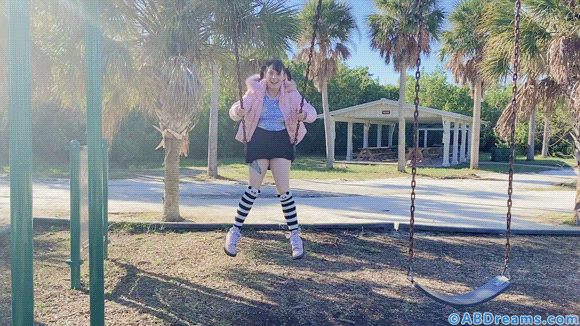 Zoe plays at the park and even wets her diaper.
Sunny In Cloth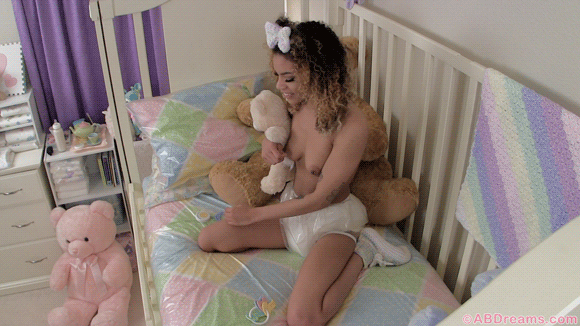 Baby Sunny looks so cute in a cloth diaper and plastic pants.
Apple changes Luna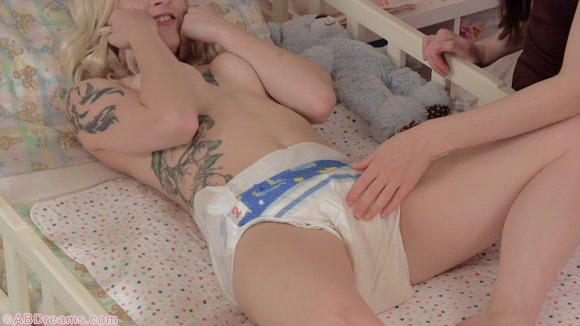 Apple sweetly changes Luna and feeds her baby food.
Candy and Fae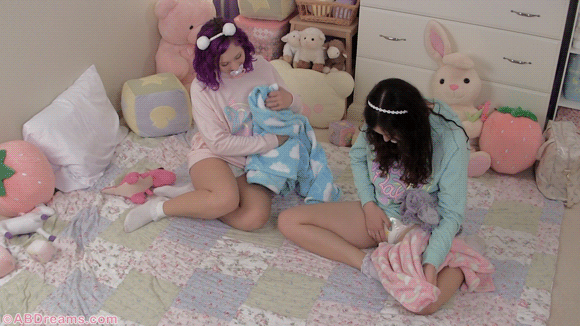 Fae and Candy play around in their matching comfy sweatshirts. But the girls decide cuddling and humping would be nicer without the sweatshirts on.
Binkie in Straitjacket Bondage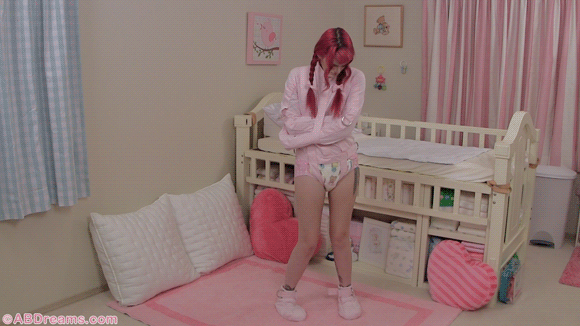 Binkie is trapped in a pink straitjacket with padded mittens and booties and a super cute Little for Big diaper. Things get even worse when spreader bar goes on. She wets in the video.
Oliver and Amber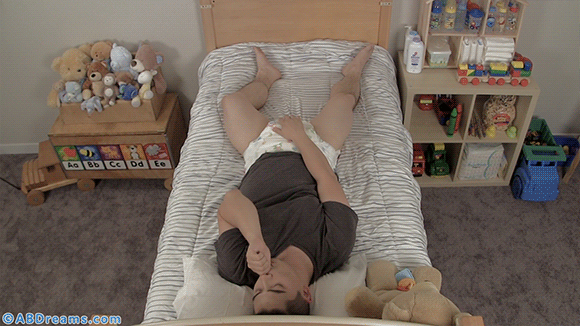 Amber catches Oliver touching himself and decides to help them both by humping his diaper.
Fae Plays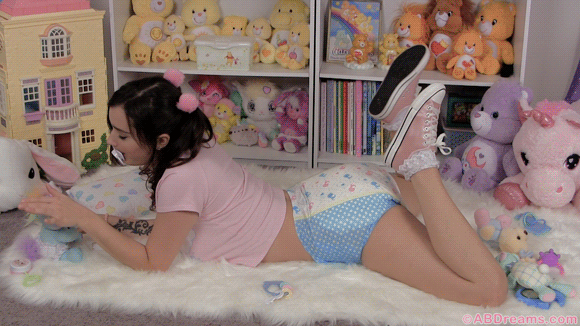 Fae looks so cute in her outfit and printed diaper. She sucks on a lollipop in the photos and soaks her diaper in the video.
Lola's Diaper Punishment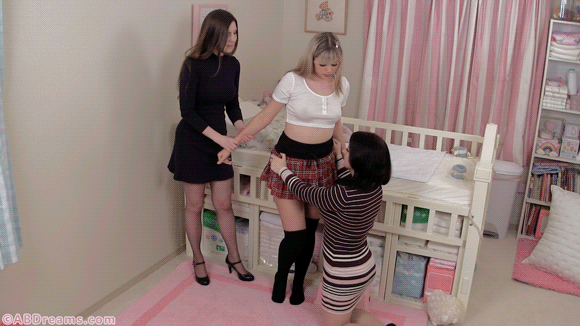 Lola is in big trouble for wetting her panties again.
Luna Wets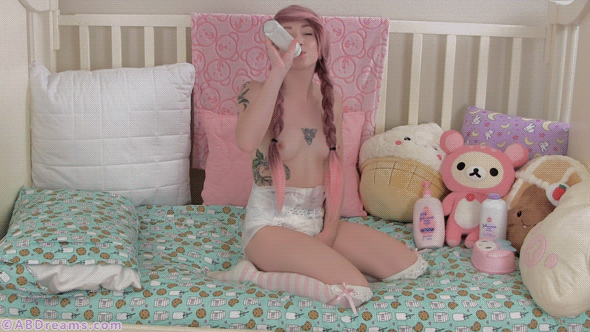 Lovely Luna wets her Tena diaper and uses her vibrating wand to cum.
April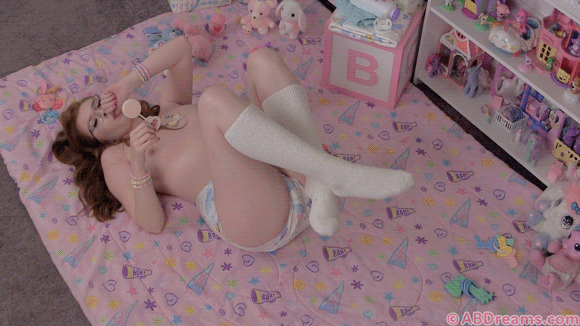 April drinks a bottle. She loves her Bear Hugz diaper!
Binkie And Candy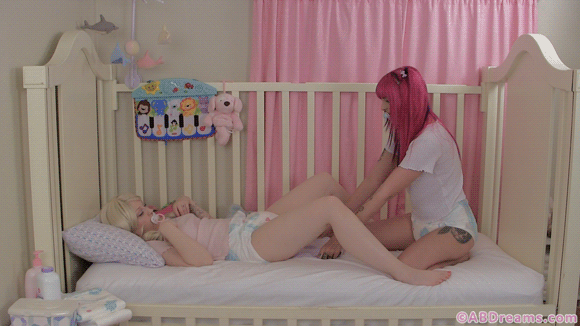 Candy and Binkie give each other diaper changes.
DL Fae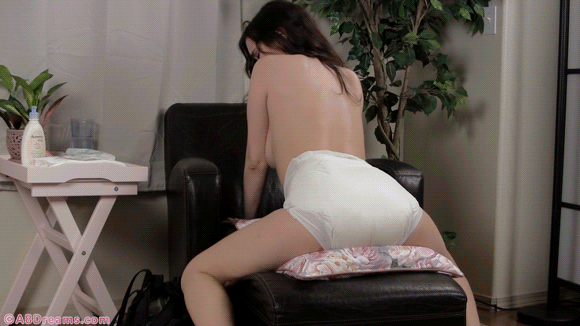 Fae masturbates while she changes her wet diaper.
Lola on the Bondage Bench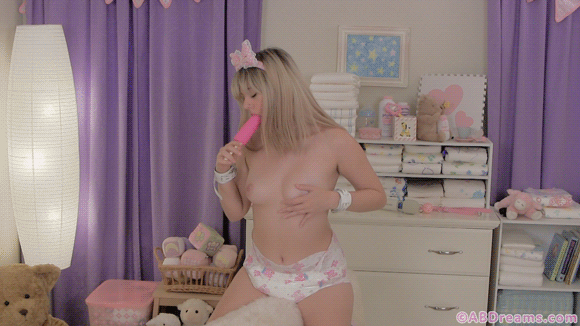 Lola is wearing a cute Aww So Cute! diaper on the bondage bench. She humps, she wets, she struggles!
Fae and Lolette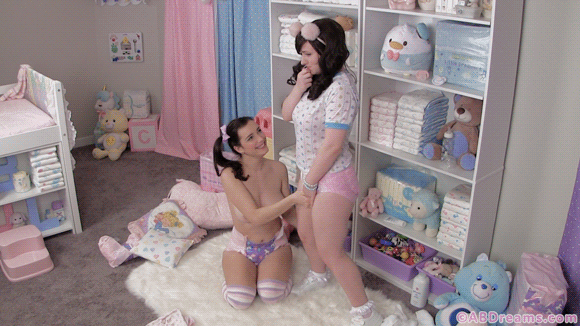 Lolette wets her diaper which sets off a chain reaction of diaper humping and boobie kissing, ending with Lolette rubbing Fae's diaper until she cums.
Binkie Spanked and Diapered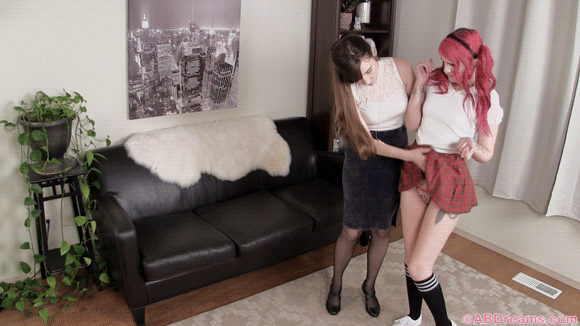 Binkie is caught wearing a thong and short skirt. This is totally unacceptable! Apple gives her a spankings, takes away Binkie's thong and puts her in her new panties - a diaper.
Mandie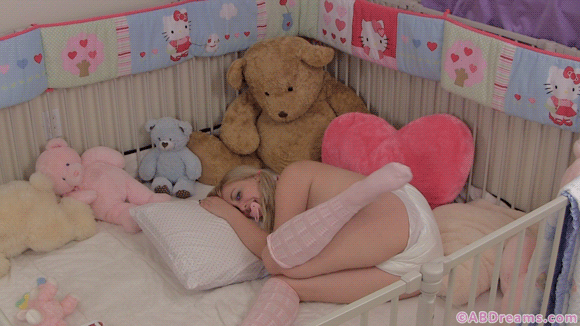 Mandie does cute stuff and humps a pillow in her playpen.
Fae and Candy - Bottles and Nursing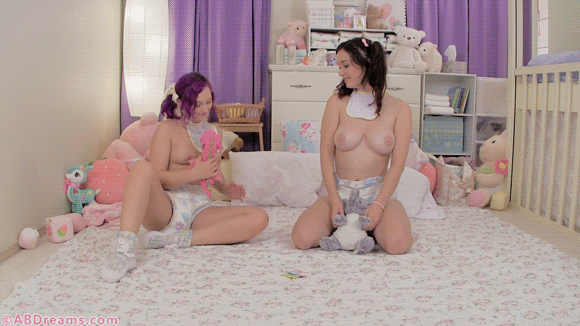 Candy and Fae are being sweet little babies together, playing on the nursery floor. Mommy Apple comes to give them their baby bottles of milk, and since they're being such good girls, Mommy lets them suck on her boobies too.
Mysterious Package for Candy
Candy has received a mysterious package containing a strange DVD. Curious, she pops it in her laptop.  A swirling graphic appears on the screen...
Amber Babysits Lolette and Oliver Pt-2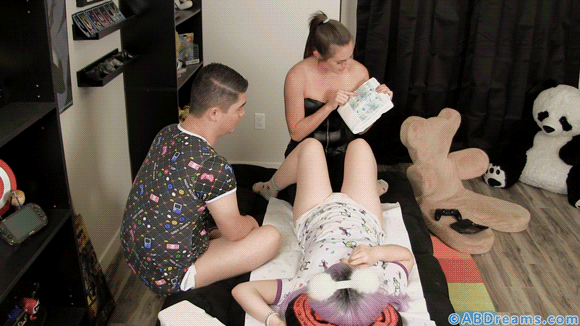 After helping Amber change Oliver, it's Lolette's turn.
Angel Baby Candy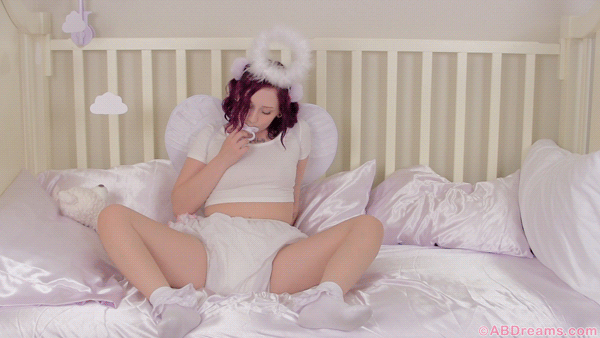 Candy is all dressed up as a cute little Angel.
Lola in Wonderland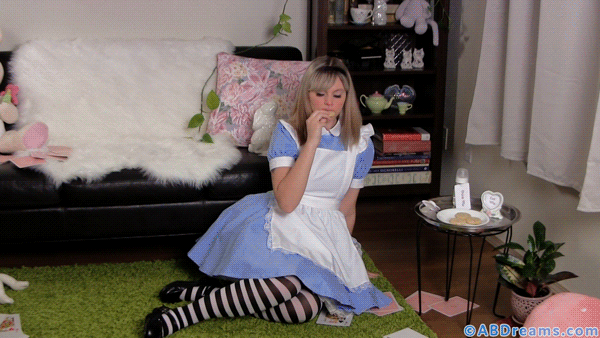 Lola has fallen down the rabbit hole! In such a strange place, she should think twice before eating or drinking anything she's found. There could be very unexpected consequences.
Baby Lola Diaper Change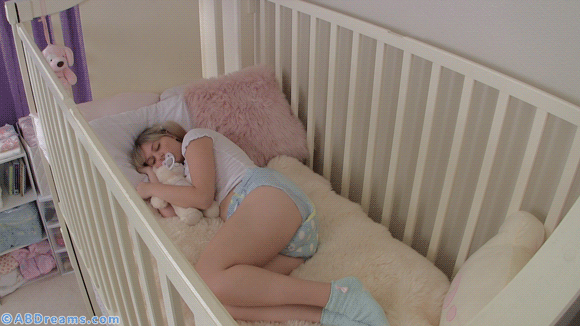 Lola wakes up wet and has to change herself.  Cute!
Fae Bondage and Wetting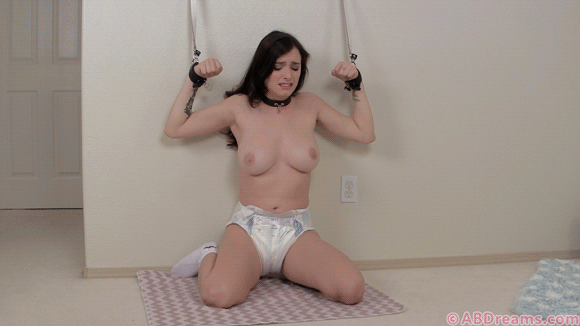 Apple makes Fae drink a bottle and wet before she uses a vibrator on her.
Amber Babysits Lolette and Oliver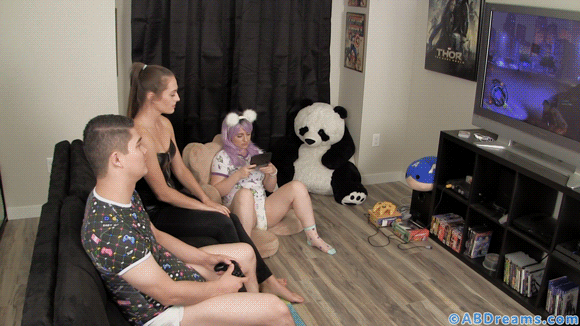 Mommy Amber, Oliver and Lolette are hanging out together. Amber makes them drink their bottles and Lolette helps Change Oliver.
Baby Lola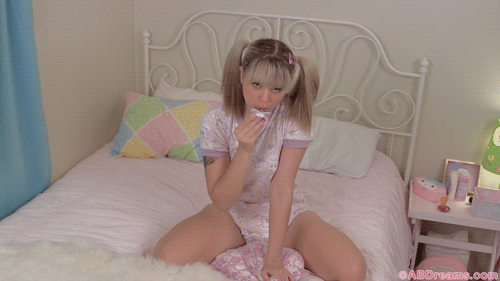 Welcome ABDreams' newest baby, Lola. Lola loves the feeling of her diaper but she can't get her onesie off to touch it. She humps her pillow and sucks on pacifiers until she cums.
Lolette Changes Fae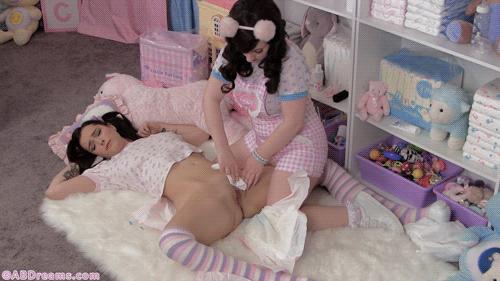 Lolette thinks she's grown up enough to change Fae's diaper all by herself, but Fae doesn't seem to believe her friend's big-girl act. She tugs down the straps of Lolette's overalls and exposes the puffy pink diaper her friend is wearing before she lets Lolette unsnap her onesie. The two diaper girls get caught up in how good the padding feels pressed against their pussies -especially when they grind against one another- but Fae will get her diaper changed eventually!
Ophelia Visit the Nurse Pt-2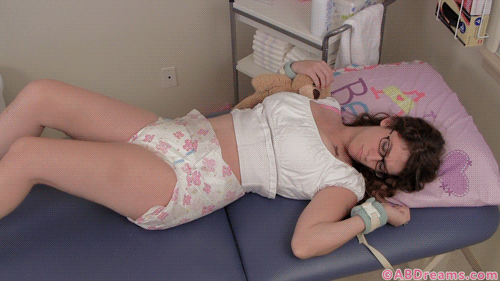 After Ophelia's suppository Apple comes to change her.
April Locked in Mittens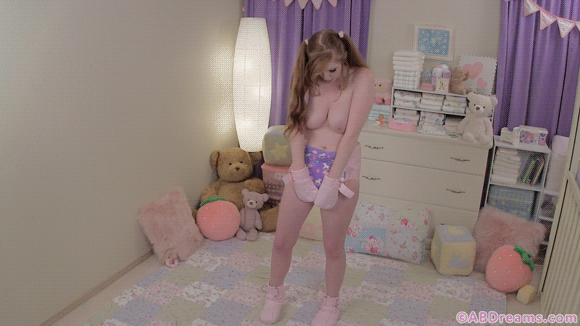 April is locked in padded mittens, booties and a diaper.  It's really frustrating!  But that doesn't stop her from getting off.
Fae Hypnotized Pt-2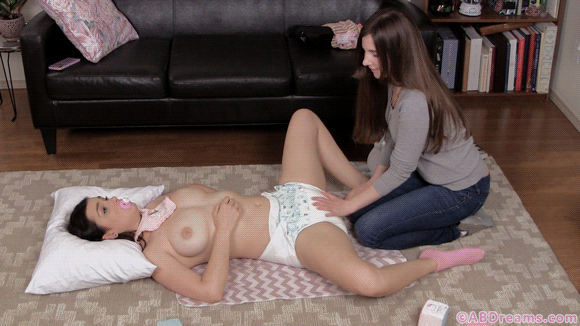 Apple has Fae hypnotized and diapered, and made Fae wet on command.  Now Apple has more plans for Fae.  She makes Fae cum in her wet diaper and then changes Fae before leaving her to nap.
Sunny Changes Into a SDK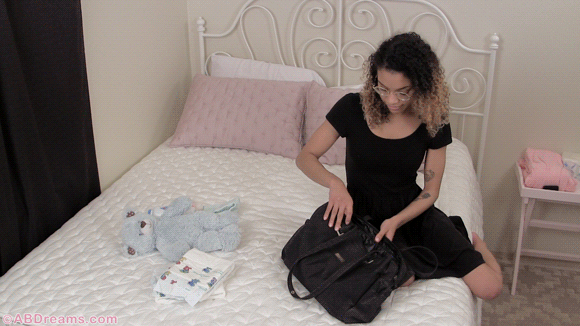 After a hard day of adulting it's finally time for Sunny to unwind with her teddy, paci, and a thick, soft, crinkly diaper. Her dress and glasses are the first things to go - but her bra and panties don't last much longer. The temperature difference makes her cute little nipples pebble. She lays out a fresh diaper settle her bottom on -tugging the plastic up to check the fit- before sprinkling powder over her bare pussy. The stress of being a grown up melts away with each tape, and by the time her diaper is secure Sunny is already feeling giggly and squirmy. She hugs Mr. Teddy extra tight to her naked chest, and sucks happily on the nipple of her pacifier.
Luna in Goodnites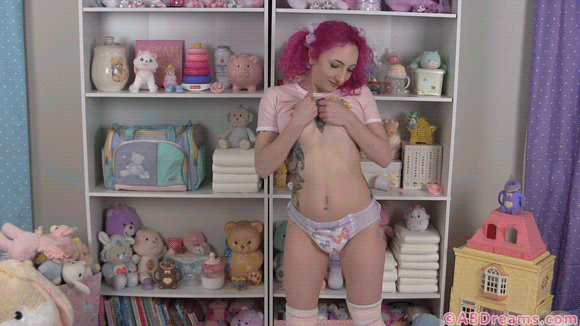 Luna loves how her goodnight feels. But she is very excited to get into something thicker. She lays out a Little for Big diaper and wets it before taping it up.
Sam Changes Arianna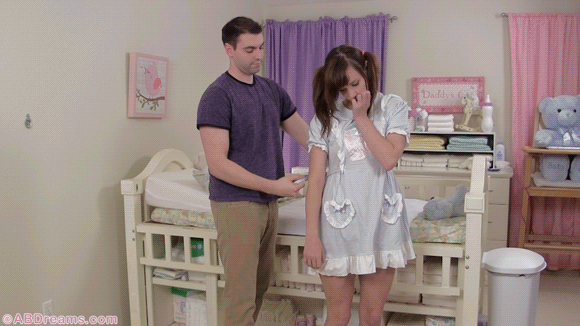 Daddy doesn't seem too impressed with Arianna's pullup -- he'd rather her cute little butt be padded in a thick diaper. He helps her undress before encouraging her onto the changing table. She flashes him a cheeky smile, but turns blushy and embarrassed once he takes her pullup off to wipe her bottom. Daddy reassures her with his affection and a generous sprinkle of baby powder on her pussy. Once she's diapered, Daddy carries his little girl to her crib to tuck her in for the night, and, after a bit of fussing, baby Arianna tries to fall asleep.
Arianna in the Crib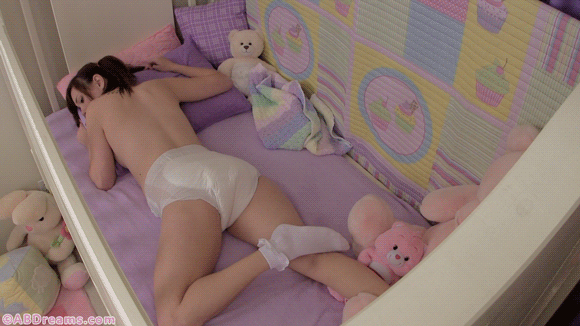 Daddy Sam put Arianna to bed but she just can't fall asleep, her diaper feels so bulky up against her, she can't help but touch the padding and hump a pillow before trying to fall back asleep again.
Fae Gets Mezmorized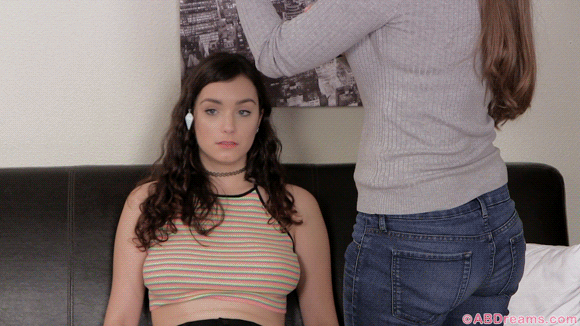 Fae doesn't think she can be hypnotized, but nothing has been easier. Of course Apple has to put Fae in diapers while she is in a trance. Apple even makes Fae wet on command.
New Nurse Hazing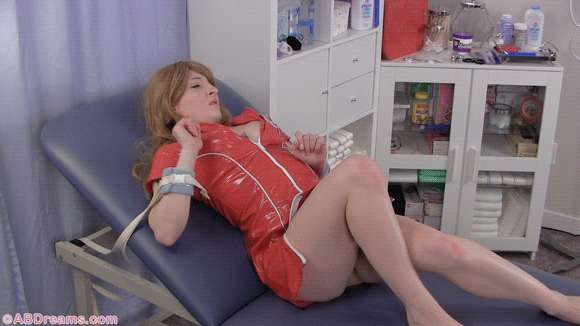 Nurse Luna is in for a surprise when she finds out what happens to the new girl.
Stephie in the Playpen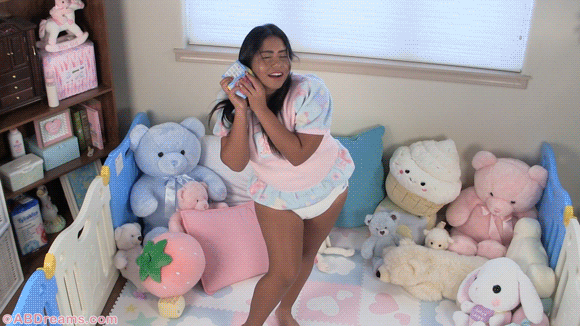 Stephie plays in the playpen, drinks a bottle of milk and gets distracted by her big thick diaper.
Hypno Pop Up Video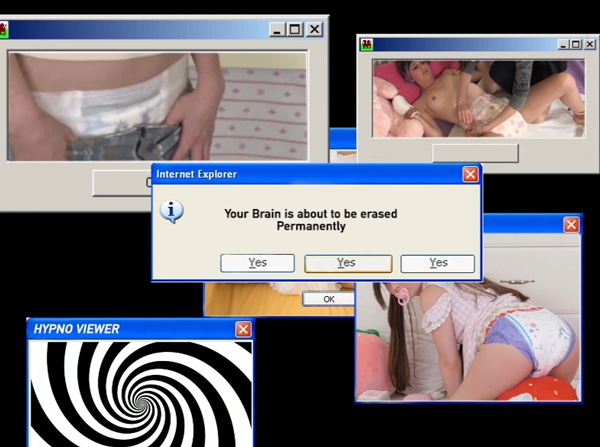 Prepare to be hypnotized if you dare...
Fae Nurses April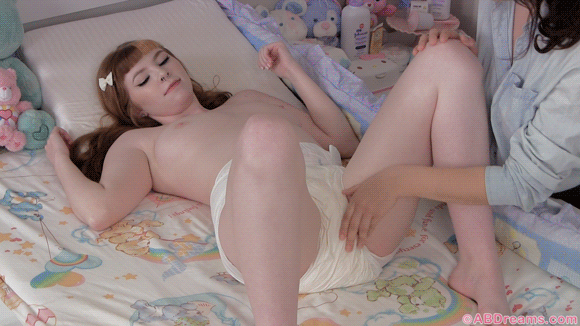 Caretaker Fae helps sweet baby April out of her big girl clothes and into a thickly padded diaper. It's obvious from the way that April sucks her thumb and makes bright eyes up at her caretaker that having her smooth, soft little pussy powdered is her favorite part. After Fae fastens the tapes all snug, and gives April's crinkly butt a couple pats, Fae unbuttons her shirt to let her sweet girl nurse.
Sasha Diaper Therapy Pt-2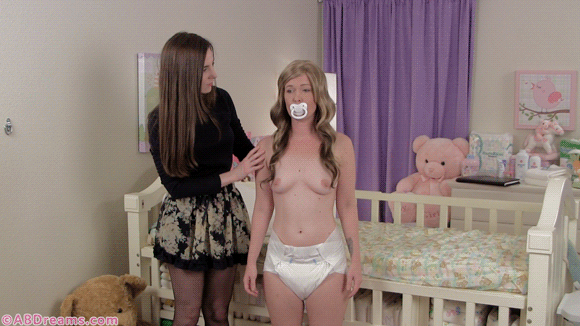 Sasha came to Apple for help with stress and ended up hypnotized and diapered. Now her treatment continues in the nursery where she will be turned into a complete baby!
Candy Binkie Play Date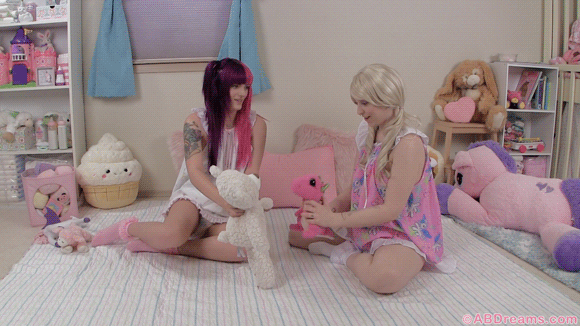 Binkie and Candy have a play date, so cute!
Fae Changes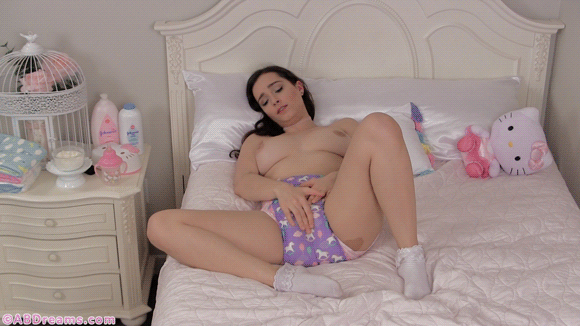 Fae's diaper is soaked to capacity. After grinding her pussy against all that warm, thick padding its time for a change. Do you think the neighbors can see..? The idea is more than a little exciting, and Fae gets distracted in the middle of her change with how good the soft powder puff feels between her legs.
Ophelia Visit the Nurse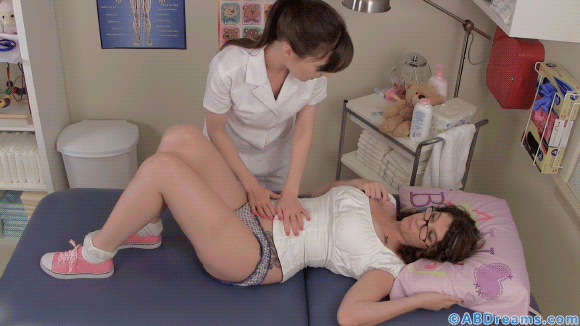 Ophelia is in the nurses office because she has been having trouble going potty.  Nurse Apple gives her a little check up and decides Ophelia needs a suppository and a diaper.
Amber in Bondage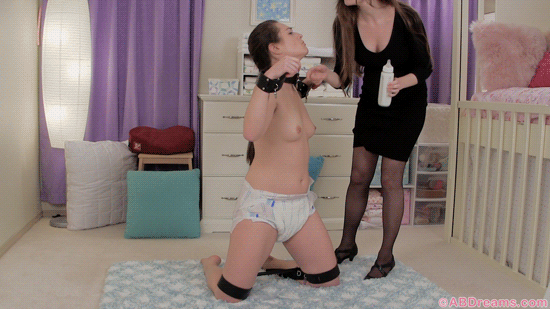 Apple has Amber in locking bondage and a medical diaper. She feeds Amber a bottle and makes her wet. After she is done wetting Apple makes Amber cum with the vibrating magic wand, then Apple puts Amber in a straitjacket to finish wetting her diaper.
Baby Sasha Changes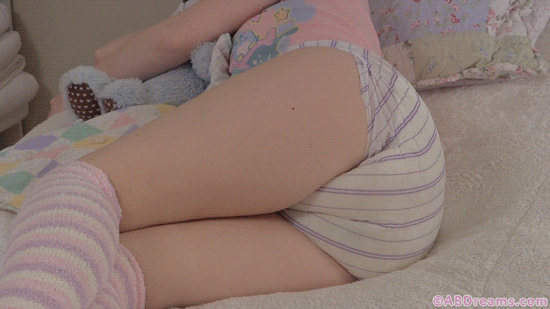 Cute Baby Sasha wakes up soaking wet, she changes into a nice fluffy, two tape Cushie.
Apple Gets Caught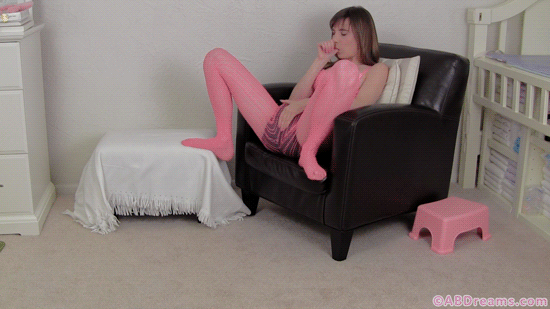 Apple is playing with herself when she gets caught by Daddy D! She gets a spanking and has to suck his cock.
Luna Helps Mommy April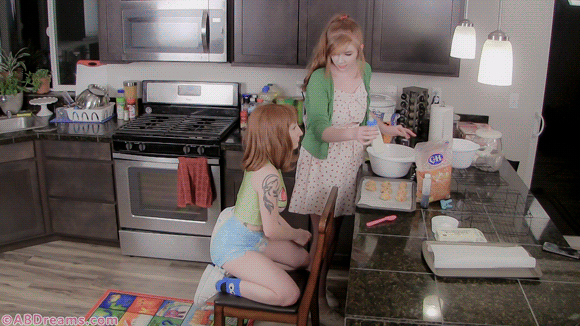 Baby Luna helps Mommy April in the kitchen.  Luna wants to be a good helper and get Mommy's special attention.
Sunny Baby Oil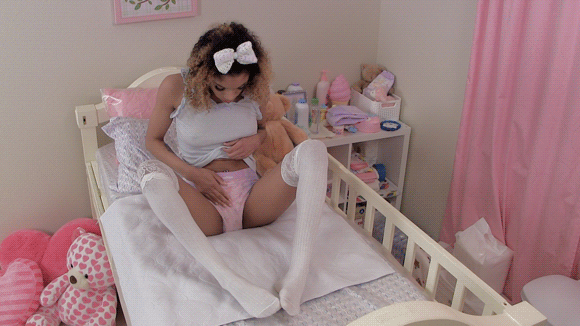 Sunny looks so cute in pullups, but she needs something with more protection.  She gets on the changing table and covers herself in slippery baby oil before she changes into a small purple Molicare.
Candy Plays with a Magic Wand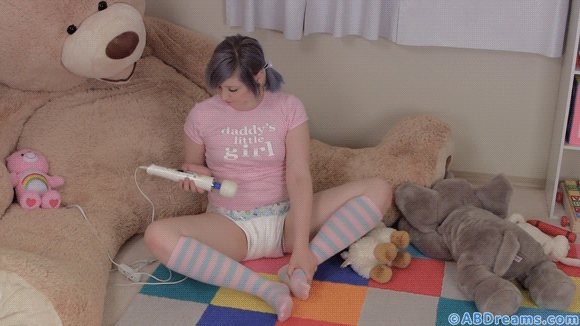 Candy uses the magic wand to make herself cum in her thick diaper.

Fae on the Bed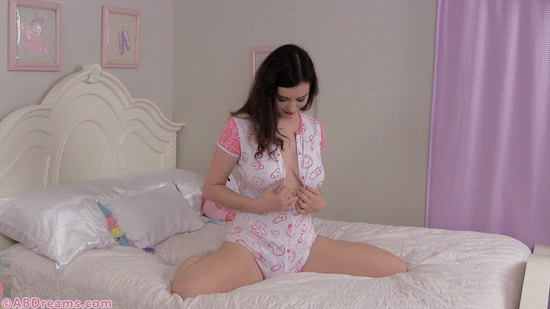 Fae has a naughty, crinkly secret... but the wetter her diaper gets, the harder it is to resist showing it off to the world outside her window. Fae strips out of her onesie and masturbates through the wet padding before untaping and opening it up to show you just how wet she is!
Bunny Candy Home Alone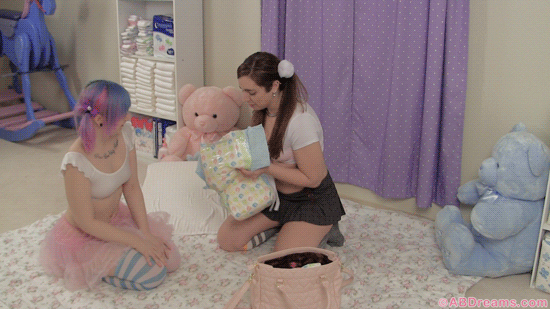 Bunny takes her friend Candy to her baby brother's nursery.  They are home alone and Bunny gets Candy to try on diapers with her.
Babysitter Gets Spanked and Diapered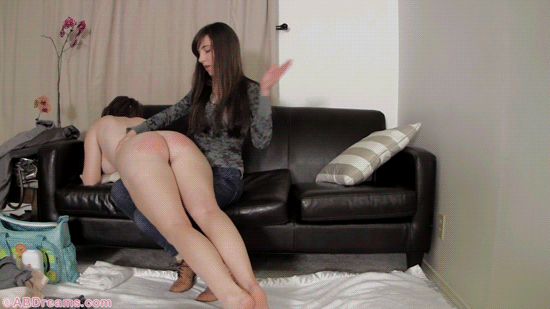 Babysitter Bubbles was super naughty with Baby D. Mommy Apple saw it all and comes home to give Bubbles a taste of her own medicine plus a spanking.
Lolette Changes Candy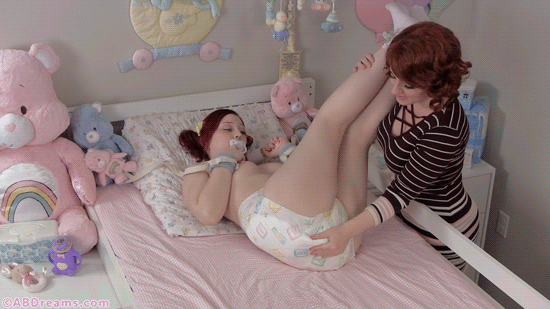 Candy is tied to the changing table in cuffs as soft as the padded plastic of her diaper to keep her regressed, worry-free, and dependent on her Mommy. Lolette checks the soggy state of Candy's diaper before sweetly untaping her and, after a little extra special attention paid to Candy's pretty pussy, powders and changes her.
Fae Rocking Horse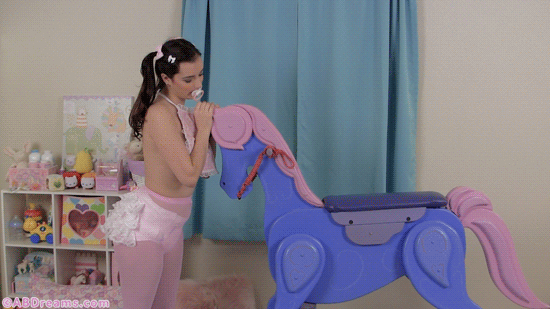 Fae looks so sweet in ruffled bottom tights, a pink lacy bib, pigtails and of course a diaper.  She rocks on the rocking horse but, uh oh, the bib is getting in her the way, she takes it off so she is wearing nothing but her tights and diaper.
Ashley Plays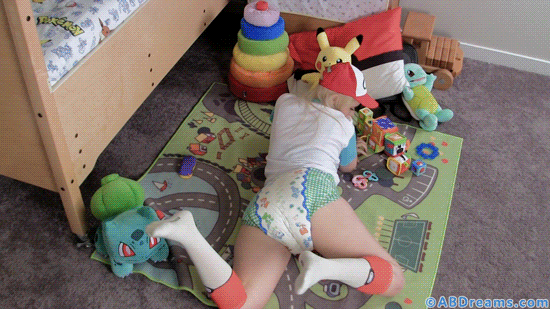 Ashley plays on the floor with her plushy friends but she keeps getting distracted, soon she is undressed and mindlessly sucking on a bottle of milk while rubbing her diaper.  
Sunny in a Sheer Dress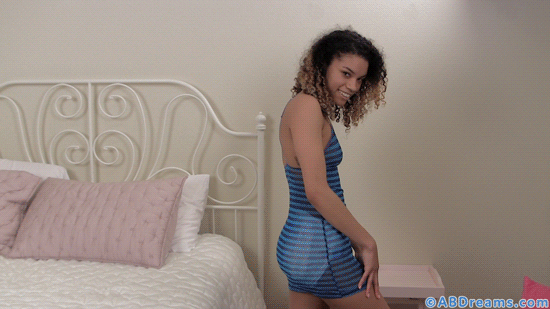 Sunny is so in love with the snug, padded fit of her diapers that she has to show them off. The pleasing crinkling sound and the way the thick plastic shows through her diaper is exciting, but she needs a little help from her favorite pillow to cum in her diaper -- after which, sunny is too content to even move! 
Amber Gets Hypnotized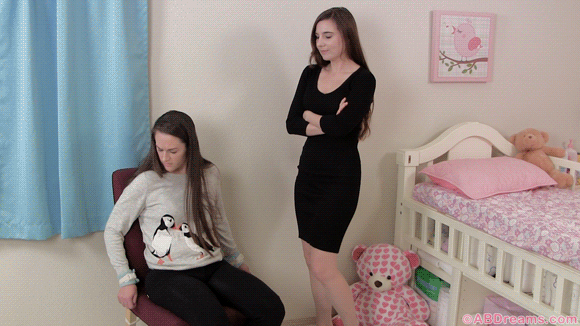 Amber is hypnotized and diapered until she is just a baby.
The Babysitter Diapers Claire Pt-2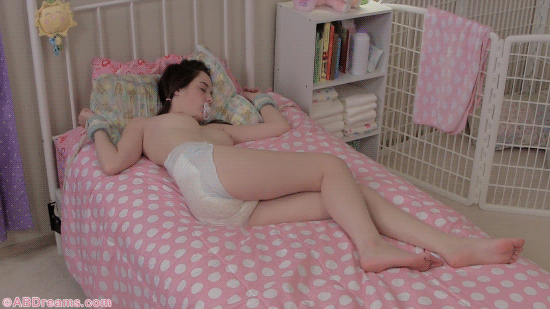 Claire has wet herself during her diaper bondage nap time, Babysitter Bubbles comes to change her and nurses fussy Claire with her big boobies.
Daddy Spanks Fae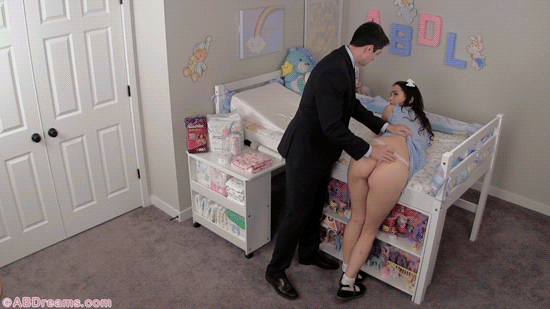 Fae knows she isn't supposed to be wearing panties... and judging by the cheeky little smile she wears before Daddy spanks her bottom, she just wanted the attention. Besides, everyone knows diapers feel best when someone else forces you into them. Daddy helps his little girl onto the changing table and unfolds a princess-themed Rearz diaper to tape her red bottom into. Fae is obedient and sweet, if a little shy, until Daddy's hands touch her where she needs his attention most!
The Babysitter Diapers Claire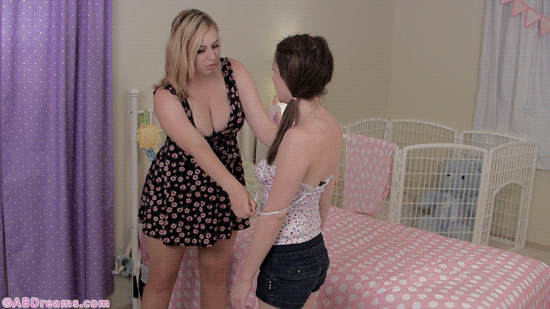 Claire's Mommy left Babysitter Bubbles very special instructions for taking care of Claire.
Emma Story Time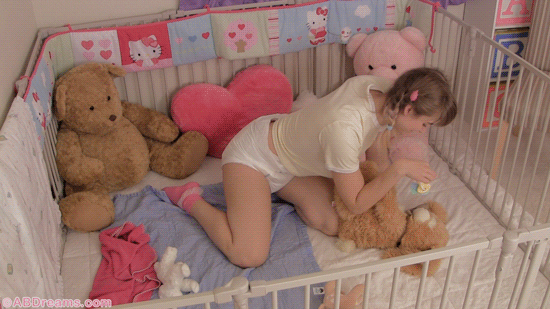 Emma is very regressed and playing in the playpen.  Mommy Apple gives her attention and reads her a story.
Fae Baby Oil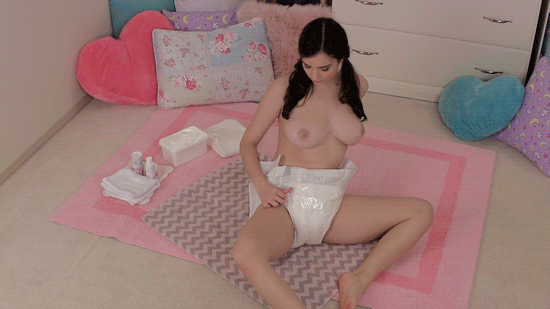 Fae has fun rubbing baby oil all over herself before taping up her diaper and cumming.
April Lollipop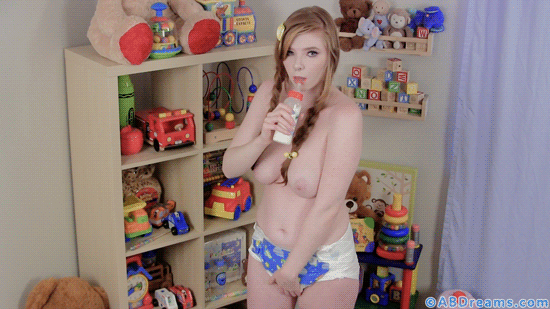 April likes sucking on things, she sucks on her thumb, a bottle of milk and a yummy lollipop.
Winnie Changes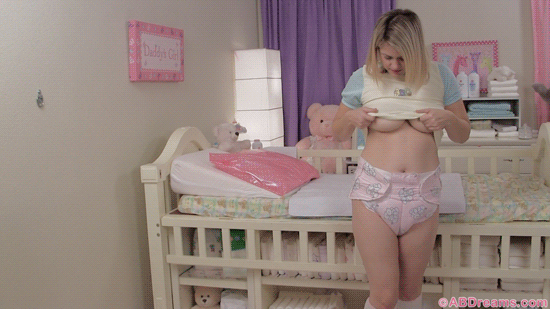 Winnie changes out of her fluffy cloth all in one diaper and into a cute Barebum diaper. 
Sunny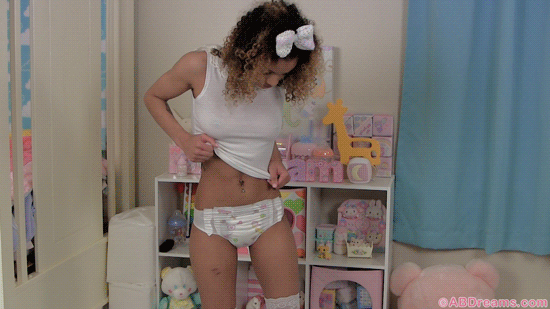 Sunny tries on different baby diapers and pullups.
Fae Yoke Change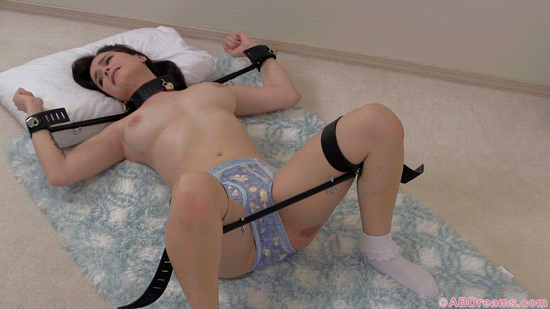 Apple has Fae in bondage and she changes her out of pullups and into a super soft medical diaper.
Apple and Candy Play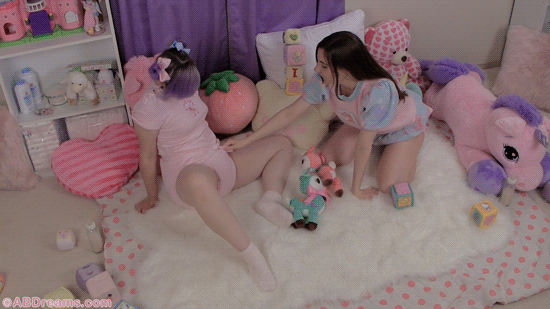 Apple and Candy play, cuddle and drink bottles in their matching Fabine diapers. How sweet!
Binkie Time Out - Good Helper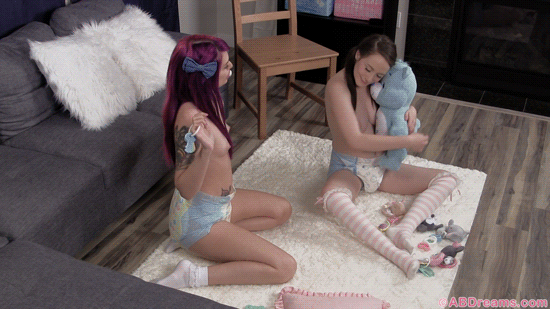 Binkie gets use to being a baby and wearing diapers. Binkie even helps Mommy Lolette change Claire's diaper.
Binkie in Time Out - Punishment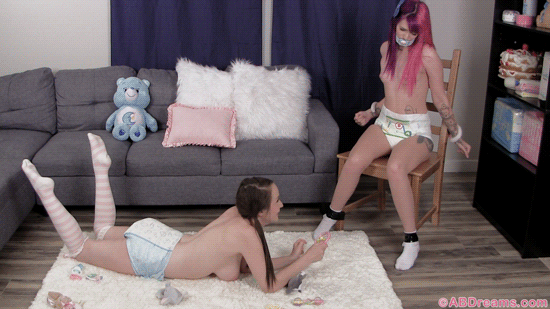 After teasing her baby sis Claire, Binkie is tied up in the timeout chair and being forced to wear diapers and suck on a pacifier gag - how humiliating!  To make things worse, her little sis Claire gleefully teases her and pokes at her diaper while Mommy Lolette is out of the room. When Mommy Lolette does come into the room to check Claire's diaper it doesn't make things much better for Binkie.  Mommy teases Binkie too telling her "Who's not a little baby?" while shaking baby toys in her face.  Mommy Lolette isn't done with Binkie's punishment either, she lets Claire press a vibrating wand against Binkie's diaper while Mommy forces Binkie's legs apart, but she doesn't let Binkie cum.  Instead, Lolette uses the wand on her good girl, Claire, while Binkie has to watch. 
Binkie in Time Out - Diaper Change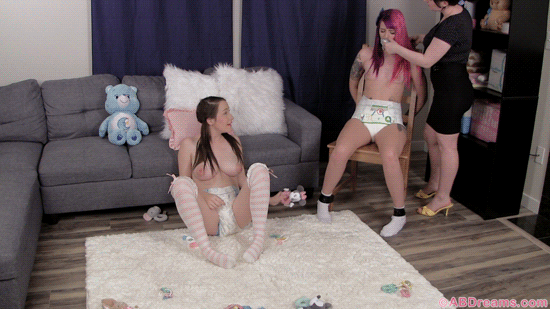 Claire is Mommy's little angel. She's all smiles, playing with her toys while Mommy lets her big sis Binkie out of the time out chair.  Mommy lets eager helper Claire dangle keys and rattles to entertain her pouty sister while Mommy changes her diaper.
Amber DL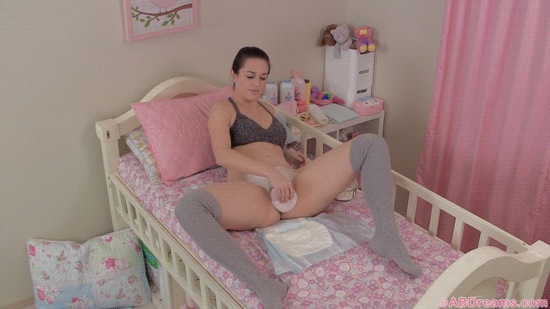 Amber puts on a super soft Beesana diaper and humps a big thick pillow.  After wetting she uses the vibrating wand against the puffy wet padding until she cums.
Fae in the Crib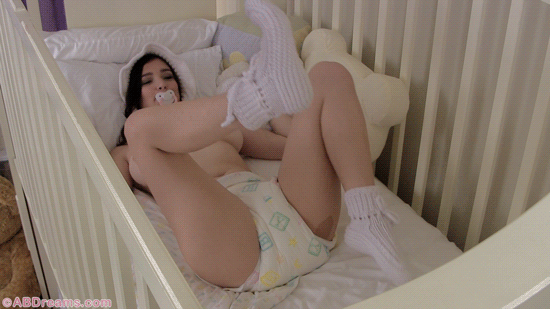 Baby Fae wakes up from a nap in the crib wearing nothing but booties, a bonnet, and the new Bambino Classico.  She plays around and drinks a bottle while waiting for her caretaker.
Candy Visits The Regression Clinic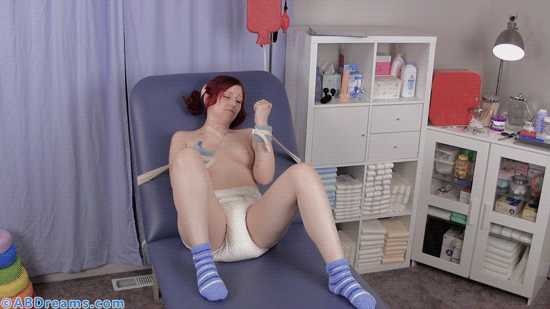 Candy is strapped in at the regression clinic with Nurse Lolette. The regression serum she's bottle fed for every meal has already started to take effect -- turning her brain to proper needy, baby mush. Big girl words are becoming harder to remember, and bladder control is almost non existent... but nurse Lolette thinks she can be regressed further. Another bottle of regression serum and a bit of love from the hitachi are good encouragements to teach her baby patient to fully soak her diaper.
Fae in the Playpen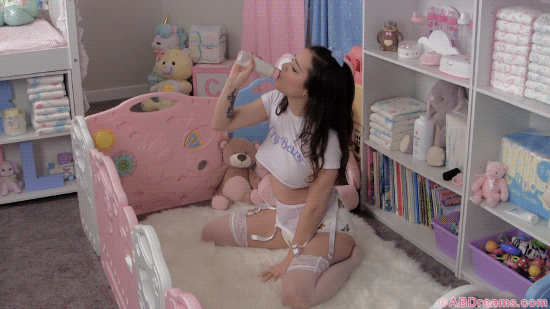 Diapered baby, Fae, wraps pretty glossed lips around the nipple of her baba and pouts for attention while drinking milk. Her teddy-printed Bambino diaper is dry for the moment, but her crop-top can barely cover her breasts. She pushed it out of the way to grope and tease herself -- starting with her breasts, and quickly shifting interest to the puffy padding between her legs. She wets and humps her Teddy Bear until she cums.
Candy Changes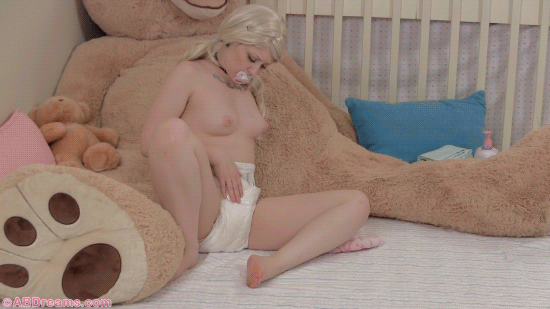 Candy is soaking wet, she notices it feels really good but she knows it's time to change. She gets out a brand new diaper and wipes herself clean then she puts on lotion and powder before taping her fresh diaper on.  Then she drinks a bottle and cuddles her giant Teddy bear. 
Amber and Binkie - Diaper Change and Nursing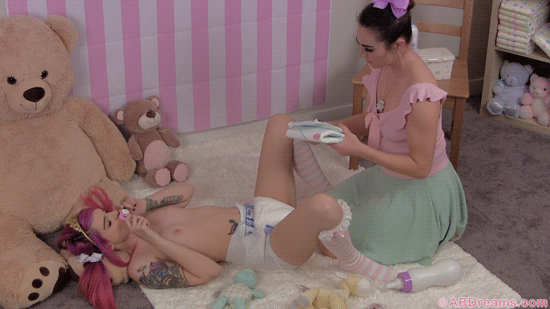 Amber changes cute little Binkie's soggy diaper.  Binkie is happy to be in a nice dry Fabine diaper.  She sucks on Amber's nipples as Amber gently rubs Binkie's back.
Candy in Medical Bondage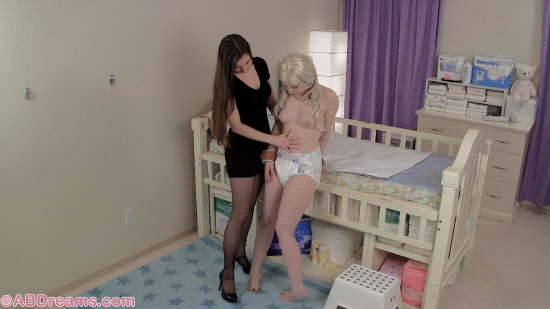 Candy is under Apple's special care, she is very wet and needs a diaper change.  Apple has a surprise for Candy, she uses and vibrating wand to make Candy cum.
Photo Day for Baby and Mommy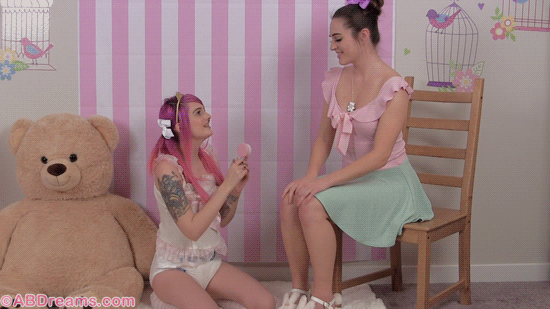 Mommy Amber takes Binky to the photographer to get her baby's photo taken for custom printed birthday invitations, but as much as Binky wants a party and a cake and all her presents... she can't help but feel shy wearing an extra thick diaper in front of a stranger! It's so embarrassing when Mommy shows her off, and now all of her friends are going to see her diapers too! Mommy gives her lots of cuddles and attention to soothe her, but they both know that Binky has a secret -- being so exposed is more than a little exciting for her as well as Mommy.
April Change Fae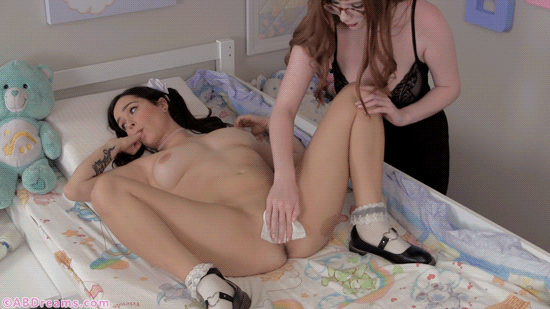 Mommy April changes and nurses sweetly regressed little Fae.
Amber in Cloth Diapers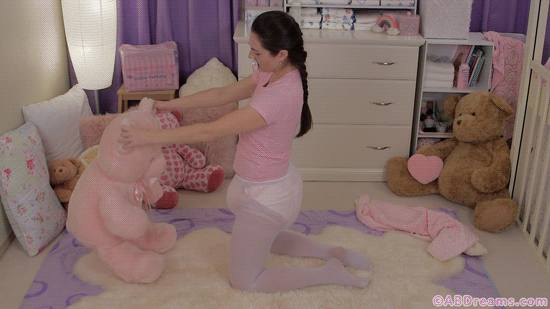 Amber is having fun cuddling and humping the big pink plush bear and drinking her bottle, she takes off her transparent white tights and t-shirt so she is wearing nothing but a cloth diaper and pink plastic pants.
Office Baby Pt-5 Submission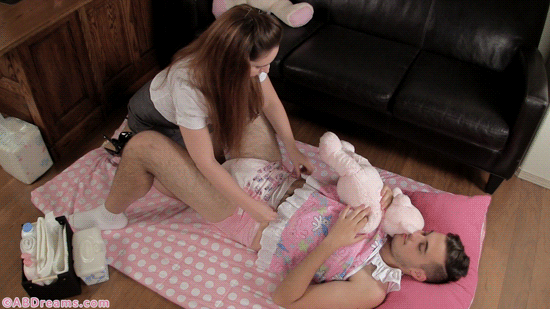 Andrew has gotten used to his new job, being a sissy baby for Bunny, even though it's embarrassing it's starting to feel comfortable.  Bunny sweetly changes her sissy baby's diapers.
Office Baby Pt-4 Nursing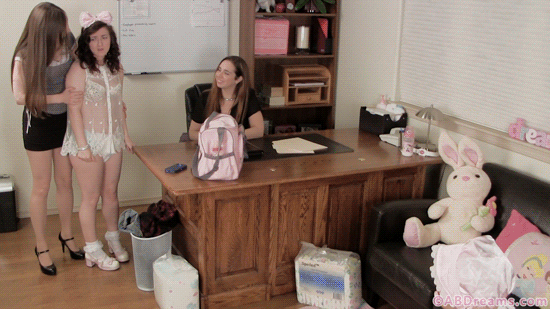 The new intern meets the other baby intern Lolette.  Bunny and Apple make the babies play together before nursing them.
Binkie and Nurse Amber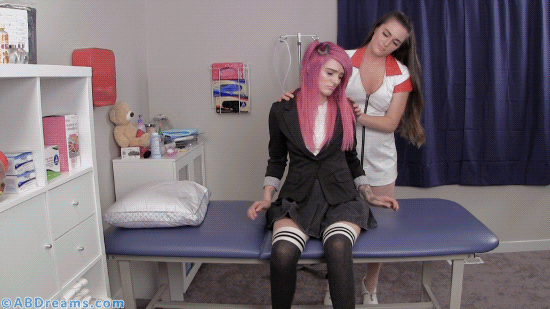 Binkie can't be trusted not to have wetting accidents in class so she is back at the nurses office for her mandatory diapering.  She doesn't want it but eventually Amber shows her how nice the soft padding can feel. 
Office Baby Pt-3 Diaper Change
Office baby has his first lunch and diaper change.  Bunny even has a special surprise for the little sissy baby's diaper change, a silky, pink, ruffly ribbon to tie around his cute pee-pee, he won't forget what a sweet little sissy baby he is with a ribbon tickling him in a soft pink disposable diaper.
April and Lolette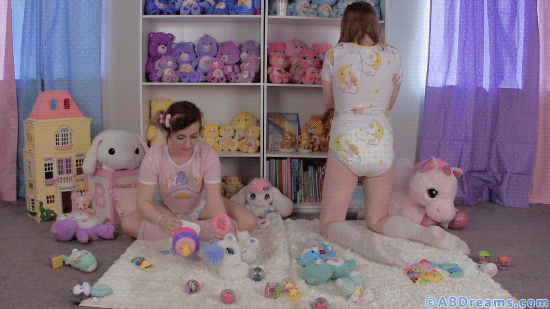 April and Lolette are playing and drinking sippy cups.
Candy Spanked and Diapered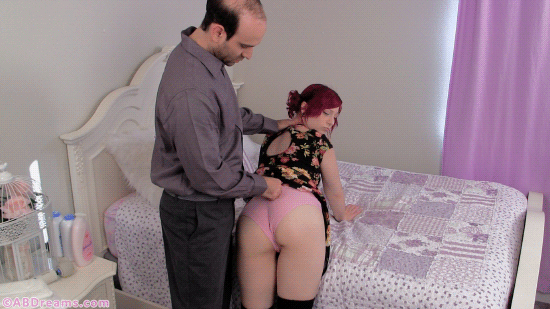 Candy thinks she's too grown up for pullups and her accident was a one time thing, she definitely doesn't need any absorbent padding between her legs!  She takes off her pullup and puts on her big girl panties but when Daddy D catches her he shows her how wrong she is, with a spanking and a thick, puffy disposable diaper for his babygirl.
Claire Changes Out of Pullups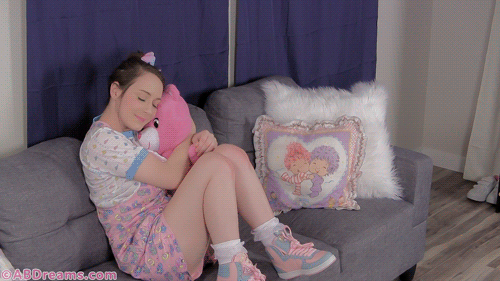 Claire is a little cutie that likes to tease. Her overalls don't last long, and neither does her shirt, but once she's stripped down to just a pullup Claire gets a little --distracted. The wipes are cold! But they feel nice against her naked pussy. Then comes the powder, so soft and just a little bit ticklish in the very best way...
Binkie and Candy Play Date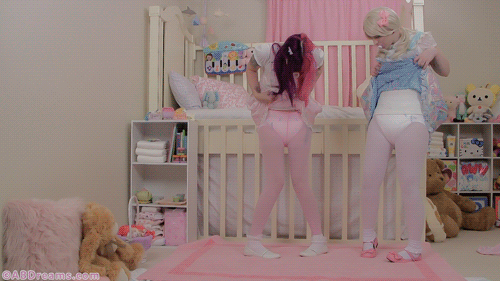 Candy and Binkie have fun playing together in their pretty dresses, thick diapers and tights.  They have a tea party and play with vintage toys.  So cute!
Lolette Changes Alex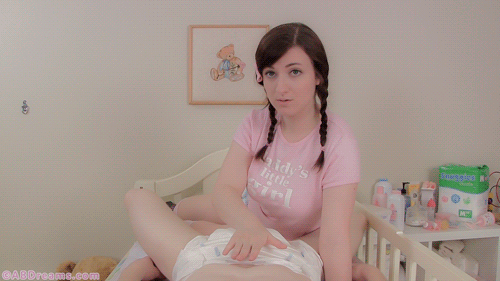 Lolette is changing Alex in the most naughty way.  She wipes him clean before rubbing him with lotion and and then kissing his pee-pee and stroking him to orgasm before powdering him and taping him up in a fresh diaper.
Candy Soft Bondage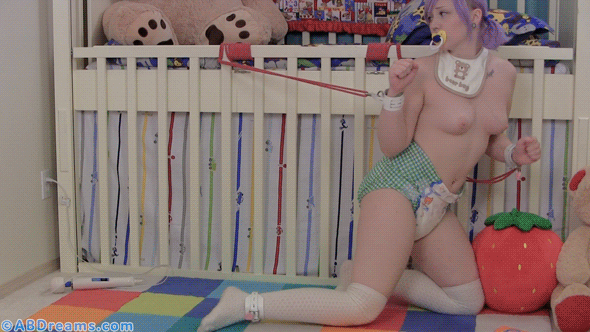 Bunny has Candy waiting for her in soft bondage.  Bunny force feeds Candy a bottle of milk and uses the vibrating wand to make Candy cum and relax into being a complacent little baby pet.
Luna Wets Her Goodnites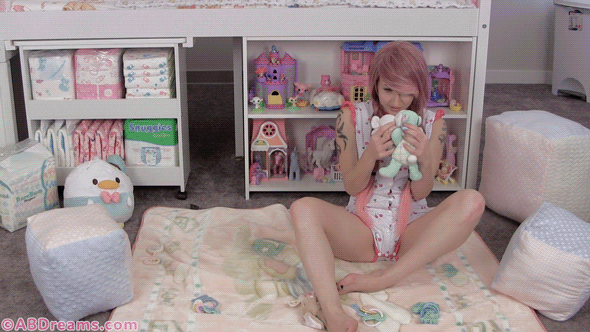 Luna is playing with her little plush friends on the nursery floor, shes sets them up on a big plush baby block for a little show.   She strips off her cute onesie until she is naked, in nothing but her Goodnites pullups, she wiggles around and to finish the show she soaks her Goodnites.
Fae Spanked and Diapered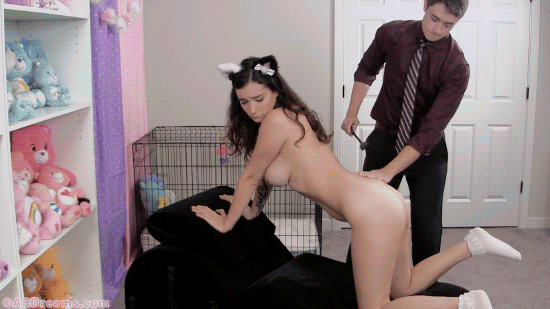 Fae has been a very naughty kitty. Daddy can't leave her alone for a second without Fae touching her princess parts, or having an accident! Of course, little big girls always think they know best and never want to listen to Daddy until they're put back in their place... looks like some spankings and a thick fluffy diaper are in order!
Amber and Apple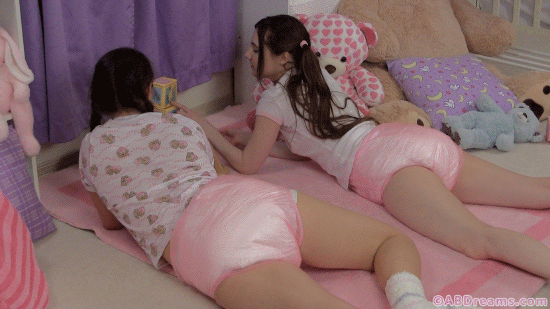 Apple & Amber are spending some quality time together.  They help each other undress, until they're wearing nothing but thick, white diapers.  Then, lots of cuddling ensues.
Caprice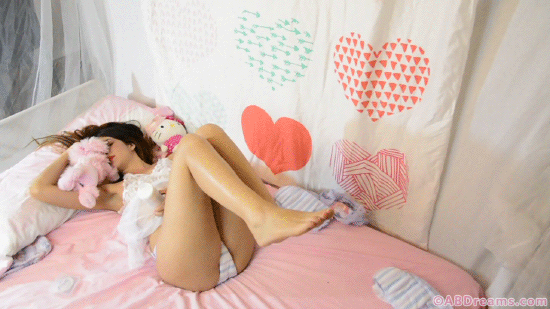 Shy little Caprice sent us her first video, here she is being cute in her pullups.
Fae in Bambinos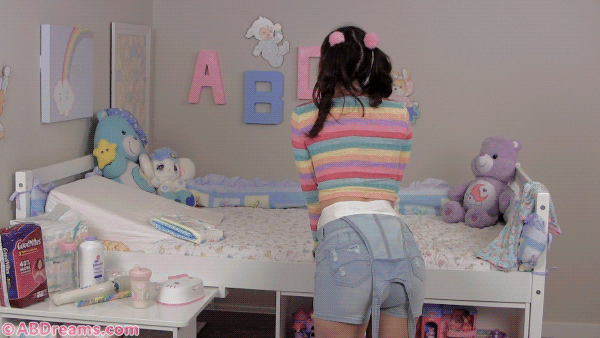 Fae shows off her cute overalls and the soft white patting she has on underneath!  Her diaper is so thick she has to wiggle out of her overalls to bare it. Her rainbow shirt doesn't last long after that... once shes naked she changes her diaper into a LFB Little Trunks diaper.
Candy Cuddles Mr Bear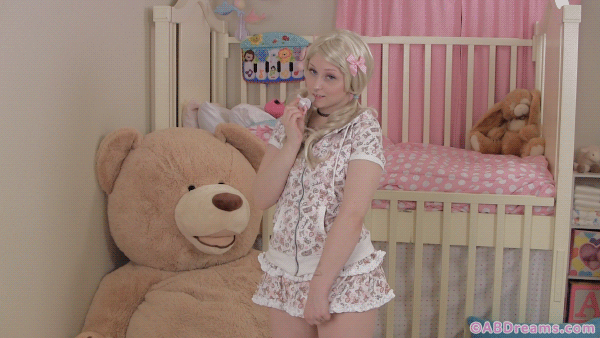 Candy is all dressed up in her super cute little outfit.  She cuddles with the Big Teddy Bear, but realizes it would be more comfy without any clothes.  It just feels so nice being naked with the smooth plastic diapers and and soft, plush bear.  She wets and rubs against Teddy until she cums.
Lolette's Magic Potion Pt-1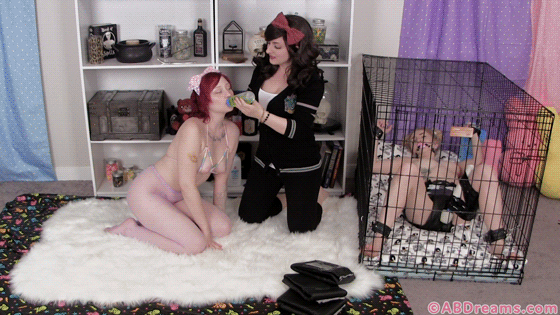 Luna and Candy have spent the past year terrorizing their classmate, Lolette, but now that Halloween is here Lolette has a special batch of revenge brewed up just for them! Two baby bottles of special potion designed to melt their brains and regress them back to infancy.   Luna has been very difficult so Lolette put her in the cage for a time out until she can give her more serious attention.  Candy is a good girl, having already drank half her magic bottle and lays right down for her diaper.
Lolette's Magic Potion Pt-2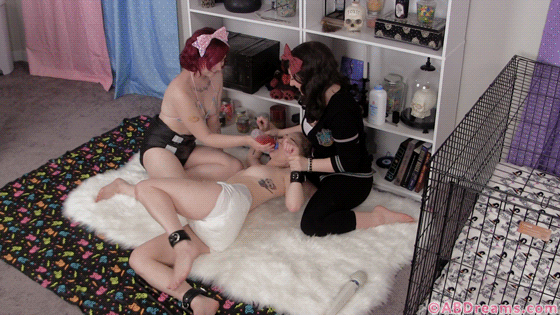 Lolette needs to give Luna more of her bottle full of regressive potion and a diaper change.  Candy helps Lolette keep the bottle in Luna's mouth while Luna is being changed. Luna slowly gives into her diaper change as she feels more and more little.
Lolette's Magic Potion Pt-3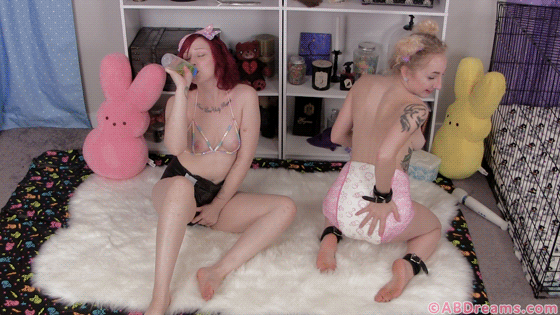 Now that Lolette has her friends regressed into giggling sexy baby girls she want to get some pictures of them.  She directs them into cute poses and leads them on to humping pillows and using the vibrating wand.
Fae Nurses Lolette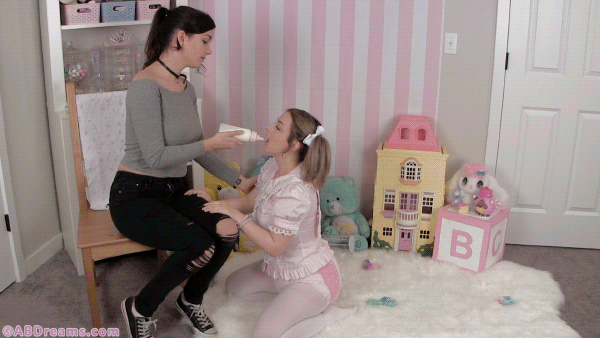 Babysitter Fae has a hard time getting Lolette to behave. One minute she's all smiles to see her, and is obediently wrapping her lips around a nipple to be bottle fed, and the next she's tugging at Fae's shirt! She's distracted by Fae's breasts - they're so big and round! - and suddenly the bottle just wont do anymore. Fae tries to be stern, but inevitably gives in to the cute little... trying her best not to moan while Lolette nurses.
Snack Time For Binkie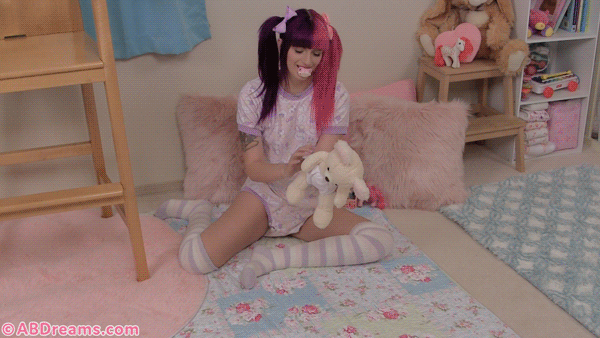 Apple plays with Binkie, checks her diaper and helps her into the highchair for some cookies and milk.
April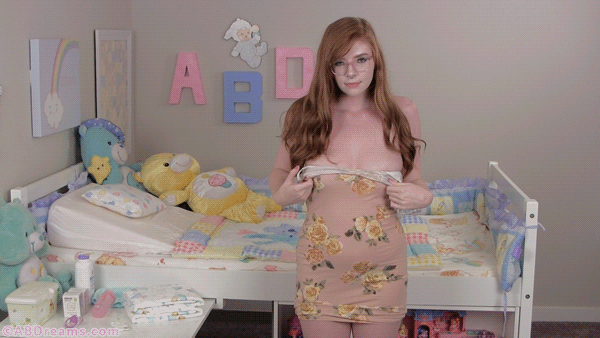 Shy little April is ready to change out of her adult clothes and get a diaper on.  She takes her time getting undressed and puts on a thick "Bear Hugz" from the Changing Times Diaper Company.  She looks so cute sucking a pacifier and cuddling her teddy.
Amber Diapers Herself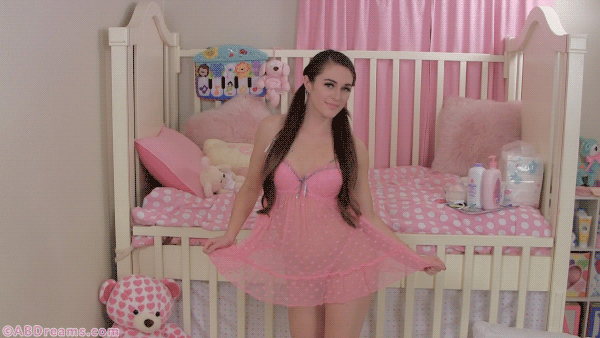 Amber looks beautiful in a pink lace dress with matching underwear but what she really wants to wear is a thick diaper.  She diapers herself in the crib and humps a pillow.
Candy Diapers Koneko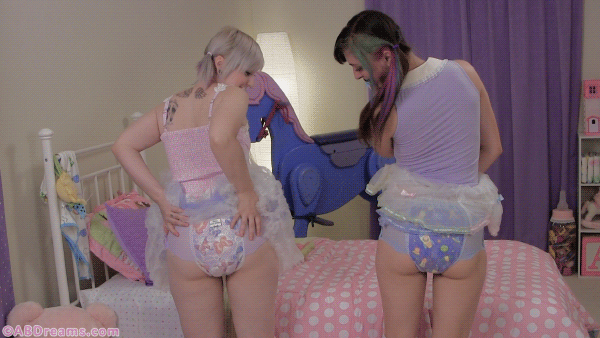 Koneko and Candy like to show off their pullups. The way the cutely printed padding hugs their little hips and butts is darling, but Candy thinks Koneko is in need of something thicker. The little blonde helps her baby friend into a real diaper, and the two cuties cuddle before bed time. 
Binkie in Bondage With Candy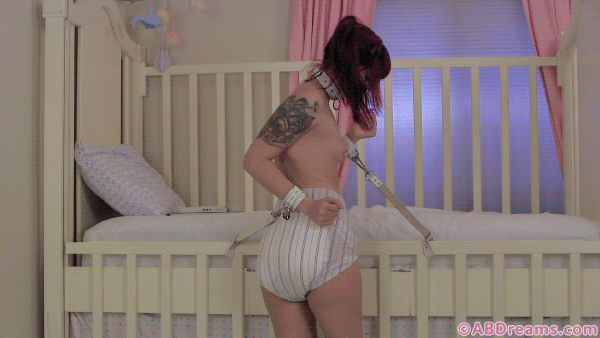 Binkie needs to be kept in bondage until she learns to accept the fact that she belongs in diapers.  Mommy Candy helps the process along by using a baby bottle and a vibrator to reinforce Binkie's new submissive mindset.
Oliver Diapered by Two Nurses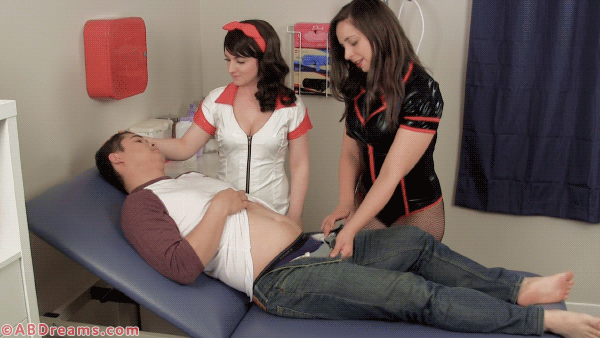 Oliver is treated to the attention of two lovely nurses, but by the time he is on the table and their greedy hands are stripping off his clothes, it's too late to worry if hes getting more than he bargained for. Besides... its not like he has any say in the matter. Both girls seem determined to tape him up in a diaper before they have their way with him.
Binkie and Claire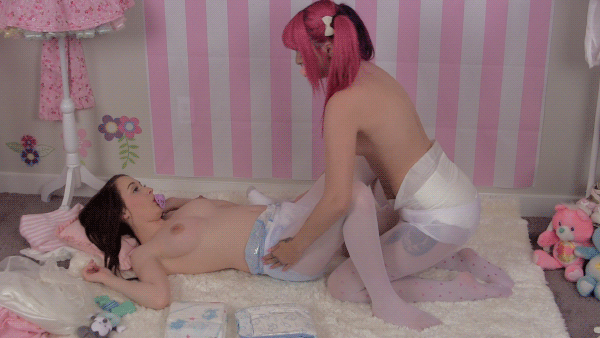 Binkie and Claire think they could be more naked and wearing more diapers.  So, they help each other undress and put another diaper on.
Luna Changes in the Crib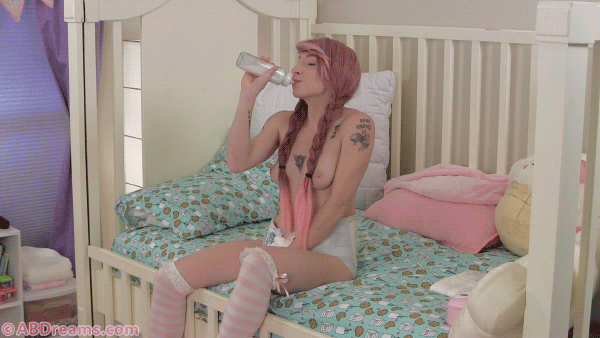 Sexy little Luna drinks her bottle and diapers herself in the crib.
Apple Ruffle Covers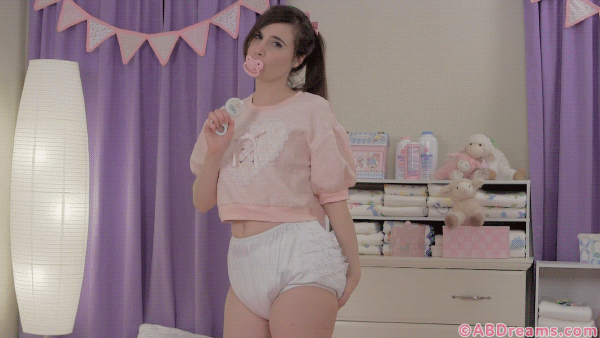 Apple looks amazing in very thick diapers under a cute ruffled cover.  She plays with her rattle and humps a pillow.
Ellie Solo Change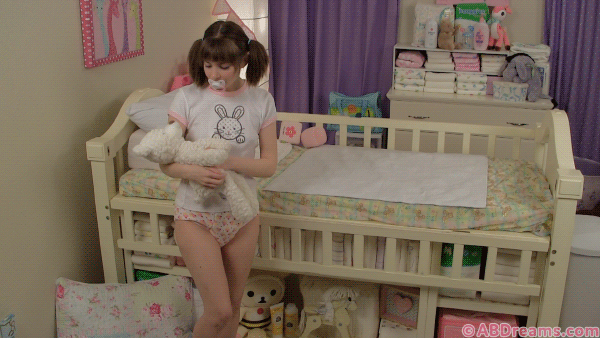 Ellie Changes out of her training pants and into something much thicker.
Amber Changes Lolette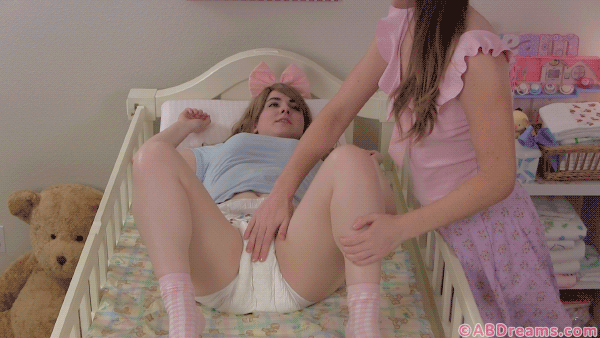 Mommy Amber is taking care of Lolette, who can't help but act like a bossy little baby while Mommy is changing her diaper.
Luna in Tights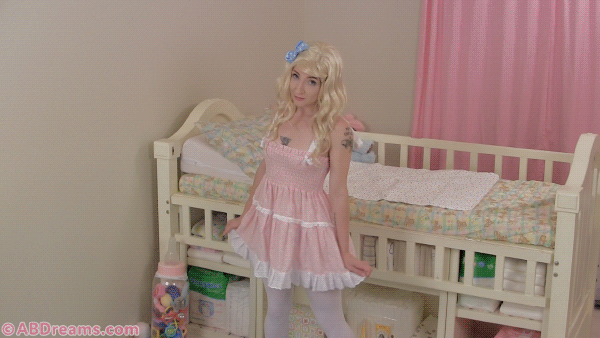 Luna wets and she thinks she's big enough to change herself, but Mommy catches her as she's taking her soaked diapers off.
Amber Nurses Lolette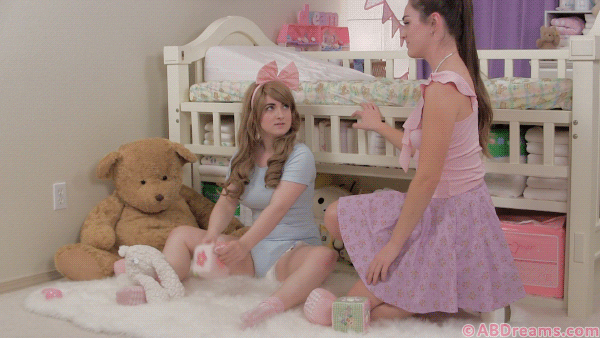 Mommy thinks its time for a diaper check, but Lolette has her own agenda. She lets Mommy get as far as unsnapping her onesie before she starts pulling on and tugging at Mommy's top; she wants to nurse! Mommy gives her an indulgent smile before taking off her shirt, and helping her little one latch on to her nipple. The two cuddle while Lolette nuzzles into Mommy's perky breasts, but when Mommy tries to take them away and stick her with a pacifier Lolette has a pouty little fit! Unfortunately for Lolette, at the end of the day Mommy is still the boss -- and what she says goes. Lolette reluctantly accepts her paci just to have something to suck on and comfort herself while Mommy encourages her onto the changing table. 
Bunny Lolette and Oliver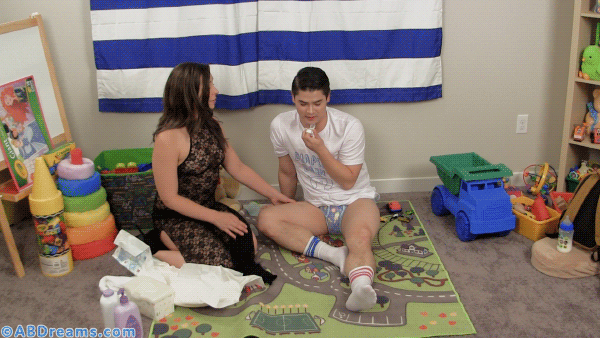 Oliver is all grown up -- or at least, as grown up as his Mommy will allow him to be. He was his own room, 3 toy cars, and a girlfriend! She's coming over to take him out on a date, but not before Mommy makes sure he cleans up his room. Oliver can't help but pout over Mommy's strict rules. Even though he puts all his toys back where they belong, his obedience is rewarded with more humiliation. Mommy gets his girlfriend to help her strip off his pullup and lay out a crinkly fresh diaper. They cover his cock, balls, and bottom in baby powder and giggle at him as they tease his little cock before taping it up in the chastity of a diaper. 
Bubbles Change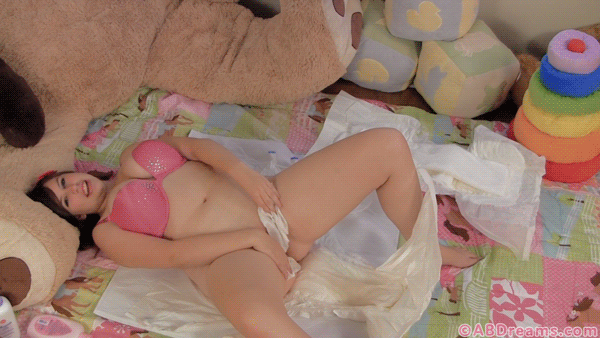 Bubbles wets her diaper and then walks us through a cute diaper change.

Claire Bellissimo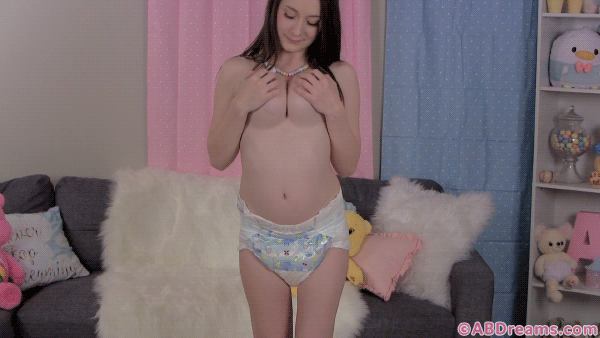 Claire cuddles her teddy bears and drinks a bottle of milk.

Ashley Wets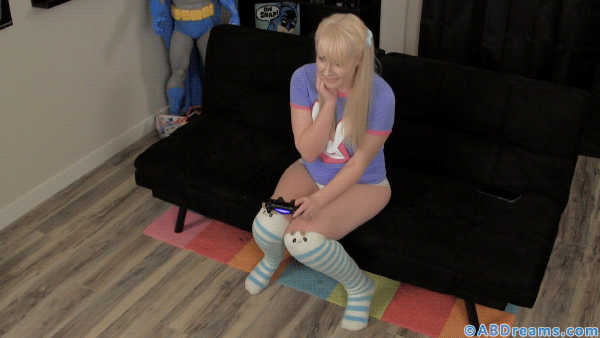 Ashley has to pee so bad, she holds out as long as she can before completely soaking her Tena diaper.
Ashley Gets Changed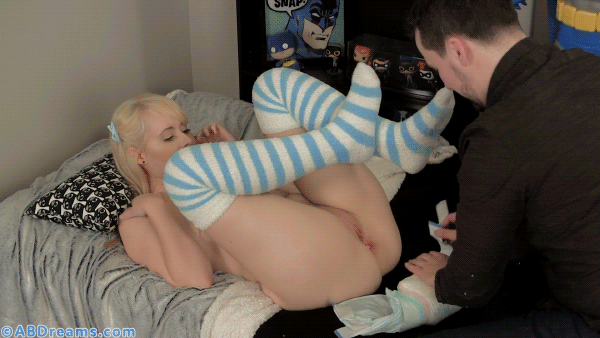 Ashley's Daddy changes her wet diaper but leaves her butt-plug in.  He kisses Ashley and rubs her fresh diaper.

Lolette gets the Babysitter in Trouble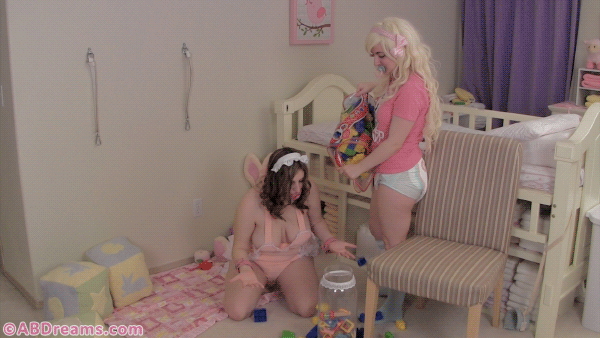 Lolette has been tormenting the babysitter.  With her Super Brat Powers she's got the babysitter crawling around in a diaper, locked in a pacifier gag and picking up Lolette's toys!  When Mommy Moon comes home and finds the babysitter acting like a baby Lolette plays innocent and gets the babysitter a spanking.  Little angel Lolette even helps Mommy by giving babysitter Bubbles a few spanks herself.

Candy on the Rocking Horse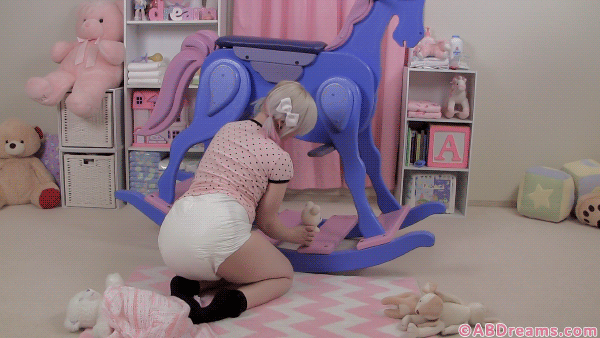 Candy has fun going back and forth on the rocking horse, the padded seat feels good pressed against her double, thick white diapers. 

Luna Visits Nurse Amber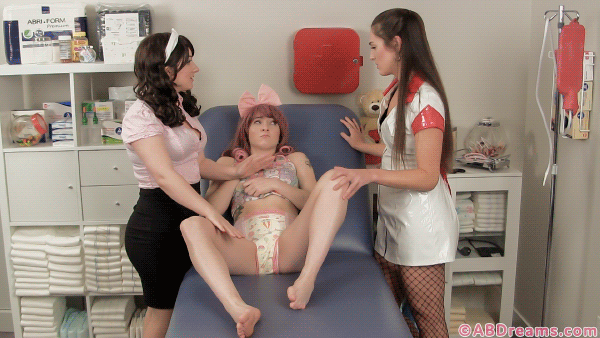 Luna has been trying her very best to be a big girl, but wishing and wanting isnt enough to keep her pullups dry. It's only been a week since Mommy and the Doctor took away her panties, but now Nurse Amber says she needs even thicker padding to soak up all her accidents. Mommy and the nurse try to soothe poor little Luna, but when her fussing becomes too much they hold her down and carefully cut away the wet pullup between her legs. Mommy slips a paci between her quivering lips while the nurse gets her diaper ready. Mommy helps the nurse powder and fit her - taking extra care with her pretty little pussy - before the tapes go on and Luna is stuck in a big, thick, Baby diaper! The nurse gives her a lollipop to help her settle into the idea of being a real pampered baby from now on.

Diaper Change For Sunnie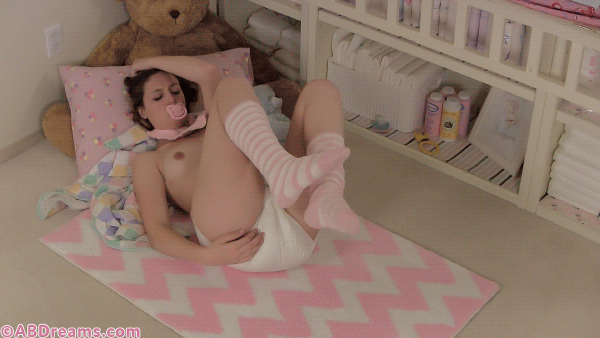 Sunnie is very wet, so wet she starts getting fussy.  But Mommy Apple comes just in time to change Sunnie and make her happy again.

Binkie and Claire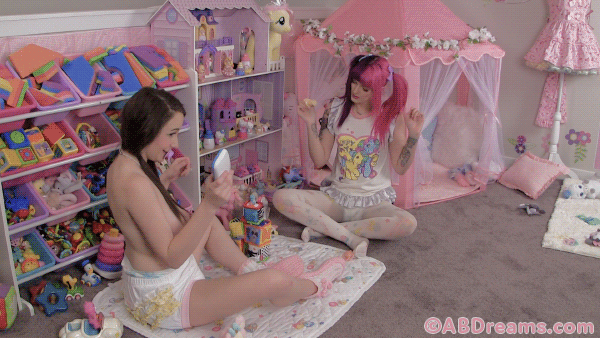 Binky and Claire have a playdate, though they might be more interested in each others bodies -and diapers- than all the pretty toys. The shy little babies strip off their diaper cover and tights to be nakey; besides their padded bottoms of course!

Luna in Cloth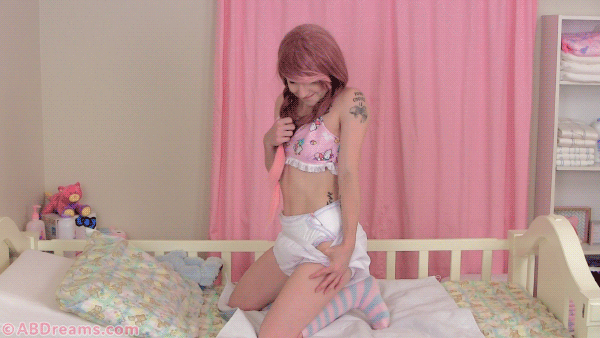 Luna loves how soft and fluffy her cloth diaper feels.  It's almost a shame that she has to change, but she needs the extra protection and absorbency that disposables provide.

Cheshire Diapers Herself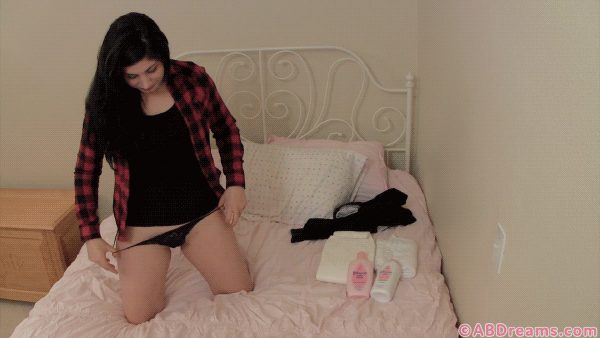 Watch the beautiful Cheshire change out of her sexy black underwear and into a soft white diaper.

Bunny Diapers Herself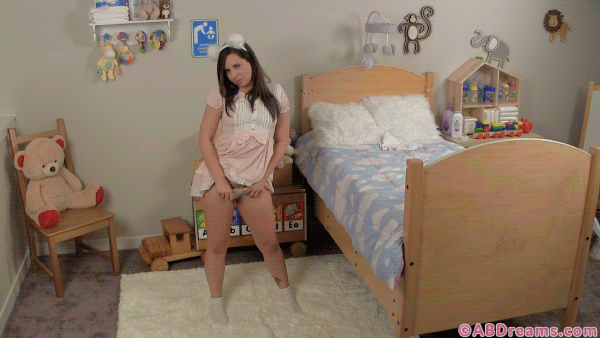 Bunny is naughty and nice in a little pink babydoll dress. Daddy told her that her private parts are private, and she shouldn't lift her dress, but she wont tell if you wont tell! The view only gets better when she teases her way out of her panties and powders her cute lil butt before taping herself into a diaper.

Diaper Therapy for Sasha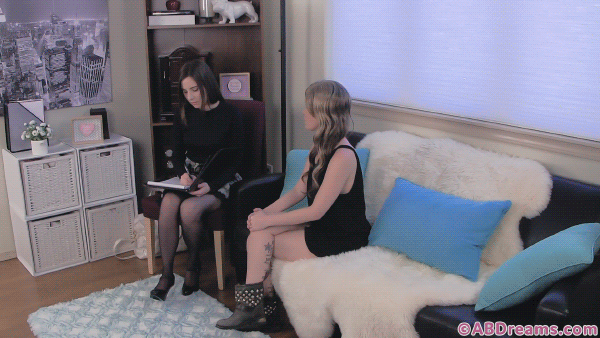 Sasha is trying out a new therapist to help deal with stress.  She has no idea that her "therapy" will involve treatment that leaves her empty headed and diaper dependent.  

Amber and Candy Play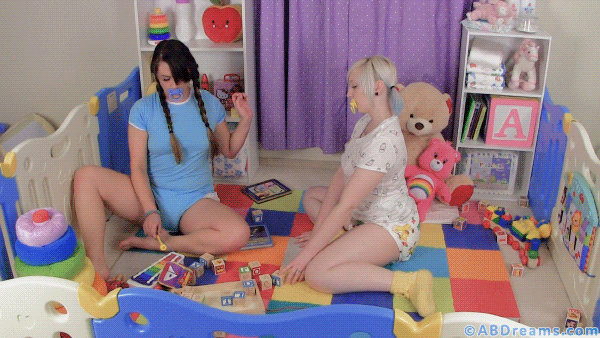 Amber and Candy suck on pacifiers and play with toys in the play pen.  What fun!

Lolette Changes Stephie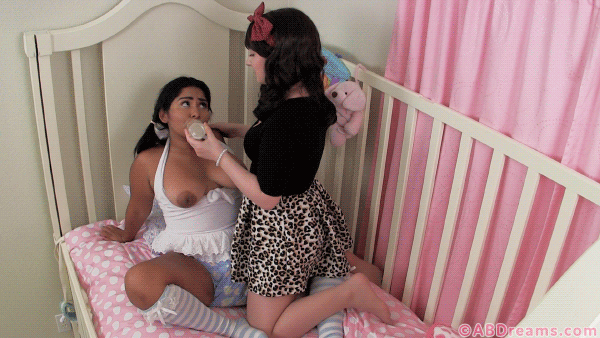 Lolette feeds Stephie a yummy bottle and changes her wet diaper in the crib.
Diaper Change for Binkie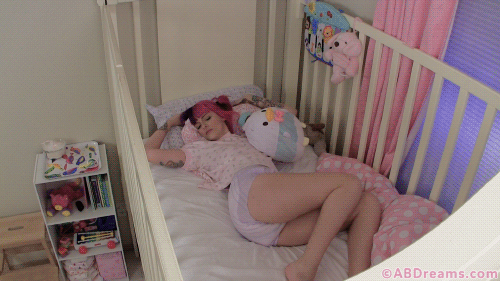 Binkie wakes up in a wet diaper, but she has to wait for Mommy Apple to come and let her out of her crib.  Mommy leads Binkie over to the changing table and puts her in a nice, dry diaper to start the day.

Claire in Lingerie and Diapers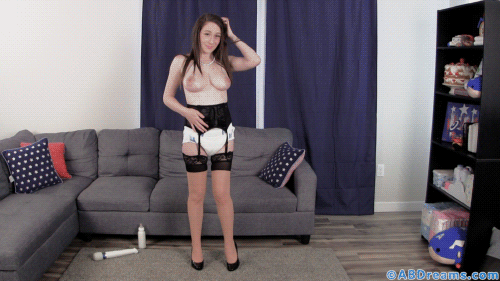 Claire pairs her sexy black lingerie with an all white diaper just to tease you! Which is more distracting -- her breasts, or the way her diaper crinkles when she rubs her pussy through all that padding?

Lolette and Winnie - Diaper Clinic Change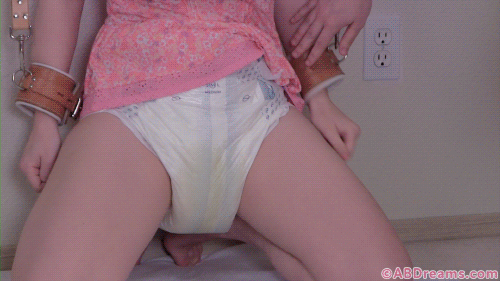 Lolette is in the regression clinic.  Doctor Winnie has her in bondage until she wets her diaper.  Winnie teaches Lolette how to suck on things, and she has to do it to Winnies satisfaction if she wants a diaper change.

Ashley Plays in the Ball Pen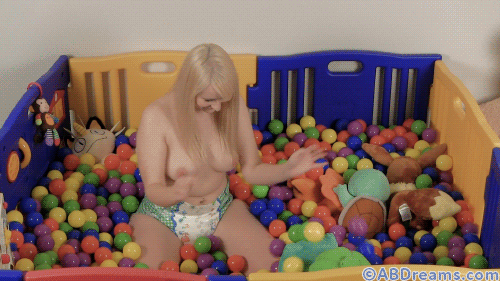 Trainer Ashley is a pokemon master -- the very wettest! like no one ever was. She shows off her gym badges, her favorite pokemon, and of course a very think ABU 'Little Paws' diaper before stripping off her shirt and sexy black bra to show you something a little more personal in the ball pit, hehe.

Ellie Gets a Spanking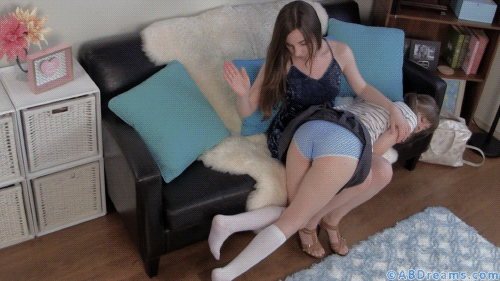 Ellie has been a bad girl and Mommy Apple has to teach her a lesson.  Apple has the perfect punishment - a spanking, thick fluffy diaper and an embarrassingly cute pink top with lots of bows.

Lolette Diapers the Babysitter Pt-2
Now that Lolette has the babysitter in a diaper she takes her to the nursery for some baby training.  Sasha is going to have to learn how to stack blocks, suck a pacifier, wet, and one more thing, cum in her wet diaper.

Candy Desk Diaper Change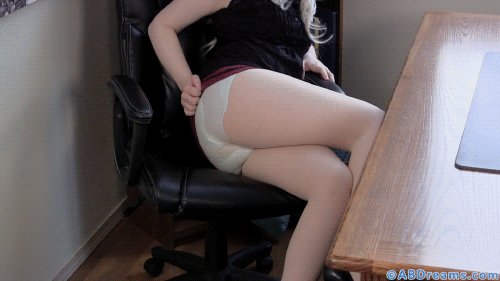 Candy has to wear diapers to work, she is wearing an extra soft and thick Beesana diaper under sheer tights with a short skirt.  she changes her self and uses a vibrating wand until she cums.

Binkie Kitten Pet Play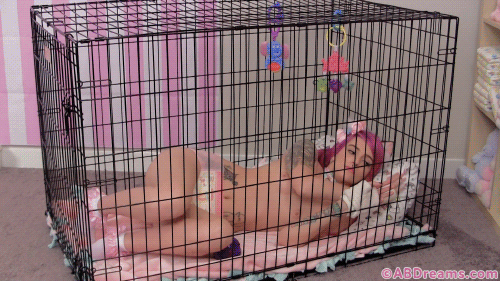 Binkie is a mischievous little kitten that can't be left alone. Mommy keeps her caged while she's busy, with plenty of toys and a cute pull-up (just in case!).  When Binkie wets her pull-up Amber changes her into a pink L4B diaper.

Emma Playpen
Emma has been left alone in the playpen, while no one is looking she humps and bounces on her pillows and teddy bears.

Candy Hunts for Eggs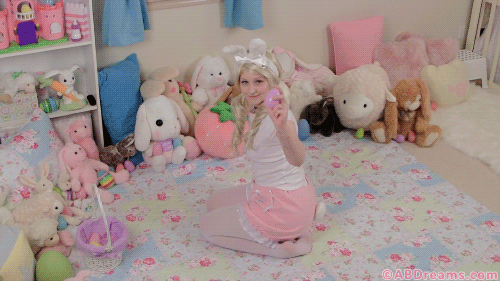 Candy has fun dressing up like a bunny and looking for Easter eggs.

Sasha - Out of Training Pants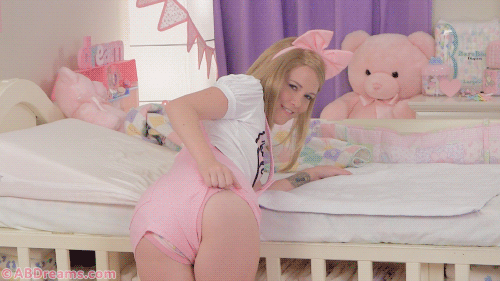 Sasha might be big girl enough to wear training pants during the day, and she definitely enjoys the way they bunch between her legs and make her waddle (it's so embarrassing it makes her pussy tingle!) but when it comes to teasing Daddy nothing is quite as effective as a diaper. Are you watching, Daddy?? Sasha wiggles out of her training pants before climbing onto the changing table to lay out a fresh diaper for herself. She has a little too much fun rubbing lotion into her pretty princess parts... and the powder puff feels so good! but the real satisfaction is the tight hug of her diaper once its fully fastened. Will you pick her up and carry her to bed? Not that she intends to sleep any time soon...

Cheshire POV Humiliation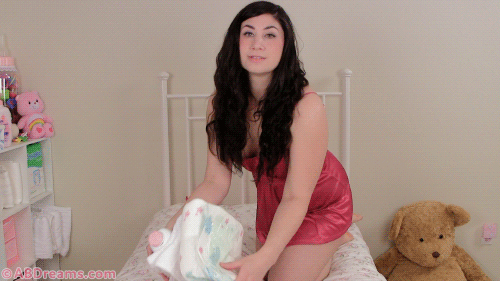 In this small penis humiliation POV Cheshire is very mean! She teases and locks baby up in diapers while taking about finding a real man to satisfy her.

Stephie Pink Dress and Tights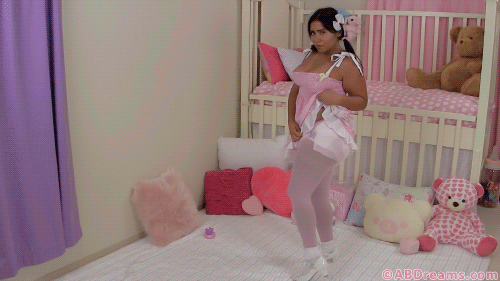 Stephie is looking cute as a button in her pretty pink dress, pink tights and thick disposable diaper.  She feels so good all wrapped up in so many pretty layers and textures, she can't resist using the vibrating wand and sucks her thumb.

Lolette Babysits Candy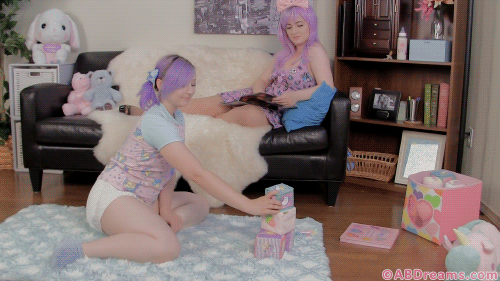 Babysitter Lolette is looking after Candy.  Candy plays with blocks and tries to get Lolette's attention before wetting her diaper.  Lolette thinks her wet diaper is cute and wants her to wet more so she gives candy a bottle of milk and pets her wet diaper.

Binkie in Pullups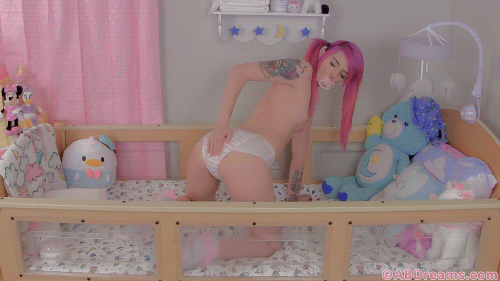 Binkie is having fun in her pink Pullups.  She changes out of her wet training pants, into double diapers and sucks her thumb. 
Lolette Diapers the Babysitter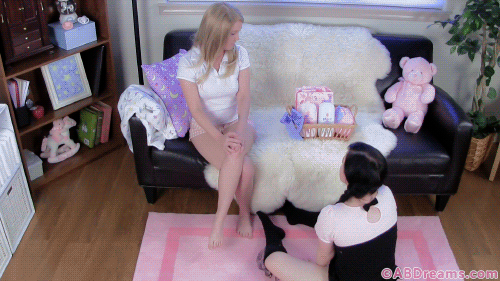 Lolette has a surprise for her Babysitter Sasha, she wants to play a game of dress up and she gets to pick what Sasha wears.  Of course, Lolette picks a thick pink Rearz Princess diaper and pink pacifier to match. 
Ellie in a Contour Cloth Diaper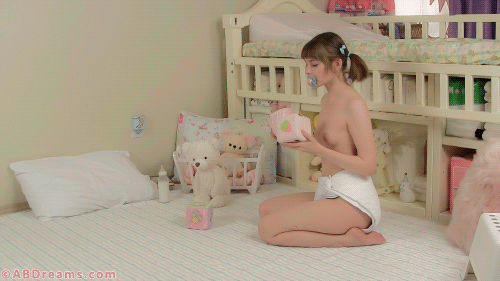 Ellie looks so cute and cuddly in her double thick contour gauze cloth diaper.  She drinks a bottle of milk and cuddles her soft teddy bear.
Amber and Apple Nurse Claire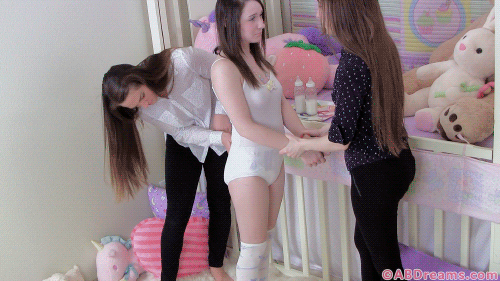 Apple and Amber are taking special care of Claire.  They take turns feeding her bottles of milk until the little baby wets her diaper.  Then the girls move on to breastfeeding her instead.
Candy, Lolette and a lot of Diapers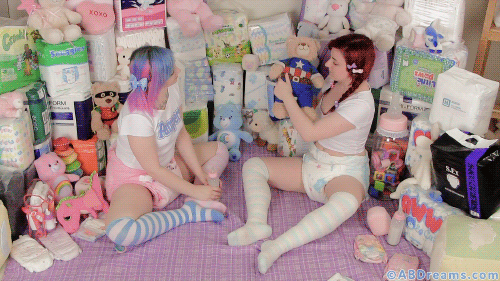 Candy is a sweetheart bubblegum princess that likes to share her toys and make friends. Lolette can't help but tease her by stealing her paci and hoarding all the toys for herself. Candy likes pastel colors and cute things while lolette is into comic books and video games -- but even so, the girls bond over double thick diapers and a love of baby bottles of milk. 
Amber Wets a Tena Diaper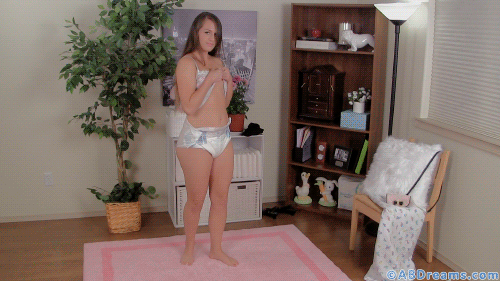 Amber is getting ready to go out, she wets but she is not exactly ready to change. So, instead of changing, Amber slips on some plastic pants for extra protection against leaks before putting on her little black dress.
Ashley Diapers Up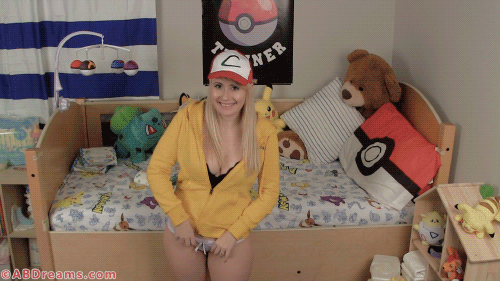 Trainer Ashley has 8 gym badges under her belt, but potty training is still a work in progress. She tapes on a thick Little Paws diaper and packs her backpack with everything a little big baby girl could need for an adventure. 
Winnie Diapers and Nurses Claire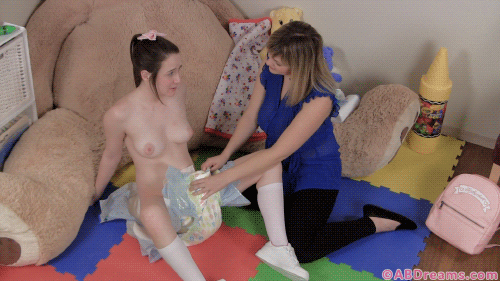 Claire Just got a spanking for taking her diapers off without permission.  Winnie knows Claire has learned her lesson, so she nicely puts her in a new diaper and nurses her.
Amber Changes Oliver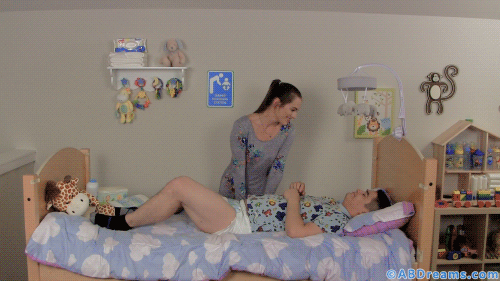 Oliver loves being diapered for playtime. His playpen and blocks are lots of fun, but when it's time for a change he needs Mommy's help. Amber is happy to help him up onto the changing table, but not before she makes his face red from squishing his wet diaper! Mommy takes extra special care to wipe his cock and bottom all clean before tucking him into a fresh diaper with lots of powder. 
Bunny and Lolette Try Enemas Pt-1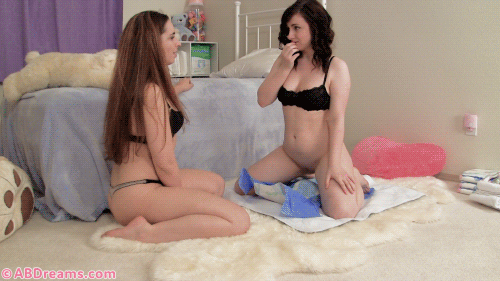 Lolette and Bunny are diapering each other but Bunny wants Lolette to try something new.  Bunny wants Lolette to try an enema with her.  They take turns administering the enemas and diapering each other.
Bunny and Lolette Try Enemas Pt-2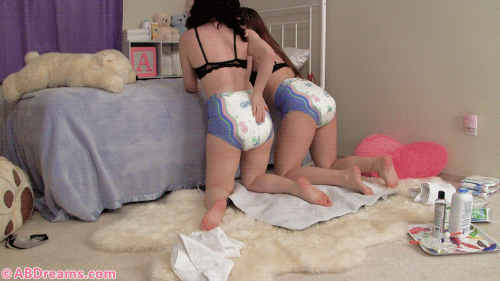 In the seconds half of this video they let their enemas go.  Lolette is embarrassed at first but admits she likes how it feels.

Claire Crib Diaper Change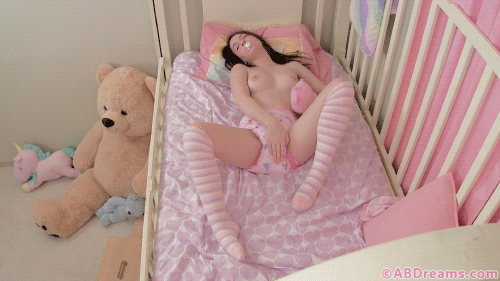 Beautiful princess Claire changes her pink princess diapers in the crib. 
Lolette Diapers Alex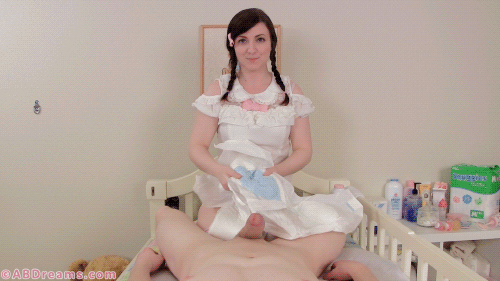 It's Lolette's turn to diaper Alex.  She has lot of fun teasing his cock with lots of lotion and baby powder before taping him up.  It makes her feel really horny so she humps his diaper until she cums.
Kit Changed by Apple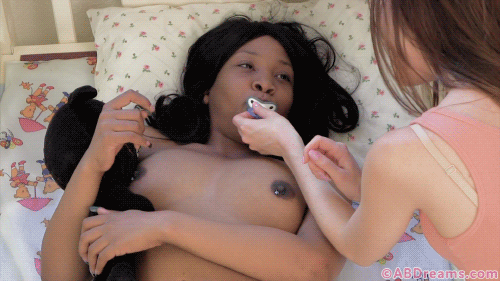 This is Kits first time getting put in a diaper by Apple.  In this super sweet scene Apple gives Kit a pacifier and puts her in an extra thick Bambino Bellissimo with a stuffer.
Nurse Amber Changes Claire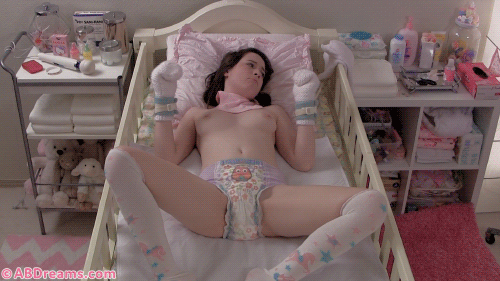 Nurse bunny has a secret -- as much as she loves fucking her helpless little patients into thick padding, what she really wants is a diaper for herself. It feels so soft when she unfolds it! It's exciting to feel it press against her bare pussy, but the experience isn't complete without lotion and powder. You won't tattle on her, will you..?
Nurse Bunny is Wet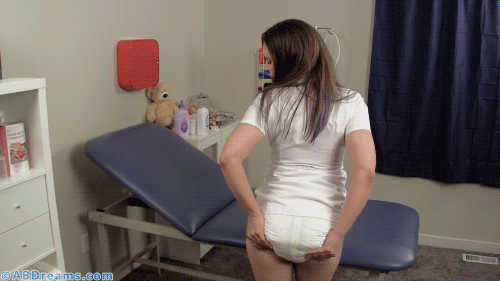 Nurse Bunny is back in her soaking wet Tena diaper, she undresses and finds her vibrator.  It feels so good through her wet squishy diaper.
Candy Black Diaper and Tights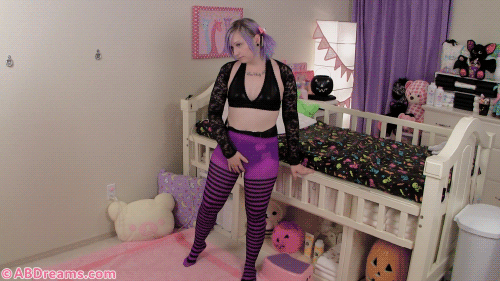 Candy feels so turned on in her thick black diaper silky tights.  She takes her time rubbing and pressing on all the layers.  When she's ready she takes her tights off and uses the vibrating magic wand until she orgasms.
Claire Is Wet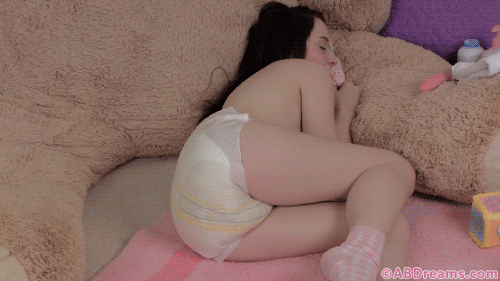 Claire fell asleep nestled against the giant teddy bear, but she wakes up with a wet diaper that needs to be changed.  Claire is wearing a vintage plastic Abena S4 and she changes into a vintage ABU SDK.
Baby Stephie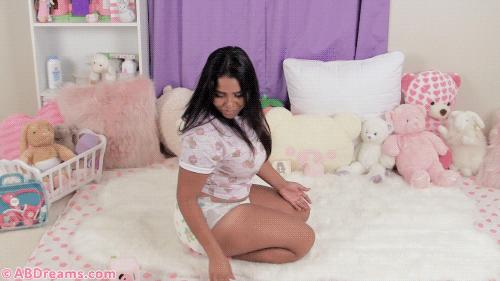 Welcome our newest model Baby Stephie, this is her first time at the ABDreams Nursery.  She has lots of fun playing with toys and sucking on her pacifier, she looks great in the Bambino Magnifico too!
Apple Changes Candy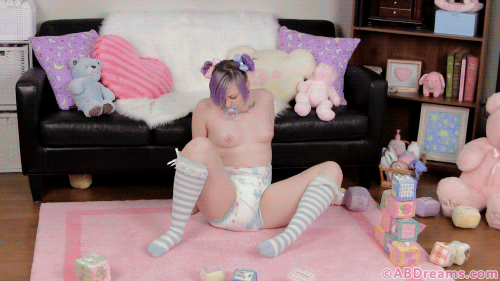 Candy is having fun playing with blocks, but when Mommy finds out how wet her diaper is, it's time for Candy to lay down so Mommy can change her.  Candy doesn't fuss about having her playtime interrupted though, because Mommy Apple makes diaper-time feel so nice.
Lolette and Amber Change Oliver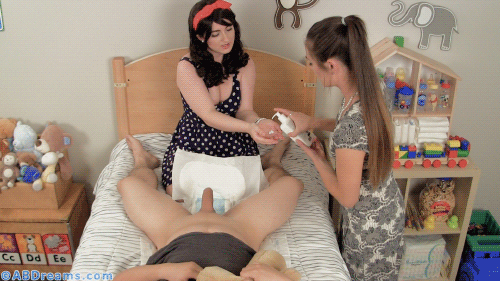 It's past baby Oliver's bedtime, and mommies Lolette and Amber help him get ready. First, they say bye-bye to his big boy underwear and replace them with a nice, soft, fluffy diaper. Both mommies take their time rubbing lotion into his skin, with extra special attention paid to his private parts! Theyre just as thorough with the powder, and by the time Mommy is ready to tape up his diaper Oliver is so excited that Mommy decides to double diaper him, to keep his baby cock tucked away, safe and swaddled, in padding. Goodnight, Oliver! Mommy loves you.
Claire Bear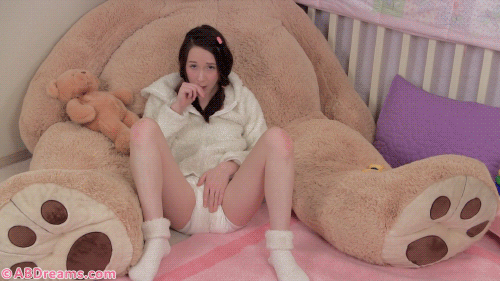 Claire looks super cute in her teddy bear hoodie, and her vintage small Bambino diaper fits perfectly.  She cuddles the giant teddy bear and wets.
Diaper Maid Amber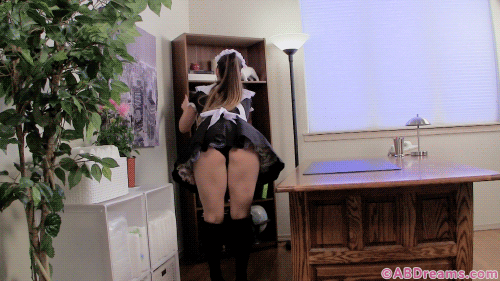 Cleaning up after all the babies at the ABDreams nursery is hard, messy work ... which is why we got a maid! Amber looks sexy in the black and white frills, but a note from Mommy reminds that her uniform isn't complete without a big, thick, fluffy white diaper underneath. She can't resist teasing us while she gets changed, after which she poses to show off the padding between her legs.
Naptime Change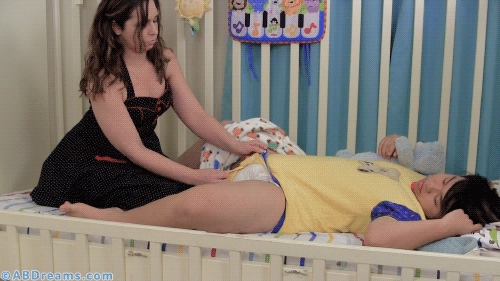 Bunny puts Van down for a nap, she checks to see if he's wet and thinks he could be wetter.  Mommy Bunny puts Van in bondage for the rest of his nap, when he wakes up Bunny is there to change his very wet diaper.
Apple Changes Claire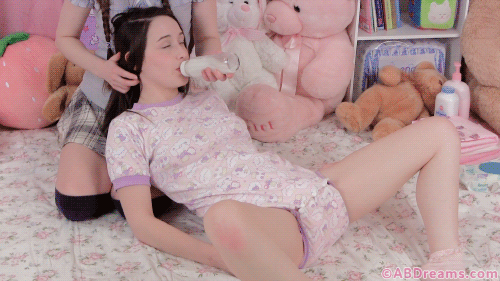 Mommy Apple lovingly feeds Baby Claire a bottle of milk and changes her wet diaper.  Apple uses lots of lotion and powder on Claire before taping the pink DC Amor extra snug.
+ HUNDREDS MORE
Copyright ©2010 ABdreams.com, all rights reserved. All models are 18 years of age or older. 18.USC. 2257 Compliant. No part of this website or any of its content may be reproduced or distributed without the written permission of the owner.