Now in HTML5 with a smaller option available for phones, tablets or slower connections.
Candy Wets and Changes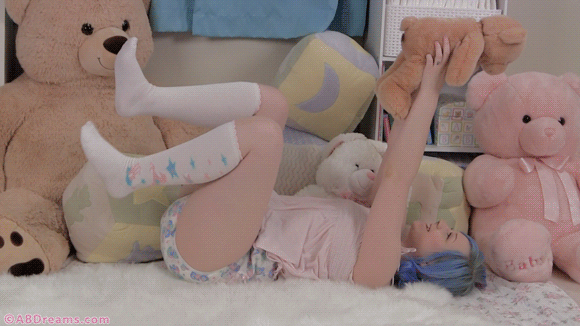 Candy wets and changes herself. Bellissimo!
Zoe at the Park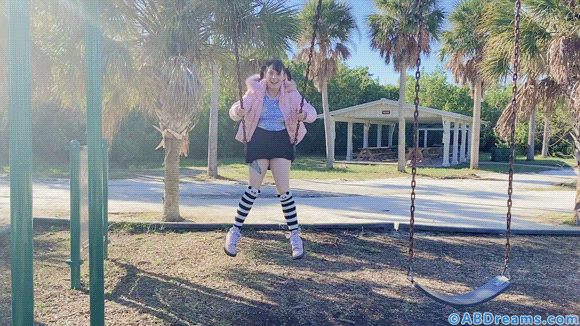 Zoe plays at the park and even wets her diaper.
Sunny In Cloth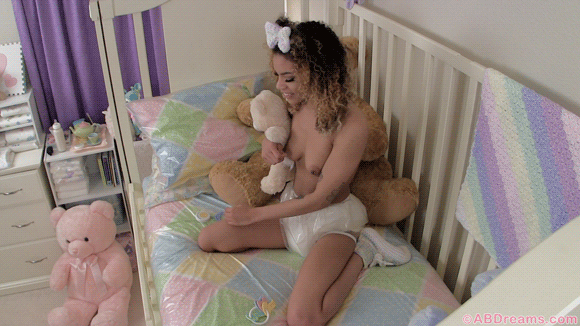 Baby Sunny looks so cute in a cloth diaper and plastic pants.
Apple changes Luna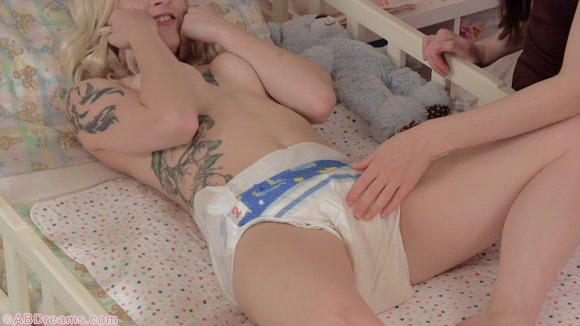 Apple sweetly changes Luna and feeds her baby food.
Candy and Fae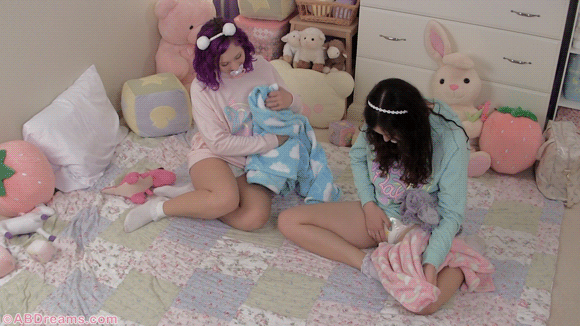 Fae and Candy play around in their matching comfy sweatshirts. But the girls decide cuddling and humping would be nicer without the sweatshirts on.
Binkie in Straitjacket Bondage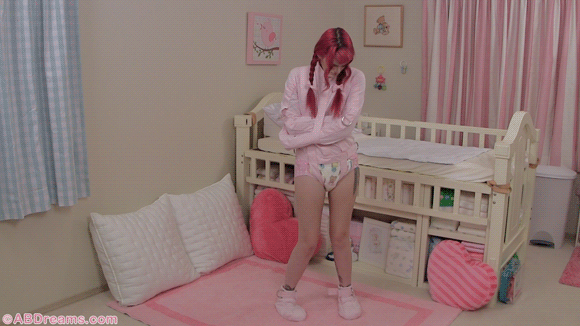 Binkie is trapped in a pink straitjacket with padded mittens and booties and a super cute Little for Big diaper. Things get even worse when spreader bar goes on. She wets in the video.
Oliver and Amber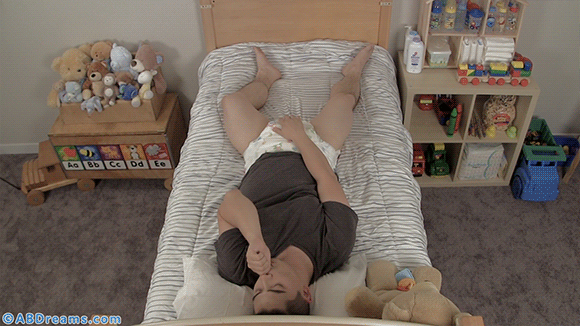 Amber catches Oliver touching himself and decides to help them both by humping his diaper.
Fae Plays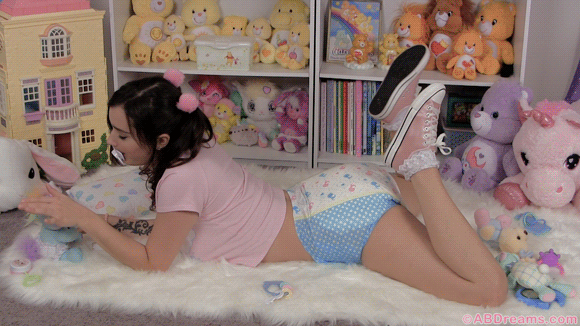 Fae looks so cute in her outfit and printed diaper. She sucks on a lollipop in the photos and soaks her diaper in the video.
Lola's Diaper Punishment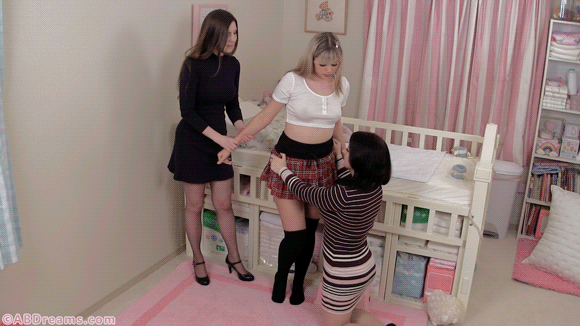 Lola is in big trouble for wetting her panties again.
Luna Wets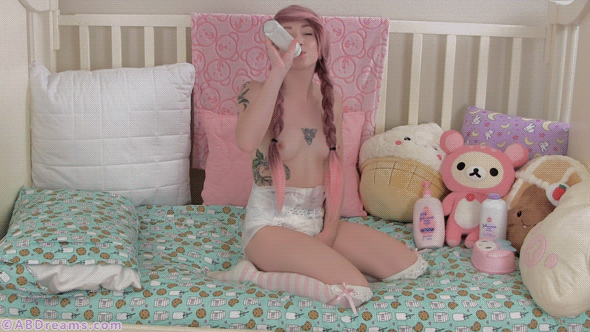 Lovely Luna wets her Tena diaper and uses her vibrating wand to cum.
April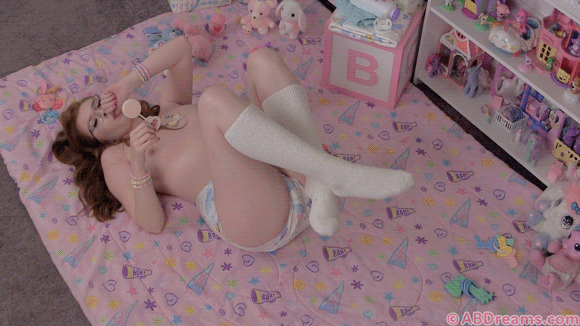 April drinks a bottle. She loves her Bear Hugz diaper!
Binkie And Candy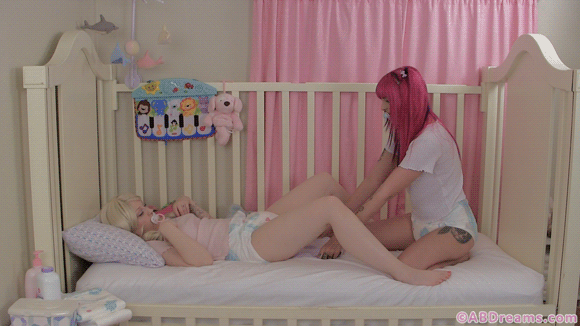 Candy and Binkie give each other diaper changes.
DL Fae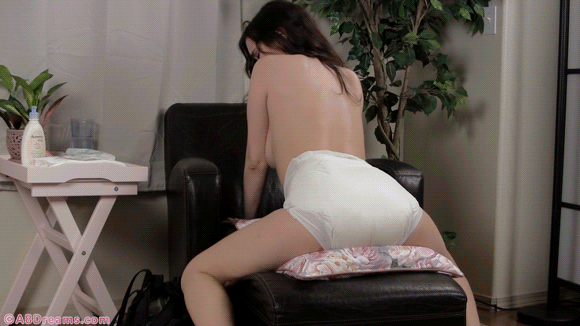 Fae masturbates while she changes her wet diaper.
Lola on the Bondage Bench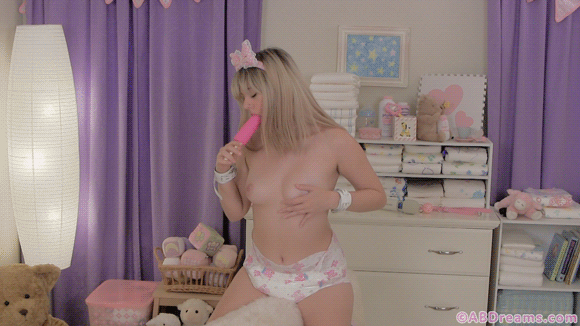 Lola is wearing a cute Aww So Cute! diaper on the bondage bench. She humps, she wets, she struggles!
Fae and Lolette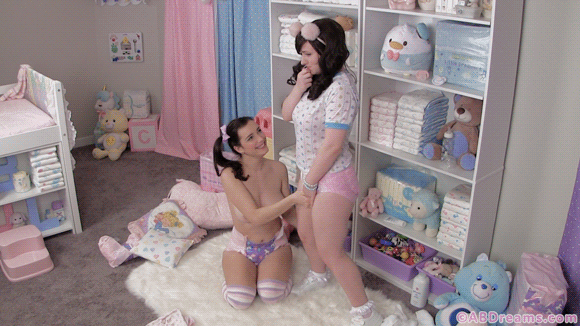 Lolette wets her diaper which sets off a chain reaction of diaper humping and boobie kissing, ending with Lolette rubbing Fae's diaper until she cums.
Binkie Spanked and Diapered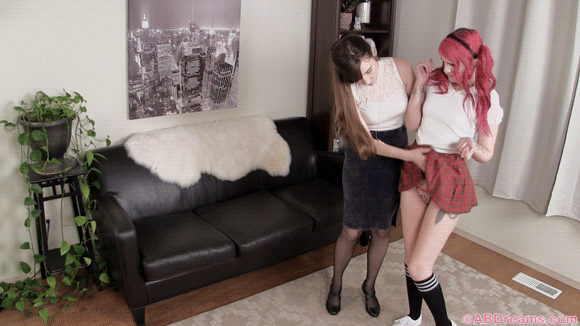 Binkie is caught wearing a thong and short skirt. This is totally unacceptable! Apple gives her a spankings, takes away Binkie's thong and puts her in her new panties - a diaper.
Mandie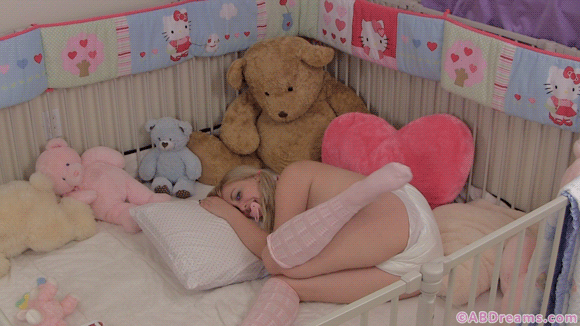 Mandie does cute stuff and humps a pillow in her playpen.
Fae and Candy - Bottles and Nursing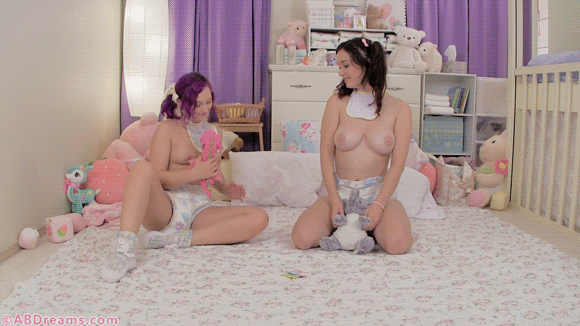 Candy and Fae are being sweet little babies together, playing on the nursery floor. Mommy Apple comes to give them their baby bottles of milk, and since they're being such good girls, Mommy lets them suck on her boobies too.
Mysterious Package for Candy
Candy has received a mysterious package containing a strange DVD. Curious, she pops it in her laptop.  A swirling graphic appears on the screen...
Amber Babysits Lolette and Oliver Pt-2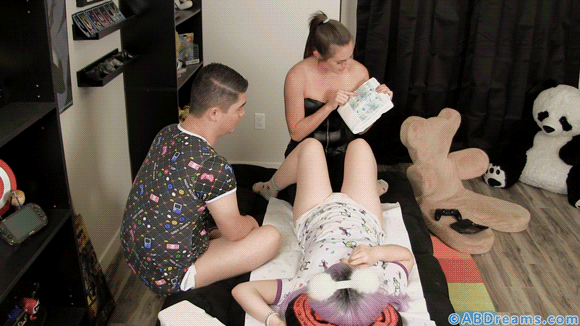 After helping Amber change Oliver, it's Lolette's turn.
Angel Baby Candy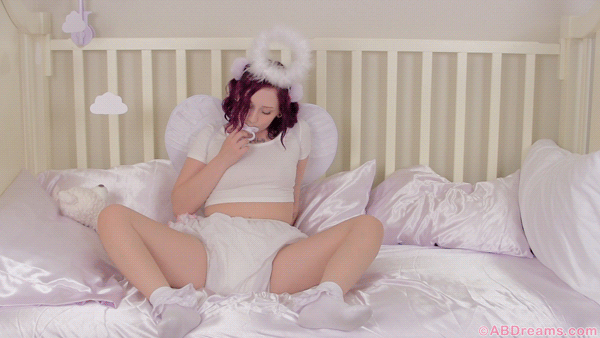 Candy is all dressed up as a cute little Angel.
Lola in Wonderland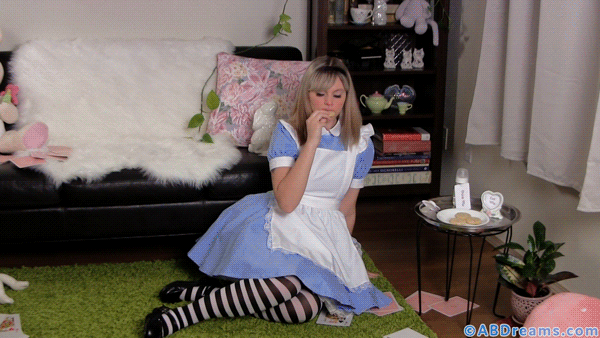 Lola has fallen down the rabbit hole! In such a strange place, she should think twice before eating or drinking anything she's found. There could be very unexpected consequences.
Baby Lola Diaper Change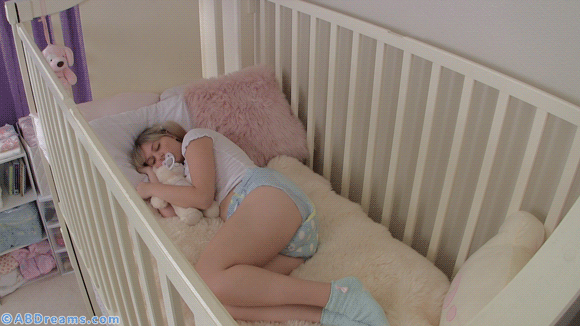 Lola wakes up wet and has to change herself.  Cute!
Fae Bondage and Wetting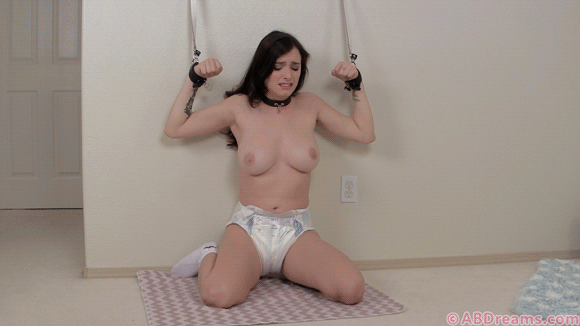 Apple makes Fae drink a bottle and wet before she uses a vibrator on her.
Amber Babysits Lolette and Oliver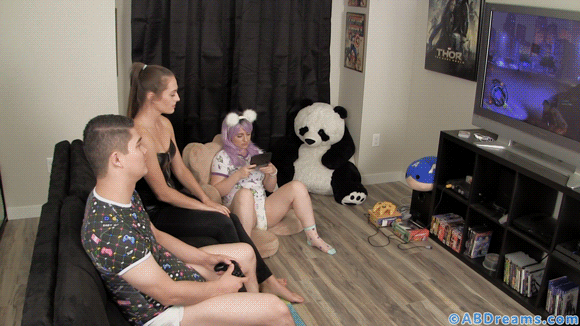 Mommy Amber, Oliver and Lolette are hanging out together. Amber makes them drink their bottles and Lolette helps Change Oliver.
Baby Lola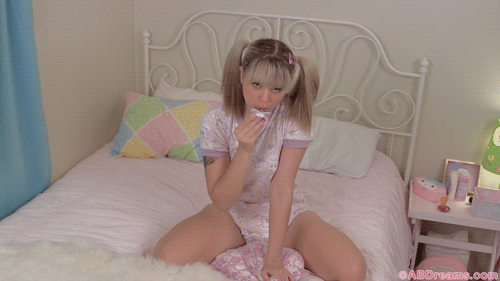 Welcome ABDreams' newest baby, Lola. Lola loves the feeling of her diaper but she can't get her onesie off to touch it. She humps her pillow and sucks on pacifiers until she cums.
Lolette Changes Fae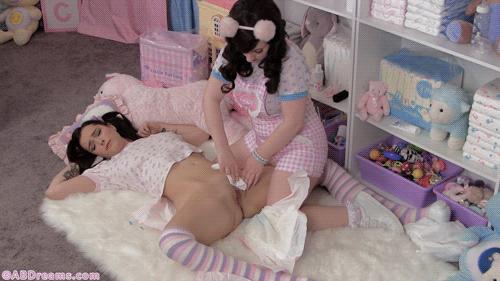 Lolette thinks she's grown up enough to change Fae's diaper all by herself, but Fae doesn't seem to believe her friend's big-girl act. She tugs down the straps of Lolette's overalls and exposes the puffy pink diaper her friend is wearing before she lets Lolette unsnap her onesie. The two diaper girls get caught up in how good the padding feels pressed against their pussies -especially when they grind against one another- but Fae will get her diaper changed eventually!
Ophelia Visit the Nurse Pt-2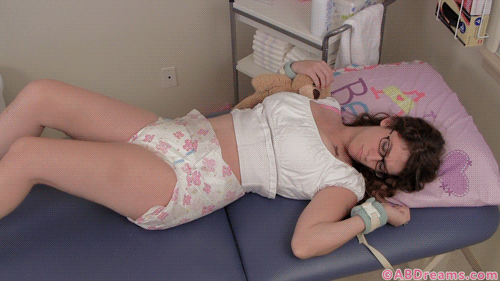 After Ophelia's suppository Apple comes to change her.
April Locked in Mittens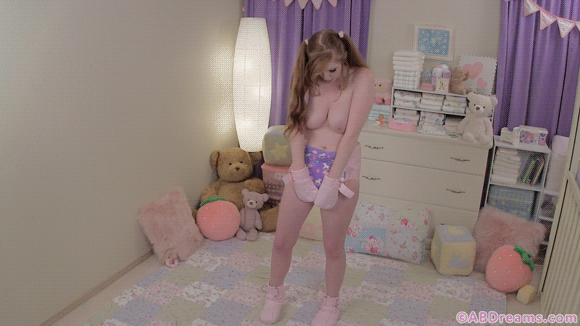 April is locked in padded mittens, booties and a diaper.  It's really frustrating!  But that doesn't stop her from getting off.
Fae Hypnotized Pt-2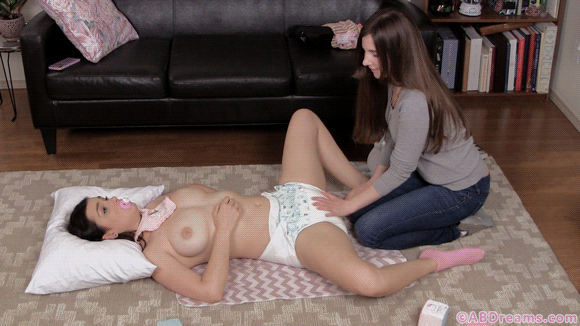 Apple has Fae hypnotized and diapered, and made Fae wet on command.  Now Apple has more plans for Fae.  She makes Fae cum in her wet diaper and then changes Fae before leaving her to nap.
Sunny Changes Into a SDK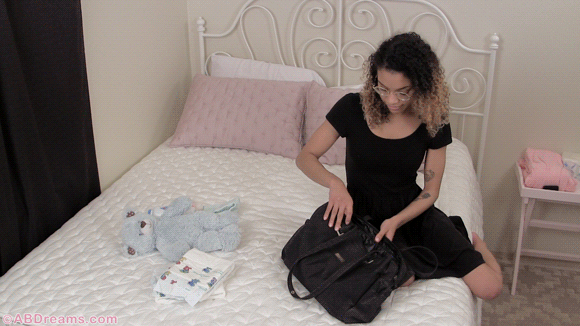 After a hard day of adulting it's finally time for Sunny to unwind with her teddy, paci, and a thick, soft, crinkly diaper. Her dress and glasses are the first things to go - but her bra and panties don't last much longer. The temperature difference makes her cute little nipples pebble. She lays out a fresh diaper settle her bottom on -tugging the plastic up to check the fit- before sprinkling powder over her bare pussy. The stress of being a grown up melts away with each tape, and by the time her diaper is secure Sunny is already feeling giggly and squirmy. She hugs Mr. Teddy extra tight to her naked chest, and sucks happily on the nipple of her pacifier.
Luna in Goodnites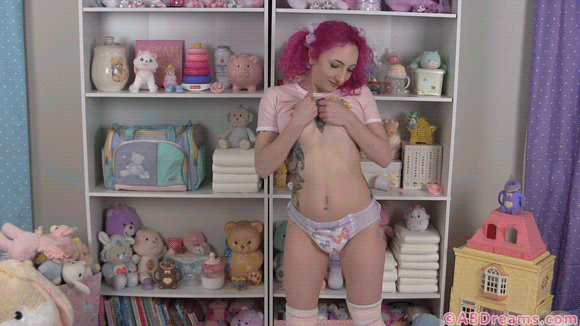 Luna loves how her goodnight feels. But she is very excited to get into something thicker. She lays out a Little for Big diaper and wets it before taping it up.
Sam Changes Arianna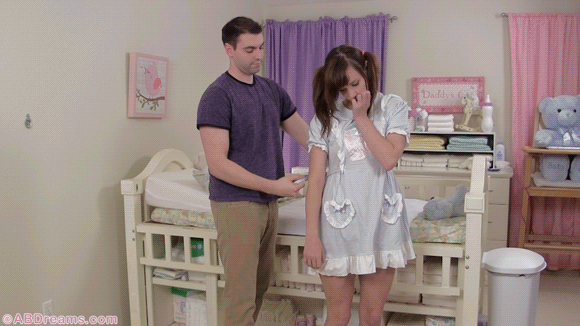 Daddy doesn't seem too impressed with Arianna's pullup -- he'd rather her cute little butt be padded in a thick diaper. He helps her undress before encouraging her onto the changing table. She flashes him a cheeky smile, but turns blushy and embarrassed once he takes her pullup off to wipe her bottom. Daddy reassures her with his affection and a generous sprinkle of baby powder on her pussy. Once she's diapered, Daddy carries his little girl to her crib to tuck her in for the night, and, after a bit of fussing, baby Arianna tries to fall asleep.
Arianna in the Crib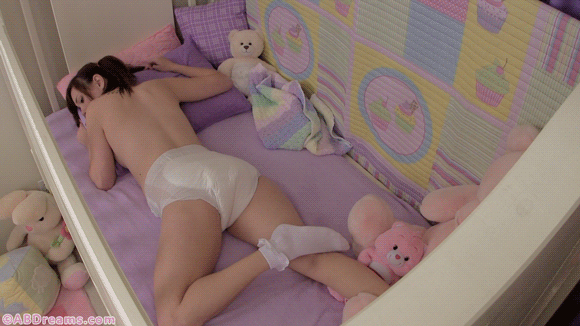 Daddy Sam put Arianna to bed but she just can't fall asleep, her diaper feels so bulky up against her, she can't help but touch the padding and hump a pillow before trying to fall back asleep again.
Fae Gets Mezmorized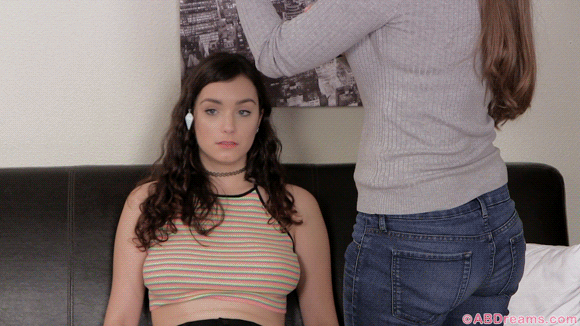 Fae doesn't think she can be hypnotized, but nothing has been easier. Of course Apple has to put Fae in diapers while she is in a trance. Apple even makes Fae wet on command.
New Nurse Hazing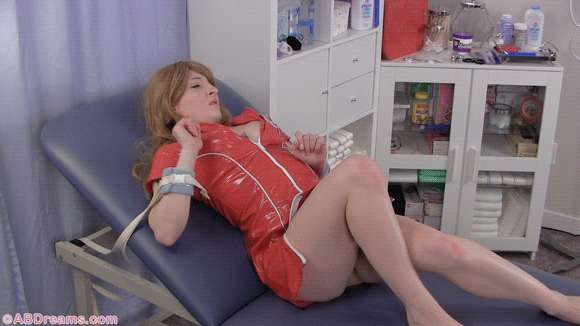 Nurse Luna is in for a surprise when she finds out what happens to the new girl.
Stephie in the Playpen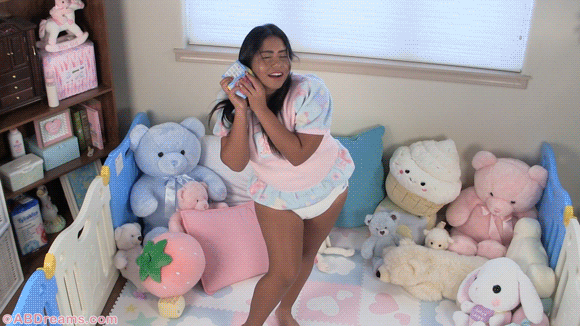 Stephie plays in the playpen, drinks a bottle of milk and gets distracted by her big thick diaper.
Fae and Apple Unboxing Video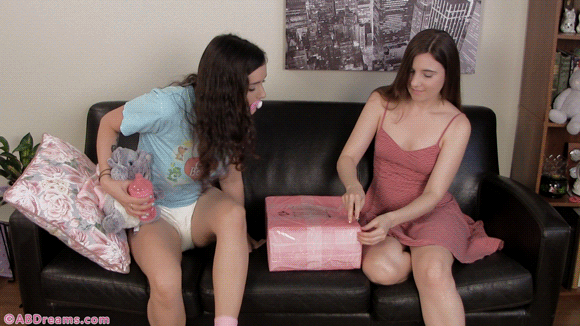 Apple and Fae open and try out our new straitjacket order! 
Hypno Pop Up Video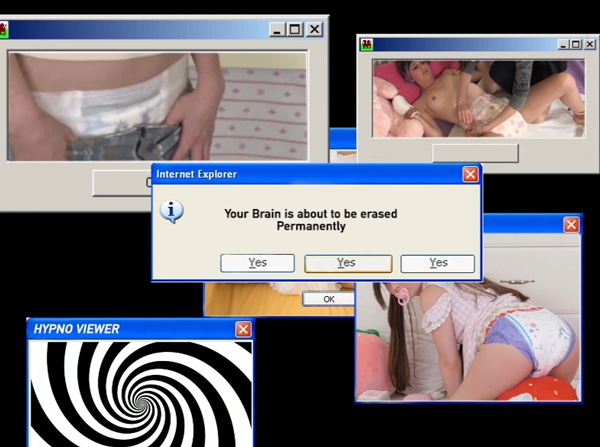 Prepare to be hypnotized if you dare...
Fae Nurses April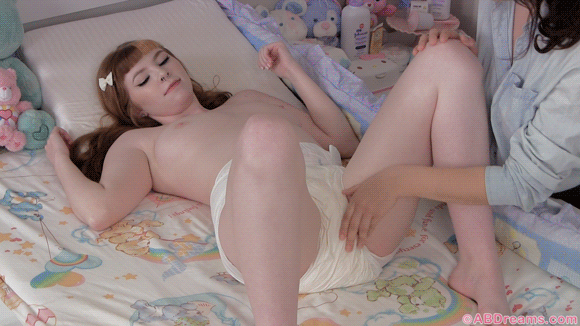 Caretaker Fae helps sweet baby April out of her big girl clothes and into a thickly padded diaper. It's obvious from the way that April sucks her thumb and makes bright eyes up at her caretaker that having her smooth, soft little pussy powdered is her favorite part. After Fae fastens the tapes all snug, and gives April's crinkly butt a couple pats, Fae unbuttons her shirt to let her sweet girl nurse.
Sasha Diaper Therapy Pt-2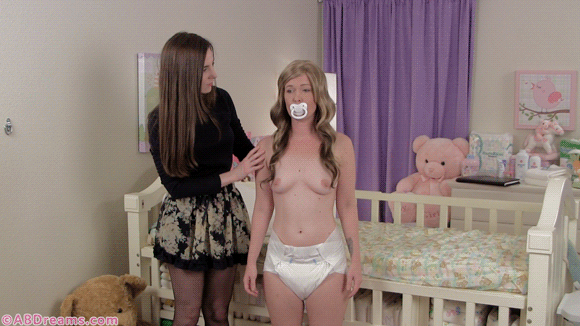 Sasha came to Apple for help with stress and ended up hypnotized and diapered. Now her treatment continues in the nursery where she will be turned into a complete baby!
Candy Binkie Play Date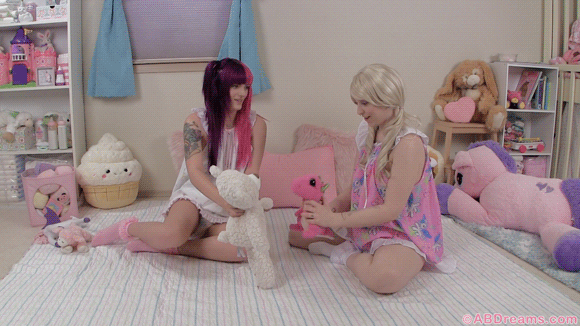 Binkie and Candy have a play date, so cute!
Fae Changes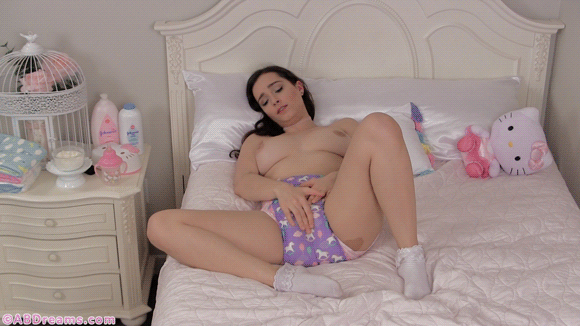 Fae's diaper is soaked to capacity. After grinding her pussy against all that warm, thick padding its time for a change. Do you think the neighbors can see..? The idea is more than a little exciting, and Fae gets distracted in the middle of her change with how good the soft powder puff feels between her legs.
Ophelia Visit the Nurse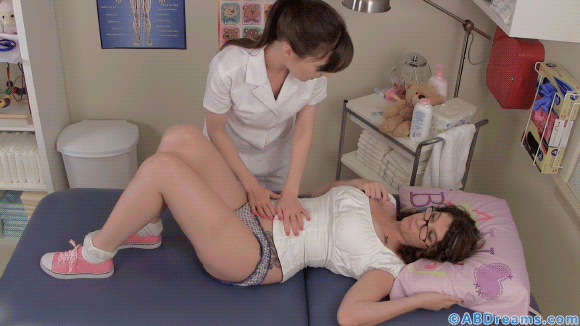 Ophelia is in the nurses office because she has been having trouble going potty.  Nurse Apple gives her a little check up and decides Ophelia needs a suppository and a diaper.
Amber in Bondage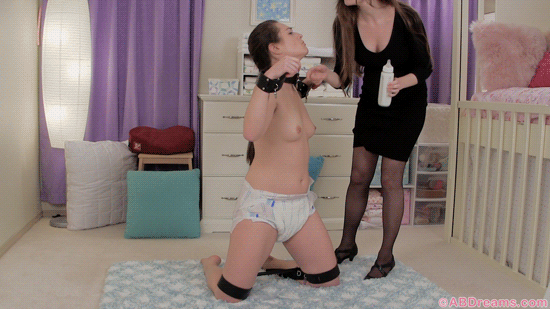 Apple has Amber in locking bondage and a medical diaper. She feeds Amber a bottle and makes her wet. After she is done wetting Apple makes Amber cum with the vibrating magic wand, then Apple puts Amber in a straitjacket to finish wetting her diaper.
Baby Sasha Changes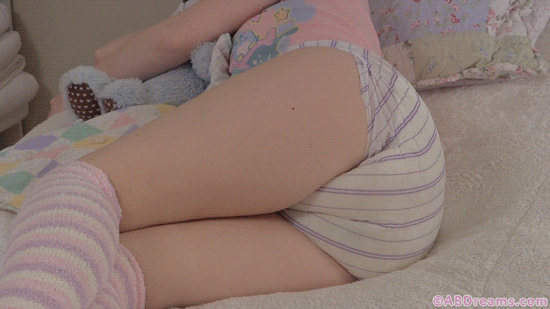 Cute Baby Sasha wakes up soaking wet, she changes into a nice fluffy, two tape Cushie.
Apple Gets Caught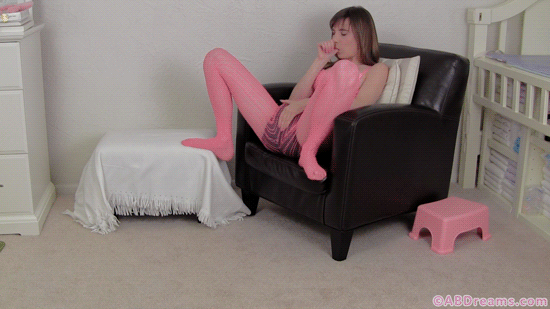 Apple is playing with herself when she gets caught by Daddy D! She gets a spanking and has to suck his cock.
Luna Helps Mommy April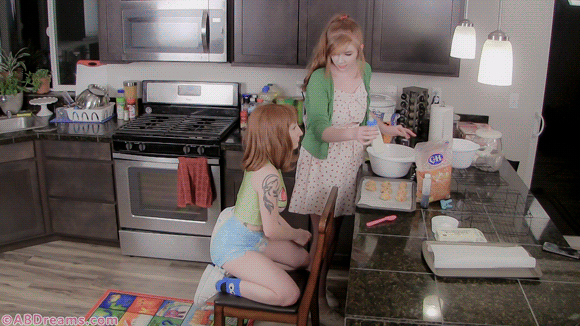 Baby Luna helps Mommy April in the kitchen.  Luna wants to be a good helper and get Mommy's special attention.
Sunny Baby Oil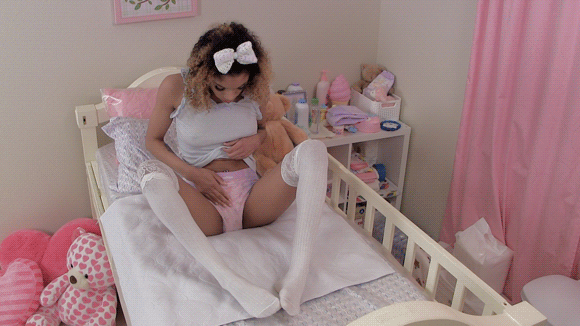 Sunny looks so cute in pullups, but she needs something with more protection.  She gets on the changing table and covers herself in slippery baby oil before she changes into a small purple Molicare.
Candy Plays with a Magic Wand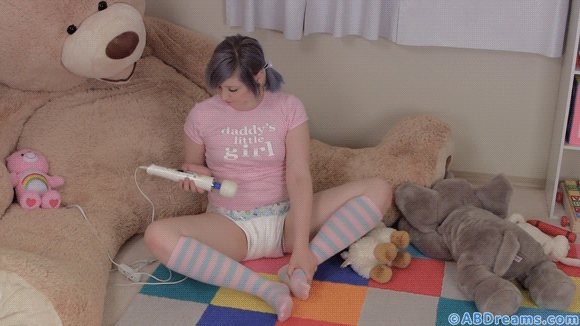 Candy uses the magic wand to make herself cum in her thick diaper.

Fae on the Bed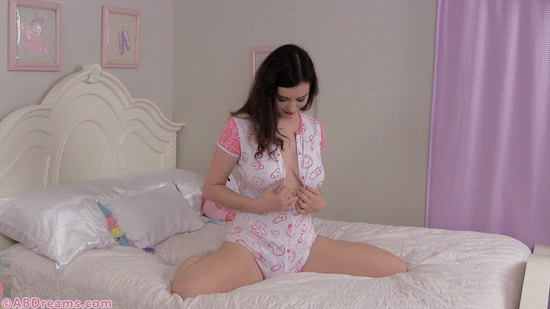 Fae has a naughty, crinkly secret... but the wetter her diaper gets, the harder it is to resist showing it off to the world outside her window. Fae strips out of her onesie and masturbates through the wet padding before untaping and opening it up to show you just how wet she is!
Bunny Candy Home Alone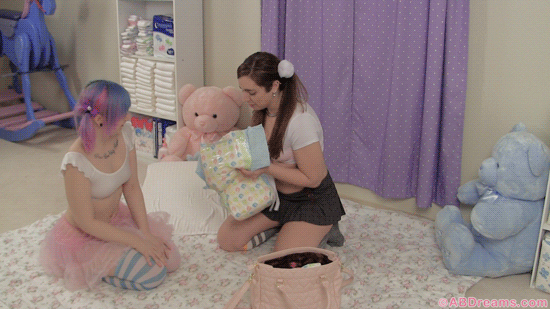 Bunny takes her friend Candy to her baby brother's nursery.  They are home alone and Bunny gets Candy to try on diapers with her.
Babysitter Gets Spanked and Diapered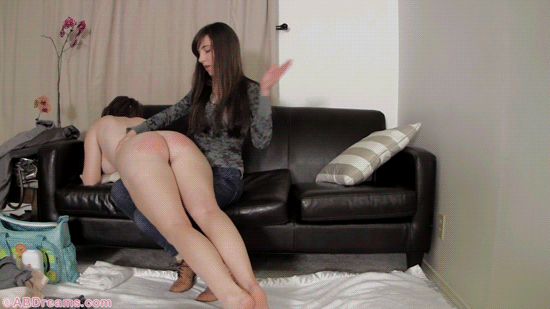 Babysitter Bubbles was super naughty with Baby D. Mommy Apple saw it all and comes home to give Bubbles a taste of her own medicine plus a spanking.
Lolette Changes Candy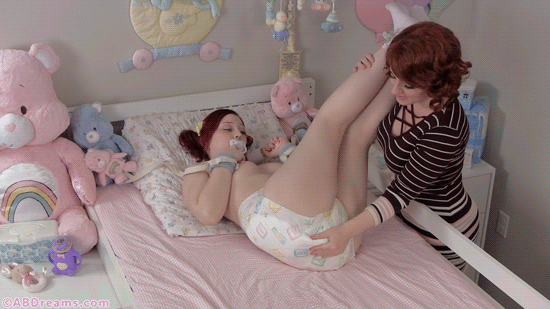 Candy is tied to the changing table in cuffs as soft as the padded plastic of her diaper to keep her regressed, worry-free, and dependent on her Mommy. Lolette checks the soggy state of Candy's diaper before sweetly untaping her and, after a little extra special attention paid to Candy's pretty pussy, powders and changes her.
Fae Rocking Horse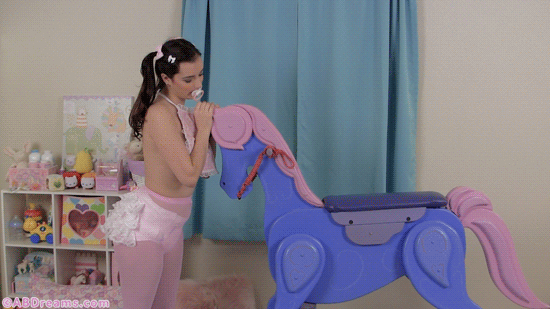 Fae looks so sweet in ruffled bottom tights, a pink lacy bib, pigtails and of course a diaper.  She rocks on the rocking horse but, uh oh, the bib is getting in her the way, she takes it off so she is wearing nothing but her tights and diaper.
Ashley Plays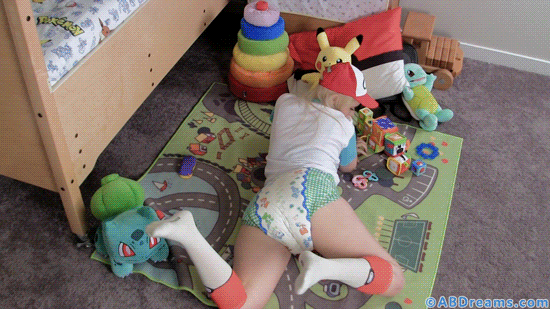 Ashley plays on the floor with her plushy friends but she keeps getting distracted, soon she is undressed and mindlessly sucking on a bottle of milk while rubbing her diaper.  
Sunny in a Sheer Dress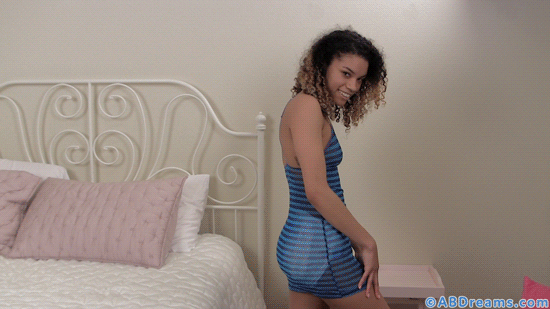 Sunny is so in love with the snug, padded fit of her diapers that she has to show them off. The pleasing crinkling sound and the way the thick plastic shows through her diaper is exciting, but she needs a little help from her favorite pillow to cum in her diaper -- after which, sunny is too content to even move! 
Amber Gets Hypnotized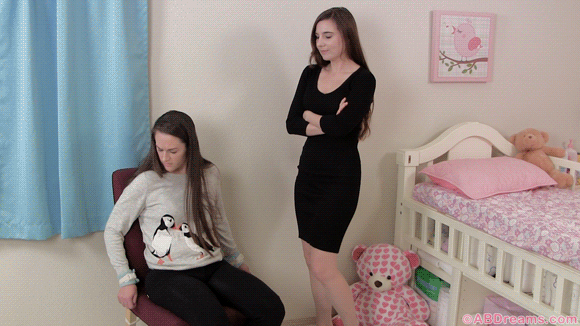 Amber is hypnotized and diapered until she is just a baby.
The Babysitter Diapers Claire Pt-2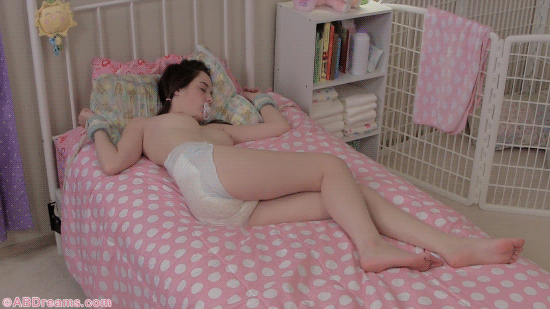 Claire has wet herself during her diaper bondage nap time, Babysitter Bubbles comes to change her and nurses fussy Claire with her big boobies.
Daddy Spanks Fae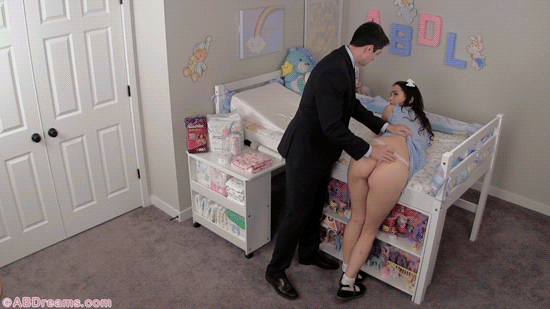 Fae knows she isn't supposed to be wearing panties... and judging by the cheeky little smile she wears before Daddy spanks her bottom, she just wanted the attention. Besides, everyone knows diapers feel best when someone else forces you into them. Daddy helps his little girl onto the changing table and unfolds a princess-themed Rearz diaper to tape her red bottom into. Fae is obedient and sweet, if a little shy, until Daddy's hands touch her where she needs his attention most!
The Babysitter Diapers Claire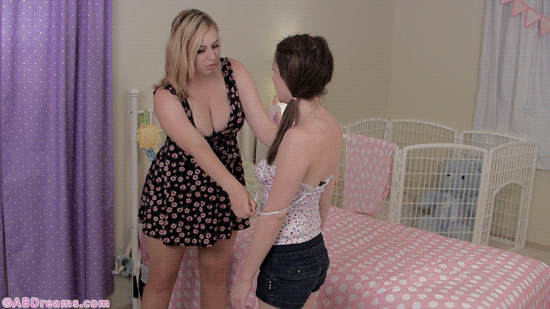 Claire's Mommy left Babysitter Bubbles very special instructions for taking care of Claire.
Emma Story Time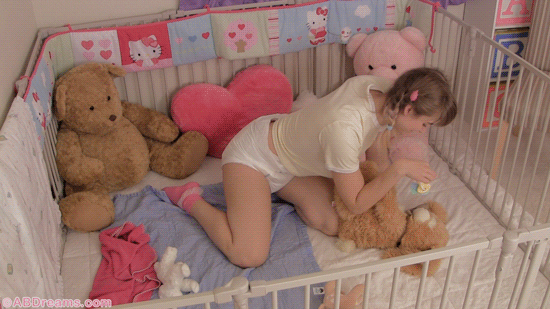 Emma is very regressed and playing in the playpen.  Mommy Apple gives her attention and reads her a story.
Fae Baby Oil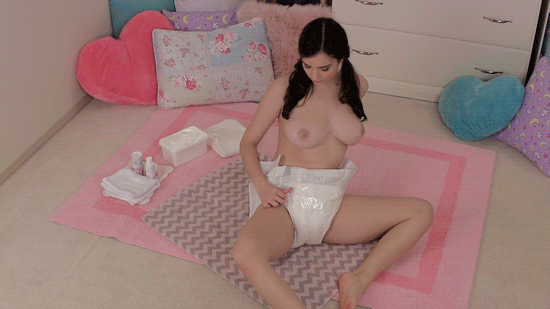 Fae has fun rubbing baby oil all over herself before taping up her diaper and cumming.
April Lollipop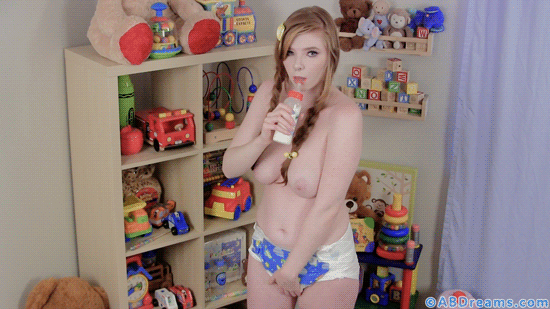 April likes sucking on things, she sucks on her thumb, a bottle of milk and a yummy lollipop.
Winnie Changes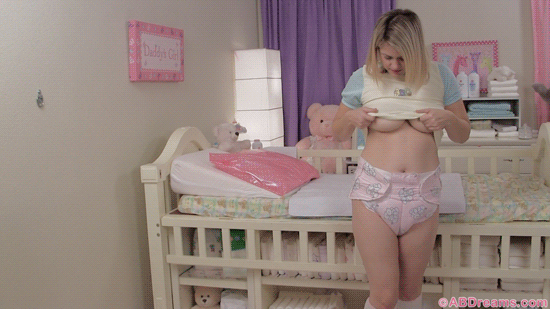 Winnie changes out of her fluffy cloth all in one diaper and into a cute Barebum diaper. 
Sunny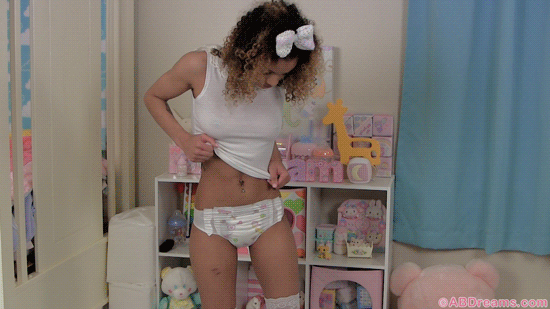 Sunny tries on different baby diapers and pullups.
Fae Yoke Change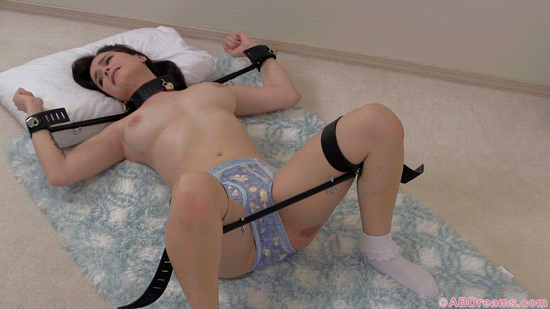 Apple has Fae in bondage and she changes her out of pullups and into a super soft medical diaper.
Apple and Candy Play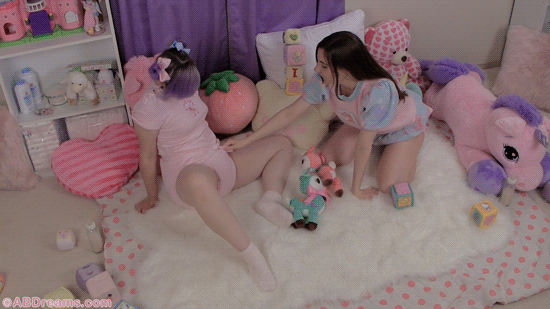 Apple and Candy play, cuddle and drink bottles in their matching Fabine diapers. How sweet!
Binkie Time Out - Good Helper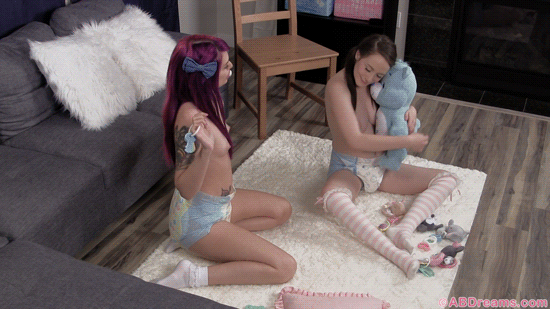 Binkie gets use to being a baby and wearing diapers. Binkie even helps Mommy Lolette change Claire's diaper.
Binkie in Time Out - Punishment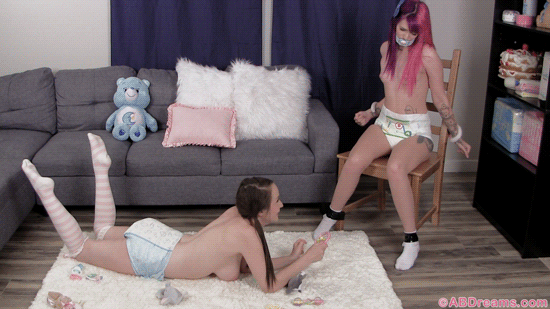 After teasing her baby sis Claire, Binkie is tied up in the timeout chair and being forced to wear diapers and suck on a pacifier gag - how humiliating!  To make things worse, her little sis Claire gleefully teases her and pokes at her diaper while Mommy Lolette is out of the room. When Mommy Lolette does come into the room to check Claire's diaper it doesn't make things much better for Binkie.  Mommy teases Binkie too telling her "Who's not a little baby?" while shaking baby toys in her face.  Mommy Lolette isn't done with Binkie's punishment either, she lets Claire press a vibrating wand against Binkie's diaper while Mommy forces Binkie's legs apart, but she doesn't let Binkie cum.  Instead, Lolette uses the wand on her good girl, Claire, while Binkie has to watch. 
Binkie in Time Out - Diaper Change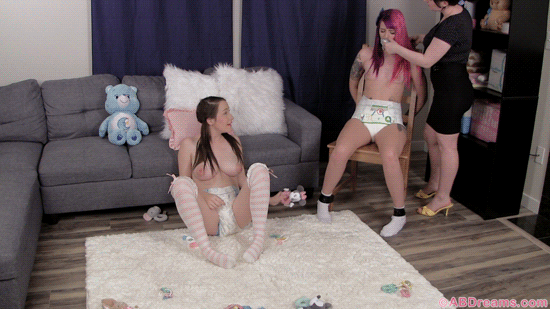 Claire is Mommy's little angel. She's all smiles, playing with her toys while Mommy lets her big sis Binkie out of the time out chair.  Mommy lets eager helper Claire dangle keys and rattles to entertain her pouty sister while Mommy changes her diaper.
Amber DL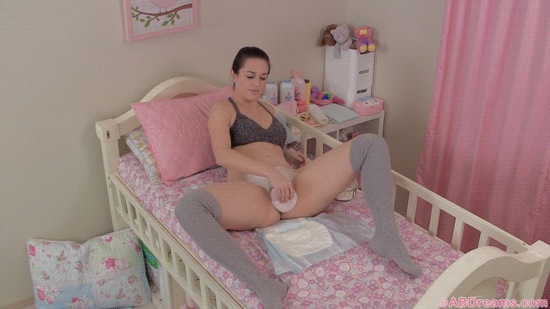 Amber puts on a super soft Beesana diaper and humps a big thick pillow.  After wetting she uses the vibrating wand against the puffy wet padding until she cums.
Fae in the Crib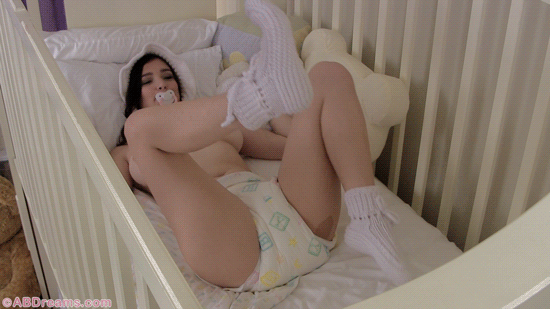 Baby Fae wakes up from a nap in the crib wearing nothing but booties, a bonnet, and the new Bambino Classico.  She plays around and drinks a bottle while waiting for her caretaker.
Candy Visits The Regression Clinic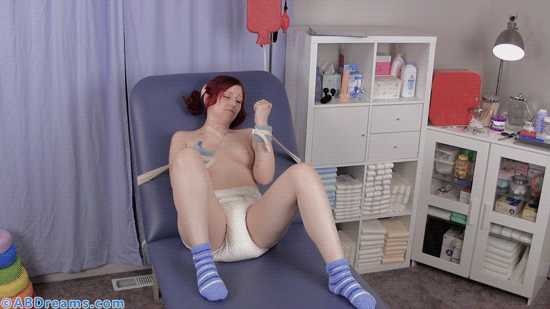 Candy is strapped in at the regression clinic with Nurse Lolette. The regression serum she's bottle fed for every meal has already started to take effect -- turning her brain to proper needy, baby mush. Big girl words are becoming harder to remember, and bladder control is almost non existent... but nurse Lolette thinks she can be regressed further. Another bottle of regression serum and a bit of love from the hitachi are good encouragements to teach her baby patient to fully soak her diaper.
Fae in the Playpen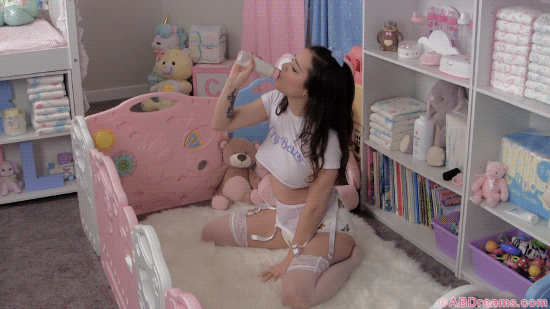 Diapered baby, Fae, wraps pretty glossed lips around the nipple of her baba and pouts for attention while drinking milk. Her teddy-printed Bambino diaper is dry for the moment, but her crop-top can barely cover her breasts. She pushed it out of the way to grope and tease herself -- starting with her breasts, and quickly shifting interest to the puffy padding between her legs. She wets and humps her Teddy Bear until she cums.
Candy Changes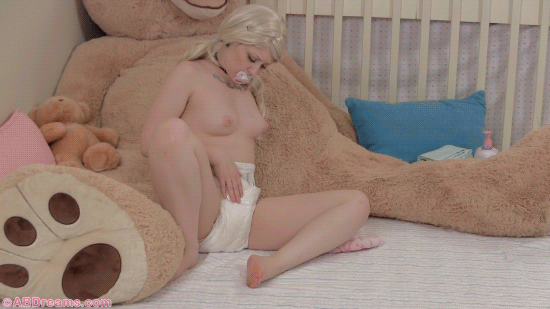 Candy is soaking wet, she notices it feels really good but she knows it's time to change. She gets out a brand new diaper and wipes herself clean then she puts on lotion and powder before taping her fresh diaper on.  Then she drinks a bottle and cuddles her giant Teddy bear. 
Amber and Binkie - Diaper Change and Nursing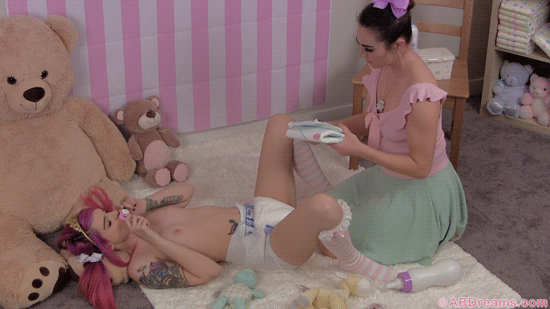 Amber changes cute little Binkie's soggy diaper.  Binkie is happy to be in a nice dry Fabine diaper.  She sucks on Amber's nipples as Amber gently rubs Binkie's back.
Candy in Medical Bondage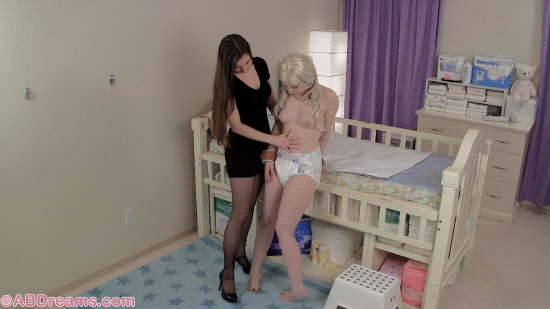 Candy is under Apple's special care, she is very wet and needs a diaper change.  Apple has a surprise for Candy, she uses and vibrating wand to make Candy cum.
Photo Day for Baby and Mommy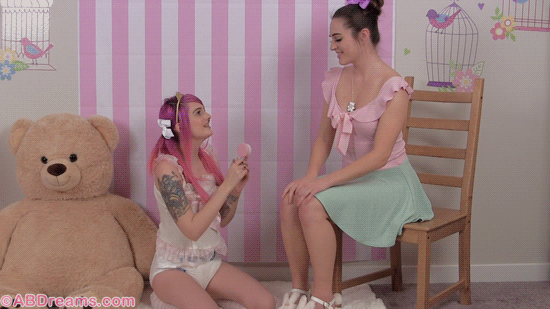 Mommy Amber takes Binky to the photographer to get her baby's photo taken for custom printed birthday invitations, but as much as Binky wants a party and a cake and all her presents... she can't help but feel shy wearing an extra thick diaper in front of a stranger! It's so embarrassing when Mommy shows her off, and now all of her friends are going to see her diapers too! Mommy gives her lots of cuddles and attention to soothe her, but they both know that Binky has a secret -- being so exposed is more than a little exciting for her as well as Mommy.
April Change Fae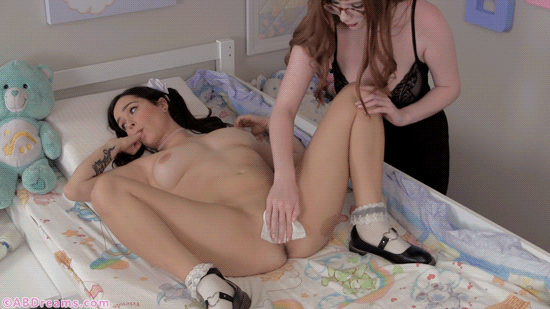 Mommy April changes and nurses sweetly regressed little Fae.
Amber in Cloth Diapers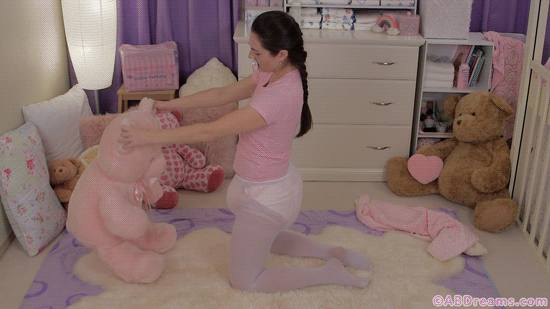 Amber is having fun cuddling and humping the big pink plush bear and drinking her bottle, she takes off her transparent white tights and t-shirt so she is wearing nothing but a cloth diaper and pink plastic pants.
Office Baby Pt-5 Submission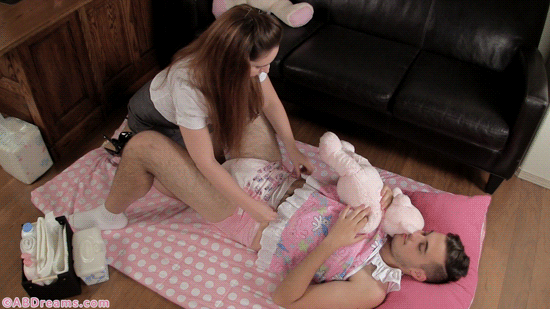 Andrew has gotten used to his new job, being a sissy baby for Bunny, even though it's embarrassing it's starting to feel comfortable.  Bunny sweetly changes her sissy baby's diapers.
Office Baby Pt-4 Nursing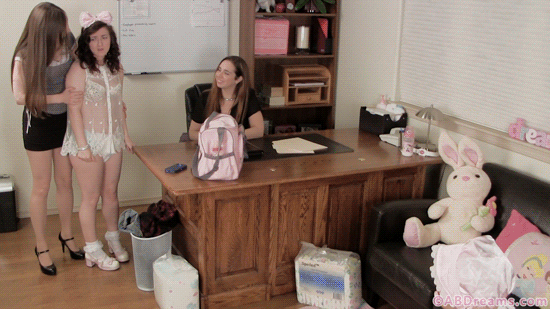 The new intern meets the other baby intern Lolette.  Bunny and Apple make the babies play together before nursing them.
Binkie and Nurse Amber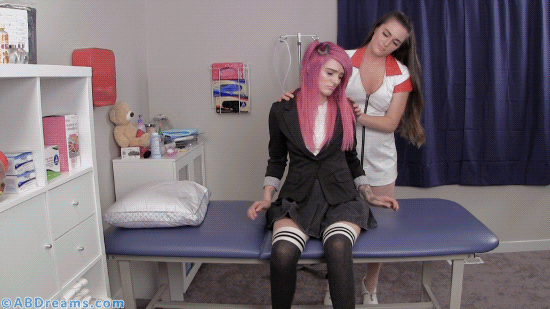 Binkie can't be trusted not to have wetting accidents in class so she is back at the nurses office for her mandatory diapering.  She doesn't want it but eventually Amber shows her how nice the soft padding can feel. 
Office Baby Pt-3 Diaper Change
Office baby has his first lunch and diaper change.  Bunny even has a special surprise for the little sissy baby's diaper change, a silky, pink, ruffly ribbon to tie around his cute pee-pee, he won't forget what a sweet little sissy baby he is with a ribbon tickling him in a soft pink disposable diaper.
April and Lolette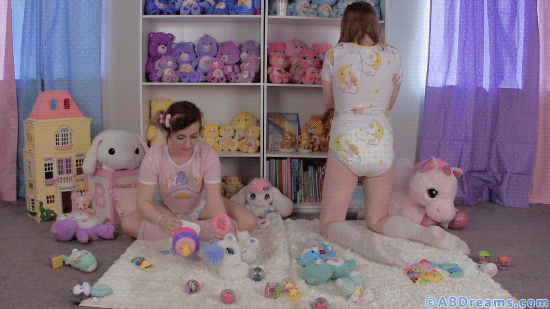 April and Lolette are playing and drinking sippy cups.
Candy Spanked and Diapered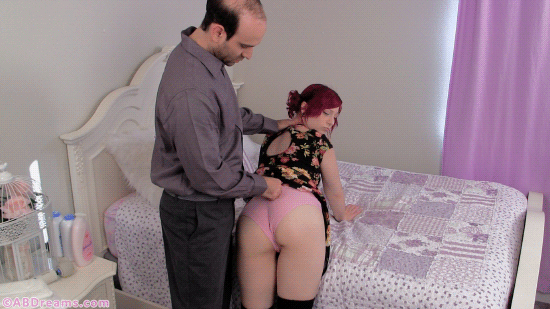 Candy thinks she's too grown up for pullups and her accident was a one time thing, she definitely doesn't need any absorbent padding between her legs!  She takes off her pullup and puts on her big girl panties but when Daddy D catches her he shows her how wrong she is, with a spanking and a thick, puffy disposable diaper for his babygirl.
Claire Changes Out of Pullups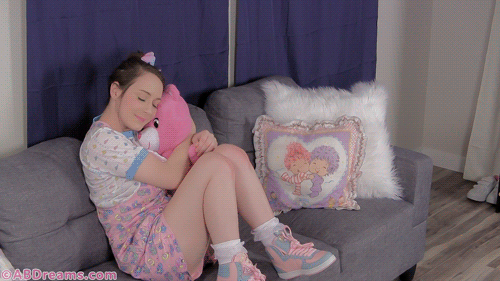 Claire is a little cutie that likes to tease. Her overalls don't last long, and neither does her shirt, but once she's stripped down to just a pullup Claire gets a little --distracted. The wipes are cold! But they feel nice against her naked pussy. Then comes the powder, so soft and just a little bit ticklish in the very best way...
Binkie and Candy Play Date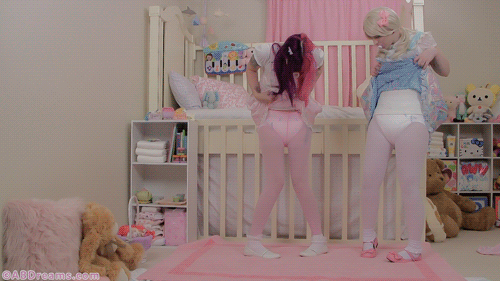 Candy and Binkie have fun playing together in their pretty dresses, thick diapers and tights.  They have a tea party and play with vintage toys.  So cute!
Lolette Changes Alex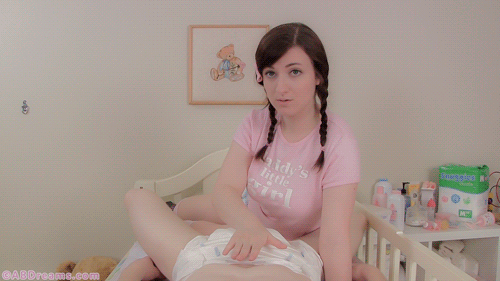 Lolette is changing Alex in the most naughty way.  She wipes him clean before rubbing him with lotion and and then kissing his pee-pee and stroking him to orgasm before powdering him and taping him up in a fresh diaper.
Candy Soft Bondage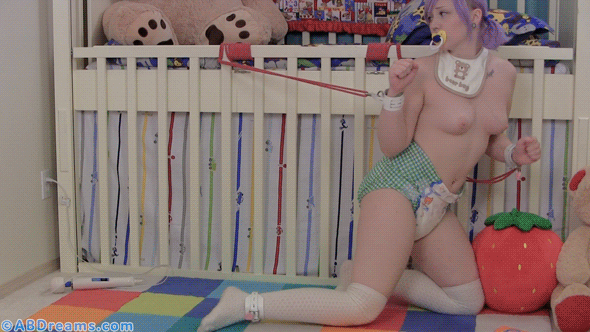 Bunny has Candy waiting for her in soft bondage.  Bunny force feeds Candy a bottle of milk and uses the vibrating wand to make Candy cum and relax into being a complacent little baby pet.
Luna Wets Her Goodnites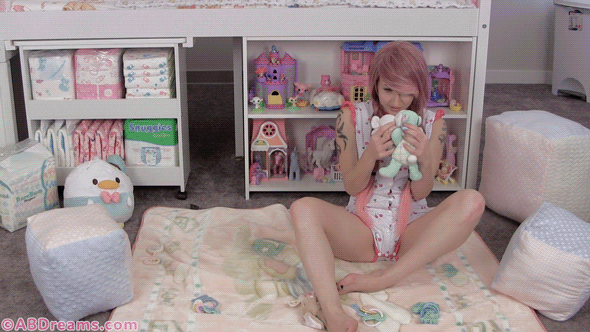 Luna is playing with her little plush friends on the nursery floor, shes sets them up on a big plush baby block for a little show.   She strips off her cute onesie until she is naked, in nothing but her Goodnites pullups, she wiggles around and to finish the show she soaks her Goodnites.
Fae Spanked and Diapered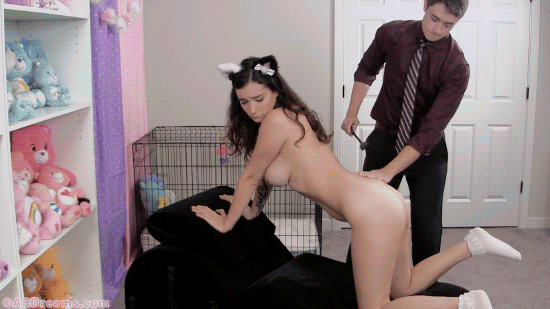 Fae has been a very naughty kitty. Daddy can't leave her alone for a second without Fae touching her princess parts, or having an accident! Of course, little big girls always think they know best and never want to listen to Daddy until they're put back in their place... looks like some spankings and a thick fluffy diaper are in order!
Amber and Apple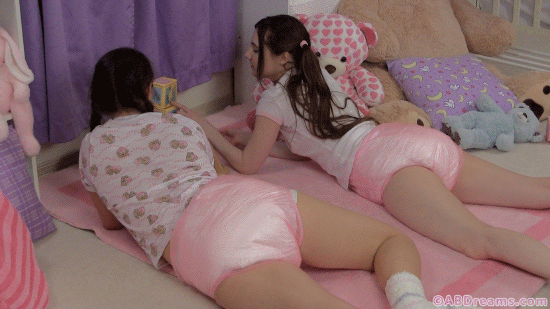 Apple & Amber are spending some quality time together.  They help each other undress, until they're wearing nothing but thick, white diapers.  Then, lots of cuddling ensues.
Caprice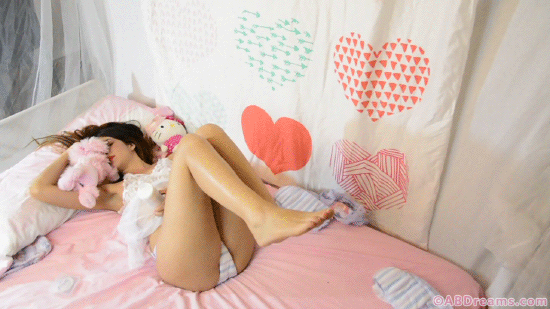 Shy little Caprice sent us her first video, here she is being cute in her pullups.
Fae in Bambinos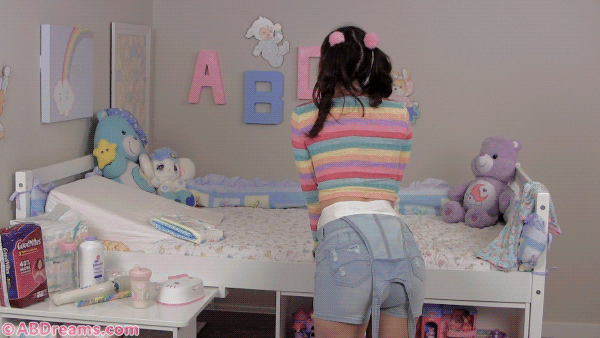 Fae shows off her cute overalls and the soft white patting she has on underneath!  Her diaper is so thick she has to wiggle out of her overalls to bare it. Her rainbow shirt doesn't last long after that... once shes naked she changes her diaper into a LFB Little Trunks diaper.
Candy Cuddles Mr Bear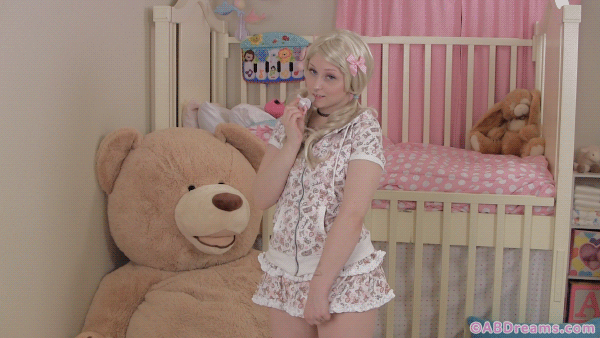 Candy is all dressed up in her super cute little outfit.  She cuddles with the Big Teddy Bear, but realizes it would be more comfy without any clothes.  It just feels so nice being naked with the smooth plastic diapers and and soft, plush bear.  She wets and rubs against Teddy until she cums.
Lolette's Magic Potion Pt-1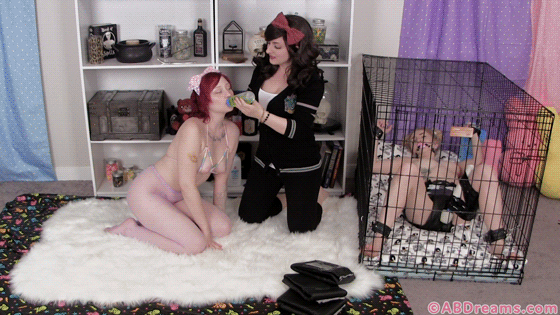 Luna and Candy have spent the past year terrorizing their classmate, Lolette, but now that Halloween is here Lolette has a special batch of revenge brewed up just for them! Two baby bottles of special potion designed to melt their brains and regress them back to infancy.   Luna has been very difficult so Lolette put her in the cage for a time out until she can give her more serious attention.  Candy is a good girl, having already drank half her magic bottle and lays right down for her diaper.
Lolette's Magic Potion Pt-2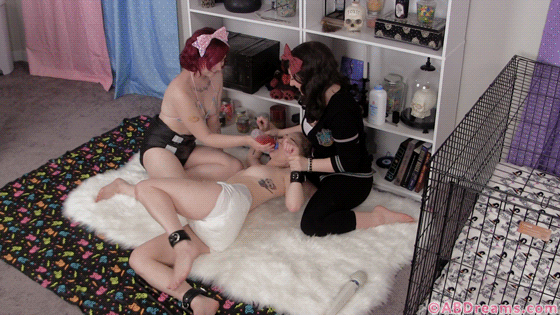 Lolette needs to give Luna more of her bottle full of regressive potion and a diaper change.  Candy helps Lolette keep the bottle in Luna's mouth while Luna is being changed. Luna slowly gives into her diaper change as she feels more and more little.
Lolette's Magic Potion Pt-3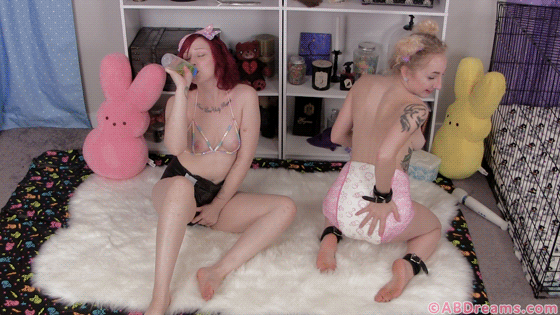 Now that Lolette has her friends regressed into giggling sexy baby girls she want to get some pictures of them.  She directs them into cute poses and leads them on to humping pillows and using the vibrating wand.
Fae Nurses Lolette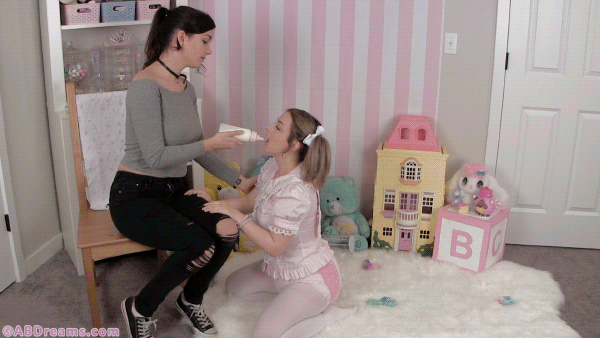 Babysitter Fae has a hard time getting Lolette to behave. One minute she's all smiles to see her, and is obediently wrapping her lips around a nipple to be bottle fed, and the next she's tugging at Fae's shirt! She's distracted by Fae's breasts - they're so big and round! - and suddenly the bottle just wont do anymore. Fae tries to be stern, but inevitably gives in to the cute little... trying her best not to moan while Lolette nurses.
Snack Time For Binkie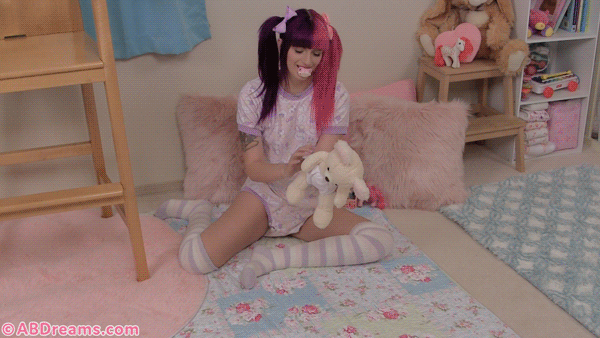 Apple plays with Binkie, checks her diaper and helps her into the highchair for some cookies and milk.
April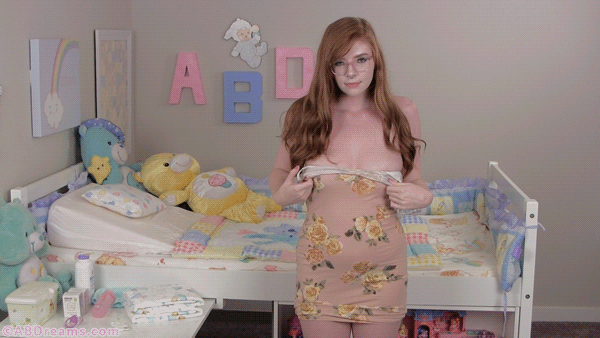 Shy little April is ready to change out of her adult clothes and get a diaper on.  She takes her time getting undressed and puts on a thick "Bear Hugz" from the Changing Times Diaper Company.  She looks so cute sucking a pacifier and cuddling her teddy.
Amber Diapers Herself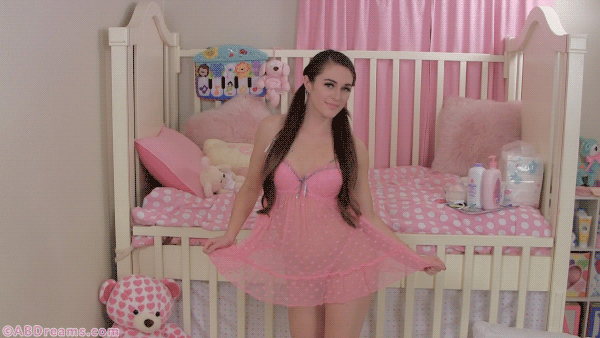 Amber looks beautiful in a pink lace dress with matching underwear but what she really wants to wear is a thick diaper.  She diapers herself in the crib and humps a pillow.
Candy Diapers Koneko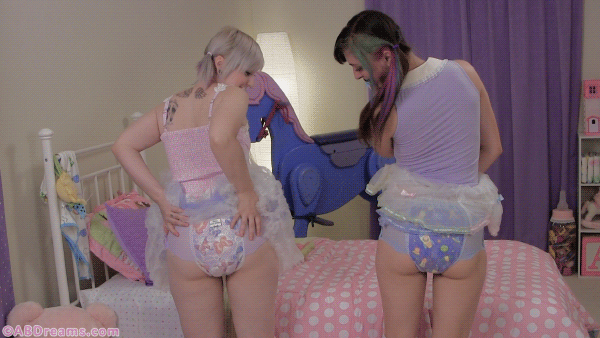 Koneko and Candy like to show off their pullups. The way the cutely printed padding hugs their little hips and butts is darling, but Candy thinks Koneko is in need of something thicker. The little blonde helps her baby friend into a real diaper, and the two cuties cuddle before bed time. 
Binkie in Bondage With Candy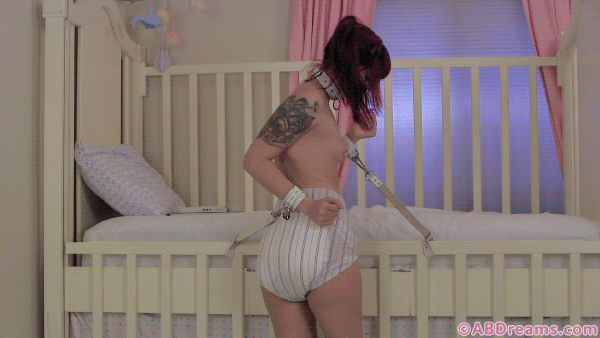 Binkie needs to be kept in bondage until she learns to accept the fact that she belongs in diapers.  Mommy Candy helps the process along by using a baby bottle and a vibrator to reinforce Binkie's new submissive mindset.
Oliver Diapered by Two Nurses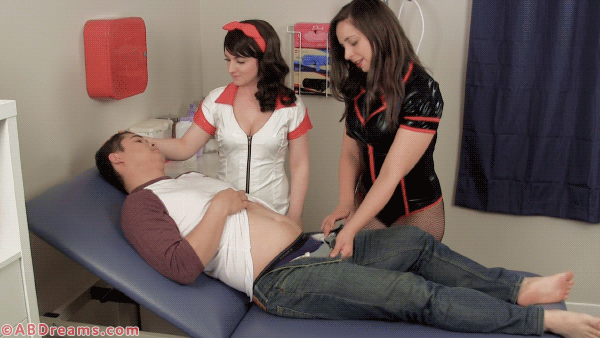 Oliver is treated to the attention of two lovely nurses, but by the time he is on the table and their greedy hands are stripping off his clothes, it's too late to worry if hes getting more than he bargained for. Besides... its not like he has any say in the matter. Both girls seem determined to tape him up in a diaper before they have their way with him.
Binkie and Claire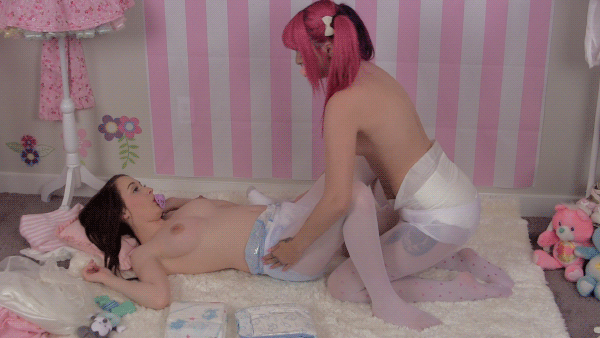 Binkie and Claire think they could be more naked and wearing more diapers.  So, they help each other undress and put another diaper on.
Luna Changes in the Crib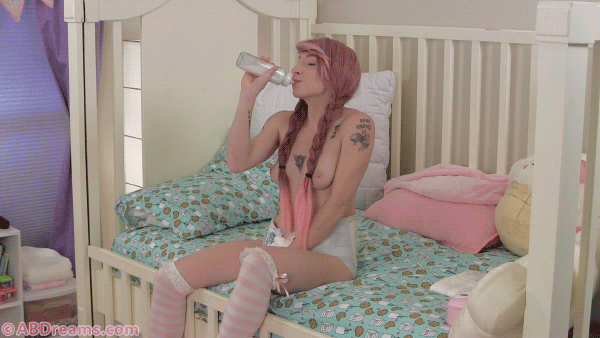 Sexy little Luna drinks her bottle and diapers herself in the crib.
Apple Ruffle Covers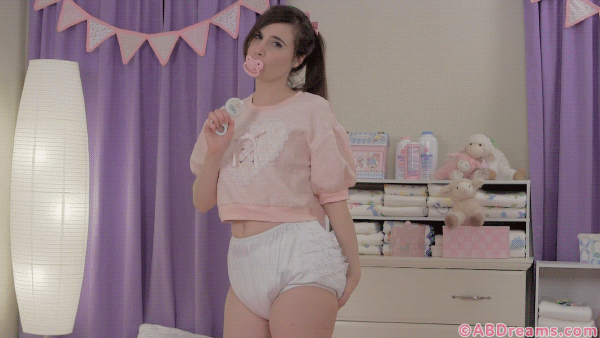 Apple looks amazing in very thick diapers under a cute ruffled cover.  She plays with her rattle and humps a pillow.
Ellie Solo Change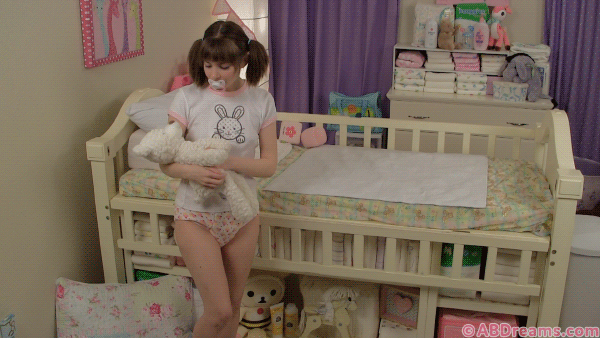 Ellie Changes out of her training pants and into something much thicker.
Amber Changes Lolette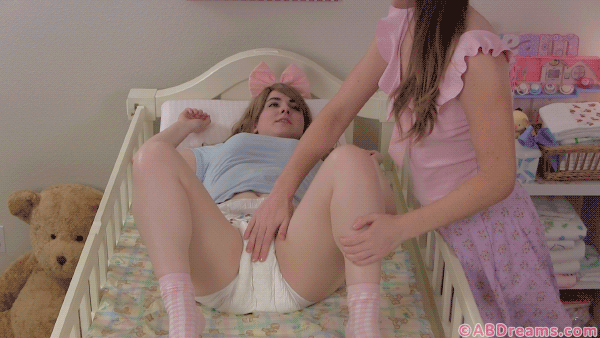 Mommy Amber is taking care of Lolette, who can't help but act like a bossy little baby while Mommy is changing her diaper.
Luna in Tights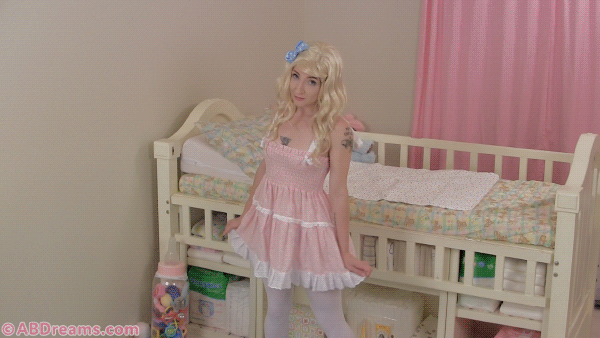 Luna wets and she thinks she's big enough to change herself, but Mommy catches her as she's taking her soaked diapers off.
Amber Nurses Lolette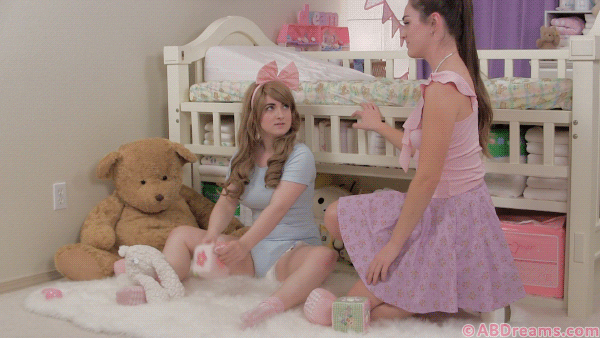 Mommy thinks its time for a diaper check, but Lolette has her own agenda. She lets Mommy get as far as unsnapping her onesie before she starts pulling on and tugging at Mommy's top; she wants to nurse! Mommy gives her an indulgent smile before taking off her shirt, and helping her little one latch on to her nipple. The two cuddle while Lolette nuzzles into Mommy's perky breasts, but when Mommy tries to take them away and stick her with a pacifier Lolette has a pouty little fit! Unfortunately for Lolette, at the end of the day Mommy is still the boss -- and what she says goes. Lolette reluctantly accepts her paci just to have something to suck on and comfort herself while Mommy encourages her onto the changing table. 
Bunny Lolette and Oliver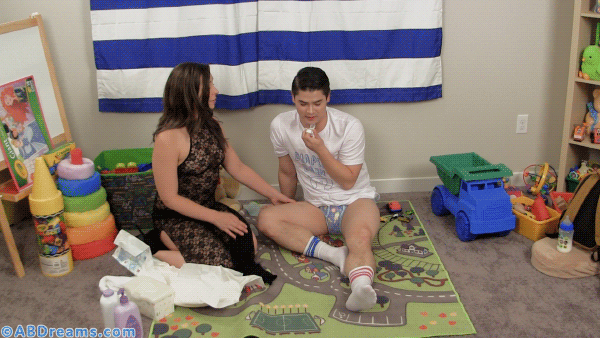 Oliver is all grown up -- or at least, as grown up as his Mommy will allow him to be. He was his own room, 3 toy cars, and a girlfriend! She's coming over to take him out on a date, but not before Mommy makes sure he cleans up his room. Oliver can't help but pout over Mommy's strict rules. Even though he puts all his toys back where they belong, his obedience is rewarded with more humiliation. Mommy gets his girlfriend to help her strip off his pullup and lay out a crinkly fresh diaper. They cover his cock, balls, and bottom in baby powder and giggle at him as they tease his little cock before taping it up in the chastity of a diaper. 
Bubbles Change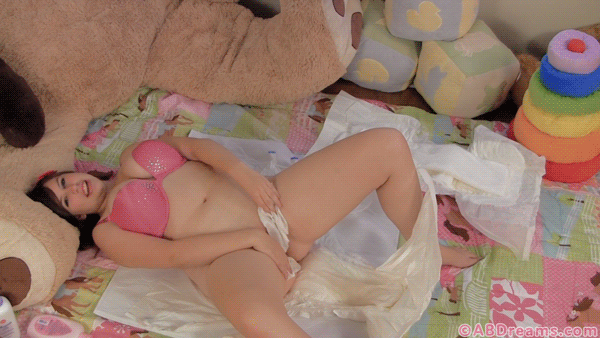 Bubbles wets her diaper and then walks us through a cute diaper change.

Claire Bellissimo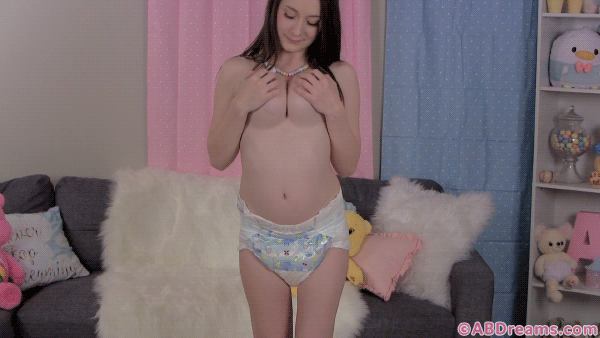 Claire cuddles her teddy bears and drinks a bottle of milk.

Ashley Wets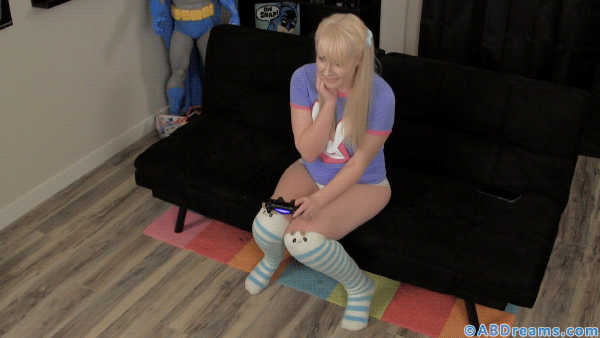 Ashley has to pee so bad, she holds out as long as she can before completely soaking her Tena diaper.
Ashley Gets Changed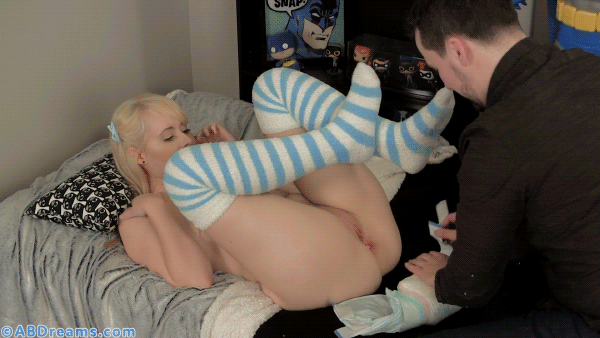 Ashley's Daddy changes her wet diaper but leaves her butt-plug in.  He kisses Ashley and rubs her fresh diaper.

Lolette gets the Babysitter in Trouble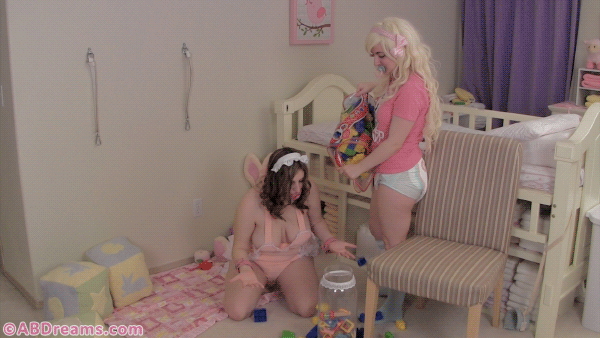 Lolette has been tormenting the babysitter.  With her Super Brat Powers she's got the babysitter crawling around in a diaper, locked in a pacifier gag and picking up Lolette's toys!  When Mommy Moon comes home and finds the babysitter acting like a baby Lolette plays innocent and gets the babysitter a spanking.  Little angel Lolette even helps Mommy by giving babysitter Bubbles a few spanks herself.

Candy on the Rocking Horse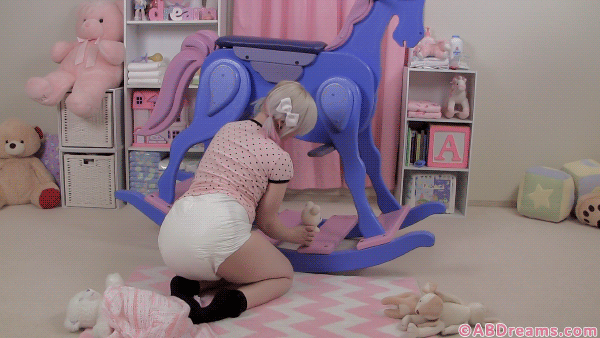 Candy has fun going back and forth on the rocking horse, the padded seat feels good pressed against her double, thick white diapers. 

Luna Visits Nurse Amber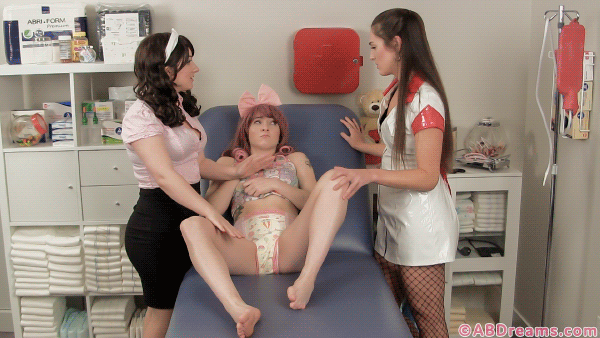 Luna has been trying her very best to be a big girl, but wishing and wanting isnt enough to keep her pullups dry. It's only been a week since Mommy and the Doctor took away her panties, but now Nurse Amber says she needs even thicker padding to soak up all her accidents. Mommy and the nurse try to soothe poor little Luna, but when her fussing becomes too much they hold her down and carefully cut away the wet pullup between her legs. Mommy slips a paci between her quivering lips while the nurse gets her diaper ready. Mommy helps the nurse powder and fit her - taking extra care with her pretty little pussy - before the tapes go on and Luna is stuck in a big, thick, Baby diaper! The nurse gives her a lollipop to help her settle into the idea of being a real pampered baby from now on.

Diaper Change For Sunnie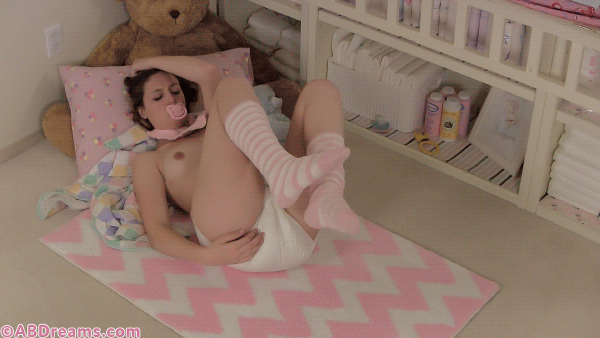 Sunnie is very wet, so wet she starts getting fussy.  But Mommy Apple comes just in time to change Sunnie and make her happy again.

Binkie and Claire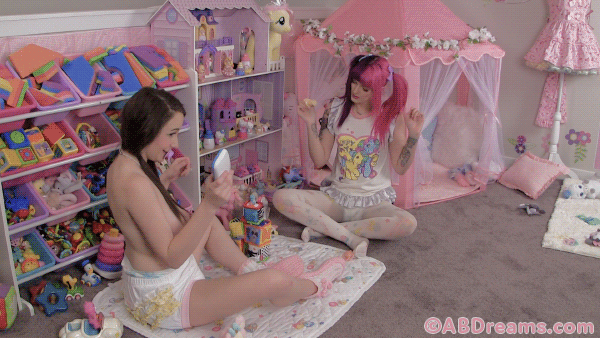 Binky and Claire have a playdate, though they might be more interested in each others bodies -and diapers- than all the pretty toys. The shy little babies strip off their diaper cover and tights to be nakey; besides their padded bottoms of course!

Luna in Cloth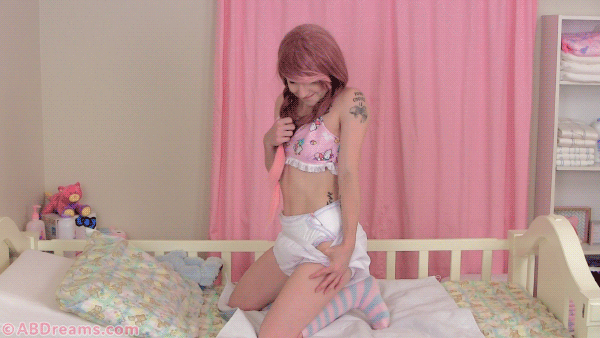 Luna loves how soft and fluffy her cloth diaper feels.  It's almost a shame that she has to change, but she needs the extra protection and absorbency that disposables provide.

Cheshire Diapers Herself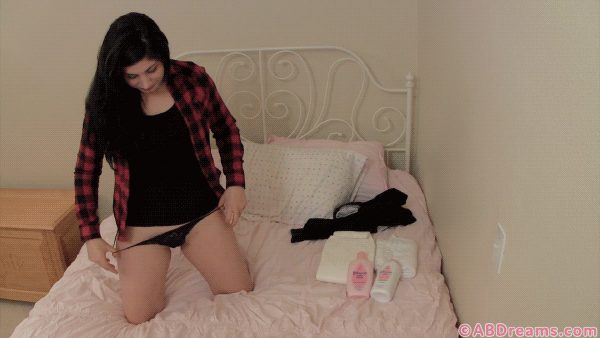 Watch the beautiful Cheshire change out of her sexy black underwear and into a soft white diaper.

Bunny Diapers Herself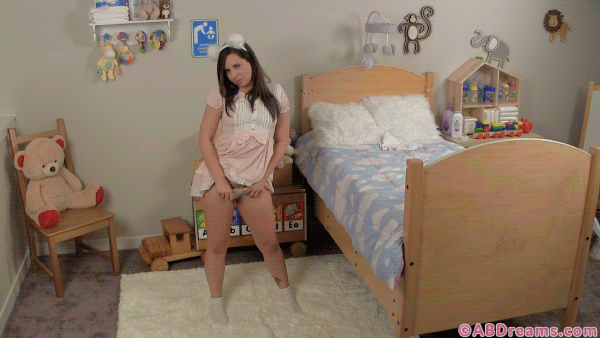 Bunny is naughty and nice in a little pink babydoll dress. Daddy told her that her private parts are private, and she shouldn't lift her dress, but she wont tell if you wont tell! The view only gets better when she teases her way out of her panties and powders her cute lil butt before taping herself into a diaper.

Diaper Therapy for Sasha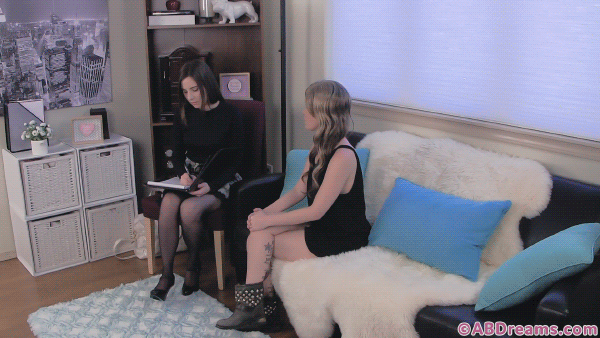 Sasha is trying out a new therapist to help deal with stress.  She has no idea that her "therapy" will involve treatment that leaves her empty headed and diaper dependent.  

Amber and Candy Play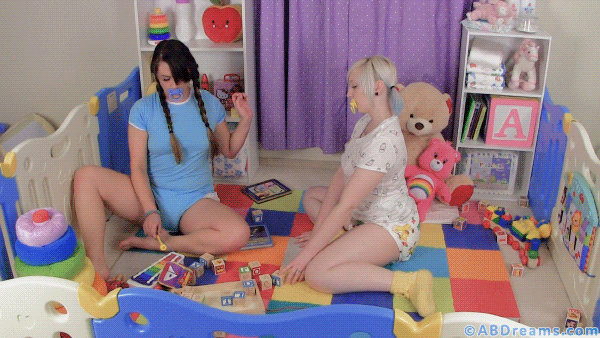 Amber and Candy suck on pacifiers and play with toys in the play pen.  What fun!

Lolette Changes Stephie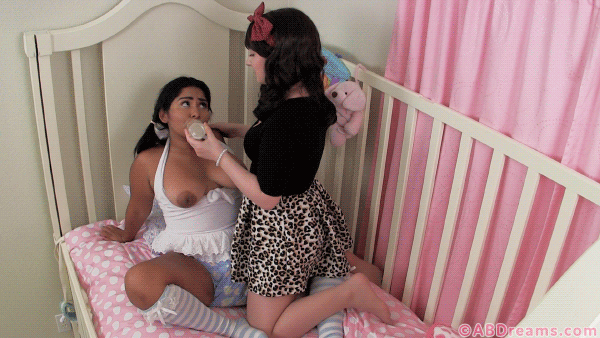 Lolette feeds Stephie a yummy bottle and changes her wet diaper in the crib.
Diaper Change for Binkie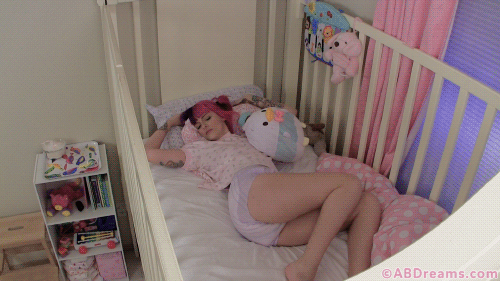 Binkie wakes up in a wet diaper, but she has to wait for Mommy Apple to come and let her out of her crib.  Mommy leads Binkie over to the changing table and puts her in a nice, dry diaper to start the day.

Claire in Lingerie and Diapers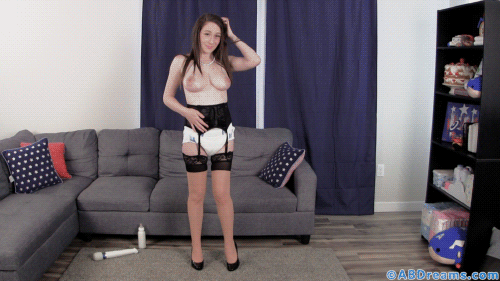 Claire pairs her sexy black lingerie with an all white diaper just to tease you! Which is more distracting -- her breasts, or the way her diaper crinkles when she rubs her pussy through all that padding?

Lolette and Winnie - Diaper Clinic Change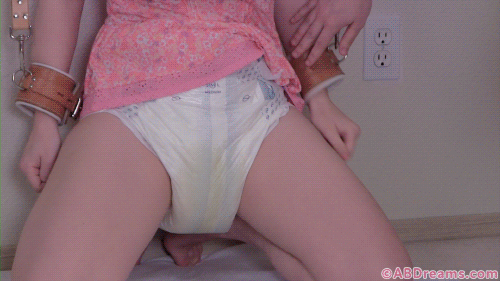 Lolette is in the regression clinic.  Doctor Winnie has her in bondage until she wets her diaper.  Winnie teaches Lolette how to suck on things, and she has to do it to Winnies satisfaction if she wants a diaper change.

Ashley Plays in the Ball Pen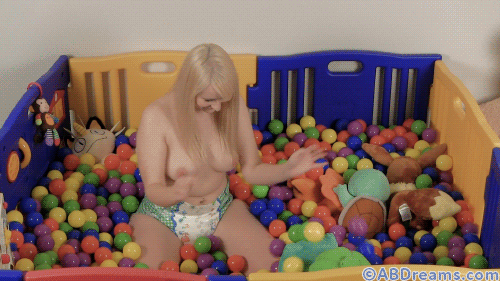 Trainer Ashley is a pokemon master -- the very wettest! like no one ever was. She shows off her gym badges, her favorite pokemon, and of course a very think ABU 'Little Paws' diaper before stripping off her shirt and sexy black bra to show you something a little more personal in the ball pit, hehe.

Ellie Gets a Spanking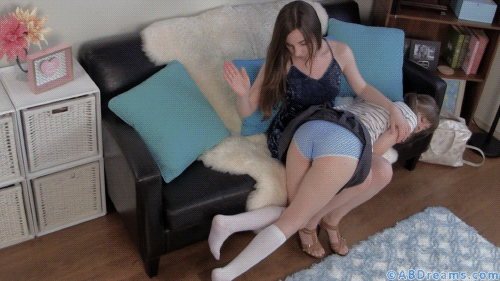 Ellie has been a bad girl and Mommy Apple has to teach her a lesson.  Apple has the perfect punishment - a spanking, thick fluffy diaper and an embarrassingly cute pink top with lots of bows.

Lolette Diapers the Babysitter Pt-2
Now that Lolette has the babysitter in a diaper she takes her to the nursery for some baby training.  Sasha is going to have to learn how to stack blocks, suck a pacifier, wet, and one more thing, cum in her wet diaper.

Candy Desk Diaper Change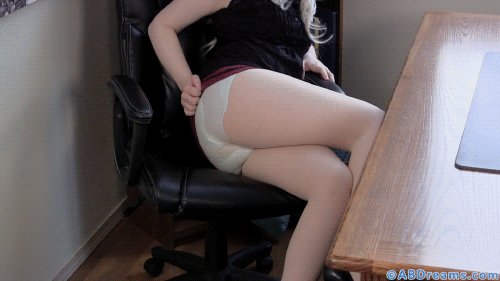 Candy has to wear diapers to work, she is wearing an extra soft and thick Beesana diaper under sheer tights with a short skirt.  she changes her self and uses a vibrating wand until she cums.

Binkie Kitten Pet Play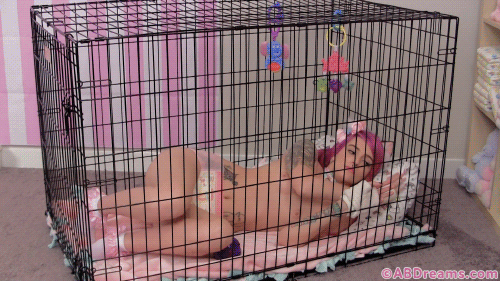 Binkie is a mischievous little kitten that can't be left alone. Mommy keeps her caged while she's busy, with plenty of toys and a cute pull-up (just in case!).  When Binkie wets her pull-up Amber changes her into a pink L4B diaper.

Emma Playpen
Emma has been left alone in the playpen, while no one is looking she humps and bounces on her pillows and teddy bears.

Candy Hunts for Eggs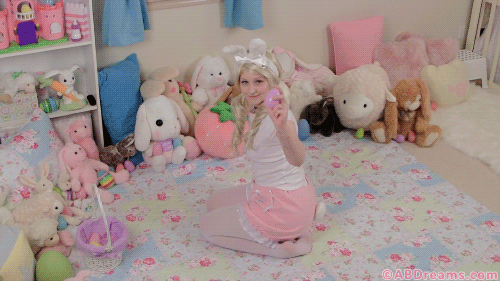 Candy has fun dressing up like a bunny and looking for Easter eggs.

Sasha - Out of Training Pants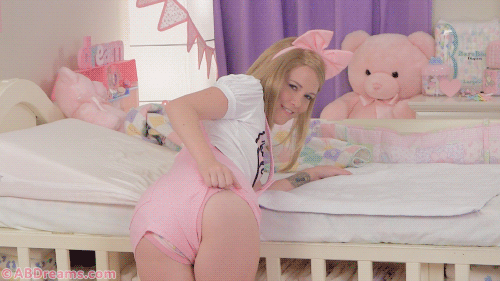 Sasha might be big girl enough to wear training pants during the day, and she definitely enjoys the way they bunch between her legs and make her waddle (it's so embarrassing it makes her pussy tingle!) but when it comes to teasing Daddy nothing is quite as effective as a diaper. Are you watching, Daddy?? Sasha wiggles out of her training pants before climbing onto the changing table to lay out a fresh diaper for herself. She has a little too much fun rubbing lotion into her pretty princess parts... and the powder puff feels so good! but the real satisfaction is the tight hug of her diaper once its fully fastened. Will you pick her up and carry her to bed? Not that she intends to sleep any time soon...

Cheshire POV Humiliation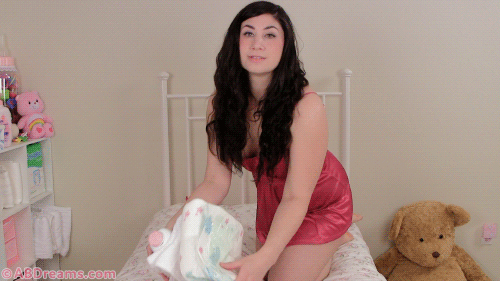 In this small penis humiliation POV Cheshire is very mean! She teases and locks baby up in diapers while taking about finding a real man to satisfy her.

Stephie Pink Dress and Tights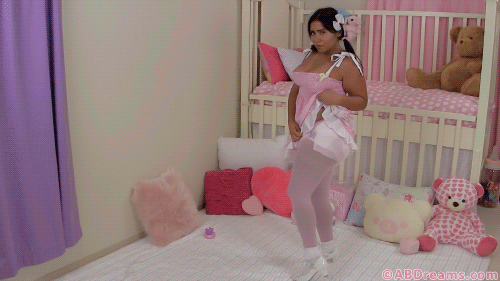 Stephie is looking cute as a button in her pretty pink dress, pink tights and thick disposable diaper.  She feels so good all wrapped up in so many pretty layers and textures, she can't resist using the vibrating wand and sucks her thumb.

Lolette Babysits Candy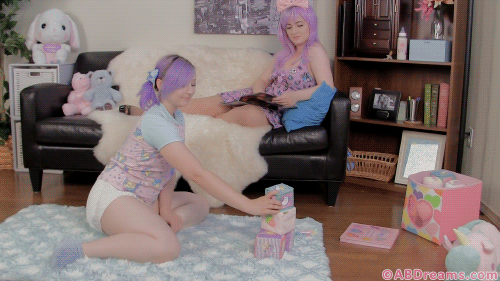 Babysitter Lolette is looking after Candy.  Candy plays with blocks and tries to get Lolette's attention before wetting her diaper.  Lolette thinks her wet diaper is cute and wants her to wet more so she gives candy a bottle of milk and pets her wet diaper.

Amber Nurses Oliver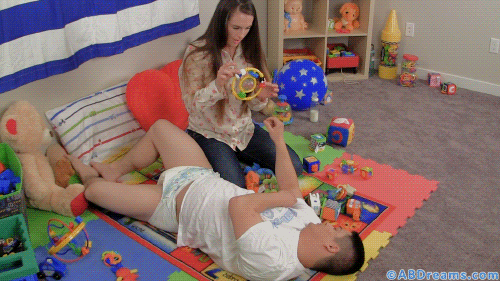 Amber is watching little Oliver and they have fun playing with toys together.  Amber realizes it's time for Oliver's bottle and when he's done with that she takes off her shirt and nurses him.  Yummy!
Binkie in Pullups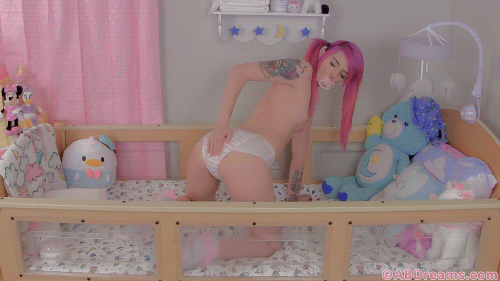 Binkie is having fun in her pink Pullups.  She changes out of her wet training pants, into double diapers and sucks her thumb. 
Luna and Amber Bathtime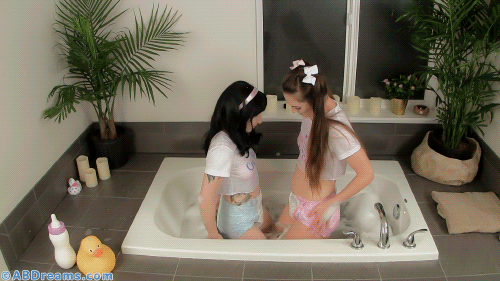 Amber and Luna are having a girls night in, and it starts with a relaxing bubble bath in their diapers. Once the water soaks through their shirts curiosity wins out over shyness, and the girls get hands with each other while the water soaks their diapers to round, swollen, sodden perfection.

Lolette Diapers the Babysitter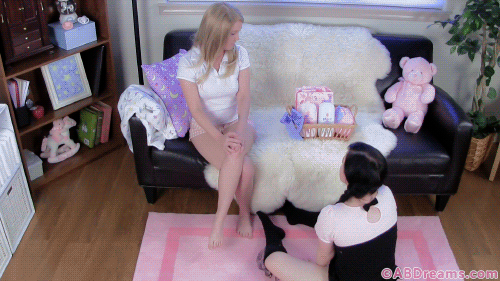 Lolette has a surprise for her Babysitter Sasha, she wants to play a game of dress up and she gets to pick what Sasha wears.  Of course, Lolette picks a thick pink Rearz Princess diaper and pink pacifier to match. 
Ellie in a Contour Cloth Diaper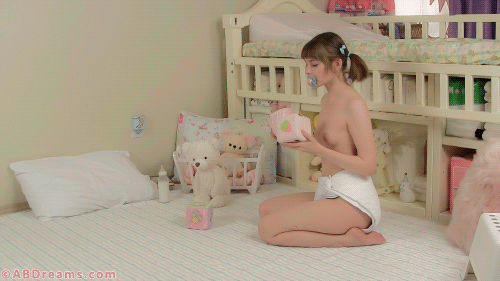 Ellie looks so cute and cuddly in her double thick contour gauze cloth diaper.  She drinks a bottle of milk and cuddles her soft teddy bear.
Amber and Apple Nurse Claire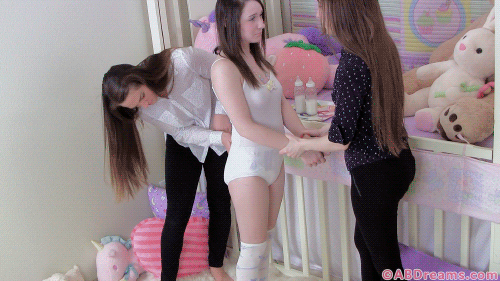 Apple and Amber are taking special care of Claire.  They take turns feeding her bottles of milk until the little baby wets her diaper.  Then the girls move on to breastfeeding her instead.
Candy, Lolette and a lot of Diapers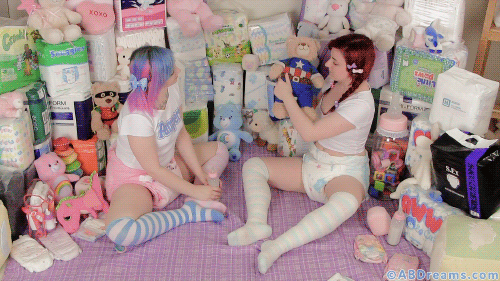 Candy is a sweetheart bubblegum princess that likes to share her toys and make friends. Lolette can't help but tease her by stealing her paci and hoarding all the toys for herself. Candy likes pastel colors and cute things while lolette is into comic books and video games -- but even so, the girls bond over double thick diapers and a love of baby bottles of milk. 
Amber Wets a Tena Diaper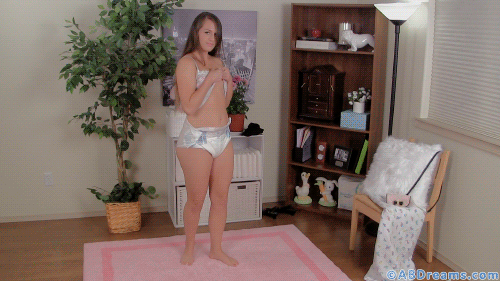 Amber is getting ready to go out, she wets but she is not exactly ready to change. So, instead of changing, Amber slips on some plastic pants for extra protection against leaks before putting on her little black dress.
Ashley Diapers Up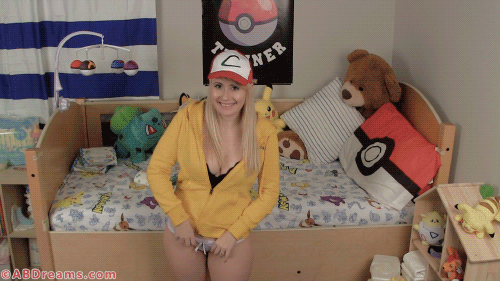 Trainer Ashley has 8 gym badges under her belt, but potty training is still a work in progress. She tapes on a thick Little Paws diaper and packs her backpack with everything a little big baby girl could need for an adventure. 
Winnie Diapers and Nurses Claire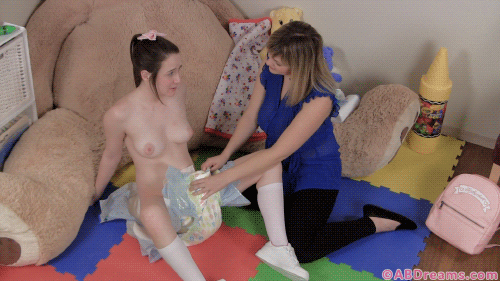 Claire Just got a spanking for taking her diapers off without permission.  Winnie knows Claire has learned her lesson, so she nicely puts her in a new diaper and nurses her.
Amber Changes Oliver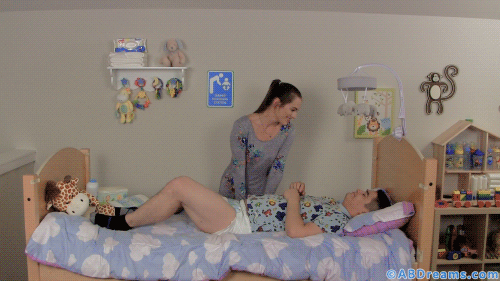 Oliver loves being diapered for playtime. His playpen and blocks are lots of fun, but when it's time for a change he needs Mommy's help. Amber is happy to help him up onto the changing table, but not before she makes his face red from squishing his wet diaper! Mommy takes extra special care to wipe his cock and bottom all clean before tucking him into a fresh diaper with lots of powder. 
Bunny and Lolette Try Enemas Pt-1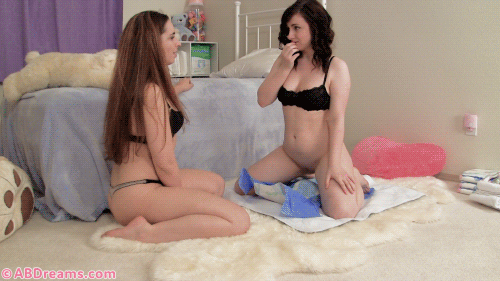 Lolette and Bunny are diapering each other but Bunny wants Lolette to try something new.  Bunny wants Lolette to try an enema with her.  They take turns administering the enemas and diapering each other.
Bunny and Lolette Try Enemas Pt-2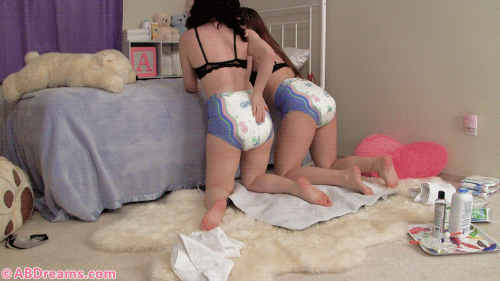 In the seconds half of this video they let their enemas go.  Lolette is embarrassed at first but admits she likes how it feels.

Claire Crib Diaper Change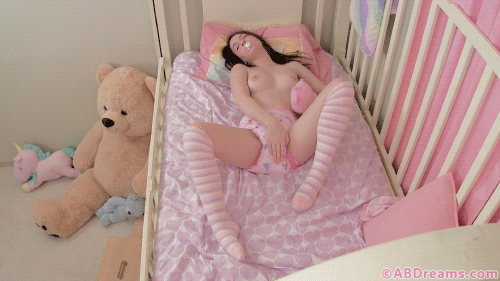 Beautiful princess Claire changes her pink princess diapers in the crib. 
Lolette Diapers Alex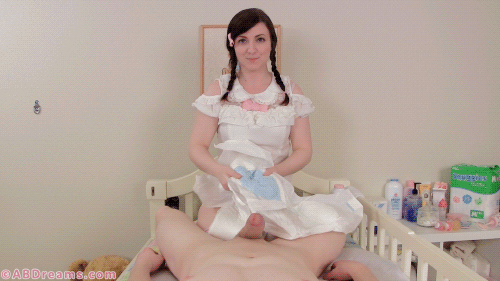 It's Lolette's turn to diaper Alex.  She has lot of fun teasing his cock with lots of lotion and baby powder before taping him up.  It makes her feel really horny so she humps his diaper until she cums.
Kit Changed by Apple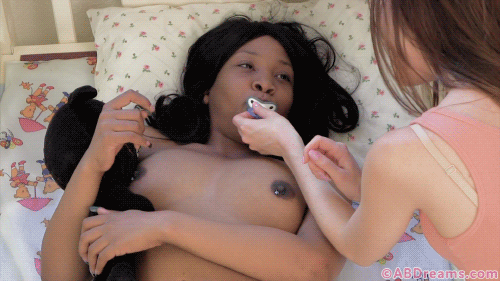 This is Kits first time getting put in a diaper by Apple.  In this super sweet scene Apple gives Kit a pacifier and puts her in an extra thick Bambino Bellissimo with a stuffer.
Nurse Amber Changes Claire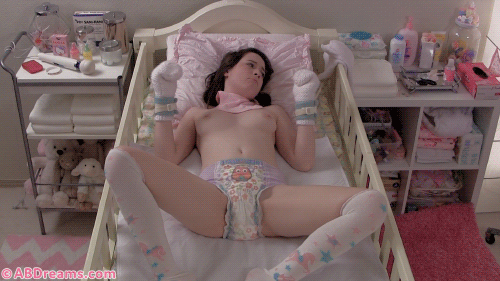 Nurse bunny has a secret -- as much as she loves fucking her helpless little patients into thick padding, what she really wants is a diaper for herself. It feels so soft when she unfolds it! It's exciting to feel it press against her bare pussy, but the experience isn't complete without lotion and powder. You won't tattle on her, will you..?
Nurse Bunny is Wet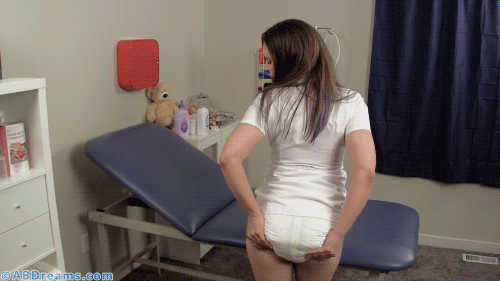 Nurse Bunny is back in her soaking wet Tena diaper, she undresses and finds her vibrator.  It feels so good through her wet squishy diaper.
Candy Black Diaper and Tights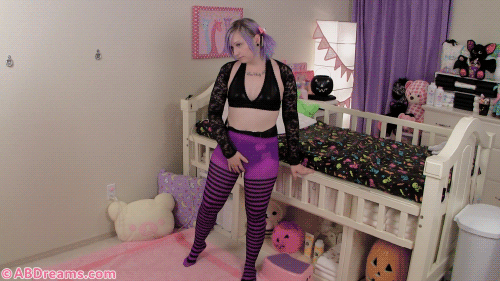 Candy feels so turned on in her thick black diaper silky tights.  She takes her time rubbing and pressing on all the layers.  When she's ready she takes her tights off and uses the vibrating magic wand until she orgasms.
Claire Is Wet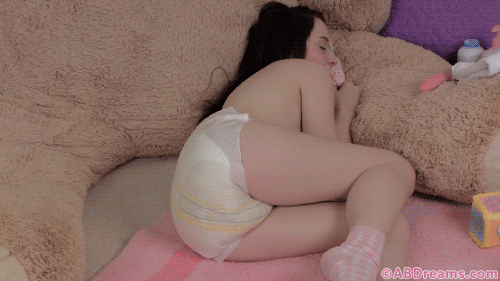 Claire fell asleep nestled against the giant teddy bear, but she wakes up with a wet diaper that needs to be changed.  Claire is wearing a vintage plastic Abena S4 and she changes into a vintage ABU SDK.
Baby Stephie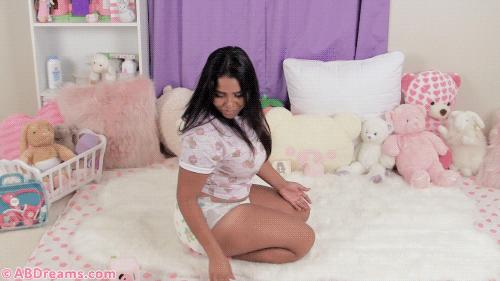 Welcome our newest model Baby Stephie, this is her first time at the ABDreams Nursery.  She has lots of fun playing with toys and sucking on her pacifier, she looks great in the Bambino Magnifico too!
Apple Changes Candy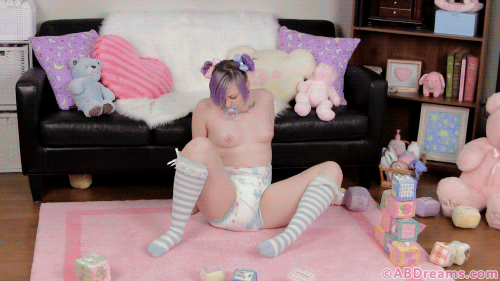 Candy is having fun playing with blocks, but when Mommy finds out how wet her diaper is, it's time for Candy to lay down so Mommy can change her.  Candy doesn't fuss about having her playtime interrupted though, because Mommy Apple makes diaper-time feel so nice.
Lolette and Amber Change Oliver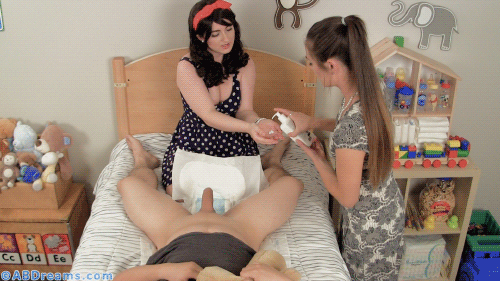 It's past baby Oliver's bedtime, and mommies Lolette and Amber help him get ready. First, they say bye-bye to his big boy underwear and replace them with a nice, soft, fluffy diaper. Both mommies take their time rubbing lotion into his skin, with extra special attention paid to his private parts! Theyre just as thorough with the powder, and by the time Mommy is ready to tape up his diaper Oliver is so excited that Mommy decides to double diaper him, to keep his baby cock tucked away, safe and swaddled, in padding. Goodnight, Oliver! Mommy loves you.
Claire Bear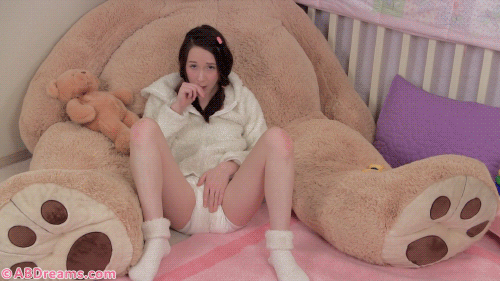 Claire looks super cute in her teddy bear hoodie, and her vintage small Bambino diaper fits perfectly.  She cuddles the giant teddy bear and wets.
Naughty Mandie POV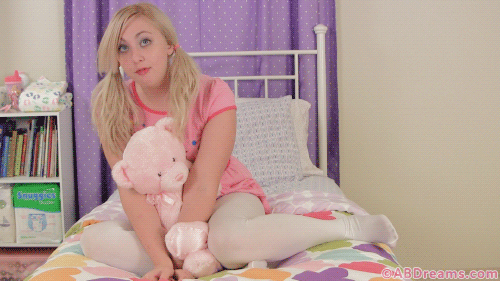 In this super naughty POV video Mandie is a guided by her Daddy into having an orgasm in her diaper.
Diaper Maid Amber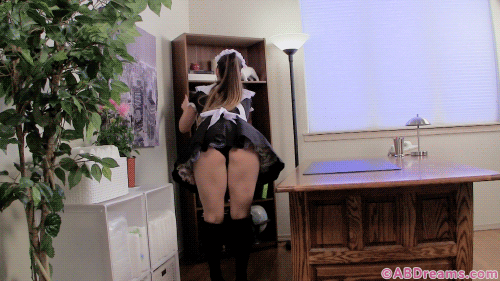 Cleaning up after all the babies at the ABDreams nursery is hard, messy work ... which is why we got a maid! Amber looks sexy in the black and white frills, but a note from Mommy reminds that her uniform isn't complete without a big, thick, fluffy white diaper underneath. She can't resist teasing us while she gets changed, after which she poses to show off the padding between her legs.
Naptime Change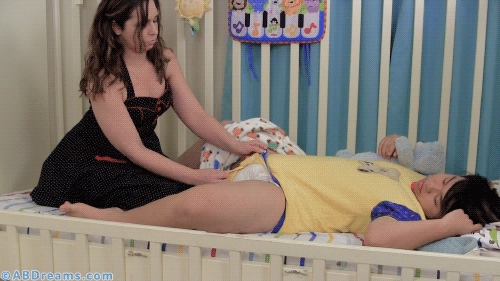 Bunny puts Van down for a nap, she checks to see if he's wet and thinks he could be wetter.  Mommy Bunny puts Van in bondage for the rest of his nap, when he wakes up Bunny is there to change his very wet diaper.
Apple Changes Claire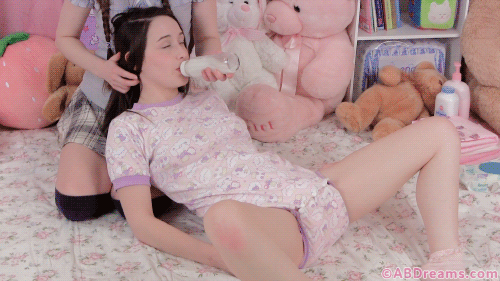 Mommy Apple lovingly feeds Baby Claire a bottle of milk and changes her wet diaper.  Apple uses lots of lotion and powder on Claire before taping the pink DC Amor extra snug.
+ HUNDREDS MORE
Copyright ©2010 ABdreams.com, all rights reserved. All models are 18 years of age or older. 18.USC. 2257 Compliant. No part of this website or any of its content may be reproduced or distributed without the written permission of the owner.